Kim Jones' Fendi SS22 runway debut was all about feel-good clothes
Kim Jones delivered a breezy, optimistic collection, and nodded to legendary fashion illustrator Antonio Lopez.
|
23 September 2021, 6:41pm
Images courtesy of Fendi
Opening the first IRL Milan Fashion Week in a year and a half is a big old task, but it's probably even more daunting when it's your on-runway debut for a house. Of course, we've already seen three collection (one ready-to-wear, two couture) from Kim Jones for Fendi, but yesterday's SS22 show marked the first time that the British designer would be be sharing his vision before an audience in the flesh — an event well worth celebrating.
It was a mood that carried over into the clothes themselves — an easier, looser interpretation of the Fendi woman that Kim introduced to us with his debut. "It's a celebration," the designer said. "Our woman has let loose a bit — she's going out, dressing up. We've all been locked away for so long that I think that's what we all need right now."
This free-spirited timbre made itself felt from the off, with a suite of breezy, white tailored looks that opened the show — satin-lapelled coats had splits down the front panels, causing hems to playfully flick about with the wearer's walk, and trousers and knit jumpsuits were ample in their fit. The Studio 54-era flair of these looks made itself all the more explicit in the collaboration — a design trademark of Kim's — that buoyed the collection's joyful spirit, with the designer working alongside the estate and archive of iconic fashion illustrator Antonio Lopez.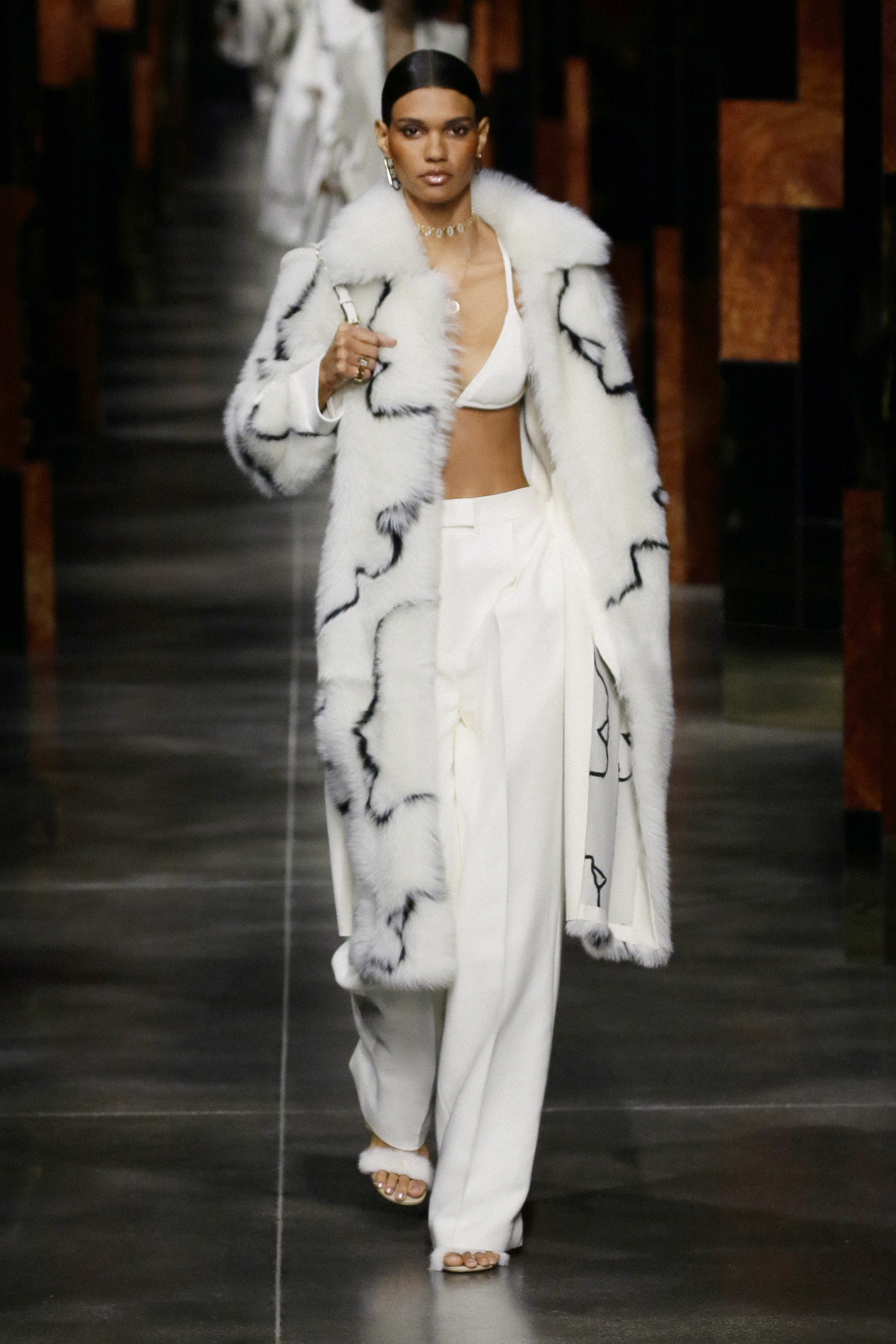 Kim's decision to draw upon the work of the artist, known for his optimistic visual tone and gestural brushstrokes, began with a desire to adopt a broader perspective on the legacy of his late predecessor, Karl Lagerfeld. "While I've been looking at Karl's legacy at the house, I've also been looking around him, at his contemporaries — at who he was interested in," he explains in a release. "Lopez was a friend of Karl's, and has always been someone who inspired me. He was forward-thinking; inclusive; looked up to by everyone from Andy Warhol to Steven Meisel and David Hockney. I wanted to introduce him to a new generation."
How he managed to do that here, was by translating his artworks to sumptuous intarsia leathers and billowing kaftans, high-technicality laces and silken jacquards, with their hues reflected in stripes that decorated fringe dresses and pouffy faux furs.
Their extravagance was carefully balanced out by the collection's closing looks — nightshade lace dresses and bare-all organza jackets that oozed a seductive sensuality. All in all, it made the versatility of Kim's intentions as a designer clear: that his "FENDI is multi-generational", something driven home by that fact that Kim took his final bow with both Silvia Venturini Fendi and Delfina Delettrez Fendi. "It's for all different kinds of women — anyone who wants to feel good about themselves." And by God, these are clothes you'll feel good in!