7 of Kirsten Dunst's most iconic outfits
Y2K's indie film darling mastered both the era's boho-grunge look and vintage-inspired glamour.
Known for her roles in some of our most-cherished films — Bring It On, Marie Antoinette and The Virgin Suicides, to name just a few — Kirsten Dunst was the young Hollywood princess of Y2K. And she has the style to match. From the slip dresses and butterfly clips of the late 90s to the ultra low-rise trousers and Uggs of the 00s, Kiki cultivated a look that not only reflected the era's fashion trends, but fit her singular status as American cinema's indie darling. Over the course of the aughts, Kirsten's subdued take on the decade's boho-grunge (which took in Converse, newsboy caps and flared denim) evolved into a vintage-inspired glamour befitting of a leading lady (think Christian Lacroix, Chanel and Rodarte gowns). Here, we chart the career of Y2K's favourite actress with a look back at some of her most iconic outfits.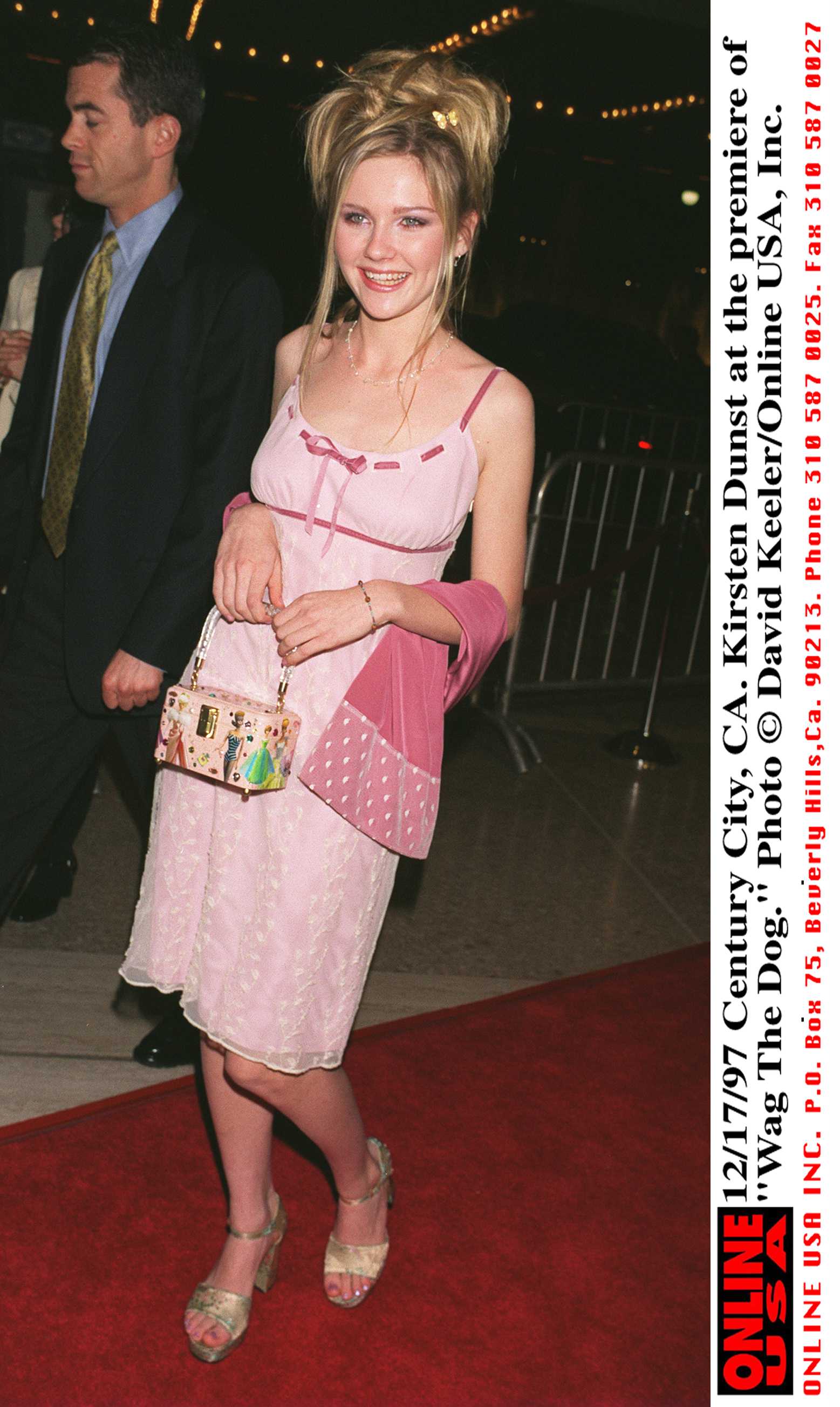 At a movie premiere, 1997
Born in New Jersey, and raised in Los Angeles, Kirsten began her cinematic career starring in TV commercials at the age of three. After a few small roles in film and television, which included Bonfire of the Vanities and Star Trek, Kirsten had her career breakthrough moment at age 12, starring alongside Tom Cruise and Brad Pitt in 1994's Interview with the Vampire. Here, three years later and now a teenager, Kirsten wears an age and era-appropriate red carpet look: bubblegum pink babydoll slip dress, bejewelled hardside clutch, satin platforms and the ubiquitous 90s butterfly hair clips.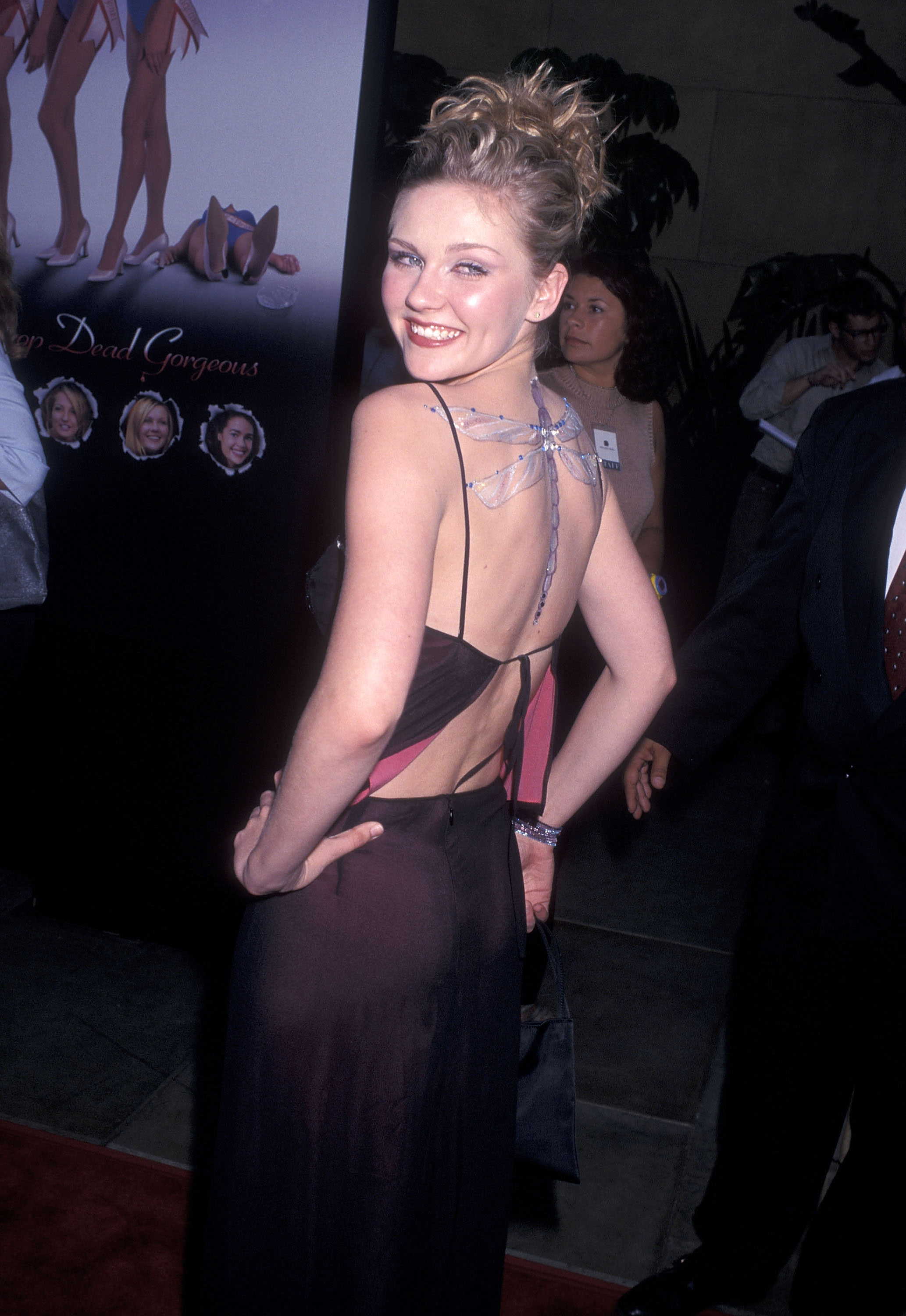 At the Drop Dead Gorgeous premiere, 1999
1999 was a massive year for Kirsten. Not only did she appear in The Virgin Suicides — kicking off a decades-long collaborative relationship with director Sofia Coppola — she also starred in political satire movie Dick, pageant mockumentary Drop Dead Gorgeous and — who could forget? — the music video for Savage Garden bop "I Knew I Loved You". Here, to the premiere of Drop Dead Gorgeous, the actress shows off her love of a backless moment, complete with era-appropriate body art. Kiki would later perfect the over-the-shoulder pose on the red carpets of the Academy Awards and at the Bring It On premiere, where she wore a backless floral number the following year.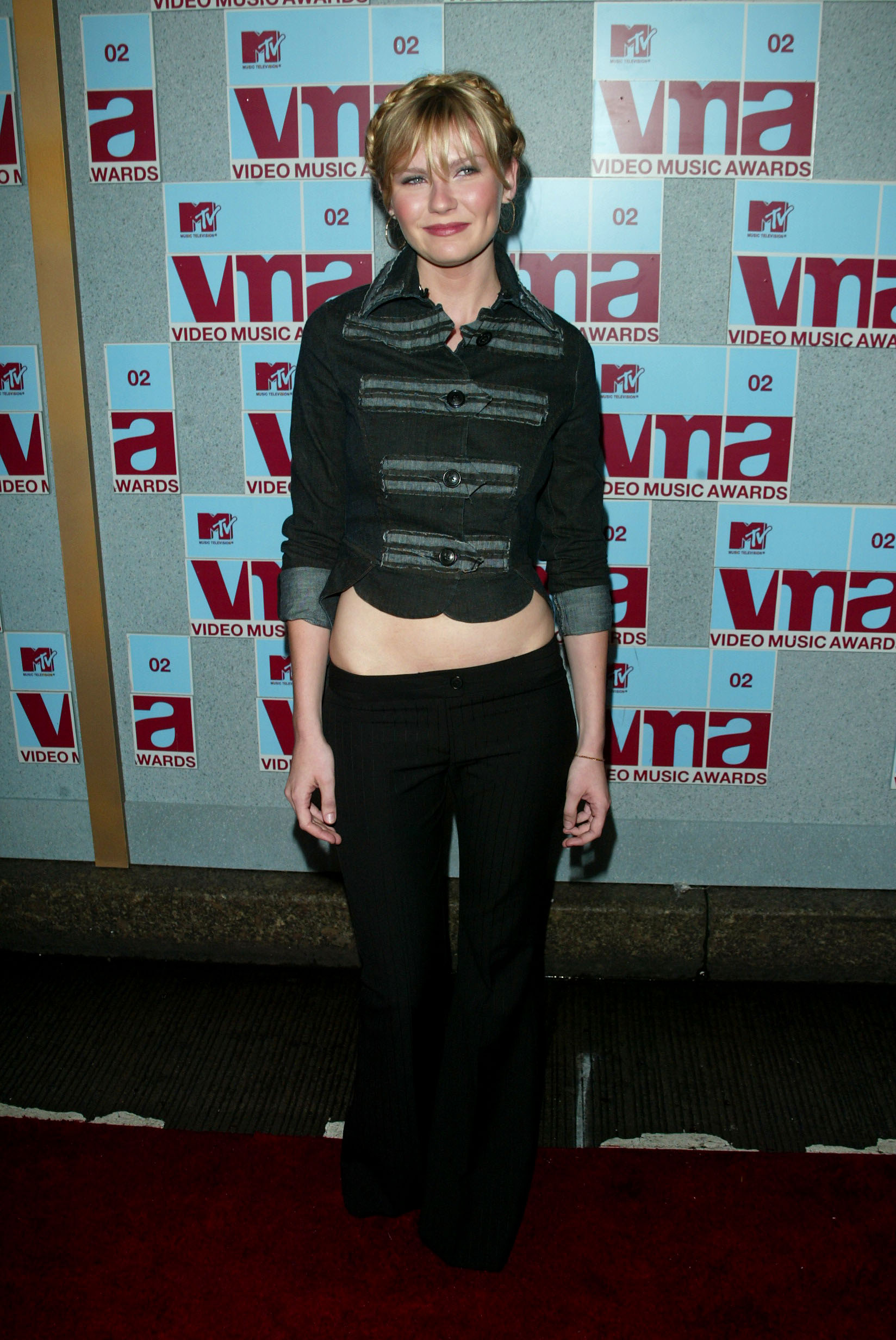 At the VMA's, 2002
Remember when Kirsten chopped her hair into a pixie cut for the 2001 teen drama Crazy/Beautiful? The actress, herself, is pretty much synonymous with the early-00s pixie cut craze. Second to the cropped hairstyle, however, Kirsten favoured the era's equally popular milk-maid braids. Here, to the 2002 VMA's, Kirsten paired the braided hairstyle with a military jacket (very Marc by Marc Jacobs) and ultra low-rise trousers.
In New York City with Jake Gyllenhaal, 2002
Name a more iconic duo. Throughout the early to mid 00s, Kirsten and Jake Gyllenhaal were young Hollywood's it couple. Their frequent run-ins with the paparazzi not only gifted us with one of the best celebrity memes of all time, but also some pretty memorable street style looks. Strolling the streets of Soho, packing on the PDA outside Balthazar or simply sharing a salad on a bistro terrace, Kirsten was photographed with her then-beau wearing her subdued, casual take on the era's boho-grunge style. Think newsboy caps, suspenders worn over a white tee, beat-up Chucks and Uggs, extra-long scarves, beanies, floor-length coats and pointed toe pumps peeking out from beneath a pair of denim flares (pictured here).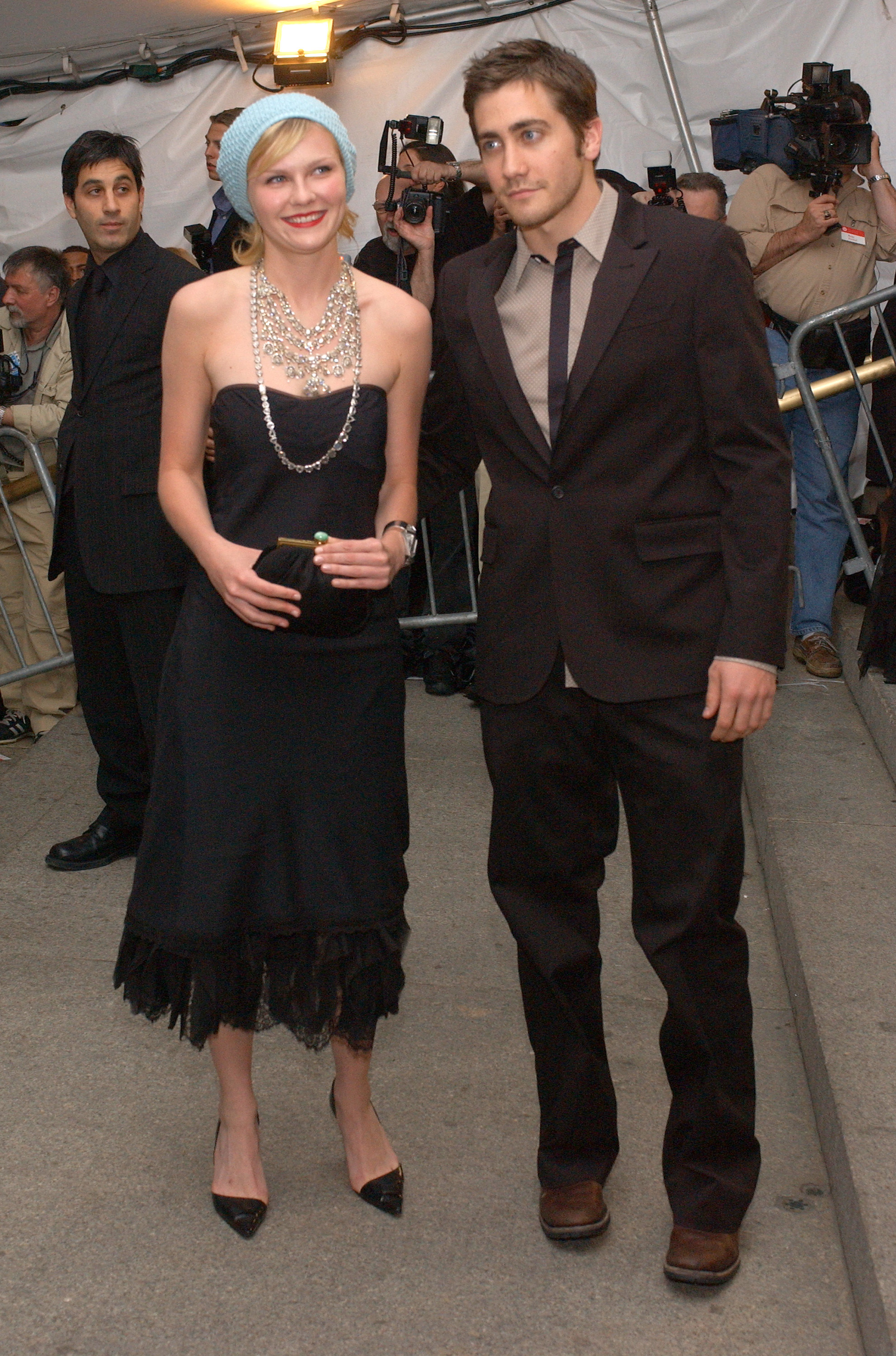 At the Met Gala, 2003
Kirsten's low-key style extended to her red carpet appearances, too. The queen of cosy chic on the red carpet, Kirsten was known for sporting chunky knitwear, jeans and Converse, to film premieres, galas and vernissages, alike. Here, to the 2003 Met Gala, Kirsten pairs a vintage gown with one of her favourite casual red carpet accessories — the crochet beanie.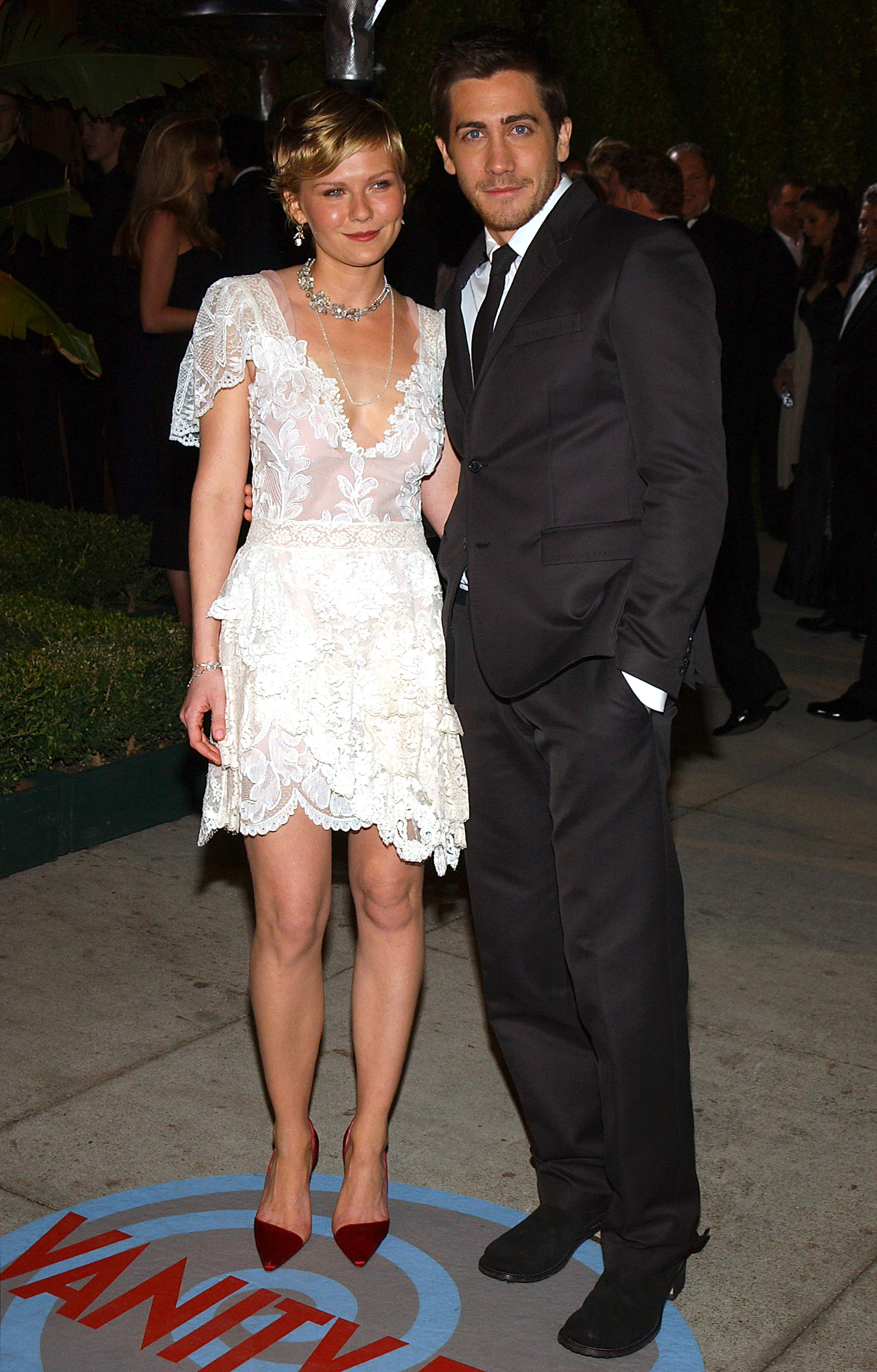 At the Vanity Fair Oscars party, 2004
Into the mid-00s, Kirsten had established herself as one of the era's most acclaimed and interesting young actresses, starring in some of the era's defining oddball dramas like Eternal Sunshine of the Spotless Mind. She was — and remains — a favourite of Sofia Coppola. And let's not forget that Kirsten's role in Elizabethtown coined the phrase "Manic Pixie Dream Girl." It's only natural that Kirsten cultivated a quirky red carpet style befitting of her status as America's indie film darling. Decidedly vintage-inspired with an arts-and-crafts vibe, the actress' red carpet looks took in billowing trapeze silhouettes, vintage gowns, pom poms and crochet, antique lace, and layers and layers of necklaces. Here, to the Oscars after party, Kirsten wears a cutesy vintage mini dress paired with cocktail jewels and red satin pumps.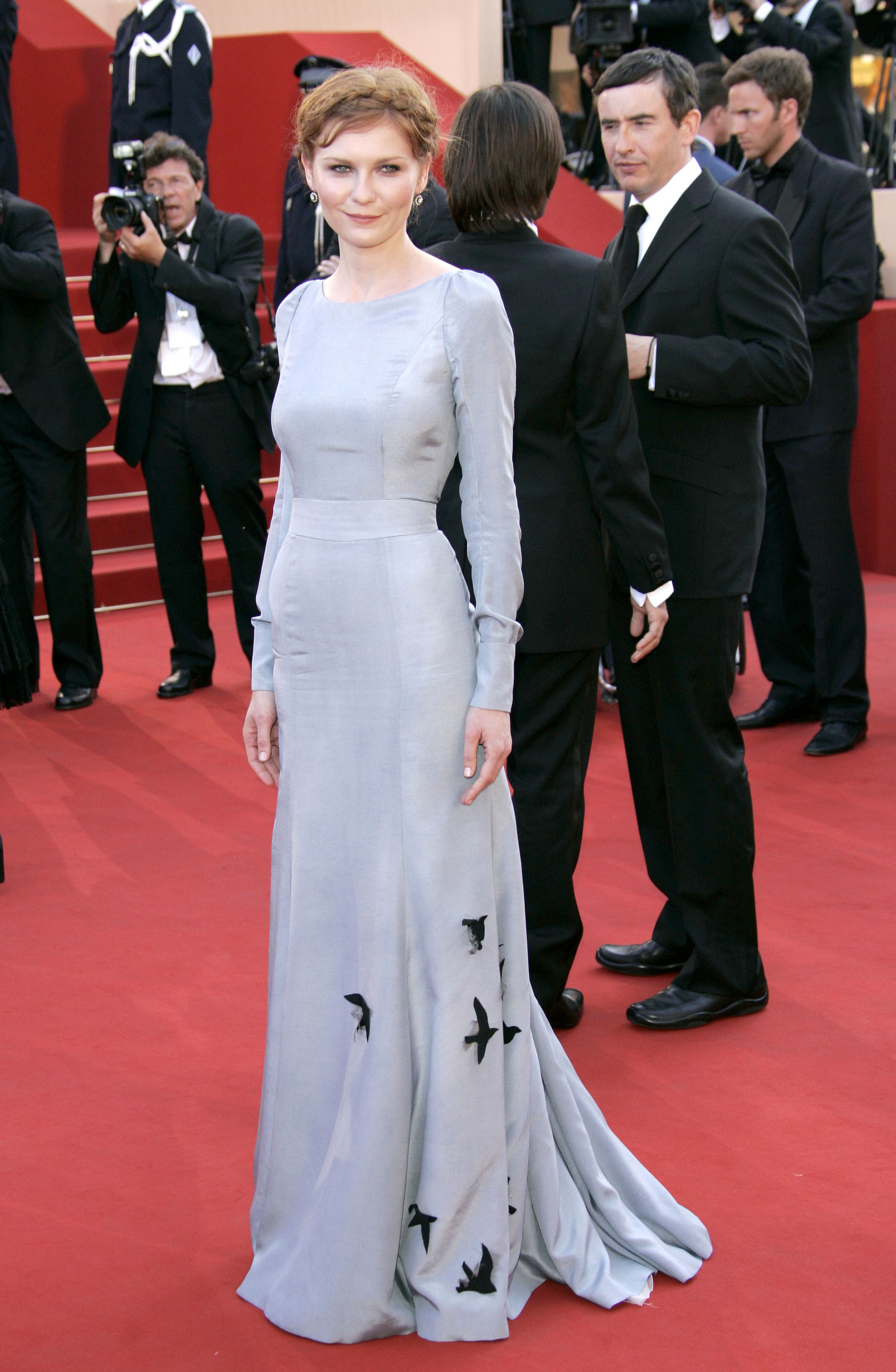 At Cannes Film Festival, 2006
For all her quirky cachet, Kirsten's also had myriad high-glamour, high-fashion moments on the red carpet over the years. To her first Academy Awards, she wore a diaphanous Dior gown (backless, of course!). To the Berlin premiere of Spider Man 2, a black and strappy Yohji Yamamoto number. Throughout the mid 00s, Kirsten was dressed by Chanel — all lace, beads and feathers — for the Oscars red carpet. During the late 00s, the actress became a favourite of American avant-garde design duo Rodarte, known — like Kirsten — for their singular mix of elegance and art-y aesthetics. Here, to the Cannes premiere of Marie Antoinette, the actress wears a stunning pale blue gown from Olivier Theyskens' FW06 Rochas offering. A perfect fit for a bona fide leading lady.