Image courtesy of Farfetch
Our new LFW look and FKA twigs' turn as a curator: What's in fashion?
Your one-stop-shop for this week's fashion news to know.
|
17 September 2021, 1:30pm
Image courtesy of Farfetch
Why hi there! Ok, so, as the title implies, the big news this week is obviously the return of London Fashion Week, and with it some big news about the way we'll be covering things this season. Believe it or not, though, other things have been taking place in the wild world of fashion since we touched base last week. From power moves in Paris to new Givenchy bags, and a twee little shindig at the Met to FKA twigs turn as a curator, here's what's in fashion.
Our new look for London Fashion Week
As you've probably clocked from our feverish ranting over the past few weeks, physical fashion weeks are BACK! After New York last week, it's now time to head across the pond to London, our beloved hometown. Naturally, though, as a new era of IRL shows dawns, so too does the way we're going to be covering them! Rather than run a series of standalone reviews as once was the norm, this season, you can find quick, pithy summaries of the chicest runway meauxments right here. But wait! There's more! We'll also be migrating our more rigorous collection coverage into the FUTURE -- aka TikTok -- where your two doting 'What's In Fashion?' aunties (i-D's fashion features team) will be giving you the full lowdown on our favourite SS22 shows. And if that's not enough of our faces for you, then there's also 'Fashion Show + Tell', our new miniseries of BTS studio visits with three of the city's most exciting womenswear talents -- you can check out the first one with Laura and Deanna Fanning of Kiko Kostadinov here. Gosh, we do spoil you, don't we?
Meet the new menswear label repping South London
Fashion week is back in London this week, but as any veteran knows, it's not always about the shows. Presentations can be hidden gems for discovering new talent, as is the case with new menswear label Denzilpatrick. Named after the Jamaican and Irish grandfathers of designer Daniel Gayle, who has spent more than a decade working for top fashion houses, it's a colourful nod to his heritage and upbringing in South London. The quality is superb, only to be expected considering Daniel's impressive CV, but even more impressive is that it's made with serious commitments to sustainability — a response to the waste he saw during his time working for big houses. We caught up with him to find out more…
Hi Daniel! Can you tell us a bit about your label?
Sure thing, denzilpatrick is a London-based, sustainably-minded menswear label exploring the joy of dressing through the lens of my experiences growing up as a mixed-race, queer guy in South-East London. With a love of print and textiles that I channel into a wardrobe for the man (or woman!) that enjoys sartorial dressing with a sense of play.
What made you want to start it?
I've been wanting to do this for some time but never really had the balls to do it. Just before the pandemic kicked in, I stepped away from my previous role to have a think about what next.. and then, there we were all stuck at home for four months! I started researching a little, mapping things out a little, and then it all came pouring out! I started to focus on the categories; denim, outwear, knit and how we could approach these sustainably. The first point was to make them covetable, you know? One-offs that customers would want to collect and pass on to loved ones.
The label takes its name from your two grandfathers. How did they inspire the clothes?
Well, it was more the mixing up of their wardrobes that really inspired the clothes. My grandad, Denzil, was a carpenter (like my dad) so there were lots of really good trousers happening with all sorts of pockets full of tools and what not. My grandad Patrick was in the navy so there are nods to the uniforms and little nautical details that slip in. And, of course, they both lived in London as immigrants, coming from Jamaica and Ireland so they both brought with their own sense of home – small things, like Denzil with his string vest undergarments, Patrick with his cable cardigans…. I wanted to push it a little by mixing them all up to fuse those moments and memories into something new.
You grew up in South London -- how are you repping it in the collection?
When I was a teenager, in South London it was all about Garage music! I was technically underage but my older brother, Richard, would take me out anyway. He always looked so slick! He would have his Iceberg jeans, his Moschino shirt! (I'd be wearing the cast-offs at this point). I really loved the way the boys would all notice one another's clothes – credit would be given for a banging look. And of course, you can't forget that South London, Peckham in particular (where I grew up) is just full of people from all over the world, there are solid communities from Jamaica, Nigeria, Turkey, Ethiopia, Ireland, Ghana, all representing who they are and what they bring in their own way.
Responsible production is something that's important to you. Can you tell us a bit more about how you make your clothes?
That's a great way to describe it! I've been struggling with sustainable because, ultimately, it isn't, and that word has come to mean so little as customers see it plastered across every product on the market. I am sourcing from global deadstock, recycled materials, pre-and post-consumer remnants and GOTS-certified fabrics. In terms of manufacturing, we make a lot in the UK as there are still some wonderful manufacturing possibilities here. We make denim in Italy and some jerseys in Portugal. The principle behind the retail part of the collection is that there we offer seasonal products, and we also have an 'Editions' platform where we make short runs of some key styles that are pre-order by the customers through our online platform. Finally, we have a MADE-TO-ORDER opportunity, allowing customers to own some of the more artisanal items that are handmade piece by piece. These different tiers of making allow us to realise the collection to different parts of the market without unnecessary waste – why make 50 embroidered upcycled cashmere pullovers when, at this time, we have orders for just seven or eight?
Lastly, who would you love to see wearing it?
I would love to see both my brothers wearing it. Then I know it's good; they are very picky! But also, I mean, Mykki Blanco, Dev Hynes, Olly Alexander, Slowthai, these boys all enjoy clothes so much. And Lil Symz – she would know what to do with it!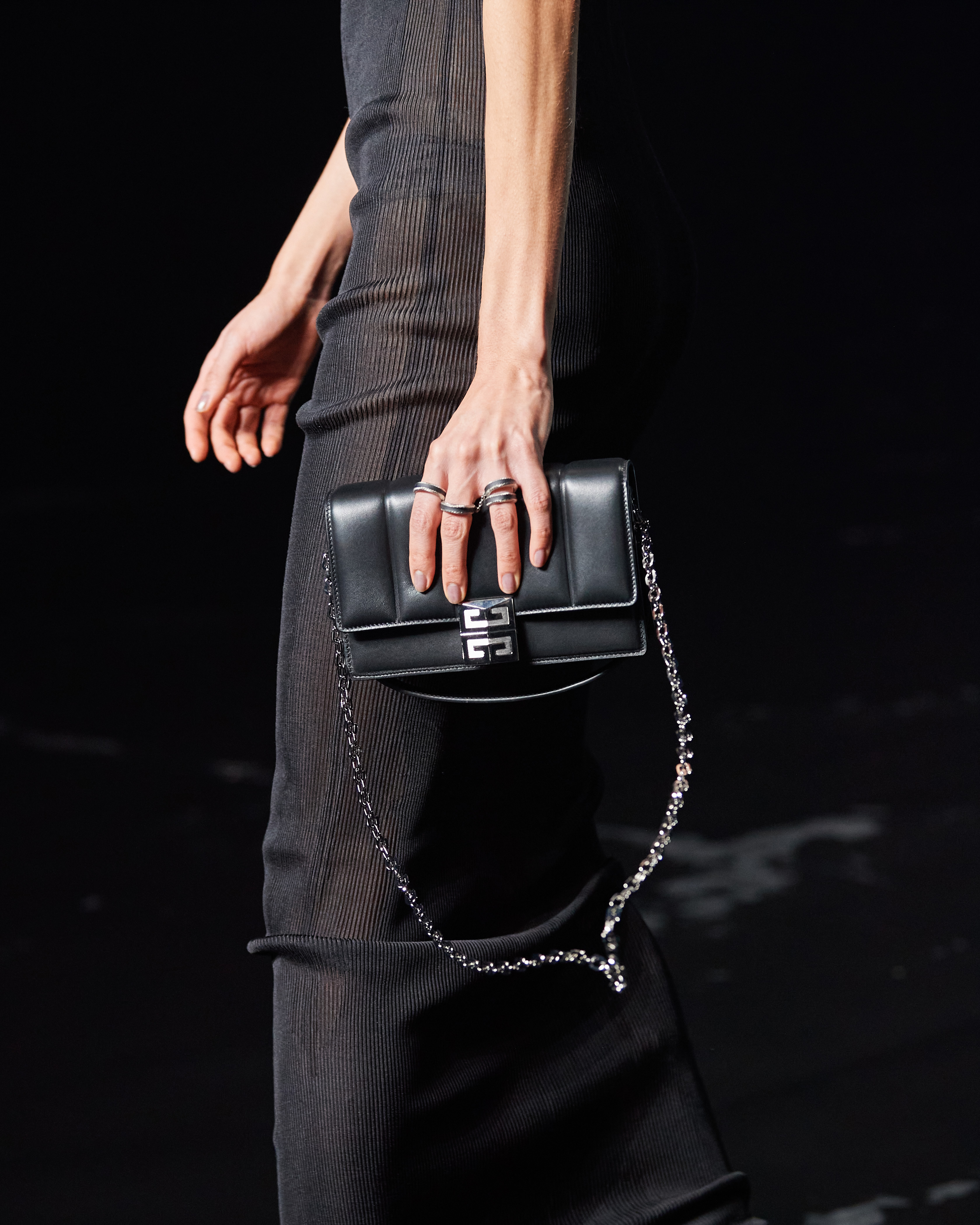 Need to secure the bag? Givenchy's got you covered
You may not have had much need for one over the past year and a half, but it's time to face facts -- babe, you need to get yourself a better bag. Of course, shelling on leather treats may have been harder to justify over the on-again-off-again lockdowns, when there was hardly anywhere to show them off, but now, when going out out really is the only reasonable way to spend a weekend, it's time for an accessories upgrade. Offering you just that this week is Givenchy, where creative director Matthew Williams is releasing a brand new range of party-friendly bags. There's the 4G -- Matthew's knockout take on the classic crossbody flap bag; the Cut-Out -- an angular hobo silhouette; an expansion of the iconic Antigona series, with brand new men's crossbody and camera iterations; and a roomy backpack inspired by runners' packs. On your marks, get set, go secure that bag! MS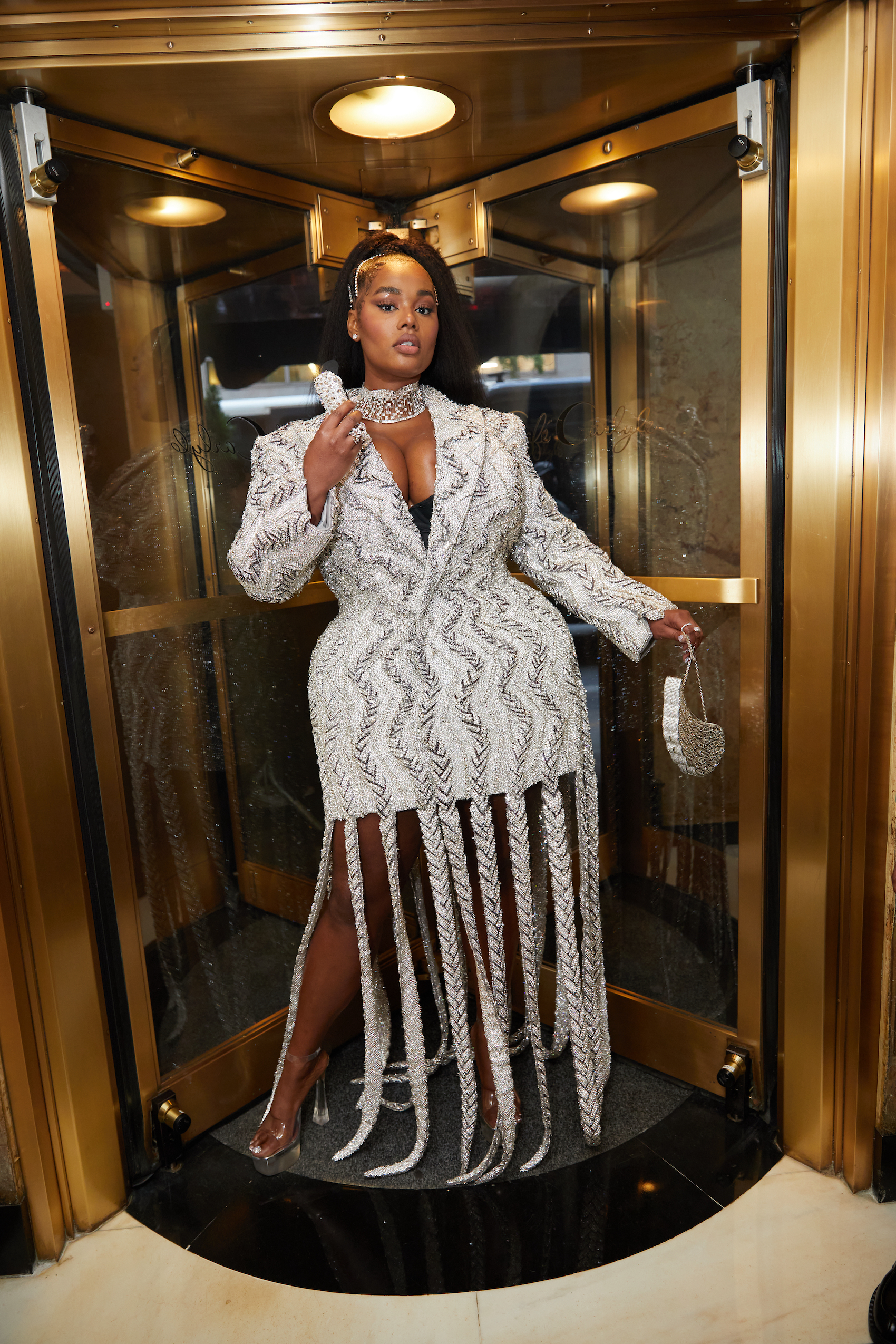 The lowdown on Precious Lee's showstopping Met Gala dress
Ah, the Met Gala! The night of a thousand stars! This year, quite literally, considering the theme of 'American Independence'. One of our favourite looks of the evening was i-D cover star Precious Lee, who cemented her love affair with Area NYC (she starred in their couture lookbook last season) with a sparkling look of braided sequins. There's more than meets the eye. As it happens, the event fell on her birthday, and the event marked a symbolic milestone for Precious. We caught up with her to find out more…
Precious, what was your highlight of attending the Met Gala?
It was my first Met and I felt so good about how beautiful and powerful I felt! I wanted my glam team to be all black women, and I'm so grateful to work with each of them. It was important for me to show up and be myself and have fun doing it. I felt so aligned especially with it falling on my birthday this year and the excitement of reconnecting with everyone after this past year. It felt like everyone was happy to be back in action dressed to the nines and excited to see each other.
Can you tell us about your look? What was the story behind it?
When I first heard the theme I instantly thought of the role African Americans have had in the evolution of American fashion. Area and I exchanged ideas and we landed on highlighting Black hair with the braided crystal detailing and reimagining the zoot suit. I thought about the time in which African Americans first had the opportunity to create their own wardrobe and really express themselves through style. I wanted it to be opulent, highlighting black beauty and style.
What does 'American Independence' mean to you? How did you want to explore the theme?
I wanted to wear something bold and explore different shapes and textures. Black excellence, Black opulence, liberation, and individuality were my key points.
Why did you choose to wear Area NYC?
I've been wearing Area since I was introduced to their brand. I love how they create wearable art pieces that are innovative and bold. I was a part of their first couture show and once I wore one of their signature crystal pieces, I loved it. The intricacy and artistry in the couture pieces really take you into a fashion fantasy. I love when clothes are a portal and have the ability to transport and transcend time. So when I thought of my Met look, I wanted to give a major detailing moment. There was so much intention put into this dress, hours and hours of crystallization. This dress was about 80lbs -- it's incredibly special to wear something that so many people put their heart into for me for this one night. I was honoured.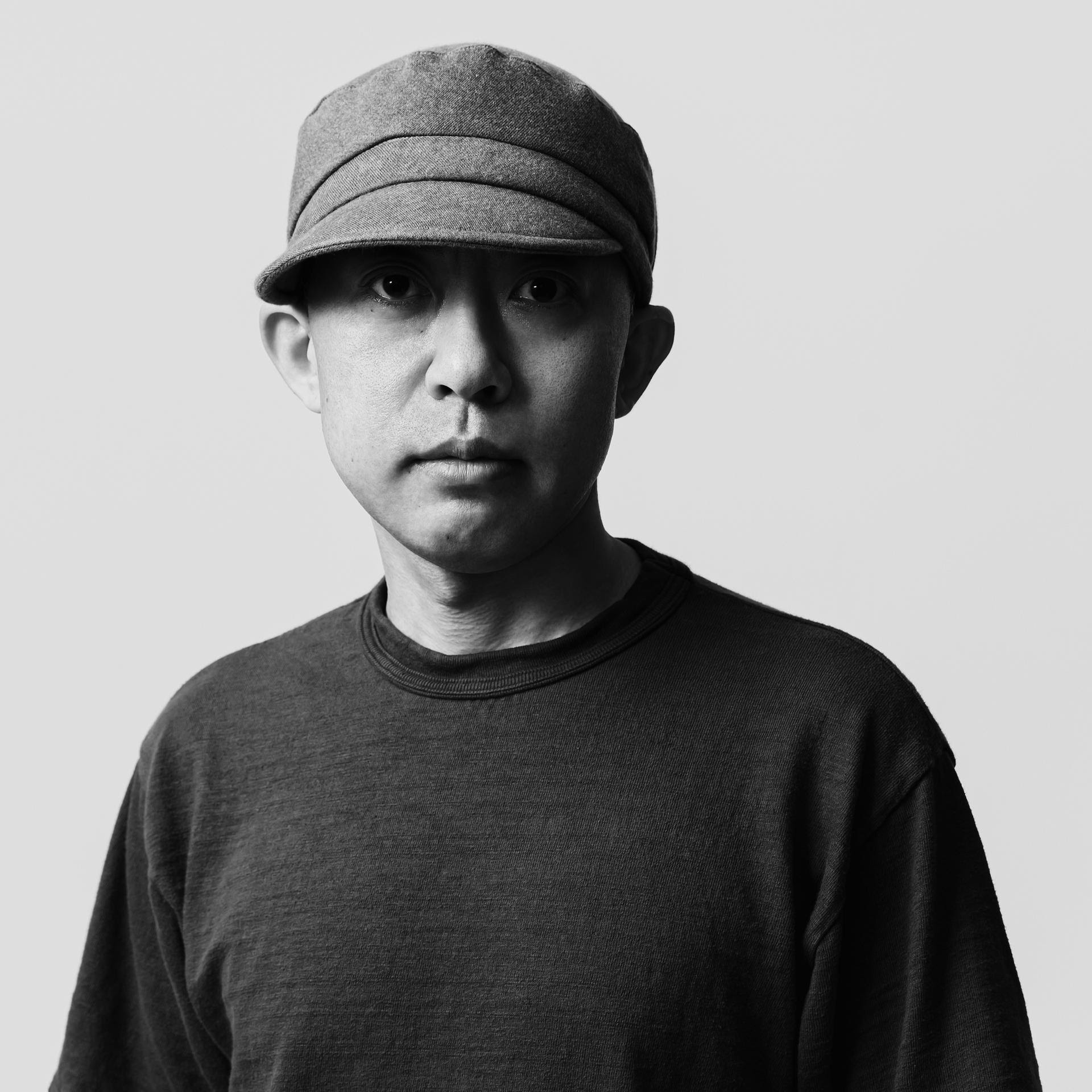 The king of streetwear's new reign at Kenzo
Since the departure of Felipe Oliveira Baptista from Kenzo earlier this year, rumours have swirled regarding who might take his place in the top job at one of fashion's most joyful houses. This week, it was revealed that the person charged with leading the label into its new era is none other than Nigo. Known as the founder of cult streetwear labels A Bathing Ape, Billionaire Boys Club and Ice Cream, the Japanese streetwear maven has played an irrefutably crucial role in shaping today's fashion landscape, and will no doubt continue to do so in his new gig as Kenzo's Artistic Director. The most obvious common ground shared by Nigo and Kenzo Takada, the late eponymous founder of the Parisian house, is their shared love for bold, bright graphics and prints. There's more to it than meets the eye, though. "We both graduated from the same fashion school in Tokyo," Nigo says, noting "Kenzo san's approach to creating originality […] through his understanding of many different cultures" as a philosophy he also shares. With his new job set to officially start on Monday, we'll probably have to hold out till the AW22 shows in February 2022 for the designer's debut. We've no doubt, though, that it'll be worth the wait!​​ MS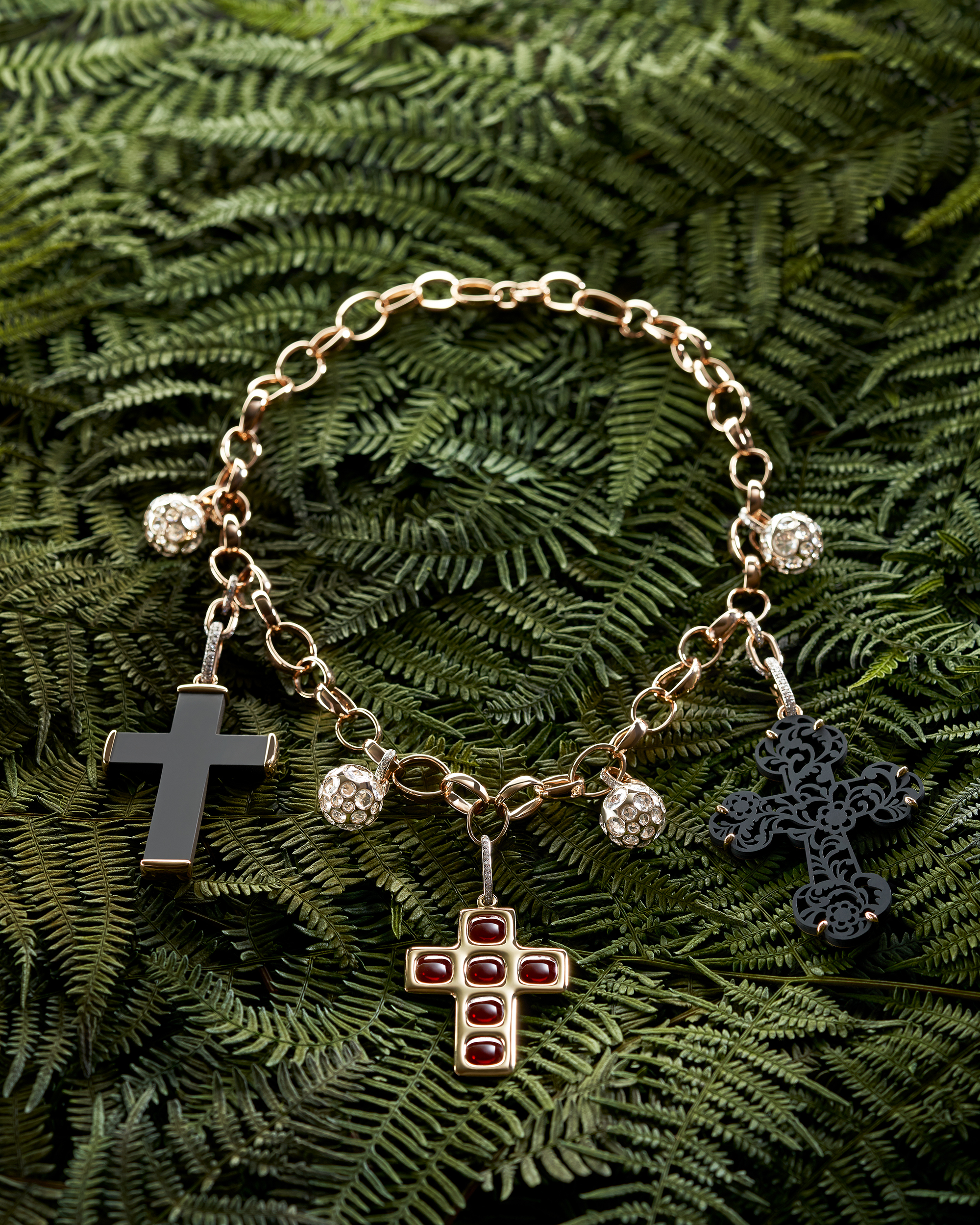 Pomellato just made history by upcycling haute joaillerie
What do stars, crucifixes, rainbows and chocolate have in common? No, not an Italian schoolgirl's bedroom… Pomellato's new high jewellery collection! The Milanese house is perhaps one of the most irreverent jewellers around today, and this year launches its second-ever high jewellery collection (translation: one-of-a-kind pieces, equivalent to haute couture). Designed by creative director Vincenzo Castaldo, the collection features signature pavé chains, which the house has made since 1967, as well as glittering pendants, black ceramic stars. Byzantine crosses, and a rainbow of coloured gemstones, including a medley of 'chocolate'-coloured brown diamonds. Yummy. Most importantly, though, the collection marks an unprecedented landmark in high jewellery in that much of it is upcycled — a first in the gilded world of high jewellery. Working with stones and pieces from the archive, Vincenzo sought to breathe new life into them, shaking up the industry in the process. "The idea of this chapter of La Gioia collection originated in a conversation with American artist and designer Sheva Fruitman," he told us. "We were discussing sustainable development in the luxury industry, and she suggested using vintage jewellery to create new designs for our new collection. We thought it was a very interesting idea, and that marked the beginning of this chapter in Pomellato's history, consisting of designing with archive pieces and stones preserved from past collections." Let's hope other jewellery houses follow suit. OA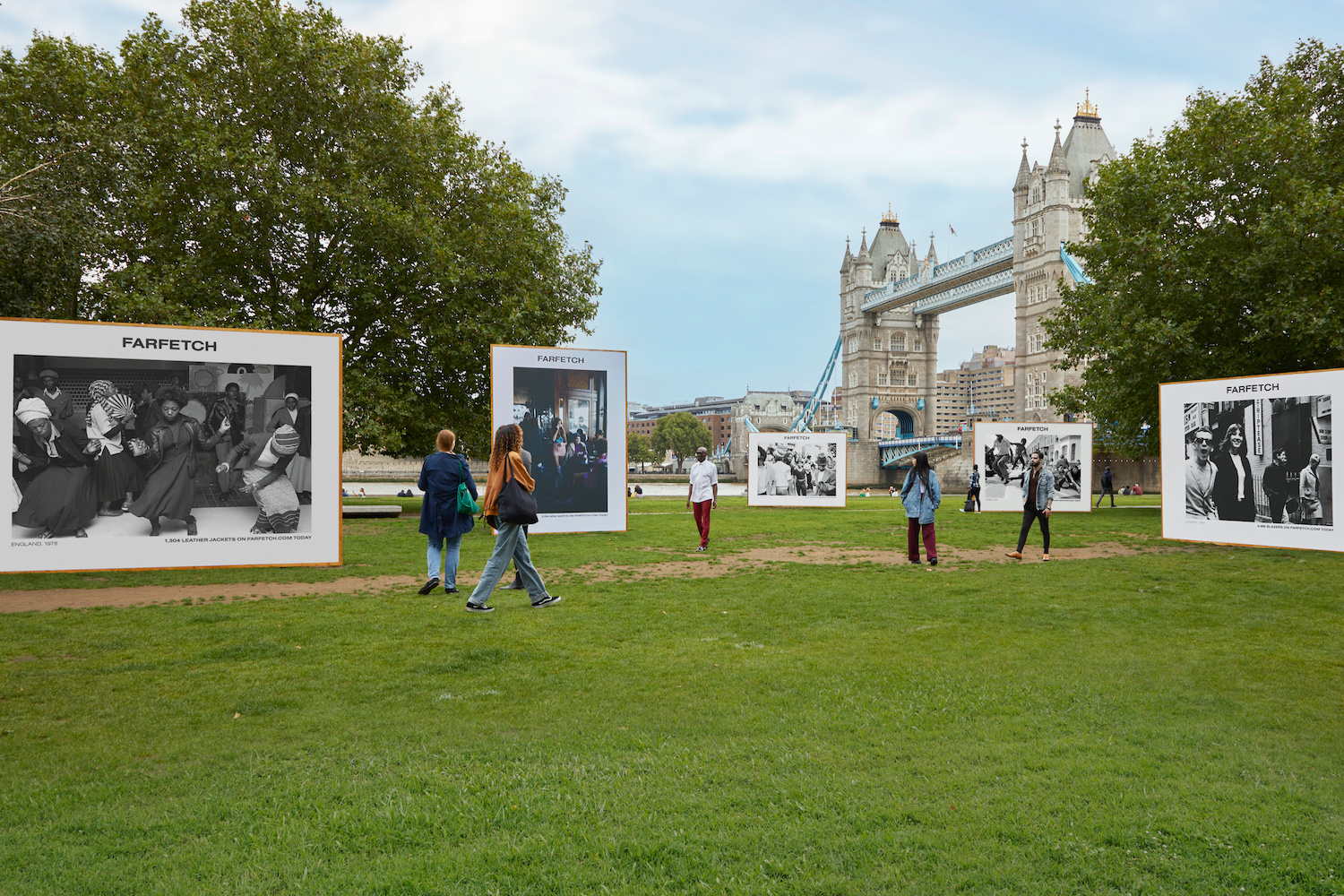 Artist, pole-dancer, actress — FKA Twigs is a curator now, too
This week, you'll no doubt hear us wax lyrical about the designers we love and their catwalk outings — but the thing that they all have in common is that they often begin with a mood board of image references. Yep, it's Fashion-101 that designers luuuuuurve a good ref — which is why e-tail juggernaut Farfetch has partnered with Magnum Photos to launch a new campaign to further map the links between fashion and art history, aptly launching during fashion month. It helps that it's been curated by none other than FKA twigs and Tyler Mitchell, who have each selected images they find inspiring, and in turn may inspire you. 'Art of Choice' will appear on installations throughout London, New York and Dubai and will feature historical images from the likes of Eve Arnold, Ernest Cole, Bruno Barbey, Chris Steele-Perkins and Herbert List. "When you look at photos from the past, you can see a link to the present," Twigs sageley explained. "That can be really inspiring, especially as an artist. Life is about curation of things that you love and things that make you happy". So, keep your eyes peeled on the bus. Inspiration can strike at any second!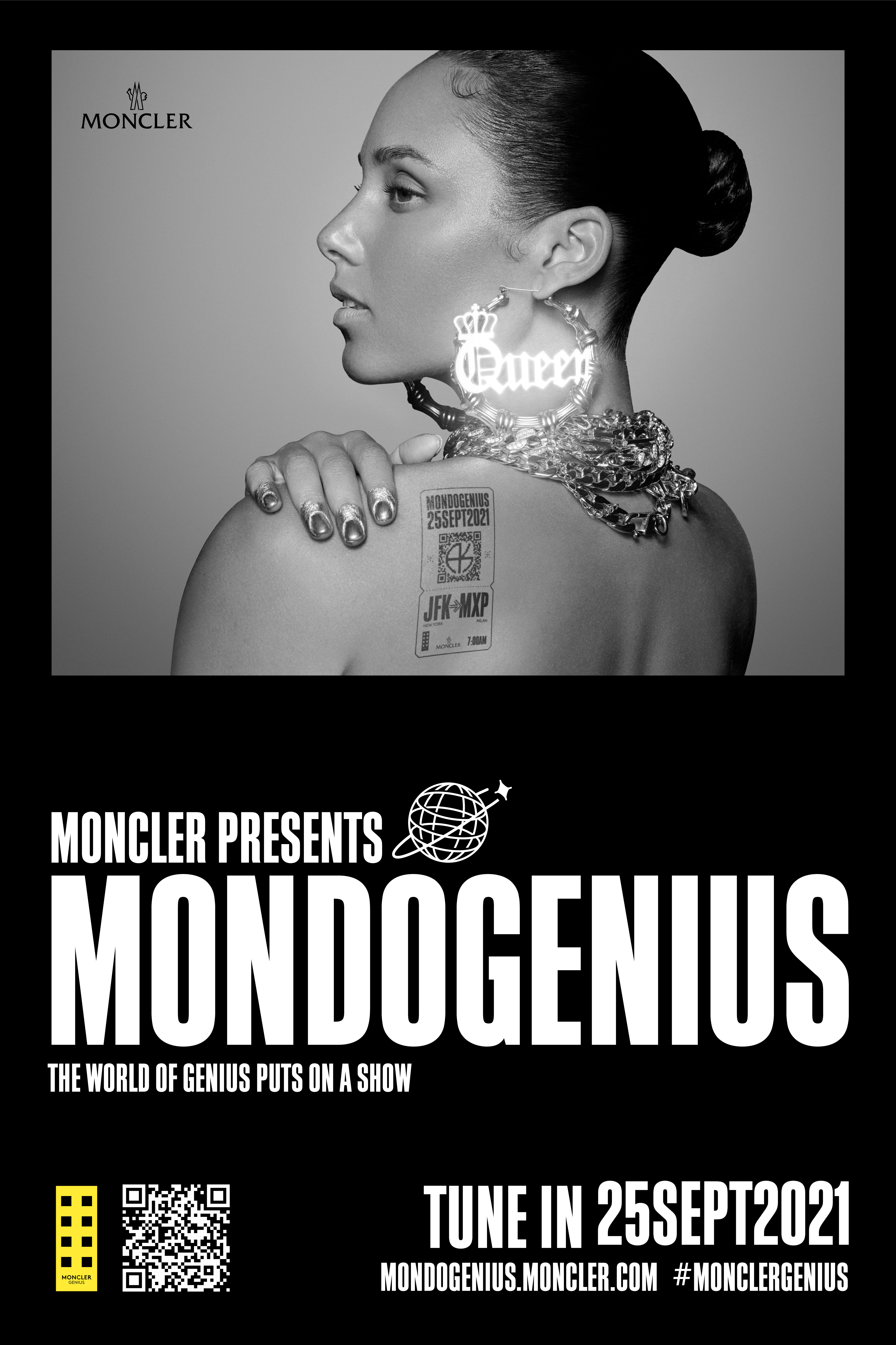 A genius presentation idea from Moncler
As excited as we may all be for the return of physical fashion shows, there's still much to be said for the democratic reach of digital events. The case for URL over IRL is made especially convincing when you manage to pull off something as daring as what Moncler have in store for their Moncler Genius presentation next week. Titled MONDOGENIUS, on September 25th the Alicia Keys hosted online experience will see the visions of 11 Moncler Genius guest designers simultaneously present their visions in five cities around the world. Could you pull that off in the flesh? I don't think so! Joining regular collaborators of the French-Italian skiwear house -- like JW Anderson, Craig Green and Alyx -- newcomers like 2020 CSM MA graduate Dingyun Zhang and Tokyo based label HYKE will also be involved. No need to turn up -- just tune in! MS