All images courtesy of Marc Jacobs
Marc Jacobs stages his comeback in New York
The designer's fast paced, colourful show was an ode to happiness, inspiration and creativity.
All images courtesy of Marc Jacobs
How we have missed Marc Jacobs' wild runways shows the past year. In lieu of doing a show, the designer has seemingly been on a creative journey closer to home, sharing his many looks with his followers on Instagram. Whether in towering Rick Owens platforms or pointy heels of his own design, voluminous Balenciaga or sleek, new-era Courrèges, Marc's love of fashion, and not just his own, is palpable, even when it's being broadcast on social media from his new countryside home. Last night in New York, the designer finally returned to the city to show his AW21 collection, entitled Happiness.
"On the journey back to doing what we love most, in the wake of immeasurable loss, loneliness, fear, anxiety and uncertainty, I am reminded of why creativity is so vital to our existence. To life." wrote Marc in notes. In contrast to the elegiac show notes, the clothes that charged through the New York Public Library were an energetic celebration of colour, silhouette and texture -- a show loaded with youthful, inquisitive energy. The opening monochrome looks saw the Marc Jacobs logo blown up and plastered across oversize, vaguely 60s outerwear, the models almost entirely obscured by the protective coats and hoods, and wide trousers.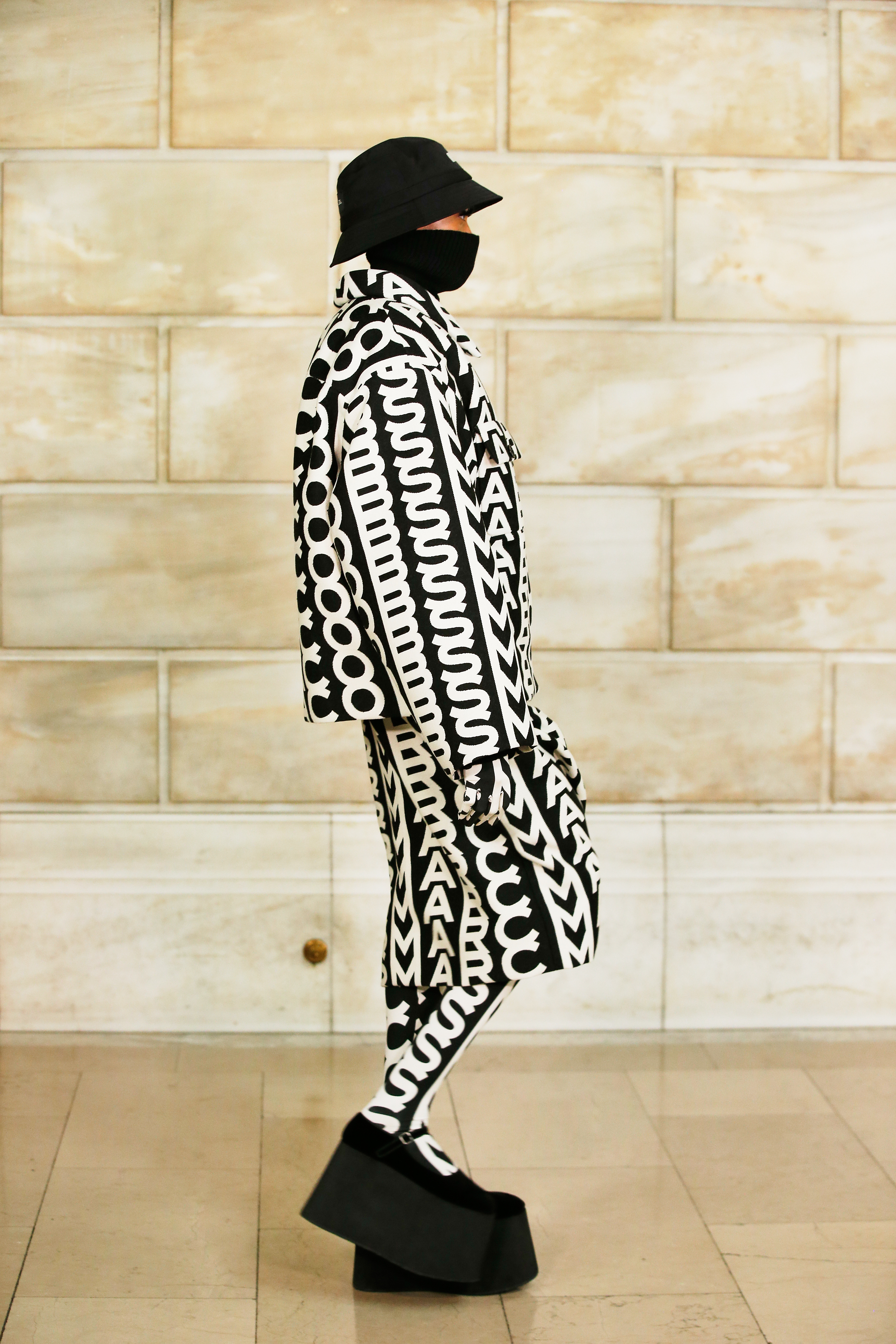 While the theme might have been Happiness, the clothes, while in every shade of the rainbow, swaddled and cocooned the models on their fast paced trot through the library. It was the happiness of walking through the city on your own, knowing full well that you look great and are going somewhere even better. Outerwear in greys and camel called to mind the palette of business people across the city -- whoever thought we would miss the rush of commuters. Dresses made from giant paillettes swished beneath great coats, architectural masks blended seamlessly with knits, and platform Mary Janes gave the models a heavy footed height.
Marc seemed to be having the most fun (slash living his fantasy) when it came to volumes, specifically the volumes of huge down jackets and hoods. Puffa coats were at times outlandishly outsize, like a commuter battling the snow in a New Yorker cartoon, and at other times cropped to create an elegant bolero. Paired with trailing faux fur capes (and styled by i-D's Editor in Chief Alastair McKimm), they brought new life to the often hum drum garment, elevating it to outrageous proportions. In two black and white striped looks they appeared particularly Seussian, and reminiscent of Spring 2013's explosion of stripes. The show ended with a parade of neon bright pleated dresses worn with caps, headscarves and hoods. Go out and parade, but protect yourself too, they seemed to say. "Through the physicality of this shared experience, I hope to offer a moment of inspiration, curiosity, wonder and possibility," the notes ended. Marc enlivens the whole fashion industry with his generosity of spirit, both in sharing his own designs and championing the work of others. We're so happy he's back.