Critics are saying Jordan Peele's Nope is 'depraved' in the best way
The first reviews are in for the director's "great American UFO story" starring Daniel Kaluuya and Keke Palmer.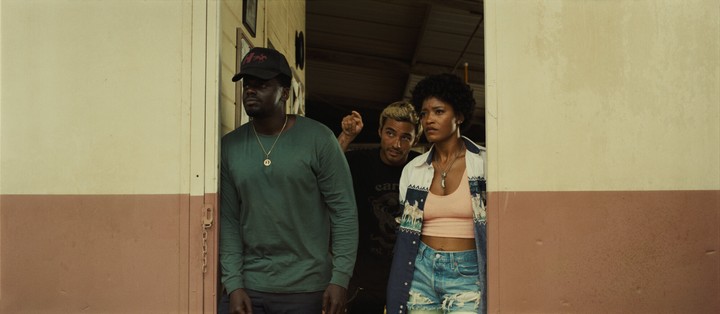 Still from Nope (2022)
Jordan Peele's last directorial effort, the Lupita Nyong'o-starring döppelganger shocker Us, hit cinemas over two years ago, and we've long awaited whatever might follow it. Now we know it's Nope, a horror movie dropping to the big screen in August. But before then, a lucky few managed to get an early peek at the terror epic at the LA premiere last night and they are raving about it. In particular, Keke Palmer's performance seems to be a stand out. Give an Oscar to the queen of knowing absolutely no one — she deserves it!
In anticipation of its long awaited release, Jordan Peele has already shared that the mysterious movie is a "great American UFO story", adding that he wanted it to be considered a "spectacle" that would get us back into movie theatres after a long stretch of being shuttered by the pandemic.
Over early 2022 we heard tricklings of cast details before the first trailer for the movie finally dropped during the Super Bowl, giving us a few more clues to what to expect from the Us follow up, as well as a release date. Here's everything we know so far about Jordan Peele's Nope.
What's the plot of Nope?
In the film, Daniel Kaluuya and Keke Palmer play siblings. They are both caretakers on a horse ranch when, all of a sudden, a malevolent force from the sky starts affecting the behaviour of people and animals alike.

What actors are set to appear in Nope?
The first thing we learned about Nope was that it would be the project that reunited Jordan Peele with his Get Out lead Daniel Kaluuya. As it stands, we believe Daniel may be the lead in the movie, and he's joined with a cast of equally hyped actors.
'Sorry to this man' icon Keke Palmer is also set to star alongside him. Keke is bound to make her biggest splash since her iconic turn in 2019's Hustlers, which propelled her back to stardom.
Steven Yeun, who recently racked up plenty of awards love with Minari, has also joined the cast of the movie, along with Barbie Ferreira of Euphoria fame, meaning there's a quartet of bonafide, recognisable stars leading up this project.
Is there a Nope trailer yet?
Yep! The most recent trailer (above) gives us our best look yet at the movie.
What are the review for Nope saying?
"Nope is Jordan Peele's Jaws," says film critic Karl Delossantos, adding that it is "anxiety-inducing" and "a chopped, screwed, and depraved homage to the summer blockbuster" that will polarise viewers. Keke Palmer's acting, though, will apparently not: "Keke Palmer is easily MVP," he concludes. Author Jason Bailey said the movie is Jordan's "simplest", focusing more on creating a terrifying mood and the craft of horror-making rather than plot twists and backstories explaining the extra-terrestrial phenomena. Other compared it to The Twilight Zone and 2018 sci-fi horror Annihilation and have called it one of the best films of the year thus far — which is high praise given Minions: The Rise of Gru only came out a month ago.
When will Nope be released in cinemas?
Nope is set to hit cinemas on 12 August 2022, meaning the movie's distributor and producer Universal clearly have big hopes for this to become a big summer blockbuster. There's no sign of any preview screenings or festival dates before that. Expect it to drop in movie theatres much like Us did: riding the word-of-mouth wave.