Bong Joon-ho reveals details about the new HBO Parasite spin-off series
The South Korean auteur also teased his first animated feature.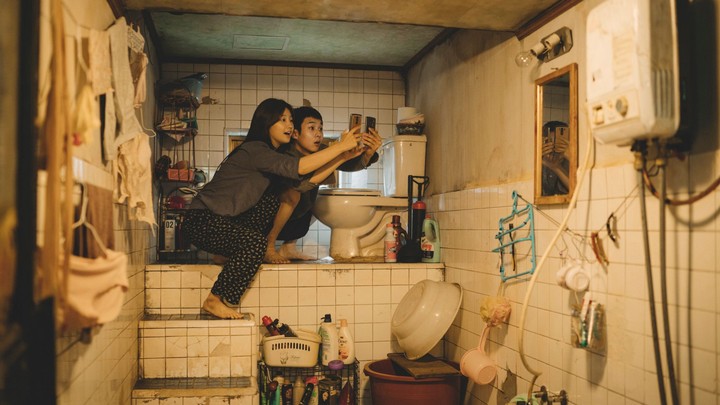 Studio Canal
Two years after a historic Palme d'Or win for his late-capitalist thriller Parasite, South Korean cult filmmaker Bong Joon-ho has returned to the Cannes Film Festival, and spilled a decent amount of cinema-related tea to Indiewire. Namely, the director has generously shared some choice details about his upcoming projects, including the imminent TV adaptation of Parasite (courtesy of HBO) and his first animated film. Letterboxd heads, listen up.
Working with Succession producer Adam McKay, Bong has been developing an English-language limited series for HBO since January 2020, spending much of last year's quarantine adapting his multiple-Oscar-winning social satire. But, as Adam told Collider in April of this year, the HBO series is not going to simply be a remake of Parasite. Rather it will be an original story set in the same universe, playing out like a six hour film. A stress attack that we, personally, will welcome with open arms.
"Parasite is a film on wealthy and poor families, and that is a problem everywhere," said Bong at Cannes this year. "[The television series] will be something of great genius, I hope. I worked with Adam McKay and he's figuring out the scenario. We're going to do it in the United States."
"The subject continues to have resonance in France and elsewhere," he added. "Many of [us] would like to be rich, but I think in all of us there is a fear of becoming poor." Bong then went on to explain his involvement as a producer in the HBO adaptation -- which he said would be a "black comedy" -- and later emphasised his surprise at the response his original film inspired.
"I had no idea that Parasite would be such a global hit. Its success was far beyond my expectations. Though I made it in exactly the same way as normal," Bong said. "And I remain unchanged by it. I mean, look at me, I'm exactly the same." Our humble king, a staunch defender of subtitles and anti-Oscars propagandist, may he never change.
And as for his animated project? Well, a few years ago Bong found himself inspired by a 2007 illustrated book by French environmentalist Claire Nouvian called The Deep: The Extraordinary Creatures of the Abyss. "The underwater colors are absolutely splendid," he said. "The starting point was the book. The story and animation flows from it." The director estimates the arrival of his fishy feature in 2025 or 2026, after his next film. The man is a machine, and we love him for it.
Tagged: