Is Amazon the new Depop? We asked a few TikTok influencers what they think
As the demand for affordable fashion keeps growing, the site's recruited leagues of Gen Z 'Amazon influencers' despite concerning ethics.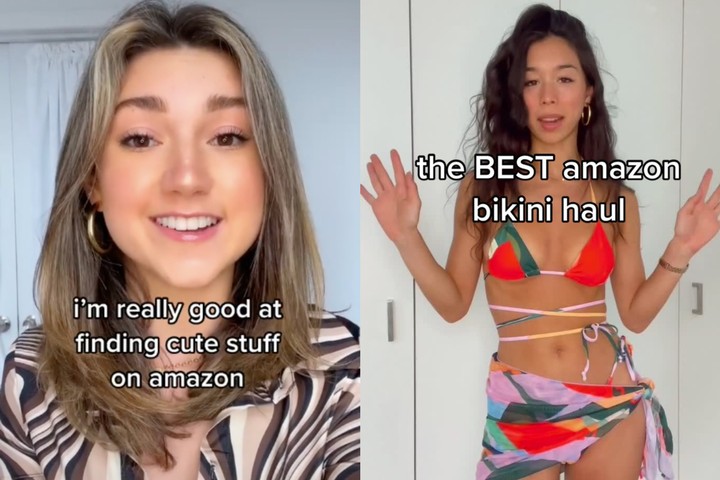 Stills from TikTok
It began with flared leggings. They were black, with a ruched waistband and waist-encasing ties. A girl on TikTok had layered them with sweaters, paired them with a cute crop top. Beyond cozy and comfortable, they were versatile; and a dead ringer for those hawked by I.AM.GIA for $70. Heading to her bio, I found a treasure trove of links to every item she'd been wearing. Among them were the pants, available for less than a quarter of the price, as well as many other must-have items: the Jacquemus Chiquito, Paloma Wool separates, With Jean's Andy Dress. Indistinguishable duplicates, all available on Amazon.
To say Amazon has defined a generation of shopping and consumption is a fair assessment. Their introduction of Prime, a VIP subscription service that offers lower prices and faster shipping, inspired numerous other online retailers to follow suit. As reports rolled in detailing the company's unethical treatment of workers at the height of the pandemic and problematic environmental impact (their carbon dioxide emissions equal that of Norway) — issues that had long plagued the company's image — founder and former CEO Jeff Bezos' net worth climbed to $200 billion. Despite this, many of us kept buying from them anyway.
Some will chalk up Amazon's appeal to the convenience of next-day delivery, but others would argue it lies in the site's vast array of products. Not only is Amazon's inventory seemingly endless, but their marketing techniques are more visible than almost any other company. It's human nature to respond to visual cues — studies have shown seeing images of food, for example, makes you hungrier — and Amazon's conduit approach to selling is second to none. They partnered with numerous publications and blogs to showcase the site's "hottest" deals via affiliate links. Amazon turned its attention to influencers, specifically TikTok and reel creators. The intention is clear: why advertise your own product, if people will do it for you?
For environmentally and socially conscious young people — known for upcycling and thrifted hauls — hawking Amazon products does seem a little off-brand, it's simply a case of supply and demand. Finding styles indistinguishable from those sold by fast fashion brands like I.AM.GIA or Urban Outfitters at a fraction of the cost is a huge drawcard. Duplicates for luxury designers, such as Cartier, Gucci and Chanel, also make it worth their while. The reality is that even though Gen Z leans heavily on vintage, thrifting and online slow fashion platforms like Depop or Poshmark (Depop now has 18 million active users), even they can't escape Amazon's ubiquity.
According to Kate Bartlett, a fashion student at FIT who has been working with Amazon for eight months, 2000 of her followers bought a certain Amazon-stocked brown dress after she linked to it in one of her posts. Kate's TikTok exploded when she posted a video chronicling a day in her life as a "college student" in New York, and she's since embraced 'get ready with me' and 'haul' content — trying on a range of outfits from affordable brands for her followers. Amazon reached out to her, Kate says, after she began to feature some of their items.
"I have actually found that it is incredibly easy for a product to go viral as there is a large market searching for Amazon finds on TikTok," she explains. "My followers tend to respond really well to Amazon content and are always appreciative of the affordable finds."
For Emma Kopang, a social media marketer in Dallas who leaned into style influencing during the pandemic, it was impossible to ignore the engagement Amazon-related posts would procure. Soon, she was sharing her Amazon "Monday Must Haves" with affiliate links. On TikTok, specifically, her sales soared.
"Recently I have been posting Amazon content primarily on TikTok, as I tend to get more engagement and sales from it," Emma says. "I personally trust product recommendations way more when they come from outside of the rehearsed formula of traditional influencers."
For the first two years, Amazon's influencer program largely flew under the radar. Links in YouTube uploads or Facebook posts would mostly go unnoticed by viewers — likely mistaken for genuine recommendations. Then came TikTok. Now, with clips and reels advertising "Best Amazon Finds" or "Favourite Amazon Tops," the company's initiative has moved centre stage. Followers can head straight to an influencer's link in their bio, which in turn takes them to their own personal Amazon 'storefront' curated with their favourite goods they've found on the app. Naturally, more follower purchases mean more dollars. That can mean raking in over $1000 per month as an Amazon influencer.
"Amazon has become my main source of income on social media due to the high volumes of orders on my storefront," Emma says. "I like that I am able to closely monitor my weekly earnings reports through Amazon and can see which products in particular are doing the best. This really helps me better understand what my audience's needs are and I can adjust my recommendations accordingly."
Both girls are wary of the company's ethical track record, particularly when it comes to sustainability. Emma is confident in Amazon's ambition to be almost entirely powered by wind and solar energy by 2024, as well as Bezos' $10 billion commitment to fixing the climate crisis. Kate approaches Amazon influencing with the same ethos she does as a consumer: everything in moderation.
"I would say about half of my closet is vintage and thrifted fashion," says Kate, revealing she has also partnered with Depop and Poshmark. "On social media I have always tried to be completely transparent about the fact that I am a college student on a budget trying to make a living in NYC. I absolutely love vintage finds, but I also love finding new and emerging trends on Amazon."
Emma believes the real issue is overconsumption. "There have been countless micro-trends just in the past year due to the ever-quickening fashion trend cycle," Emma adds. "On more than one occasion I have ordered something on a whim and by the time it was delivered it had already gone out of style on the internet. Just try to avoid over-consumption and support better brands when you are able — just because a brand is more expensive doesn't mean it's made more ethically or sustainably."
She raises a strong point. While not everyone has the budget for luxury fashion, or the access to sustainably-made or ethically-sourced pieces, ultimately, the power lies in our hands. Sometimes, that means balancing slow fashion with fast, like buying into trends with vintage pieces and relying on affordable brands for basics. Otherwise, it may be a case of unraveling what higher-end fast brands actually represent. Regardless, it's on us to do the research and derive which brands best align with our ethics.
"We all need to be mindful of how we use our personal resources," says Kate. "We all have our own threshold."