Photography Mitchell Sams
the sound and fury of a-cold-wall autumn/winter 19
Rottweilers, reflective monoliths and performers slithering through water dominated Samuel Ross's LFWM show.
|
08 January 2019, 11:04am
Photography Mitchell Sams
Samuel Ross's A-Cold-Wall is only three fashion seasons old, but he's already released an archival retrospective book. This should give you some idea of how quickly his brand has exploded into a massive business, with a legion of fans willing to buy and invest in everything he does. He used to work for Virgil Abloh, and he inspires the same kind of fandom; his clothing speaks directly and clearly to a generation of consumers who came of age as the boundaries between fashion and streetwear disappeared.

Last season was a landmark for Samuel in that he scaled up his ideas and pushed the streetwear-fashion crossover into a space that could accommodate conceptual and theatrical gestures. His clothing has a strict beauty to it, with brutalist architecture as an ongoing strain of influence.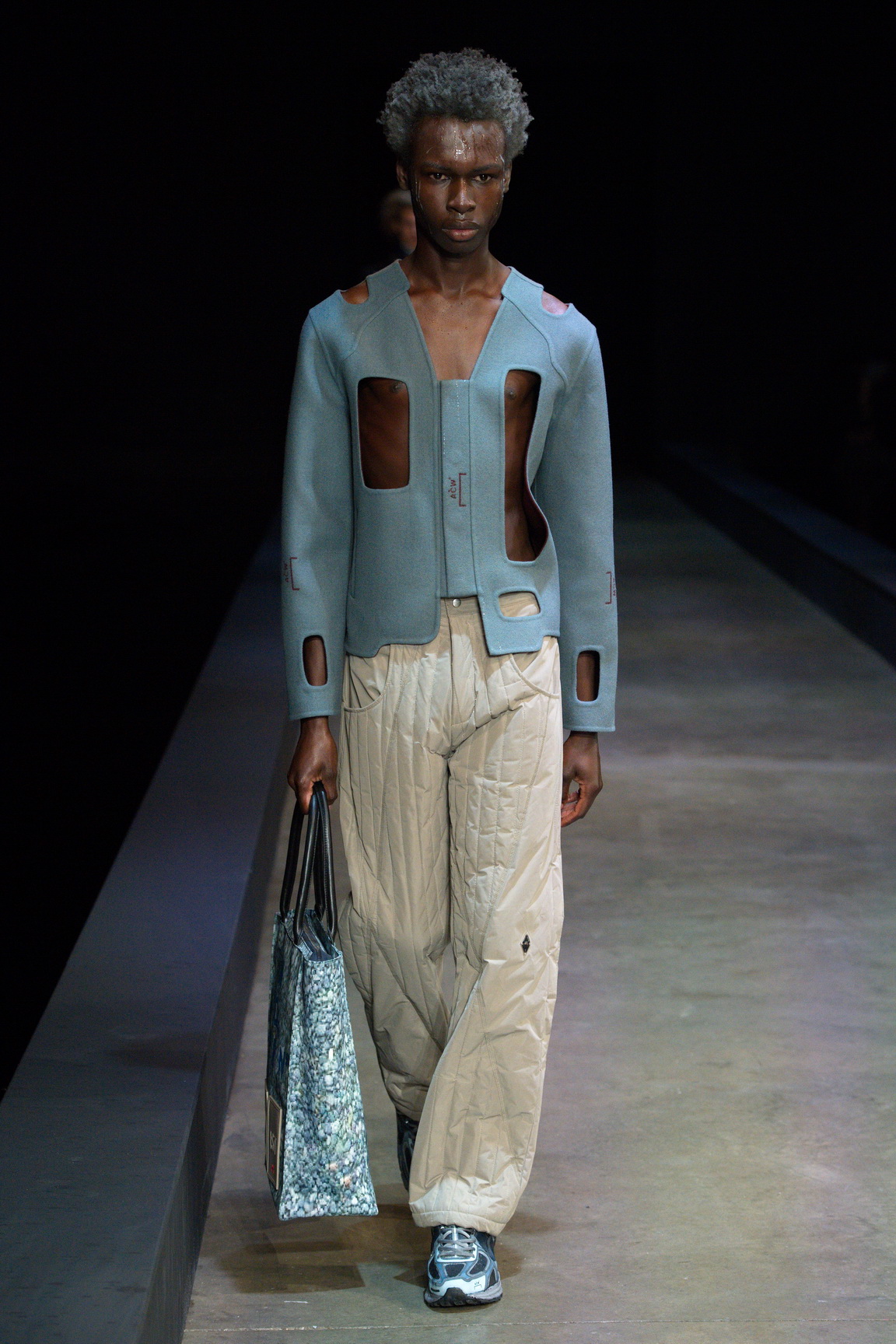 At the conclusion of last season's show, a group of grey painted zombies wheeled a big white box onto to the runway and smashed it to pieces. From the wreckage emerged a naked man, painted red, wearing a helmet, covered in slimy, amniotic fluid, who crawled out of the space on his belly along the catwalk. It seemed to suggest breaking free and the disappearing of the boundaries that hem us creatively in. This season Samuel promised something similarly provocative. A warning email earlier in the day said that the performers would be under control at all times and that we should not be alarmed or worried.
This autumn/winter 19 collection was titled Birth.Organ.Synth. It was, according to the press release, a "conceptual painting for this nascent age, embodying the progressive characteristics of the zeitgeist", a "collage of distillation" and a "canon of semiotic garments". It would include "totems constantly reinvented with an innovative lens." In practice? Some very nice coats, plenty of technical fabrics, reconstructed and cut away garments and fused together items. Windows onto the body, sculptural and spectral forms. Covetable and well crafted knitwear.
The colour palette featured splashes of Helmut Lang warning orange and a very British, almost cosy and comforting, concrete grey. As clothing it was brilliant, but it was obscured by something quite overblown in the presentation.
The runway was a slither of black submerged in darkness with two tanks of water running either side of it, separating it from the audience. A giant reflective monolith in the middle of the catwalk. Two groups of performers slithered through the water to a bone-rattlingly loud soundtrack of unremitting, abstract bass. The models walked slowly, looking over their shoulders as they did. A Rottweiler on a leash on the far side of the runway barked.
So much symbolism and sound and fury, but signifying what? It seemed only to create a distance, both emotionally and physically, from the actual clothing. The fact he still retains this desire to be experimental in his presentation is admirable, as is the inventiveness and originality he brings to London menswear, but it is just a shame the show didn't give enough space to the detail and subtlety of Samuel's designs.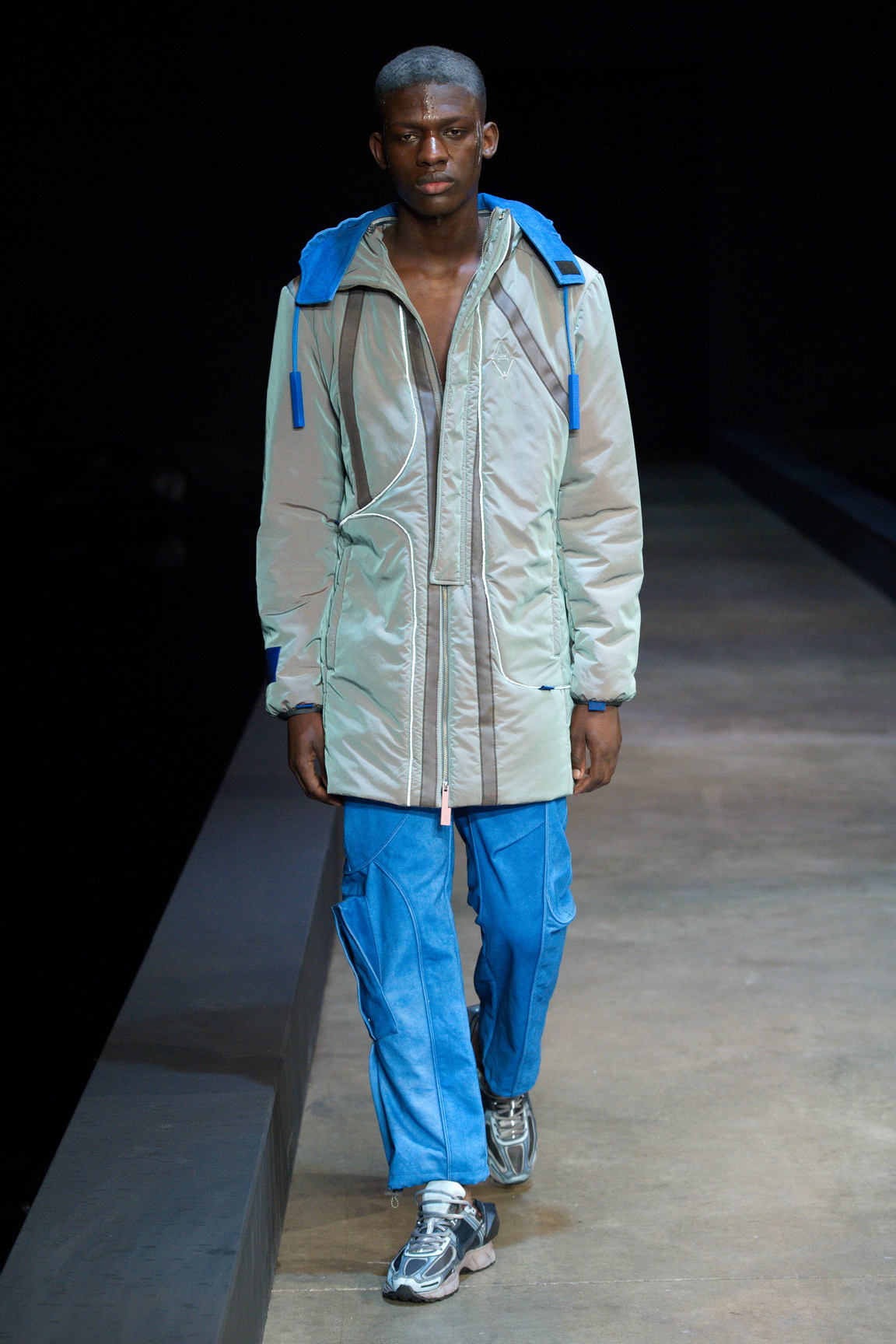 This article originally appeared on i-D UK.