net-a-porter drops dolce and gabbana following racism accusations
It caps off a very bad week for the brand.
|
22 November 2018, 5:48pm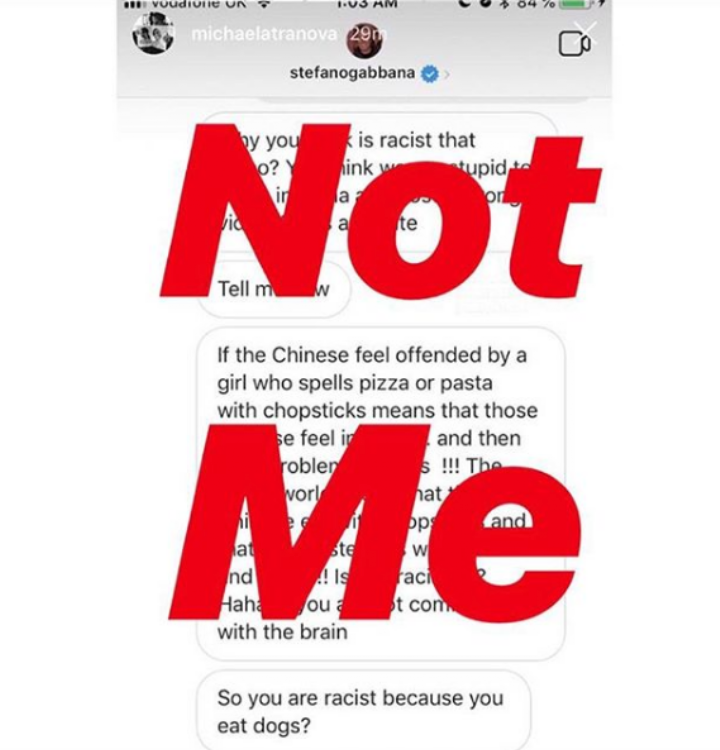 It's been a bad week for Dolce & Gabbana, and it seems it's only getting worse. Having had to cancel their Shanghai runway show under a cloud of racism accusations after DMs from Stefano Gabbana were leaked, it now turns out Yoox Net-A-Porter are going to drop the brand. Chinese e-commerce platforms including Alibaba, JD, Secoo, VIPshop, and Netease have already stopped selling the house's products, WWD reports.
The furore started when an advert for the brand's Chinese runway show was accused of cultural insensitivity. The video featured a Chinese model struggling to eat spaghetti and pizza with a pair of chopsticks. Stefano didn't take too cheerily to this, and replying to an Instagram DM, he said "From now on in all the interviews that I will do international I will say that the country of [shit emoji] is China." He also accused the Chinese of eating dogs, and called the Chinese an "Ignorant Dirty Smelling Mafia." The messages quickly went viral, and although D&G and Stefano are claiming their Instagram accounts were hacked, the backlash, which started in China, seems to be spreading. Videos have been circulating of people burning D&G products and using them to clean toilets.
D&G are no strangers to controversy, of course. Stefano has previously called the Spanish "backwards" after the country banned a D&G advert for "glorifying rape", and after Elton John took offense to Domenico Dolce saying gay people shouldn't have children, he called Elton a "fascist." They also, controversially, dress Melania Trump.
The pair have previously run into problems with the Italian tax authorities. But, it looks like 2018 might just be the most financially damaging year of all for the brand. After all, China is one of the most valuable luxury goods markets in the world. Bloomberg report that "Chinese consumers spent more than $100 billion on luxury purchases last year".
This article originally appeared on i-D UK.