it 2 has begun filming and will be released next year
Because the world wasn't terrifying enough.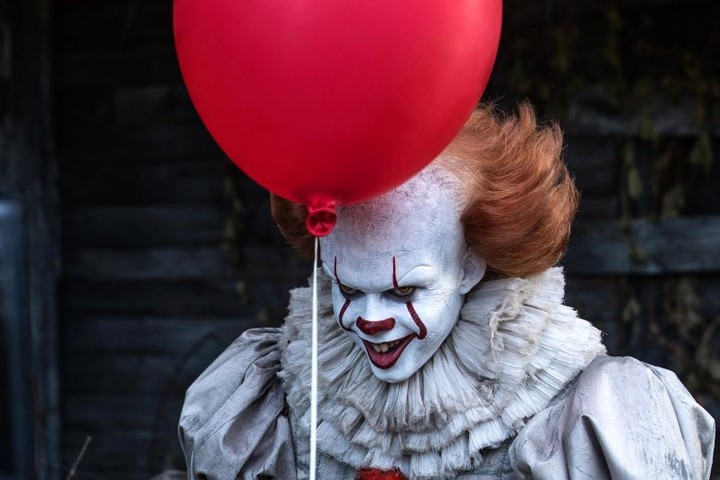 Still from It
Clowns are undeniably the most sadistic form of children's entertainment out there, which makes them make great horror movie fodder. So great, in fact, that last year's adaptation of Stephen King's It was the highest grossing R-rated horror movie of all time, and the highest grossing Stephen King adaptation too, raking in $700 million in the worldwide box office.
And that's just the half of it. Literally — it was the first of an It double-bill, the second of which we finally have some fresh intel on. Indiewire reports that filming of the It sequel is set to start in July in Toronto, with a release date of September 6, 2019. "The script is still being finalized and the locations are currently being scouted in anticipation of shooting then," producer Roy Lee told Indiewire. The sequel will take place 27 years after the first (which was set in 1988) — 27 years being the length of time Pennywise needs to hibernate between each reign of terror. Feasting on the unsuspecting little munchkins of Derry is tiring work!
Last year we were blessed with Stranger Things's Finn Wolfhard starring, who at the time told i-D, "Filming a horror movie can definitely be scary at times. After all, if it's a really scary scene, you have to be in it!" Fortunately, his co-star and up-and-coming actor Sophia Lillis disclosed to us that they got to let of a bit of steam by way of group karaoke sessions: "He's very good," she said of director Andrés Muschietti's Boney M impression.
While the kids did a stellar job at playing scared, the 27 year leap forward sees the original group return as adults. Which means a whole new cast (apart from Bill Skarsgård, who'll return as Pennywise). Only Jessica Chastain is confirmed — she'll be playing Beverley. The rest we await in anxious suspense. Good practice for watching the film, then.
This article originally appeared on i-D UK.