watch solange's mesmerizing new art performance
She has created an interdisciplinary video and dance performance at LA's Hammer Museum, plus a giant sculpture called 'Megatron's Cube.'
Solange Ferguson's entire life has been shaped by visual art. Fine taste clearly runs in the family: Mama Tina used to host art history lessons for her daughters, as the Seat at the Table mastermind revealed to Surface, and her niece Blue Ivy recently entered a $20K art bidding war with Tyler Perry. But rather than simply appreciate art, Solange has been quietly claiming a seat at the table of the (very white) visual art establishment. And proving that a lifelong diet of Radcliffe Bailey and Mickalene Thomas has made her more than qualified to conceive works of her own. Solange toured A Seat at the Table not through music venues but through museums. Her solo shows are mesmerizing performance pieces, while supporting acts include "15 Untitled Works in Concrete" by minimalist sculptor Donald Judd.
Today at Los Angeles's Hammer Museum, Solange unveiled her latest pièce de résistance: an interdisciplinary video and dance performance called Metatronia, presented in partnership with Uniqlo. Solange also tapped choreographers Gerard & Kelly, "whose philosophies on movement align very closely with mine," while students of California State University were recruited as dancers. But that's not all Solange presented today. The erstwhile pop star has also conceptualized and created a magnificent large-scale sculpture named Megatron's Cube (2018).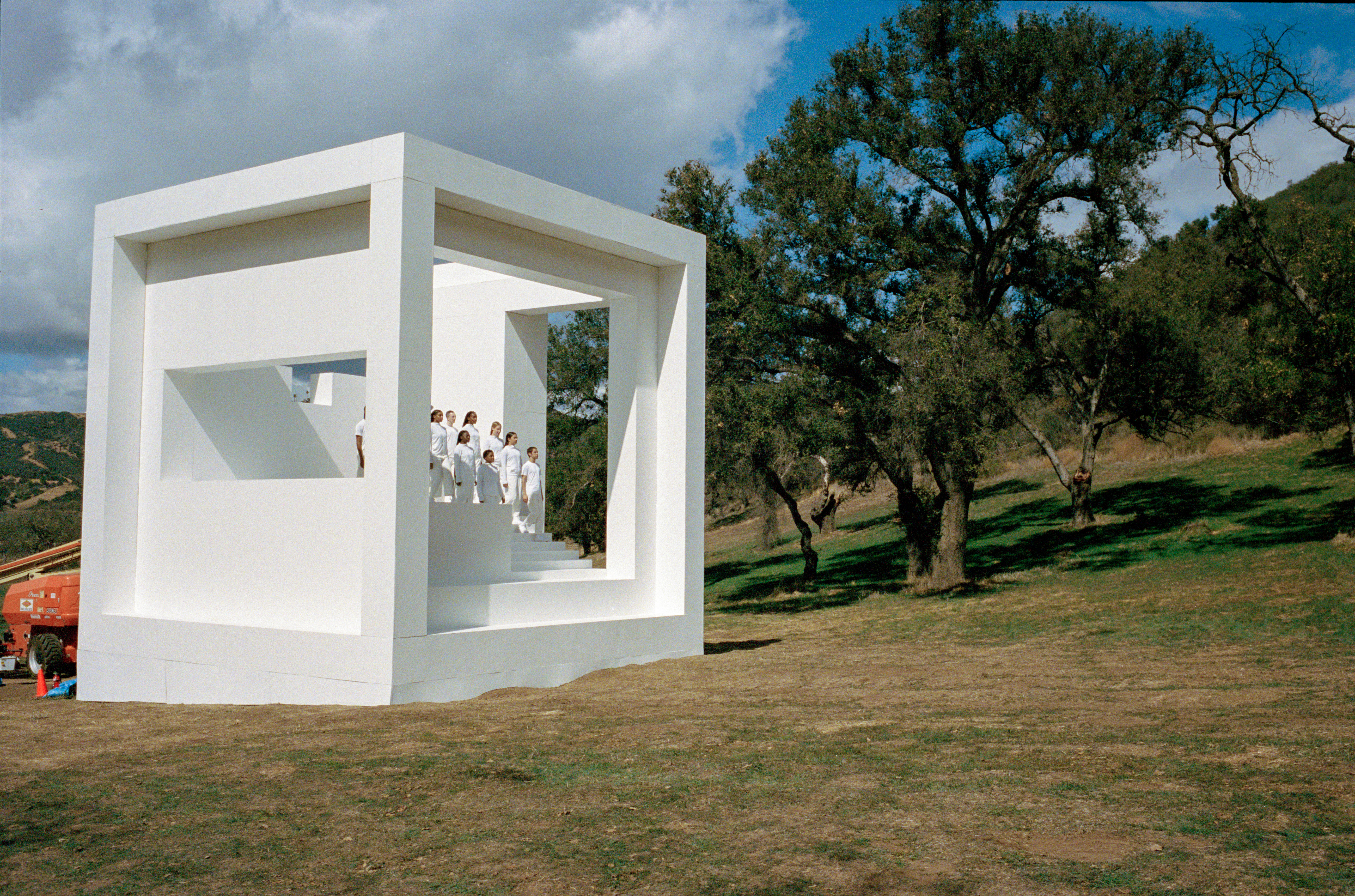 "In the past I have designed my sets and sculptures to exist in relationship to my performance pieces," Solange said of Megatron's Cube. "I'm excited about transitioning into creating larger scale works that have the duality of existing as part of a performance and then as a standalone sculpture that can be engaged with by the public. It was important to me to make the piece modular so that it can be quickly assembled in different landscapes allowing people to have individual interactions and experiences."
The sculpture was unveiled with a performance piece, Metatronia, that you can watch over on Hammer's website. In the video of the performance, dancers clad in matching outfits (presumably from Uniqlo) incorporate the cube into a sequence of mesmerizing synchronized movements. "Metatronia explores the process, and mapping of creation," Solange said of the video. "The piece is an exercise on following the intuitive force that guides us, helping us to create space, and silence the mind to create the work."
Megatron's Cube (2018) will go on its own U.S. tour this summer.