according to acne studios, this young fashion rebel could be the future of design
In this exclusive short film, the 12-year-old son of Acne's Jonny Johansson talks fashion design, roller coasters, and being inspired by his dad's creative spirit.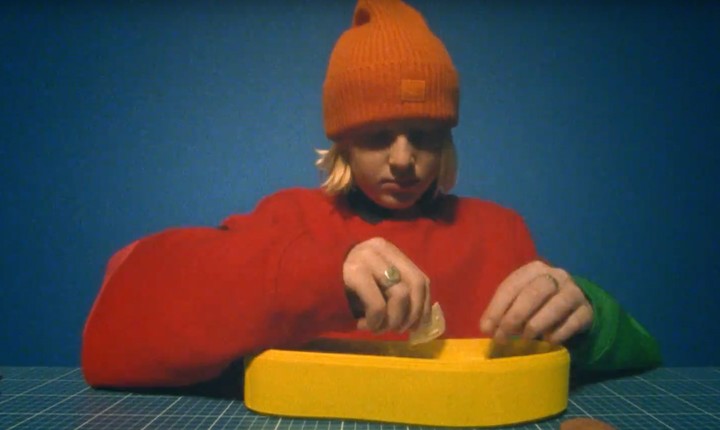 Having been raised across the course of 23 seasons at Acne Studios, there's a chance that 12-year-old Tage Johansson might succeed his dad Jonny and become the brand's future fashion visionary. Or, you know, one of the best surfers in Sweden. "Maybe I'll be working with clothes," Tage tells i-D, a day after he celebrated his birthday, "but for a Swedish person, it's easier to be really good at surfing. And it's fun!"
Whether he's riding waves or sewing in the future, there's something about Tage's creative upbringing that suggests he could be on to something. Case in point: this new film from Acne Studios that premieres exclusively on i-D, in which Tage writes his own fashion rulebook and creates some brand new sneaker silhouettes from components of his dad's spring/summer 18 collection. Tage cuts and sticks to his heart's content, creating two imaginative styles his dad will definitely be stealing for Acne's next season. "My designs are cool," he boasts, "better than dad's originals."
This isn't the first time Jonny Johansson has looked to his kids to find inspiration for his work. Back in 2015, he enlisted his other son Frasse to wear a dress and heels for Acne Studios' autumn/winter 15 campaign. There's something about the Johansson bloodline that makes them certified cool kids of fashion, but thankfully, that doesn't seem to go to Tage's head.
When he's not starring in fashion films for his dad, he's just happy having more freedom -- now that he's a year older. "I'm starting to grow up, so I can do more stuff," he tells us. Like what? "Going on roller-coasters on my own, and playing in a pool without adults."
It must be fun to spend your childhood living under the same roof as a fashion designer, right? From Tage's perspective, there seems to be plenty of perks to it. "It challenges me to work on my own look and style, and if I want to do something creative he helps me, from teaching me how to knit [and find] fabrics. He inspires me to do more."
And if dad is having a rough day? "If he's in a bad mood -- then he's no use!"
This article originally appeared on i-D UK.