why clark moore is the femme, gay hero of 'love, simon'
The actor, who plays Ethan in 'Love, Simon,' talks confidence, femme-shaming,and going beyond the tropes.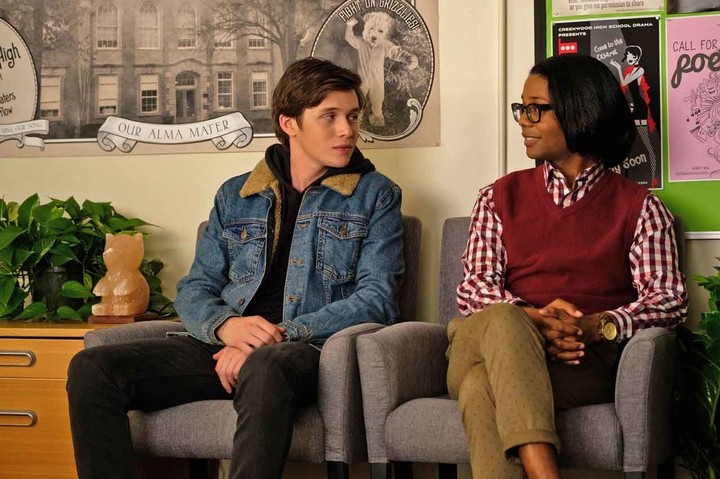 Ben Rothstein / 20th Century Fox
When Love, Simon premiered last month, critics called it a popcorn movie revolution. Here, for the first time in history, a major studio had put tens of millions of dollars into a story that once would have been dismissed as too niche or (ironically) exclusionary for multiplex audiences. But it's 2018 and the struggles of gay high schoolers coming to terms with their identities deserve to be seen by mainstream moviegoers — regardless of their sexuality.
This breakout film tells the tale of the titular Simon: a 17-year-old suburban boy with a run-of-the-mill life that's the same as everyone else's, bar one thing: his attraction to men is a stealthily kept secret. Its interpretation of a gay character is a hindrance and an asset to Love, Simon's story. While it's refreshing to see a big movie protagonist that fails to check the heteronormative tick-box that most main characters adhere to, there's no denying that Simon's a fairly safe, Hollywood-ized representation of queer sexuality.
So in steps Ethan. Played by Clark Moore, he's the film's sobering reminder that being openly gay isn't always a life of rainbows and roses. As the quintessential "only gay guy in school," Ethan's a proudly effeminate, fashion-forward kid with a clapback for everything his bullies throw at him. As Simon watches him get teased by a duo of jackass seniors, he wishes Ethan "wouldn't make it so easy for them" — as if his effeminate behavior is something he should try and suppress. Over the course of two heart-swelling and sweet hours, Ethan's the guy that proves being gay is nothing to be ashamed of, but that his quick wit often hides the sadness that stems from the realities of it all.
The frankly iconic Clark called us on his way to work, and we discussed effeminate boys having a purpose in cinema, why the Queen is his idol, and how the pressures of being masculine are harming gay culture.
Hi Clark! Congratulations on the film. Looking back now, can you remember how Ethan was described in the script?
It was a while ago, so I can't remember the exact wording, but it was like: "He's flamboyant. The only out gay kid at school, dressed in haute couture by way of suburban mall." We're giving you the vibe that he's before his time, and escaping the confines of his upbringing. He's a little too fabulous for this Atlanta public school!
Can you identify with that IRL?
I would say the slightly delusional part! I've always been a dreamer: the kind of person who wants to make the most of whatever I have. But Ethan is more successful in achieving his delusions than I ever was. I was way off the mark in high school!
Ethan is so proudly femme and queer. What's it like playing a character that's been dubbed a hero by critics and fans?
It's heavy. I've been thinking about how I would've been affected by this film, seeing a character like Ethan when I was in high school. Maybe it was my southern humility or the way it was brought up, but I didn't expect for the spotlight to shift towards me at all! I'm glad to be in it, because there's so much more that I want to say. I just hope it's the stepping stone to tell much broader stories about experiences like these.
I guess he's the kind of character we see a condensed, fleeting version of in high school films. How important was it to you for Ethan to have a real purpose and agency?
That's what made me so excited about the role. There are so many moments in the film when Ethan gets to be what we're used to seeing — a sassy, gay character — but if it stayed there, he'd be a trope. The fact that Ethan is a pivotal part of the film is what's making it such a successful story for the people who see themselves in him. Nobody is just sassy or thick-skinned.
I experienced that in high school. I had all the confidence in the world, and as a result people thought that when I was bullied that it didn't affect me, but that wasn't true. Confidence gave me visibility, but it also put a target on my back. I'm so glad Love, Simon touched on that: that it's not easy for anyone.
Tell me a bit about the people you admire!
You have me in a UK mood, so definitely Queen Elizabeth II. In the beginning of her reign, she was infantilized and talked down to because of her gender. [I also love] Barack and Michelle Obama — people who have been thrust into positions of power and influence, but at the same time are hindered by the things that are affecting people far below their rank — they're able to exist in that space without dwelling on the negativity. My mother, too. She's a dentist on the outskirts of Atlanta, and she faces racism and sexism constantly.
Did you ever find yourself schooling Nick Robinson (who plays Simon) on set? He's a great actor, but unlike you, this story wasn't a lived experience for him.
I respect Nick's process a lot. On one of the first days we shot together, we walked onto the set as the only two people in the room. He was so generous and present. We didn't talk a ton about my experience — and I'd never presume that my experiences affected the way he worked — but I felt like we were in it together.
You get the best one-liners. Who are your sass idols?
Chrissy Teigen is my sass idol, for sure! But for the film, I went back to Mean Girls and Gossip Girl: all of those juicy and iconic teen [rivals], like Regina George and Blair Waldorf.
Femme-shaming in the gay world is sort of scarily prevalent these days, right? Are there dangers attached to forcing everybody to present as hyper-masculine instead?
We're accepted, generally, but [the gay community] are no longer treated as taboo. Our tent-pole issues [in many countries] have come and gone: the defense of marriage act, and the inclusion of LGBTQ+ people in anti-discrimination laws, so we no longer have to really be the "other." But the reality is that the world still values masculinity over femininity, whether that's in men or women, hetero or homosexuals. In our community, a lot of people have gone in that direction. The whole "no fats, no femmes, no blacks, no asians"... it doesn't feel like it's dying out, it feels like it's getting worse.
It's a weird thing. As soon as respect arrives from outside the community, the segregation gets worse within.
Definitely. I understand why people feel the desire to do that — they want to fit in. That's why this high school story is touching people [of all ages]. Perhaps it's the story they never had.
This article originally appeared on i-D UK.