what's with the influx of childlike fashion 'toys'?
Infantile is trending.
|
17 September 2018, 12:22pm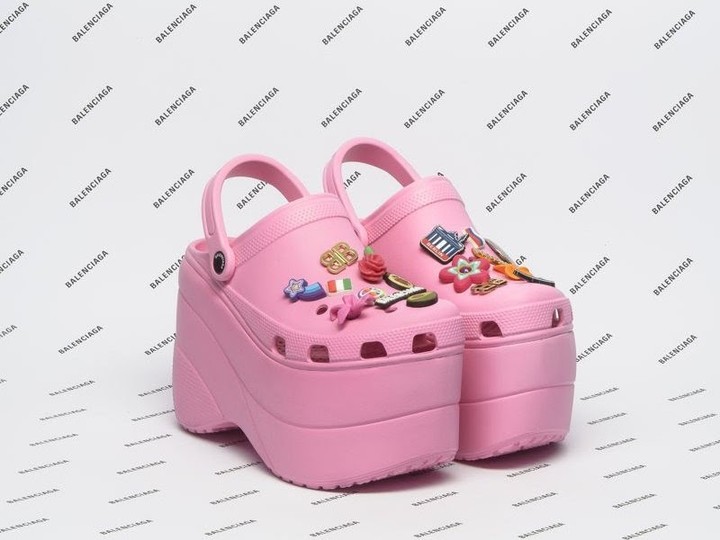 Courtesy of Balenciaga
Back in July, JW Anderson launched his second drop of sneakers in collaboration with Converse. Titled the Toy collection, it was the latest in an ongoing series of partnerships -- ranging from Japanese retail behemoth Uniqlo to A$AP Rocky's creative agency AWGE -- that mark Anderson's growing ambition to democratize fashion, offering his signature off-kilter design sensibility at a more accessible price point. While Anderson is known for his rigorously intellectual aesthetic, drawing on an encyclopedic knowledge of 20th century art and British modernism to create challenging new shapes and silhouettes, here the aesthetic was playful to the point of infantile, crafted from candy-colored patent leather and translucent rubber.
Despite his reputation as an avant-garde trendsetter, Anderson is hardly the first to delve into the kitschier corners of childhood -- tracing the trend back to its origins, you could argue that the Fendi bag bugs were patient zero. First launched in 2013, the furry, googly-eyed charms were seen dangling off the handbags of many a fashionista, lending even the most severe outfit a dose of playful humor. A year later, Fendi's creative director Karl Lagerfeld riffed on the bugs to create a charm of himself nicknamed the 'Karlito' constructed from leather, mink, and silver fox fur and available for $1250 -- given he employs a full-time maid to look after his cat (also available in toy form) Karl's not exactly known for his thriftiness, after all. Within weeks, WWD reported that there was a 600-person-strong waiting list. Adorable, or eye-wateringly extravagant?
From there, the appearance of cutesy, colorful accessories seems only to have snowballed. In the last year alone, we've seen a carousel of childish it-pieces: the dinky proportions of Jacquemus' Chiquito bags, JW Anderson's sprinkle donut keyrings, and Balenciaga's lurid pink platform crocs covered in squishy stickers. Perhaps the strongest sign that it's now a full-blown trend was in the run up to Kim Jones's debut at Dior Homme in June: not only did he use the cartoonish illustrations of American graffiti artist Kaws on bags, shirts and even the invitations, but to whip up even more feverish anticipation before the show he posted a series of images on Instagram of industry icons holding soft toy 'plushies' modeled on Monsieur Dior himself. When Naomi Campbell, Kate Moss, and Kim Kardashian are all rocking stuffed toys for the sake of fashion, there must be something in the water -- one entrepreneurial hypebeast even had the audacity to advertise it on resale website StockX for $1 million (although at the time of writing, the highest bid is a mere $800).
So what makes this cheap, chintzy vision of childhood so desirable? It's easy to argue that, by dazzling with their gaudiness, the fashion toys turn stylists and shoppers into children in a candy store. And when it comes to the smaller items, this could be partially true. It's been widely noted that the Achilles' heel for many brands with struggling sales over the past few years has been a lack of items at the mid-range pricing sweet spot. The commercial benefits of a wide range of toy-sized accessories like charms, keyrings, and coin purses is their appeal to both the aspirational customer saving up for their first designer purchase, and the loyal client with cash to blow who might buy a number of the items in different colors or prints. A fan of that teensy-tiny Jacquemus bag? Why not buy three and match them to all of your outfits.
While it's also been attributed to their slowness in adapting to the brave new world of ecommerce, the faltering fortunes of Prada have been well documented, with many insiders noting that the premium prices of their bags resulted in them missing out on a key slice of the emerging millennial market. It's a deficiency they're now addressing with the relaunch of their Linea Rossa sportswear line and classic items like their black Pocono nylon bags and purses, which start from around £150. Meanwhile, their newly-expanded range of knick-knack accessories are covered in cutesy prints featuring monkeys, bananas and teddies; and the statement accessory within the dystopian warehouse of Prada's fall/winter 18 collection was a leather name tag holder -- yours for a cool $165. While Prada sits at the more restrained end of the toy-inspired spectrum, it perhaps suggests that embracing the eye-catching allure of colorful, impactful accessories can be an easy means of boosting profits for a broader range of brands.
But accounting for the popularity of an item like the willfully ugly Balenciaga platform Crocs is a little more complicated. The (possibly rightful) indignation of many a fashion observer would say: what would make you want to wear something so infantile? Maybe the answer lies not so much in the hard facts of commerce, but in the psychological triggers set off by an object that reminds us so keenly of our youth.
It's easy to forget the significance toys once held for us -- even if a re-watch of any of the Toy Story films makes for a particularly heart-wrenching reminder -- and the key role they play in our formative moments. In his 1853 essay The Philosophy of Toys, the French writer Charles Baudelaire suggests that interacting with toys is the first time we begin to actively shape our own identity, using them to craft miniature and more brightly-colored visions of the person we want to be when we grow up. Whether you're choosing to stay inside to play with the tea set or drive around in a Little Tikes Cozy Coupe, you're taking the first steps towards choosing the classes you want to take at school, the model of your mobile phone, the light fittings in your first apartment.
Even if the rampant consumerism of the society we live in encourages us to chuck out our clothes and refresh our wardrobes every season, the sentimental value children place on toys is immense -- we all have that one friend who still sleeps with their childhood teddy, or remember the screaming kid at the sleepover who forgot to bring their trusty stuffed dinosaur. It's a depth of attachment that we aim to replicate in the purchase of luxury objects, with the almost magical sway they seem to hold on many consumers -- just ask the man who went viral after proving he was prepared to risk his life in order to defend his Louis Vuitton handbag from a gun-wielding thief.
Maybe the desire to accumulate these silly, colorful objects isn't because we're possessed by some dark, fang-baring poltergeist of late capitalism. It could simply be because we like shiny things, colourfl things, ugly things that remind us of the garish, kiddie aesthetics of our childhood -- and that furry keychain recalls a moment in our life where we began to decide who we wanted to be, and discovered the endless possibilities of style to shape that. It might be a bit silly, but it's also kind of sweet. Laugh all you want at the person rocking those Balenciaga Crocs, but even grown-ups need a (figurative) comfort blanket every now and then.
---
read more
This article originally appeared on i-D UK.