maison margiela's latest couture collection is inspired by an iphone flash
Get your selfie sticks ready.
The best fashion reflects the culture it inhabits. Case in point, John Galliano's latest couture for Maison Margiela. The house's spring/summer 18 collection, which took to the Parisian catwalks today, is "Entirely transformed by the flash of a camera phone," the press release states. "Dresses, coats and bustiers turn multi-coloured, revealing a parallel reality."
Imagine: you are dashing out of work in some casual grey trainers, donning a relatively demure dark green trench to protect you from the inevitable London summer drizzle (and also a bright yellow swimming cap, because this is fashion sweetie). You are wearing this:
You peek one foot out of the Uber X and onto the red carpet where a slew of paparazzi await, and, with a single camera flash, you are iridescent beacon of glory. You are the shiny scale on The Rainbow Fish. You are this: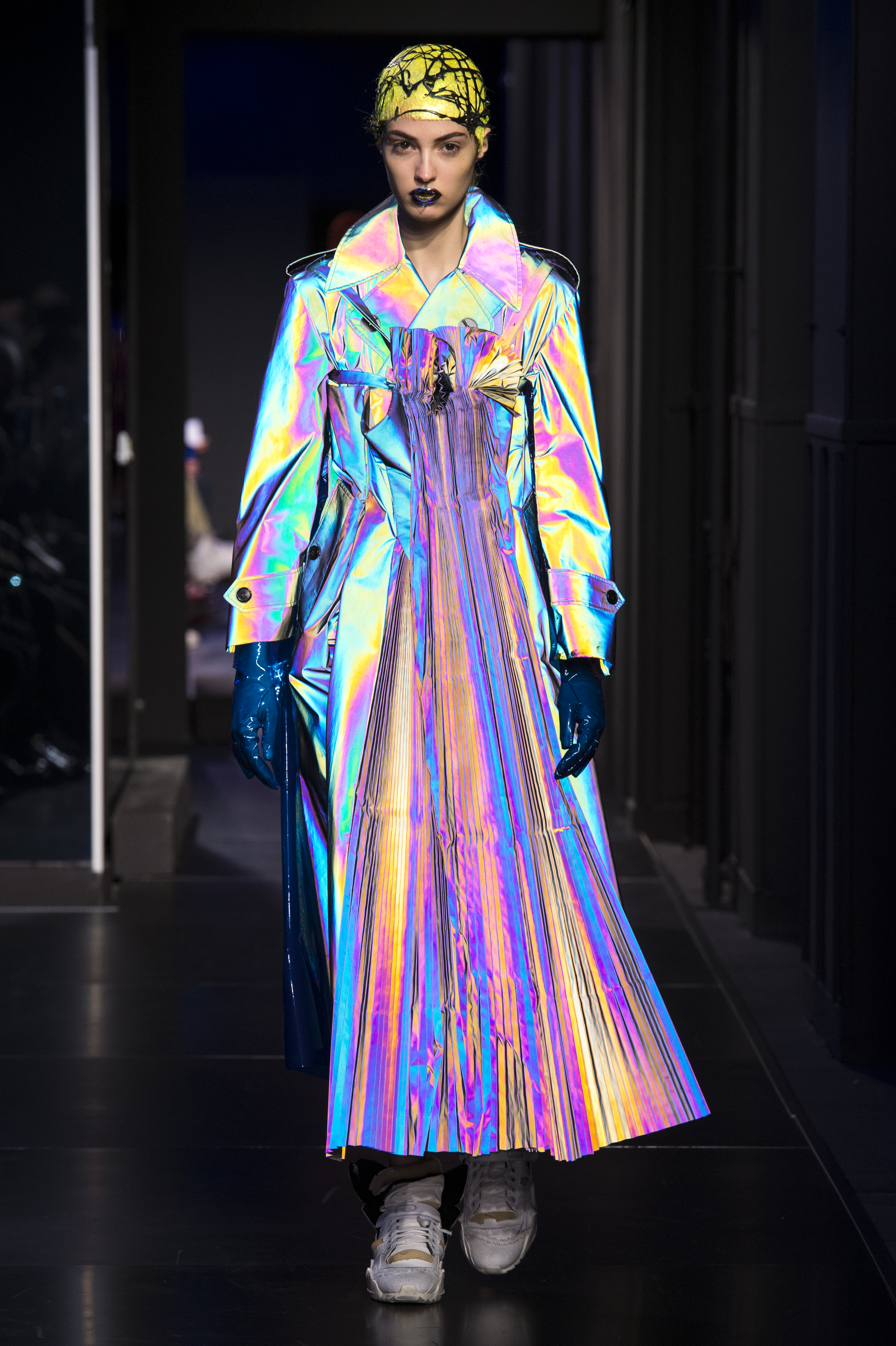 The colour change comes courtesy of special light-reflecting and refracting fabric, which produces different effects when layered with an array of shiny, clear materials -- PVC, polyurethane, prism film and Perspex. The transformative outcome is a testament to the developing technological capabilities of textiles, and also the fact that iPhones have permeated every nook and cranny of modern life.
But the collection wasn't just about selfies. There were plastic biker jackets over fine silk, plastic dresses over lace, sports parkas over lamé pleats. "When lines between daywear and eveningwear are blurred, relaxed glamour becomes the essential dress code in our everyday life," the house explained. Basically -- gone are the traditional outfit delineations of yesteryear. You can wear gowns to the office, sportswear to the clubs, a swimming cap everywhere. But wherever you are, whatever you're wearing, don't forget the golden rule: always be camera ready babe.
This article originally appeared on i-D UK.