Prada. Photography Mitchell Sams.
prada made our nylon dreams come true
Miuccia revived the house codes for the future and declared her deep love for the thermoplastic fantastic fabric.
Prada. Photography Mitchell Sams.
"We are living through strange times in which we do not know quite where we are going," Miuccia Prada explained backstage. "Of course, it can be scary, it can be worrying, but it's interesting because of the feeling that big changes are coming. Her answer to this moment of flux was to time travel through the past, present and future of Prada. Embracing both consistency and change, this autumn/winter 18 show was a whistlestop whirlwind tour through the multi-faceted identity of the house that Miuccia Prada built. From the black nylon experimentation to the archival prints remixed and reimagined from spring/summer 1996, through to autumn/winter 16, this Prada show was the very best of the brand, filled with industry shaping Prada-digms.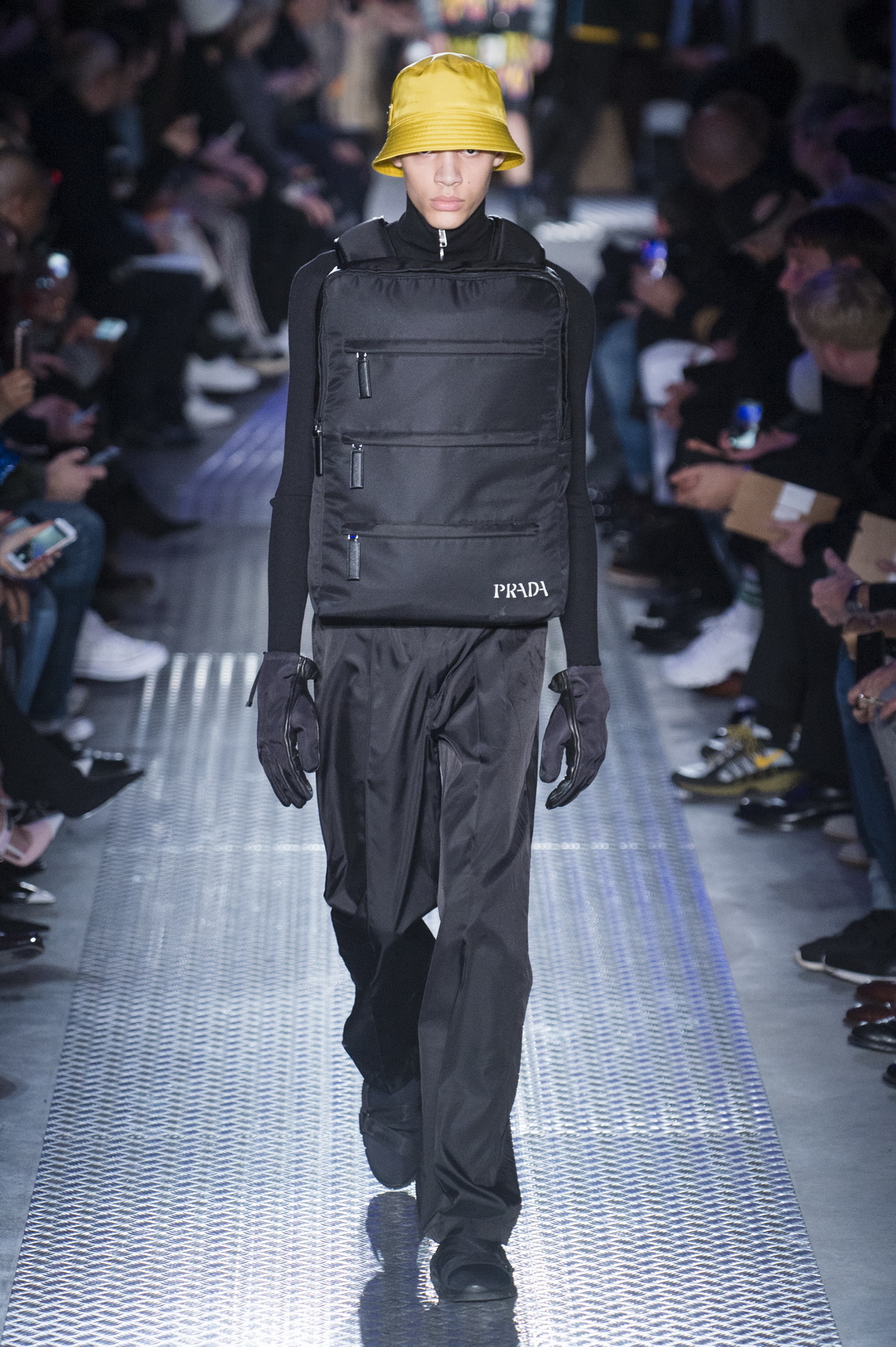 The collection itself was divided into sets of what Miuccia described as "species", highlighting the house's fashion archetypes. There was a sense that, after separating them out, they escaped their backgrounds and morphed into something new. An evolution of sorts. Walking past the iPhone-wielding critics, Miuccia pointed to the intriguingly branded boxes, ambiguous symbol-adorned crates and recurring motifs that packed the converted warehouse space and warned that within them there could be "strange mysteries, strange animals from the past". Thankfully, a number of captivating creatures escaped onto the catwalk. The multifaceted essence of Prada was brought to life, its accumulated identities united, its persuasive voices heard as one and its history and legacy considered for today.
"I'm in love with black nylon, I just can't have enough of it at the moment," Miuccia added. This revived love affair -- with the poetic, practical and technical aesthetic of the textile deep rooted in the house -- was hinted at within the show invitations and the announcement that, for the very first time, Prada had invited four icons of industrial architecture and design to make an item. Working to the simple yet open brief of creating a single piece in black nylon, Ronan & Erwan Bouroullec, Konstantin Grcic, Herzog & de Meuron and Rem Koolhaas each created four radically different interpretations -- Koolhaas's frontpack (yes, as opposed to the backpack) was the highlight.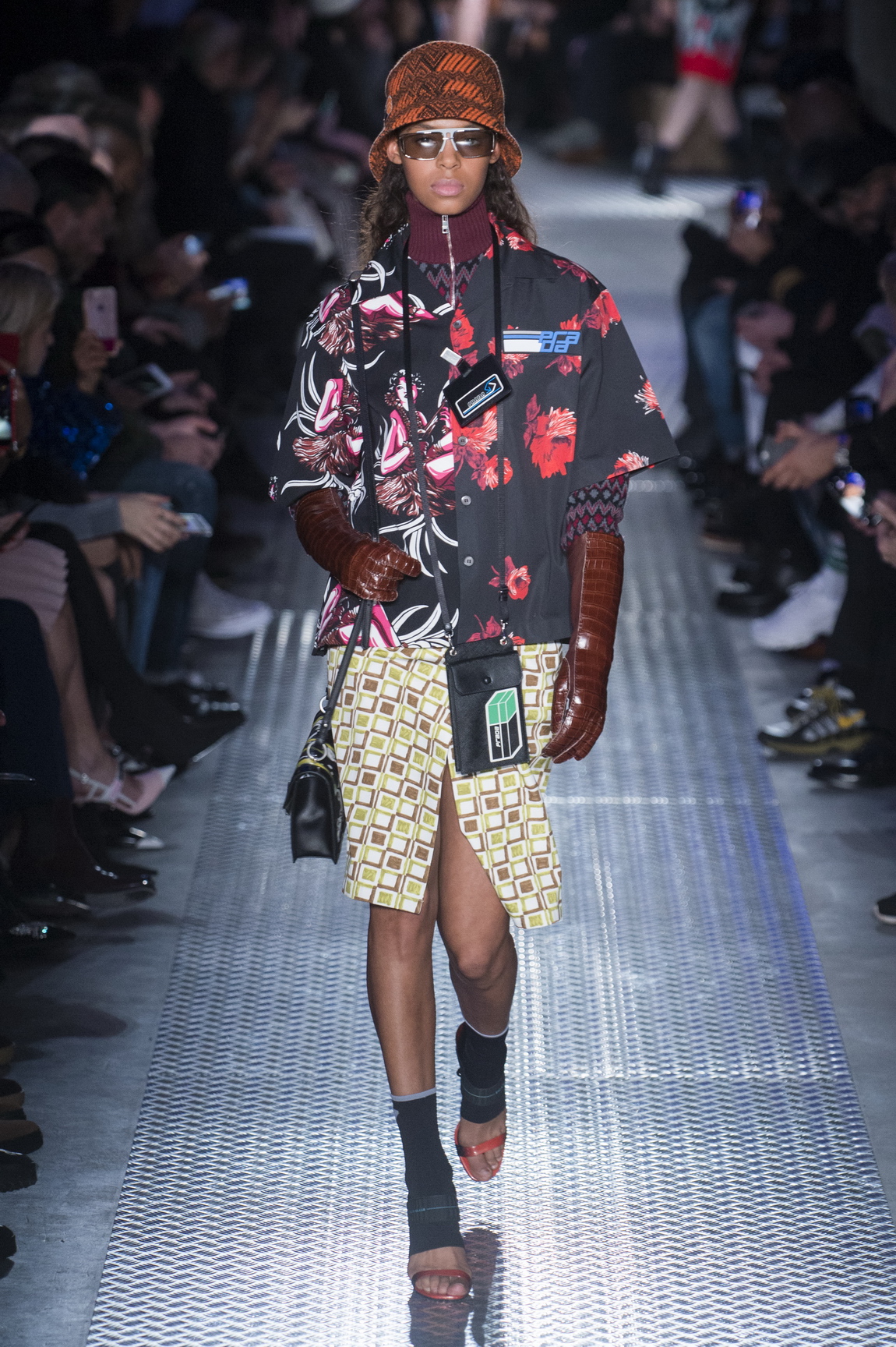 Of course, the revival and reimagined iconic prints -- from the lipstick kisses of spring/summer 00 to the bananas and flames of spring/summer 12 -- and the hint of a Prada Sport revival ignited the fires of social media fan hysteria, but this collection went far deeper than providing fresh mixes of yesterday's hits. Despite a few fond glances back, Miuccia's gaze was firmly fixed on today and what tomorrow might bring. Thanks to the solid foundations of her house, Miuccia is hopeful rather than fearful. "People say that beauty will save the world, but I don't believe it will. Instead, it will be saved by intelligence, humanity and love. But of course, aesthetic helps too." I, for one, want to be saved by Miuccia Prada.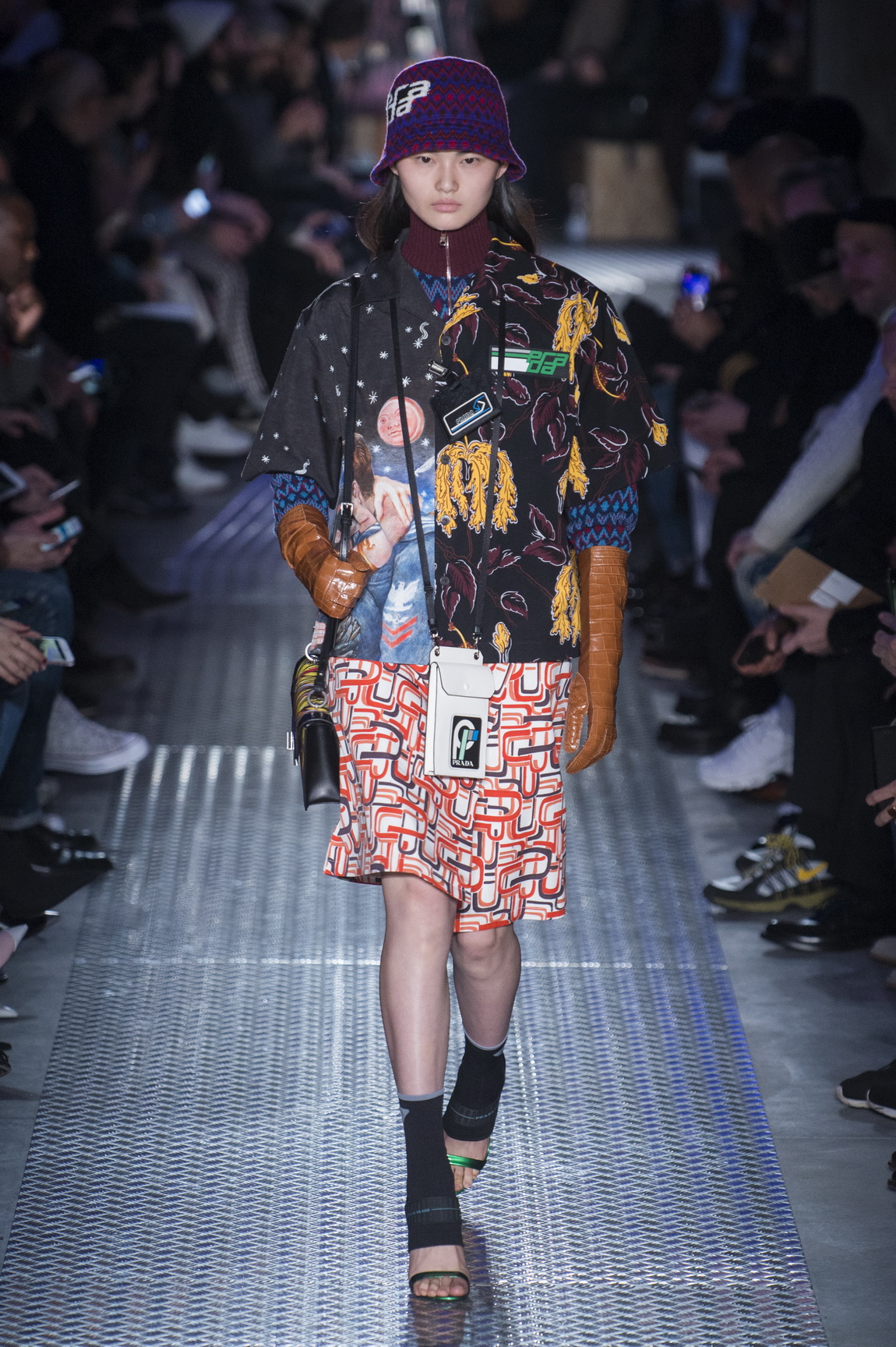 Elsewhere, in a show bookended by Bella Hadid and Kendall Jenner, Dean and Dan Caten's Rhinestone Rebels reflected the past and present too. Dsquared2's dynamic duo drenched the stars of today in their signature more-is-always-more dazzling embellishments as they looked to the Wild Wild West for inspiration. From red-and-black check to tricked-out denim and swathes of print, the cowboy narrative was laced with the brand's heritage but in the hands of the Catens, it was always going to be more Keeping Up with the Kardashians than Little House on the Prairie and it was the more fabulous for it.
This article originally appeared on i-D UK.
Credits
---
Photography Mitchell Sams