lana del rey defends her song 'get free' as radiohead sue
Radiohead are taking Lana to court over 'Creep' -- which they too were once sued over.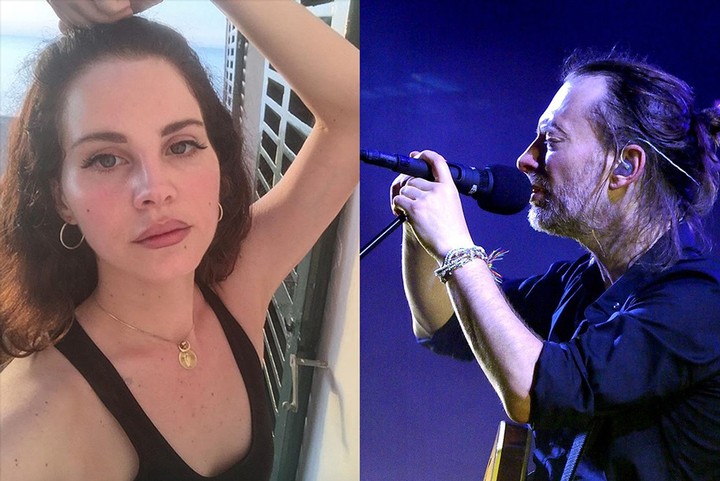 Lana Del Rey via @lanadelrey/Instagram; Thom Yorke via WikiCommons.
The date is January 5th, and news of the year's first music industry scandal-adjacent event has reached the internet. Lana Del Rey confirmed rumours of a legal battle with Radiohead earlier today on Twitter, writing: "It's true about the lawsuit." The band haven't released a statement of their own, and their spokespeople have declined to comment to various media outlets. The lawsuit concerns Lana's Lust for Life track Get Free, and their 1993 song Creep.
In the same Tweet, Lana denied she'd copied the song, and said her team had attempted to settle outside of court. "Although I know my song wasn't inspired by Creep, Radiohead feel it was and want 100% of the publishing - I offered up to 40 over the last few months but they will only accept 100. Their lawyers have been relentless, so we will deal with it in court."
While Get Free is written in the key of B-flat major and Creep in G major, the songs do share a similar, albeit very common, chord progression -- this will presumably form the basis of Radiohead's case.
Interestingly, Radiohead were sued by songwriters Albert Hammond and Mike Hazlewood decades ago over similarities between their 1972 ballad The Air That I Breathe and Creep on the grounds of a sound-alike chord progression and melody. Hammond and Hazlewood's copyright infringement suit was settled outside of court, with Radiohead going on to credit the pair as co-writers and sharing a percentage of Creep royalties. We'll see if Lana is forced to do the same.