Photography Mitchell Sams
matthew miller partners with k-swiss on line of 100% recycled tees
10,000 band T-shirts destined for landfill were re-engineered for the catwalk.
Photography Mitchell Sams
Who?
From the moment he graduated from the RCA in 2009, Stoke-born Matthew Miller has shared dystopian manifestos that translate sociopolitical situations into wearable, utilitarian menswear. For spring/summer 19 he questioned how we create and consume fashion. Seven floors below the ground, in the car park show space, Miller issued a call-to-arms for sustainability. "If we don't change how we create and how we consume clothes, paradise will be lost," he explained backstage. "A new generation are beginning to question the way things are and we're looking to use new technologies for a more positive approach. It's about being socially and environmentally aware. We have to change things now, before it's too late." To address this, Matthew collaborated with 90s trainer favourite K-Swiss, combining his own 90s underground-inspired, function-first designs with the brand to create a collection called REDUX. Old band merch was transformed into a streetwear-infused line that doesn't compromise on style or, more importantly, the environment.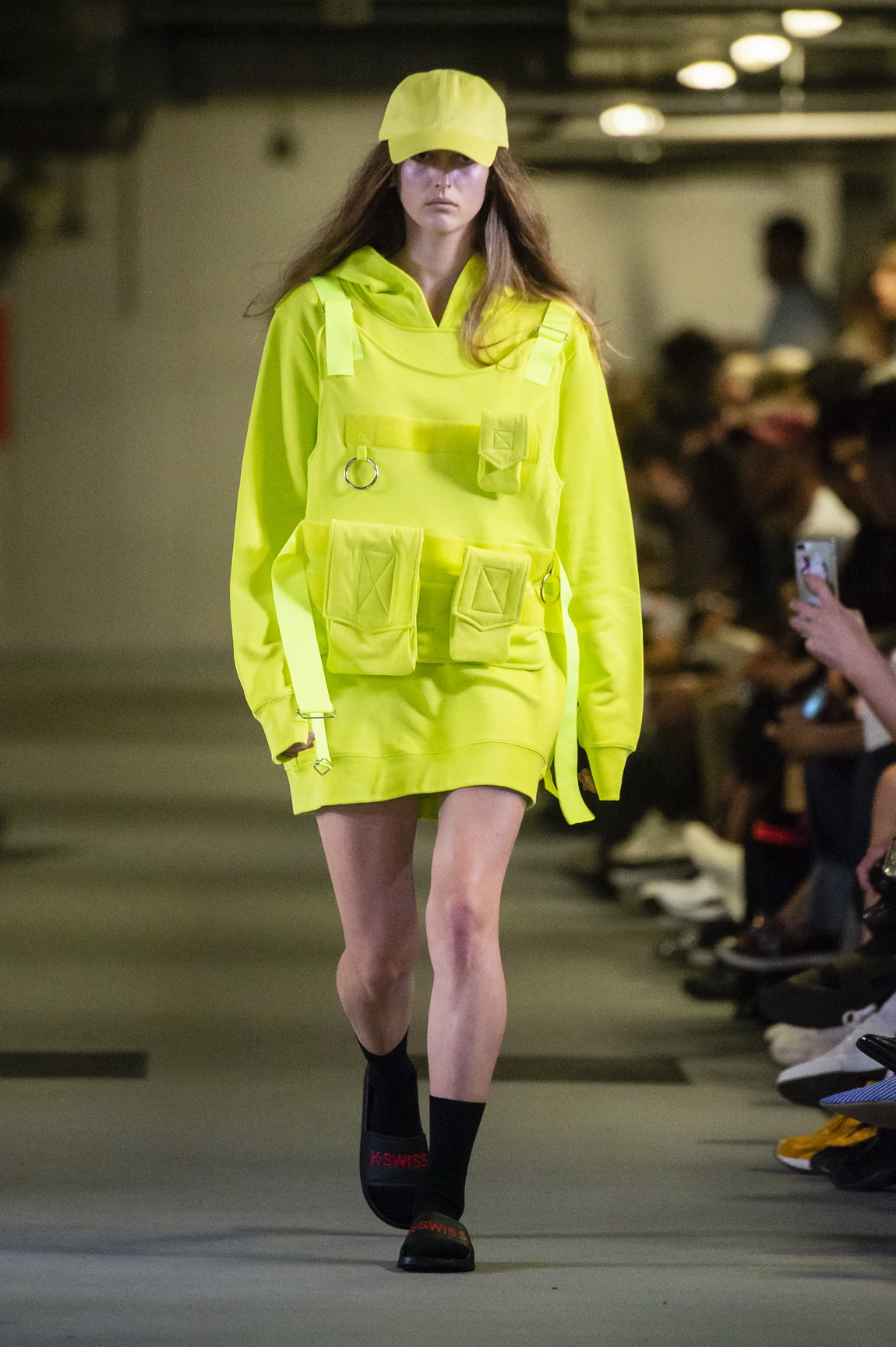 What?
The message was we can't do this alone. Collective action is needed. So, Redux is a statement by both brands to show that design and manufacturing within the textile industry can be achieved in a socially and environmentally responsible way. "I discovered this tech but as a small designer wasn't able to utilise it," Miller explained. "It's hydro-powered and you have to create a certain volume to ensure you leave a positive footprint. At the same time, I found this warehouse with 10,000 band T-shirts that were destined for landfill. So I took them. Then K-Swiss approached me about working together, I told them about this idea and they backed it fully." Good on K-Swiss. Here's to a more sustainable tomorrow.
Wow!
From the ASMR-soothing silver foil suiting, to the heavy-duty camera carry-cases and the harness-updated K-Swiss ST529, there was plenty that caught the eye. But there's no getting away from that sustainability stat. 10,000 band T-shirts, 1 exciting collaboration.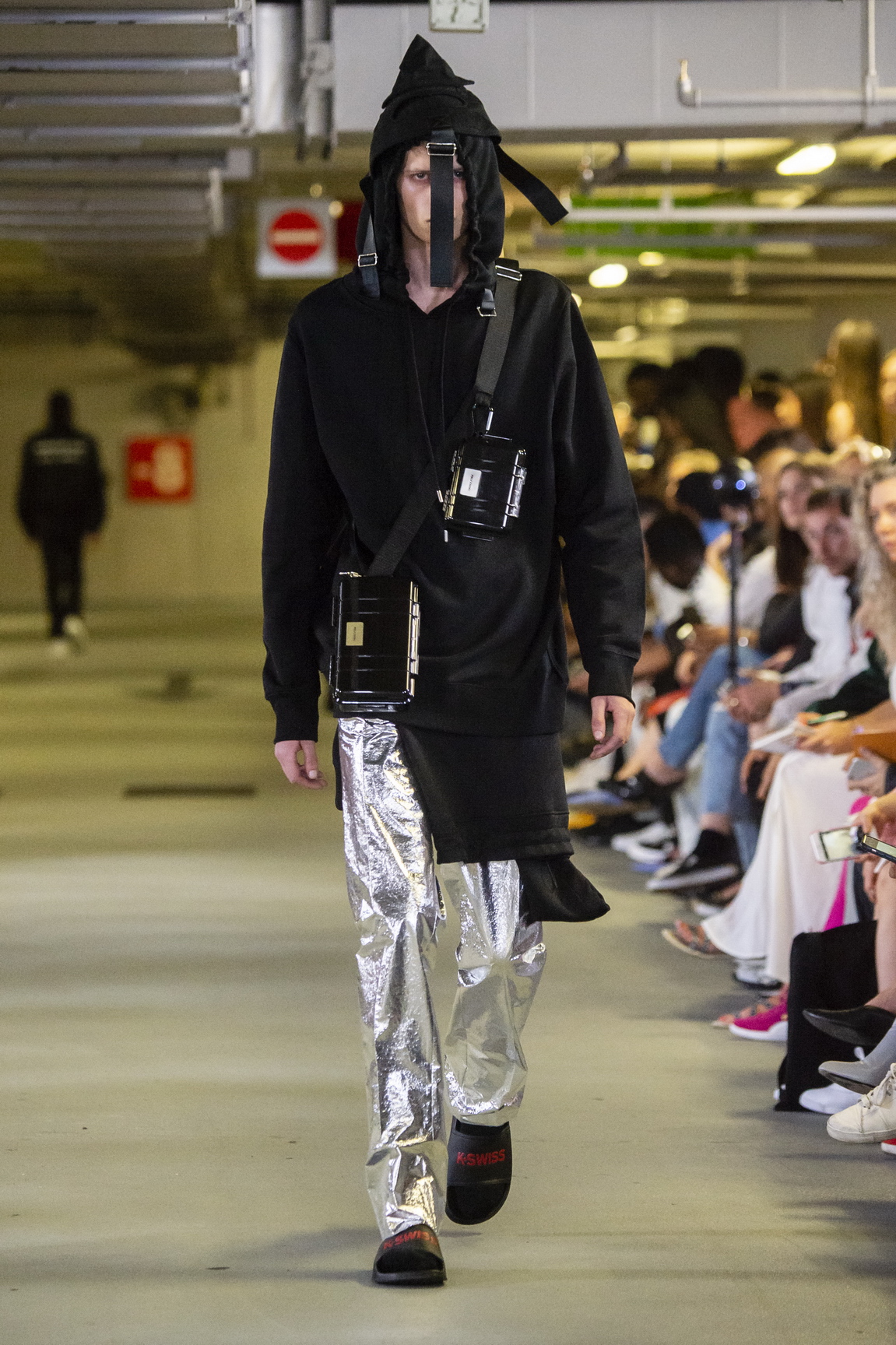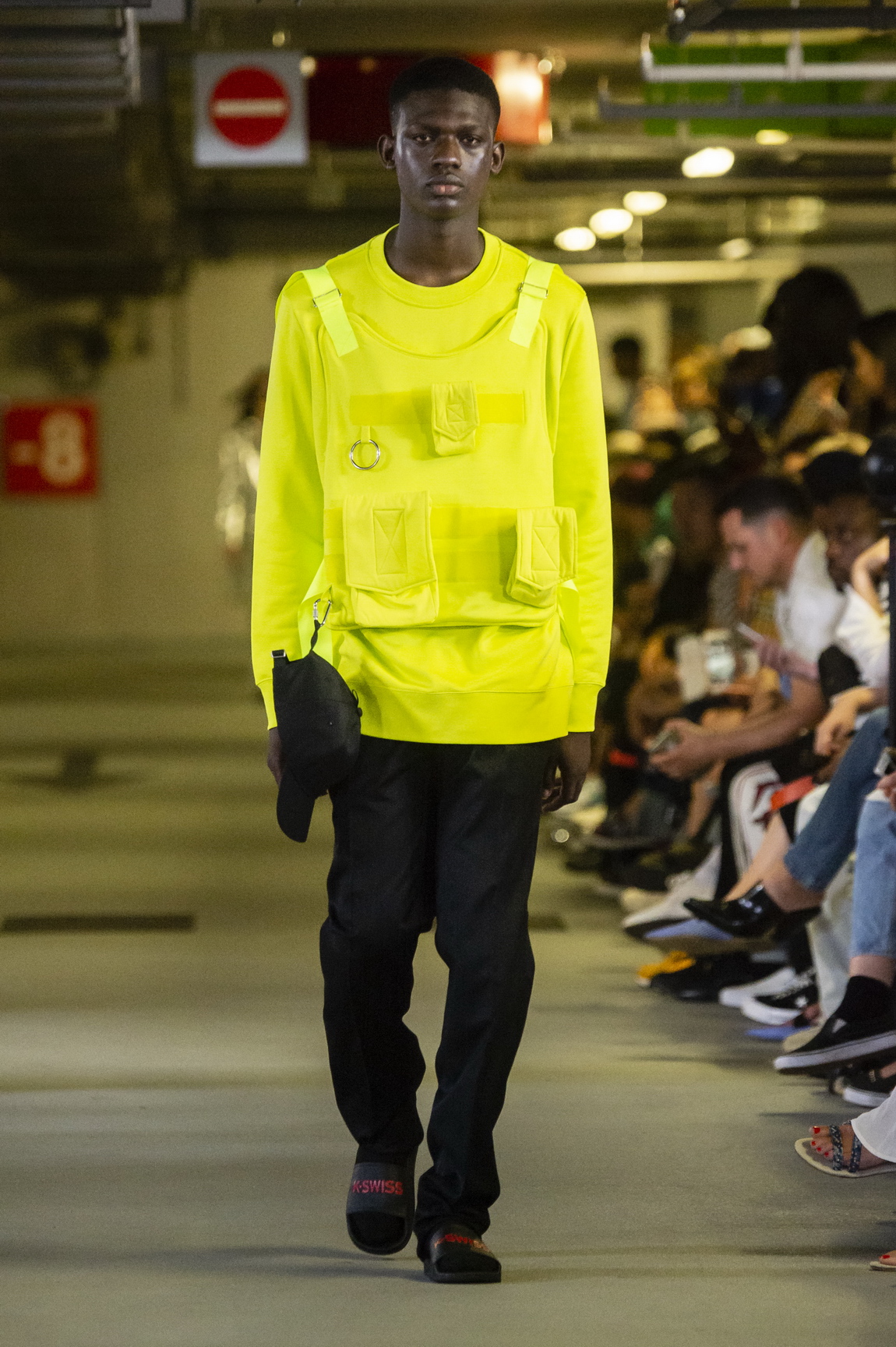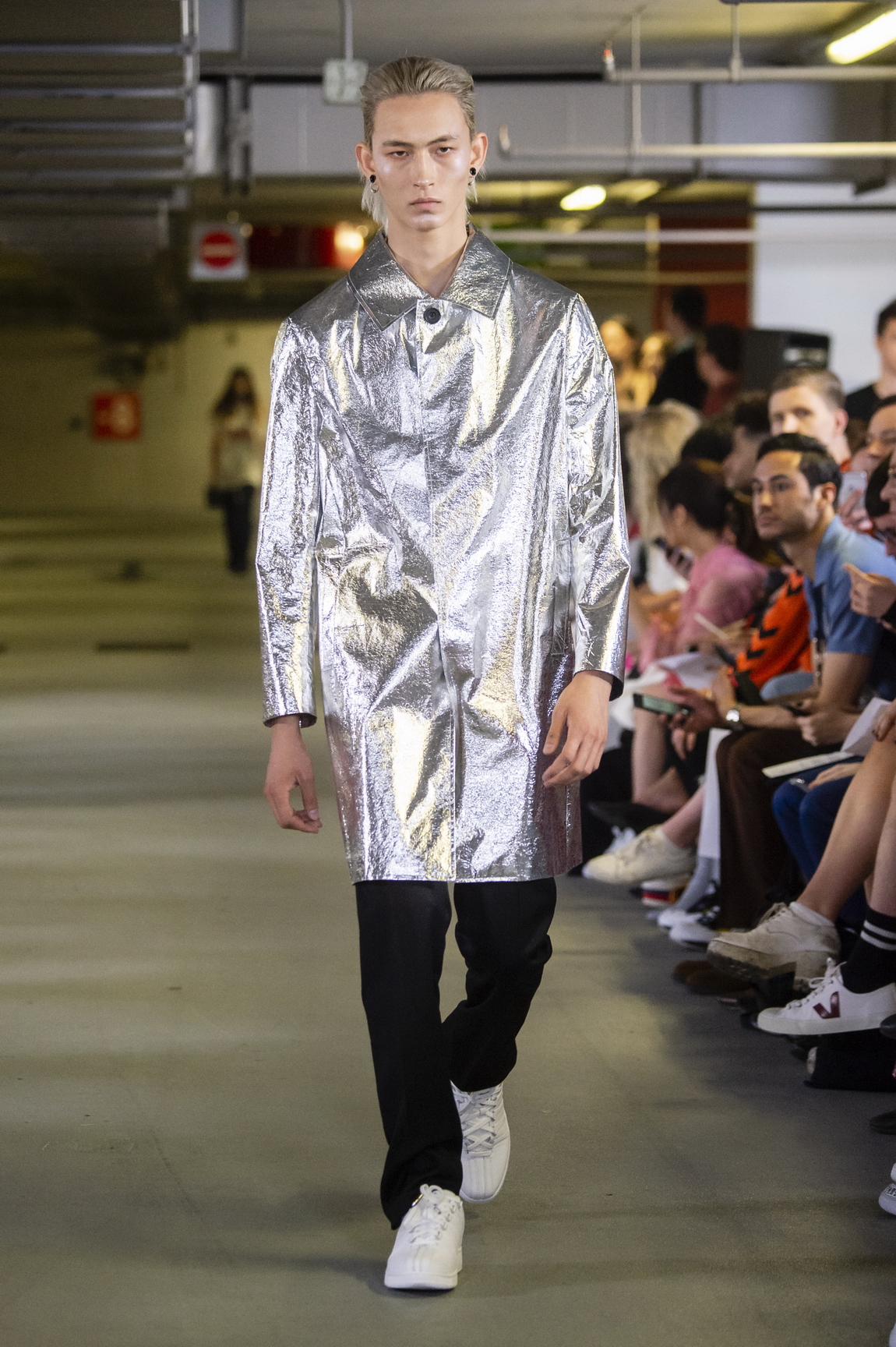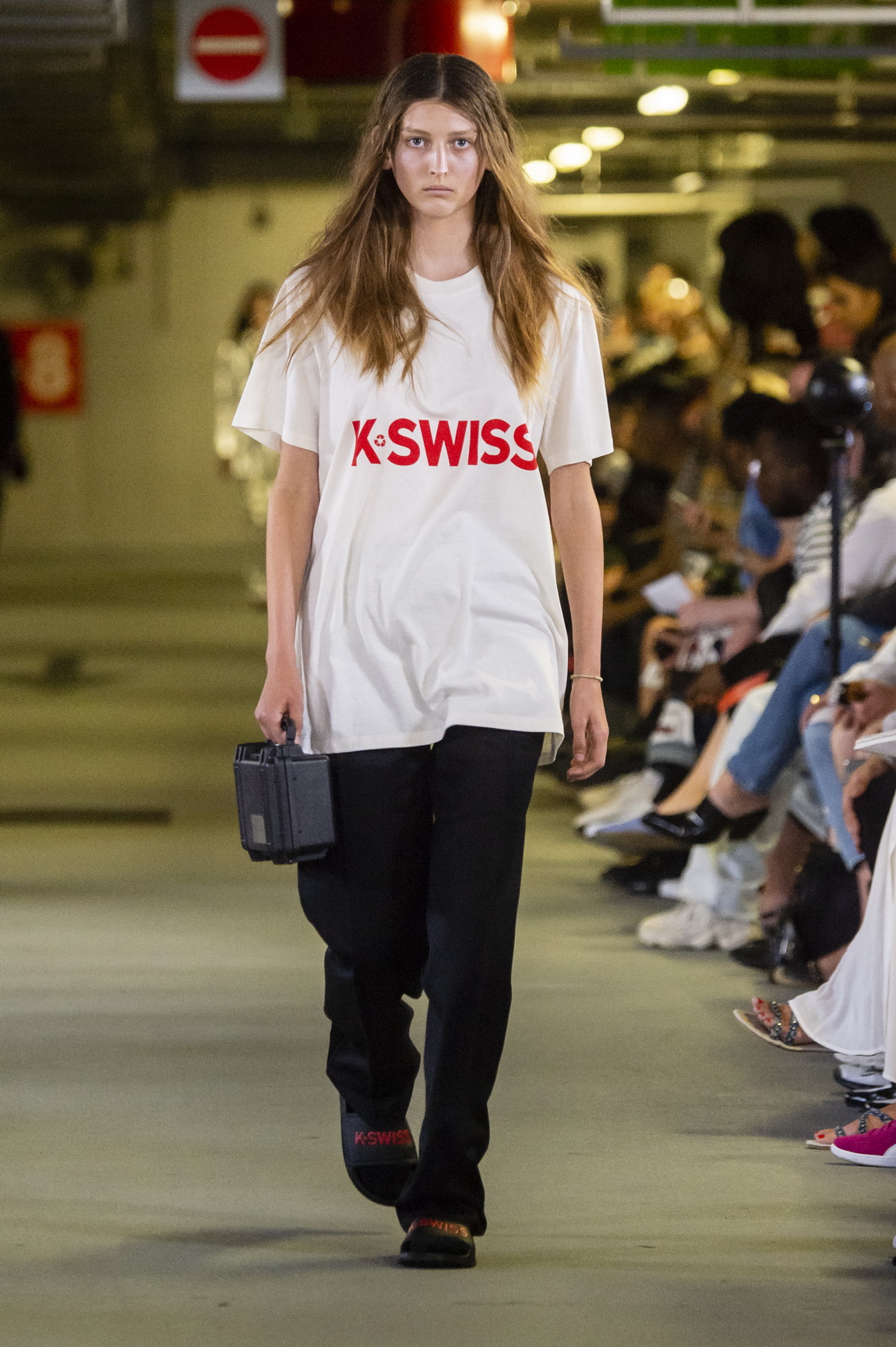 Credits
---
Photography Mitchell Sams
This article originally appeared on i-D UK.