today is a great day for cover versions
And for Madonna, Shania, Elvis, Taylor Swift, Robbie Williams, and Harry Styles fans.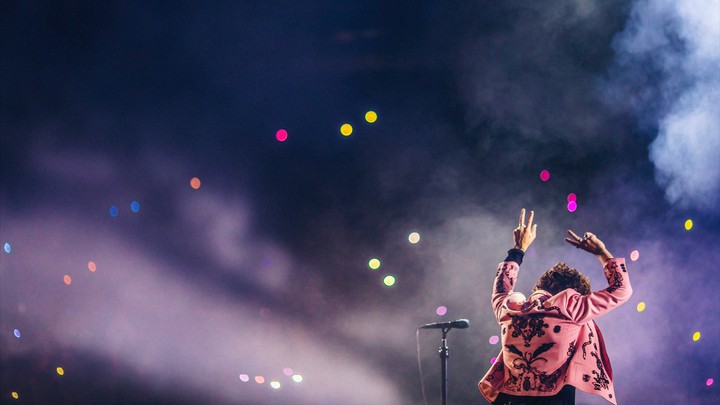 via Harry Styles' Twitter.
What better way to start your Monday than with a few musical mash-ups? The sun is shining, the heatwave is here, football is officially coming home, and if that wasn't enough to get you sailing through to next weekend, then a few banging covers by Madonna and Harry Styles will certainly help.
First up, Harry, king of our hearts and touring extraordinaire. Currently on the American leg of his world tour, the Sign of the Times singer has already delighted his hordes of screaming fans by proudly waving the LGBT flag and Black Lives Matter signs on stage. His music hasn't been half bad either, and now he's added a Shania Twain classic to his repertoire.
Teaming up with his support act Kacey Musgraves, Harry belted out the first-dance-at-every-wedding-in-the-noughties anthem You're Still The One, calling the track "one of his personal favourites". Harry Styles is a Shania Twain stan, and we stan them both. Watch the full performance here:
Meanwhile, over in their new home of Lisbon, Madonna and her son David dropped a beautiful cover of Elvis Presley's Can't Help Falling In Love on Instagram, as part of their "Lisbon living room sessions". The Instagram clip shows Madonna playing guitar and singing while David accompanies on piano and vocals.
And, finally, in London, Robbie Williams, king of all huge anthem bangers, made a surprise appearance during Taylor Swift's Reputation gig at the O2, where the two collaborated with a rendition of Angels. After the show Robbie called the appearance an "honour" and tweeted that he now had a "proper crush" on Taylor. Can't wait for them to have a whirlwind romance and for half the tracks on Taylor's album to be about Robbie Williams.
It's a great day for emotional ballads and a great day for covers. Happy Monday!