To Spoor a Stockroom still courtesy of the artist
the temporary exhibition turning derelict spaces into sensory experiences
'Pervilion' occupies decommissioned buildings across the capital, inviting artists to interact with their histories.
To Spoor a Stockroom still courtesy of the artist
"It was originally the headquarters for the Carlsberg Tetley brewery; it has survived dereliction and raves," recounts Dorothy Feaver, the curator and producer of Pervilion. She's speaking of the location for the upcoming iteration of a wandering exhibition series, which will see artists Jack O'Brien, Katharina Dubbick, and Stella Scott occupy the decommissioned boiler rooms of a 60s office building in London's Docklands. It's an area where a rawness that vanished long ago from other parts of the city lives on, where the rhythmic chugging of pistons and the hiss and heat of steam are recent memories. In sculpture, scent and film respectively, the works of the three invited artists interact with the intense energies of a space, and the abilities of bodies to revive its memories.
In the lower chamber, sculptures from Jack O'Brien's series Buildings that Weep (2019) hang limp as if peeled from the ceiling. Balancing a sense of hardened, masculine functionality with the delicacy of mobiles, the works replicate the complex movements of a body through a space. "Rather than referencing bodies themselves, the work feels more like an interaction that a body has with something," O'Brien explains.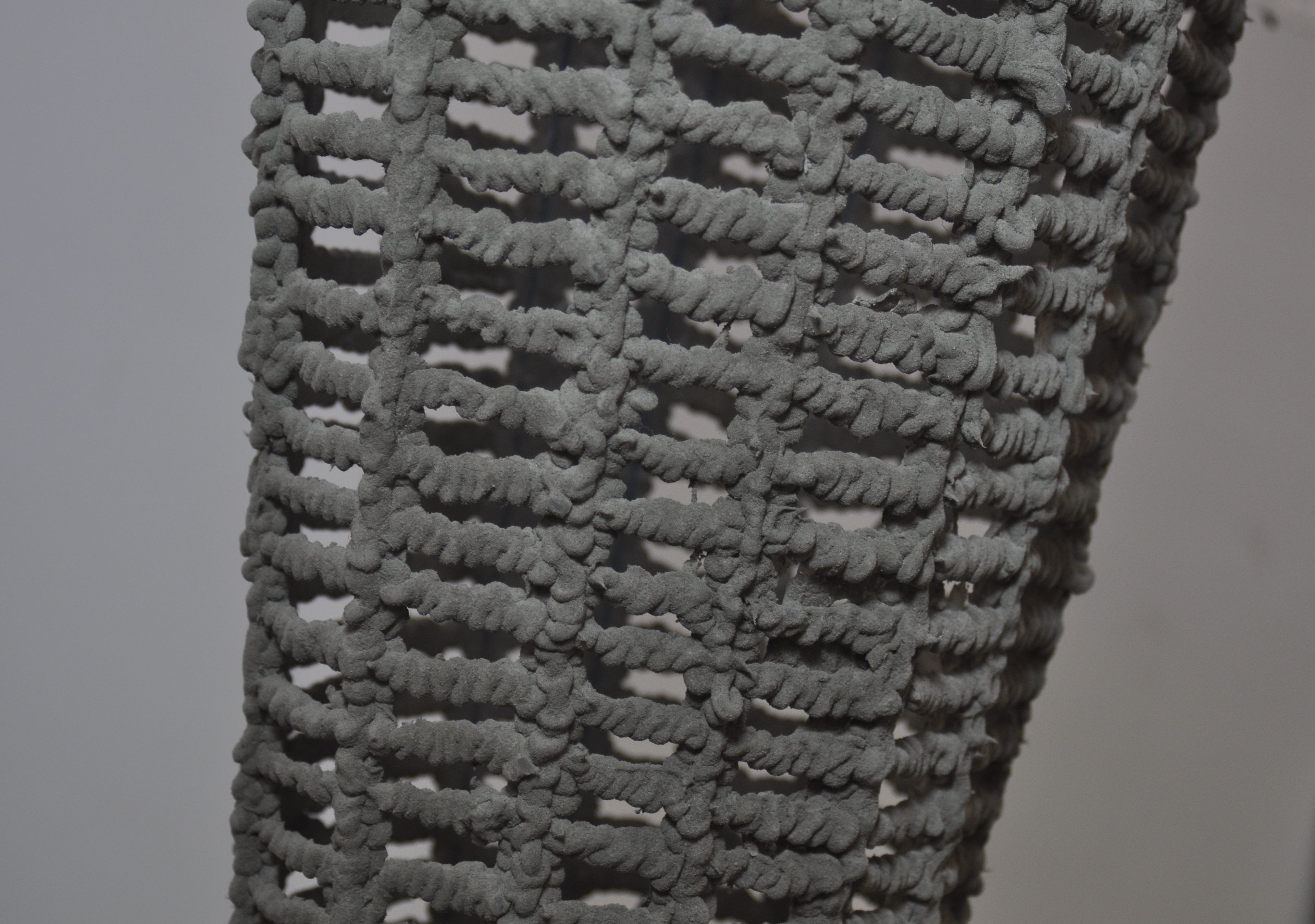 Indeed, his sculptures, which heavily employ silicone and latex, exhibit a dynamic sense of being 'of the body' -- certain pieces bobble like cardiovascular systems stripped from the bone -- but their static, frozen nature gives them the feeling of pieces of spatial jewellery. "I enjoy pushing the ornamental value of my work to a certain point, and playing with structure. A piece might be made around a traffic cone, but when it becomes flaccid and pulled, it takes on an ornamental value." This balance also informs the materiality of O'Brien's work, particularly in his use of piped silicone, which is routinely blended with cement dust. Though the work takes on a visual property reminiscent of the harsh surrounding walls, it's almost flesh-like to the touch.


O'Brien's interaction with the body is particularly evident in his pushing of the materials he works with to a point of tension, resulting in bodily architectures that are frozen just at the moment when they begin to droop. "I've been thinking a lot about this state of exhaustion, where the work feels quite deflated. There's also this post-climactic sense, but I relate to that in more of a material sense -- in the act of extruding something, for example. I quite like the way the act of pumping silicone through a gun relates to the release of a certain tension, which is then frozen in a static realm."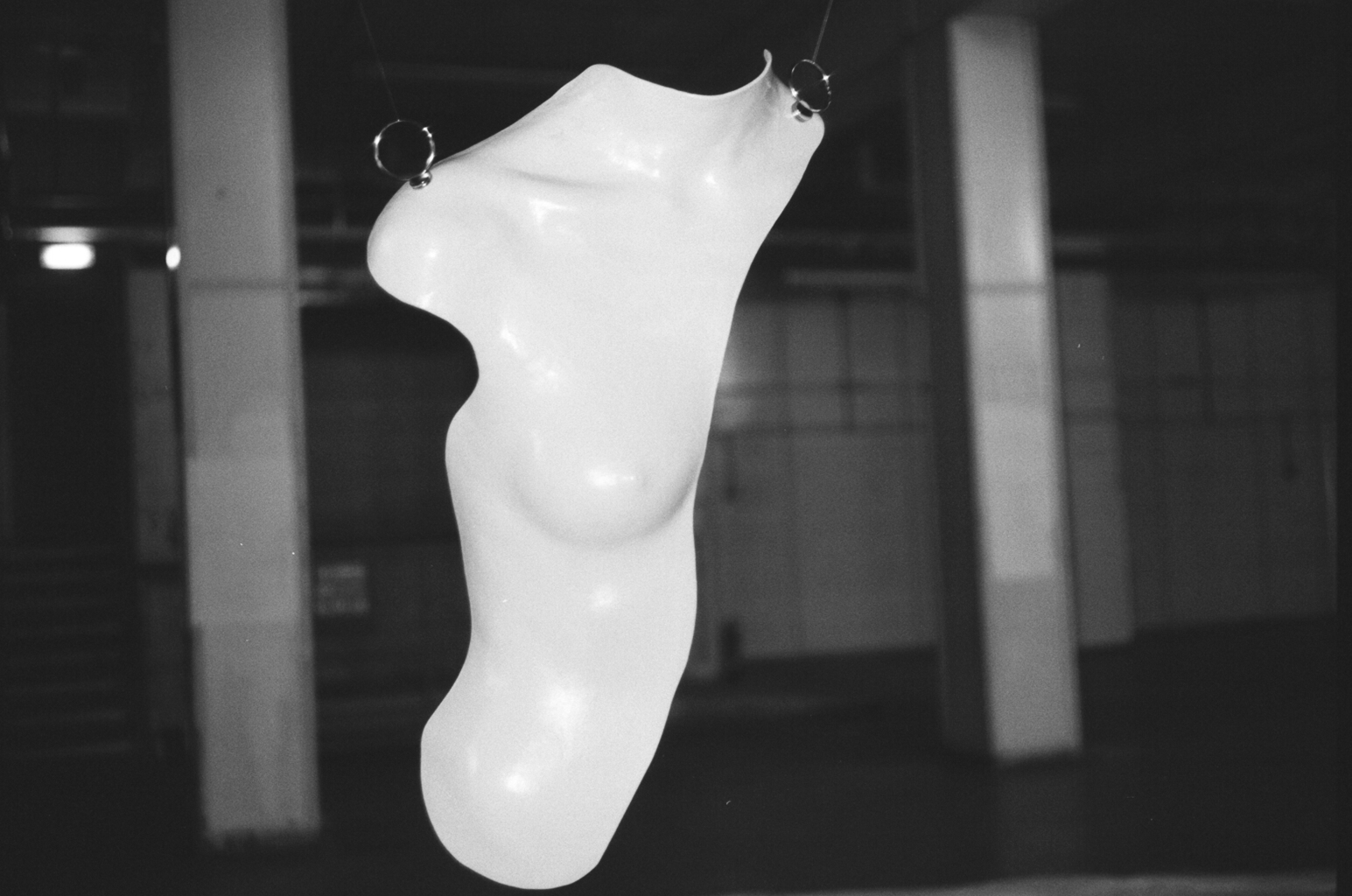 In TIMECAPSULE 7:32am [2019], scent designer Katharina Dubbick faintly echoes Jean-Baptiste Grenouille, the grisly protagonist of Patrick Süsskind's Perfume, capturing the aroma of a party's aftermath with an olfactory installation that fills the upper boiler room. "Jack [O'Brien] and I spoke of his experiences at gay saunas, and the scents you typically associate with them," says Dubbick. "It's something I could relate to, having frequented Berghain and other parties when in Berlin. I wanted to bottle the moment just after a party's completion in a scent." To do so, she set about the production of two fragrances, one conveying the synthetic tones of latex, the other, the sour musk of human body odour. Together, they mingle in a space in which leather body fragments hang, moulded from the hips, busts and torsos of her lover and loved ones. The result is an almost sculptural blend of sweat, saliva, sex, gin and tonic, cigarette smoke, latex, smoke machine, sticky skin.
Dubbick's scents are evidently not intended for commercial consumption, an aspect the artist and her collaborator, perfumer Meabh McCurtin, quickly had to navigate in their development. And then there was the issue of faithfully communicating such abstract themes through fabricated scent. Things were straightforward enough with the development of the latex fragrance -- there is, after all, easy access to physical samples and references to work from -- but capturing the fundamentally individual nature of human body odour proved trickier. Working from an 'odour lexicon', an aromatic glossary containing droplets of essential oils and the odours they match up to -- cumin seed oil, for example, neatly mirrors the pungent pepperiness of fresh, post-workout sweat -- the pair eventually settled on a scent that transports attendees to a room that ecstatically perspiring bodies have just vacated. "Scent can really trigger flashbacks," she insists. "With TIMECAPSULE, you can really imagine yourself there in Panorama Bar at 7:32am."
Sitting next to Dubbick's installation is filmmaker Stella Scott's reflection on the gentrification-led clean-up of London's centre, To Spoor a Stockroom [2019]. Shot in the basement of Welbeck Street Car Park, once a storeroom used by Debenhams for fur coats, and now being demolished, the film sees dance artists Monika Blaszczak & Mateo Dupleich Rozo express the emotions of the words graffitied across its walls. "The graffiti in the abandoned spaces under Welbeck Street Car Park expressed frustration, paranoia, lust, belonging, loyalty to a football team or the monotony of work; some comments are clearly made in solitary moments, some are secrets, others are retaliating or showing off," explains Scott. "In their choreography, Monika & Mateo replicate the moments of writing on the walls, but also act as a channel for the feelings the words express; they move through the space in ways their predecessors might have longed to do."
"Making the film was a collaborative process -- and sharing that conversation with Katharina, making a visual connection, was a new way of working for me," says Scott. "There's been a freedom to this process of making work in response to space for this Pervilion show." Faced with the constant wearing away of accessible space in the city, the resources available to London's community of young artists are increasingly stretched, limiting the possibilities for trial, error and experimentation: paired with the other pressures that London life presents, it can often be difficult to justify a creative practice.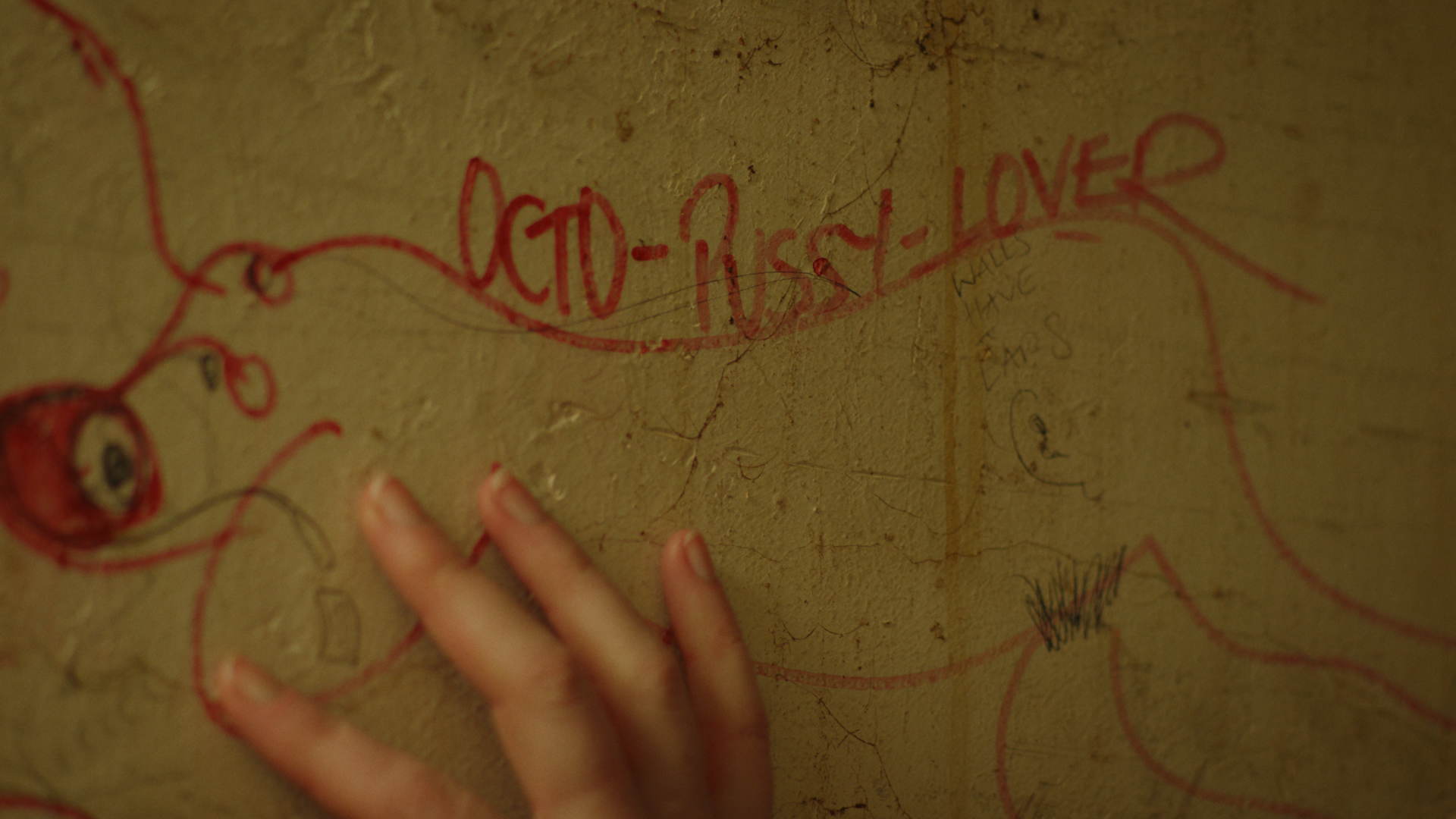 "Artists have to be calculating," says Feaver, Pervilion's producer and creator. "I wanted to create a space to try things out, to experiment with process." But, though the current climate for young artists might be pressurised, it's often under such circumstances that the most resourceful solutions are found. " Pervilion, with its kink in the spelling, helps things grow in the cracks... The approach is like rewilding, it moves from one free location to the next," Feaver finishes with. "It is 'agile' through necessity, at the same time, there is delight in the sense of discovery that comes with showing in unusual places."
'Pervilion' at Silver Building, 60 Dock Road, E16 1YZ from 30th May - 2nd June 2019