how supreme, palace and patta were influenced by 90s umbro football kits
A new exhibition reveals the lasting impact a generation of Umbro football kits had on a generation of sportswear.
Umbro, objectively, make the best football shirt. You may think — what about Nike or Adidas or Puma? But have you seen the Ajax 89-90 away shirt? What about England's 1990 third shirt, or the 1992 one, or Scotland's 88-89 third shirt? The one that looks like someone gave a packet of Fruit Salad sweets some DMT.
These are all extremely niche shirts, sure, relegated to second or third choice for teams playing in the late 80s and early 90s, but they've been become hugely influential, cult fashion offerings for their pioneering designs and wild colour schemes. A source of brash inspiration for a generation of wavey garmed youth who barely remember Euro 96.
And you may even recognise the England 1990 third kit from another source: UK skatewear fashion crew Palace did their own spin on it's design back in 2012. Similarly, the Ajax 89-90 away shirt was brought back to life by Dutch streetwear label Patta in 2017, who took inspiration from the same era of Ajax kits for another shirt inspired drops the following year. Even the perennial destroyer of Hypebeast pocket money that is Supreme got in on the action last year, with a shirt inspired by, if not completely lifted from, Umbro's Tottenham Hotspur 91-94 third kit.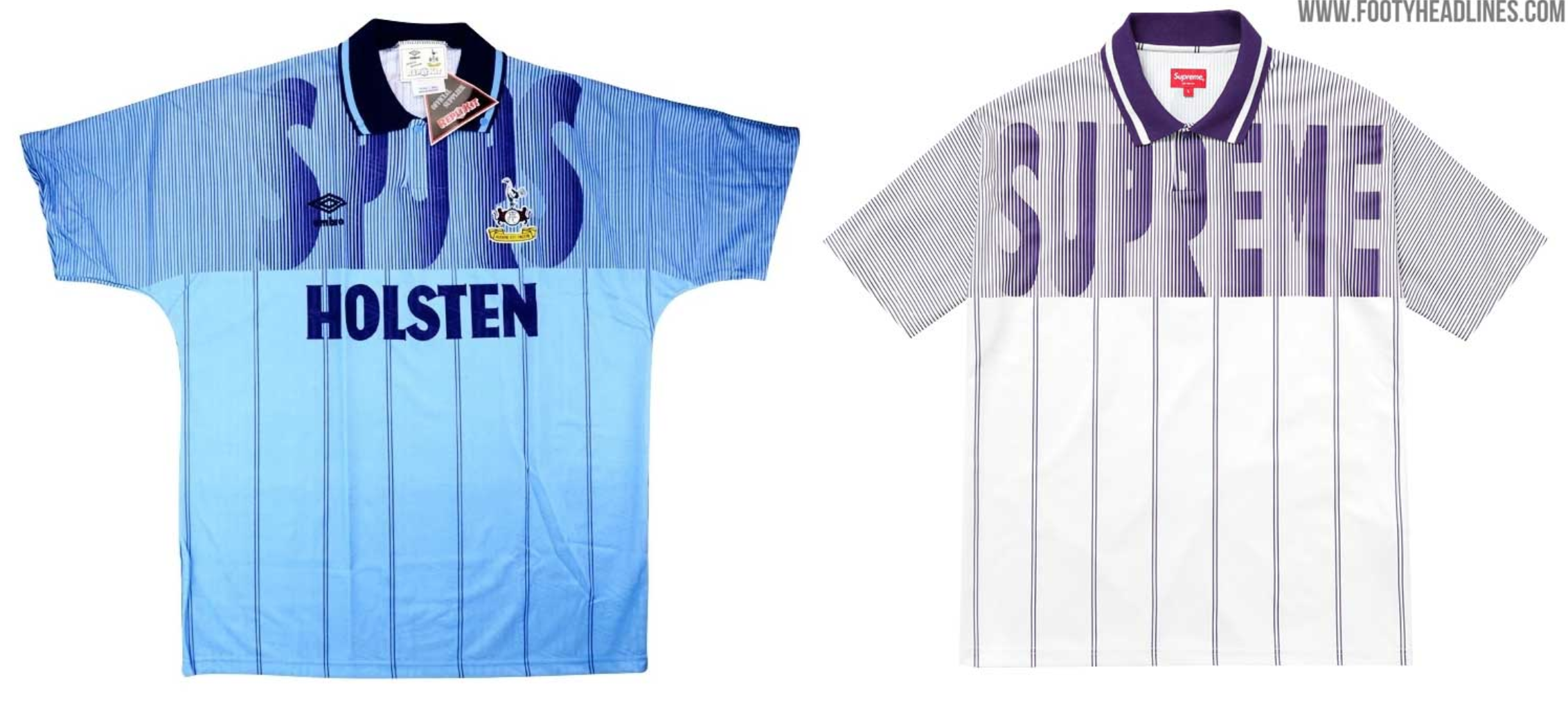 Umbro recently celebrated their 'diamond anniversary' (95 years) with an exhibition in Manchester in partnership with the football magazine Mundial and vintage shirt sellers Classic Football Shirts. It seems like the classic late 80s and early to mid 90s designs of Umbro -- and football shirts in general -- have made a strange lurch from steadfast subculture to influencer for the next wave of streetwear fashion.
The rise of footballing fashion, or 'casual culture', has a well worn nostalgic groove, but to very briefly summarise: the success of British teams in the late 70s (which to be fair was mostly Liverpool if you ever wonder why Liverpool fans are so precious about their history) meant a lot of young British men went on a lot of European holidays to watch their teams compete in what we now call the Champions League.
It was the first time that British men were made aware of European brands like Lacoste, CP Company and Fila, which were duly incorporated into their wardrobes. Then during the 80s, the casual look, along with brands like Stone Island and Sergio Tacchini, was associated, as was football in general was, with the rise in hooliganism. Bans were enforced both domestically and internationally, spurred on by the Heysel Stadium disaster in 85, and the casual look innocuously blended in with the Britpop lads in the 90s. It has been quietly hanging around in among British male fashion ever since. But although football fans have always had their own unique way of dressing, it wasn't really until the 90s that the actual shirts became such a prominent part of what fans actually wore, rather than something seen simply on the pitch.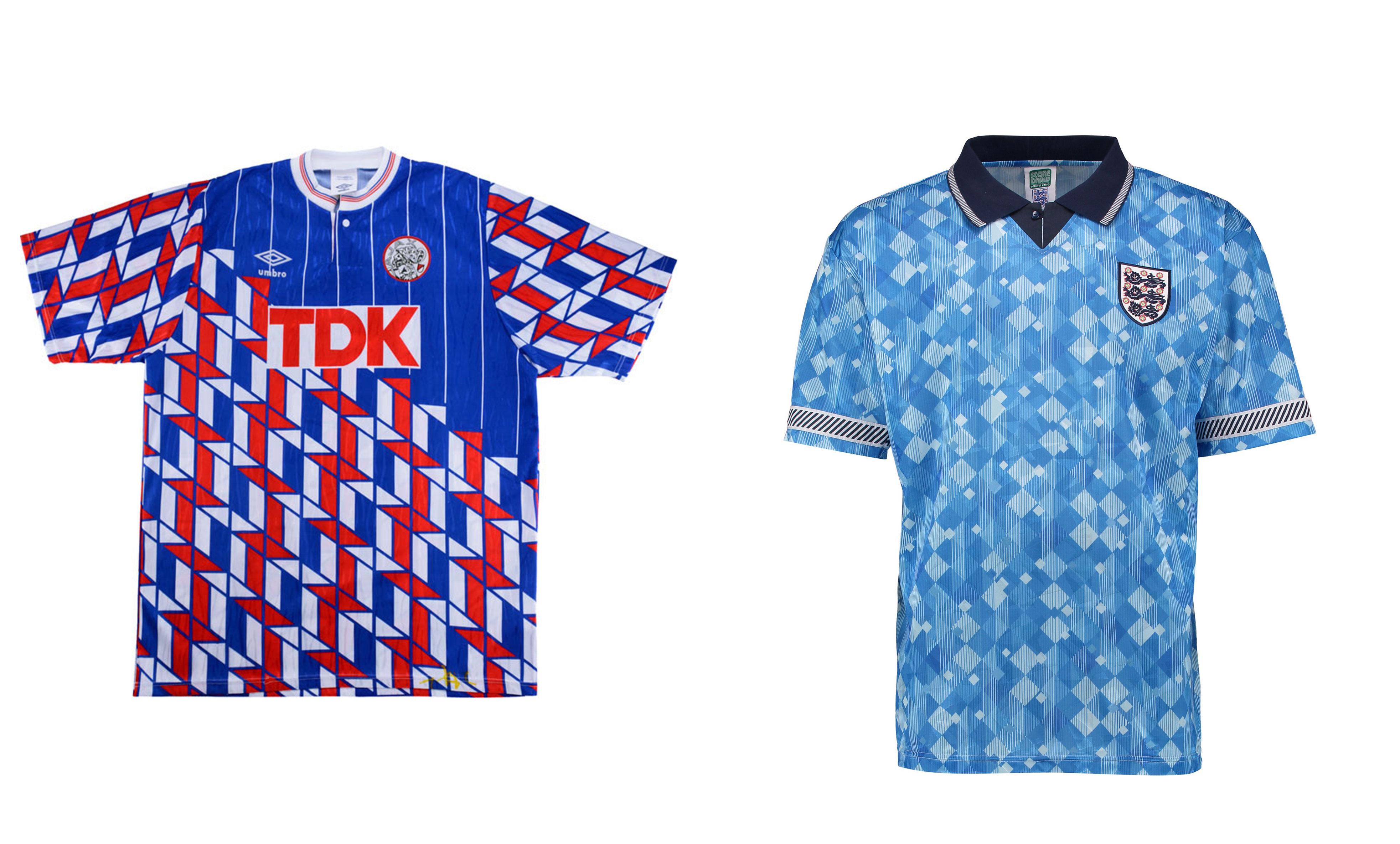 "If you look at the Euro 96 shirt, it was designed to be worn with jeans," Sam Diss, head of content at Mundial explains. "What Umbro did is look at football fashion as something more than what just players wore on the pitch and kids wore to be like their heroes, and made it more about a wider football fan culture, and how people interacted with their club, which no one had done before.
"What Umbro did is incorporate lots of elements of fashion at the time into their designs, which is why I think they've aged so well," he adds, "Like the Ajax kits of the late 80s, they feel so fresh at the moment because Umbro were taking design cues from fashion at the time, and fashion being cyclical it's all come back round again."
I don't want to write a whole article about how fucking banging that Ajax 89-90 away shirt is, but it really does go hard. Blue and white stripes suddenly splintering into a fragmented blue white and red geometric pattern shouldn't work at all. Like, on paper it sounds awful, an eye sore, too much going on. But for some reason it really works.
"After periods of restraint follow periods of exuberance," explains Helene Hope, head of global brand marketing at Umbro, "Clearly there is a resurgence of the 90s in fashion and sportswear, which is driving an increased interest in authentic brands from that era. Umbro dominated football in the 90s so I'm not surprised that consumers are looking for us today."
If there was one label that has flown the flag for the recent resurgence in football shirts popularity it's Patta. Although Palace were the first streetwear brand to collab with Umbro, Patta really pushed the boat out and celebrated their more outlandish designs, and tapped into the current thirst for bold patterns and vivid colours.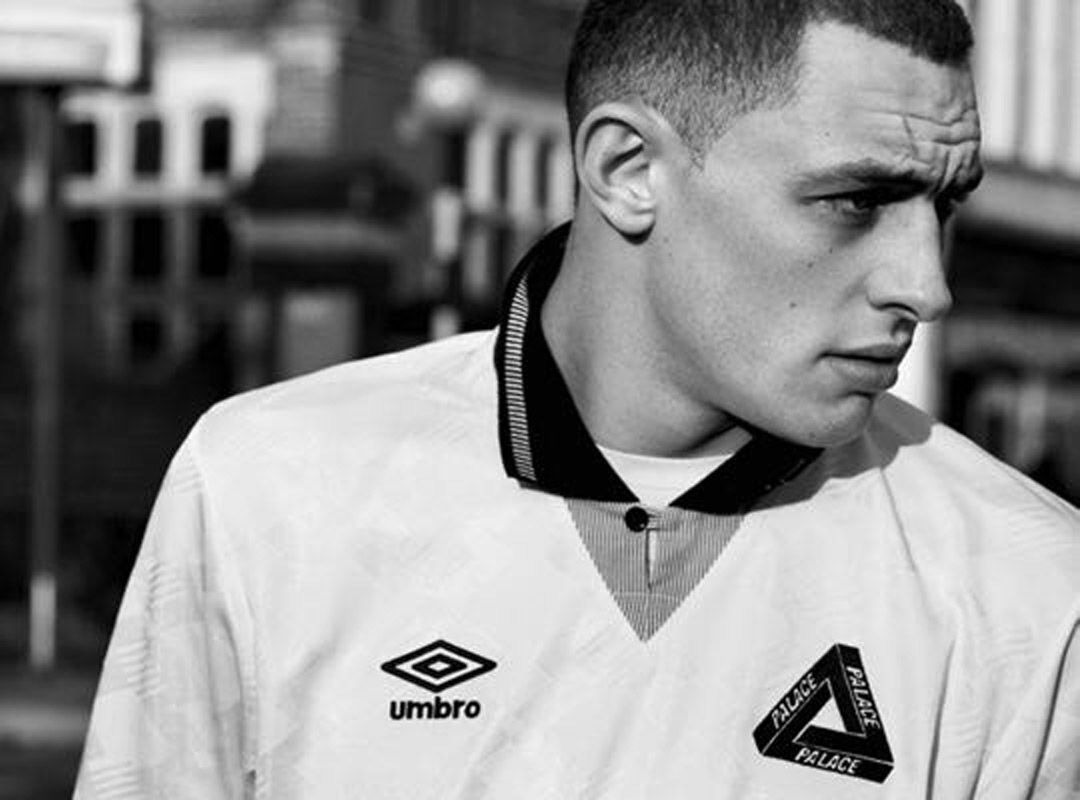 "I think Umbro wanted to stand out from the rest, that's why they came out with these patterns," explains Patta general manager Tim Sabajo, "They weren't aiming to be fashionable but the streets liked them so people started wearing them out. It was only a matter of time before they came back.
"For me, Umbro made other brands step their game up, but the streets made them pop. The reason why Patta wanted to do the collab is that we're from Amsterdam, Ajax is our club, we've been fans since the very beginning — it's our heritage, and those kits we're game changers!"
"The iconic designs were not really really down to one specific designer, but to a general attitude that was rooted in enjoying a new approach to football design," Helene explains, "We've always been a brand of many firsts so the spirit of trying out new things is natural to us."
Football shirts becoming accepted every day wear seems fairly in line with how relaxed male fashion has become in general. It's not just Umbro and Patta that have been using football shirts as a starting point, but brands like Off-White, Gosha Rubchinskiy and Alexander Wang have turned shirts by Nike or Adidas into high end luxury fashion items, selling for hundreds of pounds.
Comfort is now king when it comes to male fashion, from tracksuits to trainers streetwear, sportswear, skatewear have been the dominant style of recent years. So it's no wonder that football shirts, with their ever increasingly ergonomic designs, are becoming more prevalent as a result. The fact that these collector's items sell for hundreds, way out of the price range of the average person, is, if anything, directly in line with the gentrification of not just football but streetwear as a whole.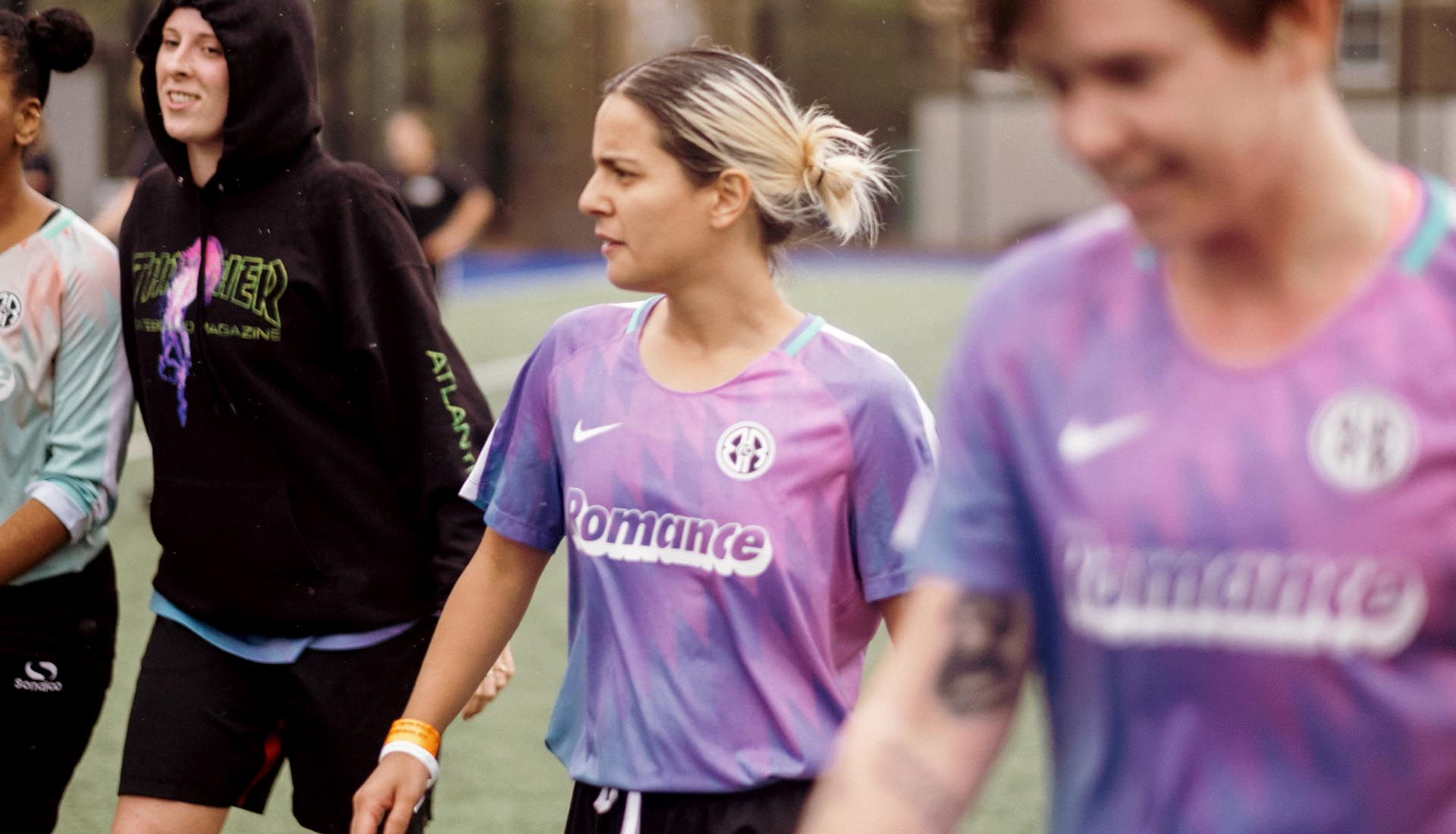 And it's not just menswear. French label Koche have used the Paris Saint Germain shirt as a basis for a dress, as well as their own diamante sprinkled PSG womens away shirt, and female football teams like Romance F.C making their own brightly coloured Nike home kit that looks incredible not just as a kit but as a vibrant piece of clothing.
"I think the stand out thing I've noticed about the football shirt trend is that they aren't just for football fans anymore," Robert Armin, PR manager for retro football shirt trader Classic Football Shirts tells me, "Among both men and women there are people who wouldn't necessarily identify themselves as football fans wearing football shirts, and I think this is a testament to just how good some of those designs were, particularly the 90s ones."
"It's more to do more with style — it was unthinkable to go clubbing wearing a tracksuit before and now it's accepted everywhere practically," Tim adds, "So yes, I think the current trend is that it's getting more relaxed."
It could be that it's now time for 90s fashion trends to have their time in the sun again, and loud football shirts are a part of that. But with men's fashion getting less and less formal, and with more trendsetting brands like Supreme, Palace and Patta jumping on the retro football themed bandwagon to make ever more garish designs, it could be that outrageous kits are going to be the new norm.

This article originally appeared on i-D UK.