kenneth ize: "everything is transforming in nigeria right now"
Off the back of his LVMH nomination and celebrated show at Lagos's Arise Fashion Week, designer Kenneth Ize discusses the inspirations behind his eponymous label.
Ever since LVMH announced the finalists for its 2019 prize, the fashion industry has been doing its best to get to know these eight emerging designers. Of all the contenders, Kenneth Ize -- a young Nigerian designer born in Vienna -- has been one of the most mysterious, intriguing candidates, whose designs have, so far, done most of the talking. Before the nomination, it might have been difficult for even the brand's biggest fans to put a face to the name, however, it was never difficult to spot one of the designers printed blazers and colourful plaid fringe trousers, especially since they've been spotted on celebrity fans like Donald Glover and Burna Boy.
The 29-year-old moved back to his parents' home state, Lagos, Nigeria from Vienna in 2016 to launch his namesake label. With two fashion degrees under his belt, he was confident that he could take all of the skills he obtained growing up in Austria and travelling around North America and Europe, and combine them with the new artistic energy and renewed interest in traditional Nigerian fabrics and design methods. "For me, it's very exciting to see how everything has changed based on the young generation in Nigeria now actually believing in themselves and that they can actually design something really nice with what they have," Kenneth explains over the phone from Morocco.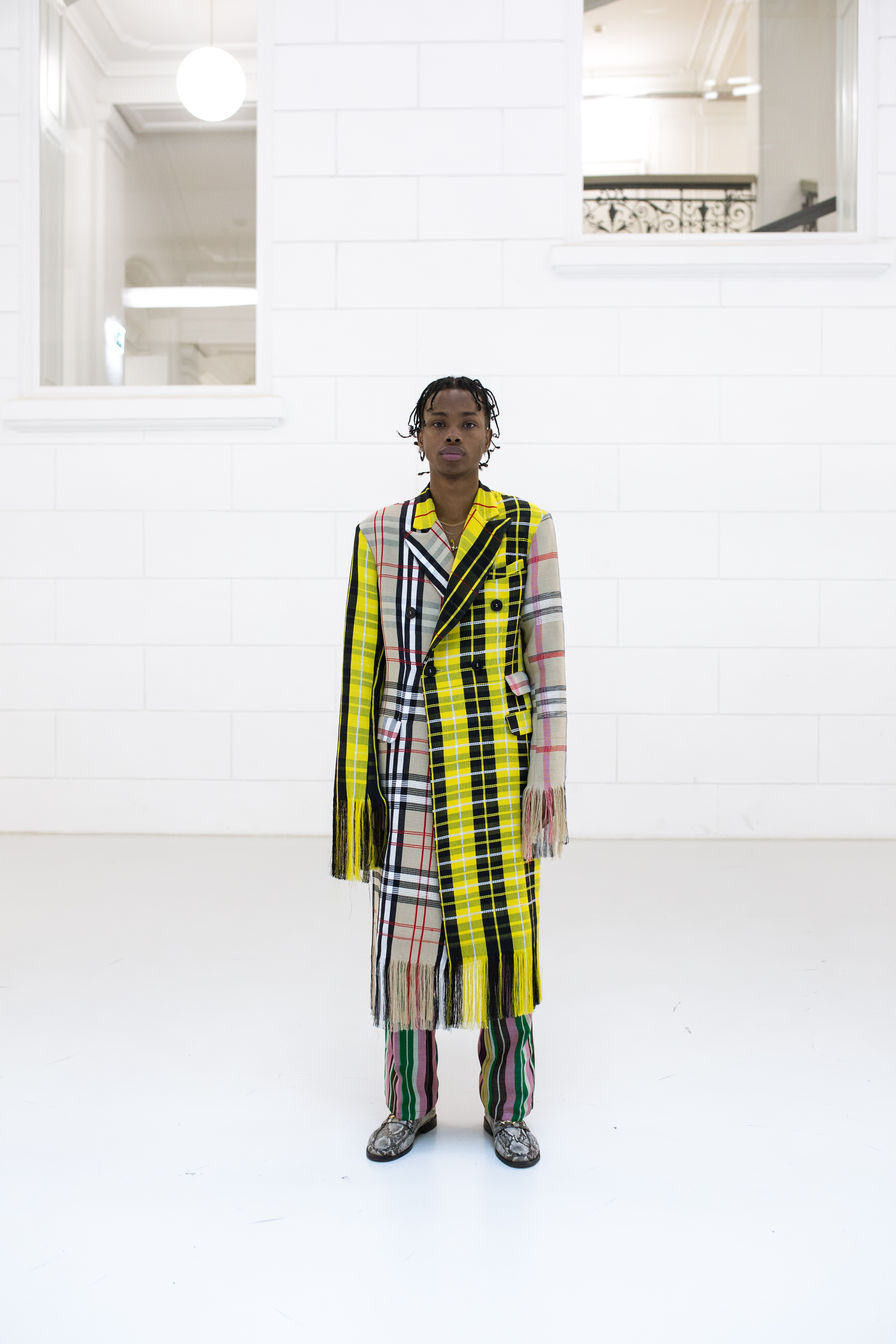 Kenneth Ize's time living in Nigeria has truly solidified his vision as a designer. He meet a woman he lovingly refers to as Queen B, who connected him with local artisans and he immediately began collaborating with them to design his own vibrantly coloured and thoughtfully-printed fabrics. He also committed himself to learning as much about Nigerian history as he could, feeling a European upbringing deprived him of learning about certain key elements of his culture.
The research inspired the autumn/winter 19 collection he submitted to LVMH, which is composed of menswear separates that honour month-long traditional Nigerian Christmas celebrations referred to in Yoruba as Aso Odun. His childhood anticipation of seeing what flashy Aso Odun outfits his mother had picked out for him and his siblings months ahead of the festivities informed the way the conceptualised his design clothes. Calf-length plaid blazers and suit trousers with fringing at the bottom appeared subtle enough to wear for Christmas dinner but extravagant enough to get the dinner table talking.
Right now, Ize is truly having a moment. In addition to being nominated for the LVMH Prize, this weekend the designer revealed his debut womenswear line, created to cater to the brand's growing female customer base. For the women's collection, the classic elements of the brand remain intact, however, Ize worked hard to produce designs in silhouettes that would not only best compliment the female form, but reflect the overall Nigerian female experience. Inspired by everything from the country's booming film industry -- Nollywood -- to the women who watch these stars at home, it's a collection that celebrates a spectrum of womanhood. Here Kenneth discusses his LVMH Prize nomination, his autumn/winter 19 menswear collection, and debut womenswear collection.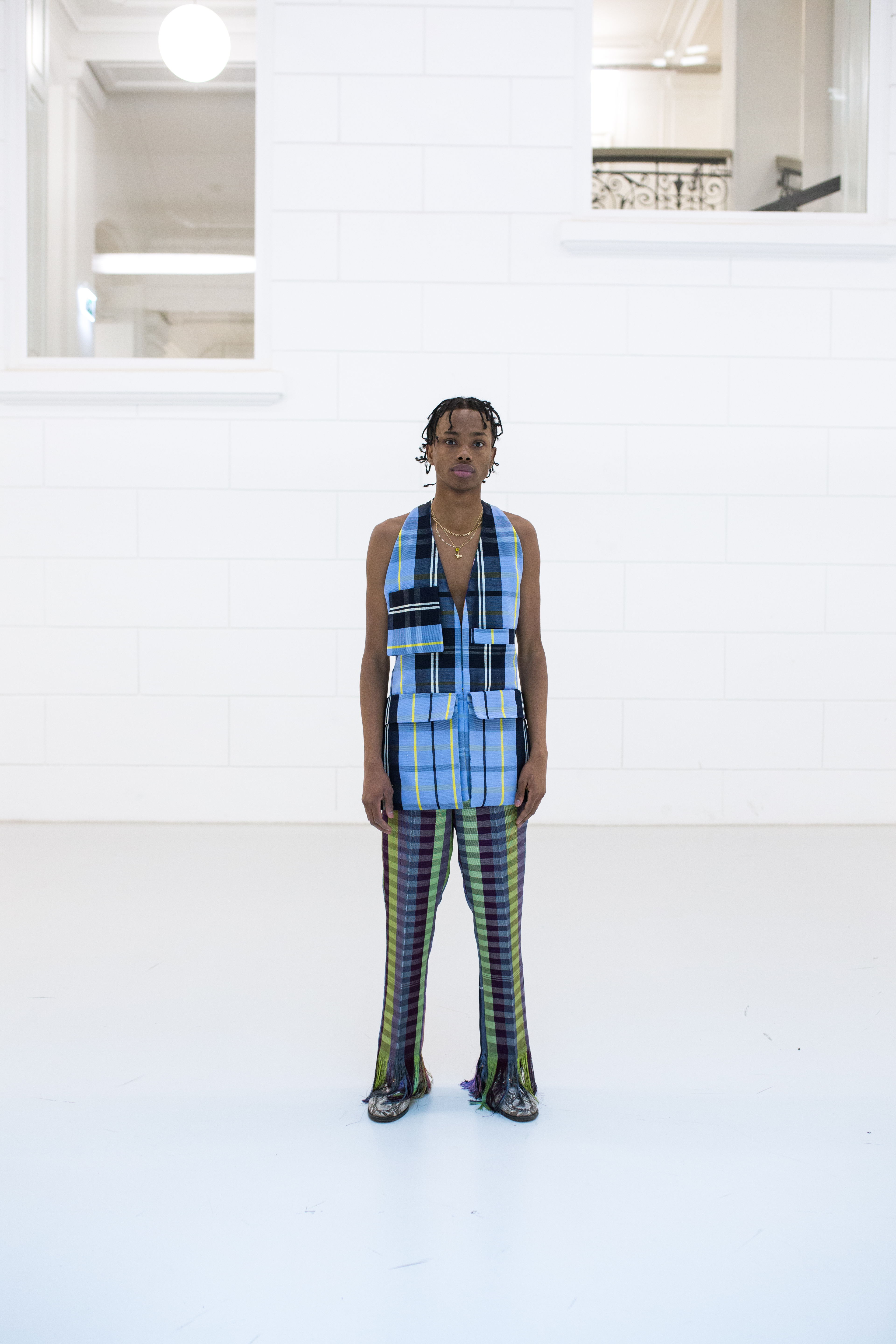 What inspired your latest collection that you presented for the LVMH Prize?
My collections are mostly inspired by my experiences as a child -- my upbringing and how my family brought us up and how it was in the house. My dad was super stylish and my mom would already start shopping for our Christmas clothes in September, which I always thought was ridiculous. She would prepare everything and she wouldn't show us. We'd get really excited because we knew our Christmas presents were in the closet. Nigerian families dress up for Christmas and really plan three months before... That was the inspiration for the collection.
What attracted you to incorporate fringing into this collection?
My mom's head wraps usually have fringes and it's made from the Aso Oke fabric. The movement is really fascinating for me. I feel like it's on a different level to just have something exciting on someone's head or on someone's body. That's how I started using the fringe.
Can you tell us about what you did to prepare for your upcoming debut women's collection?
I really needed to study a woman's body. I did the same type of research that I did for my menswear collections. Already, we had 60-70% of women buying our menswear collection. I am now trying to find a way to make this work more for women. We've been making menswear that turns out to be unisex clothes, and now we're making a proper womenswear line.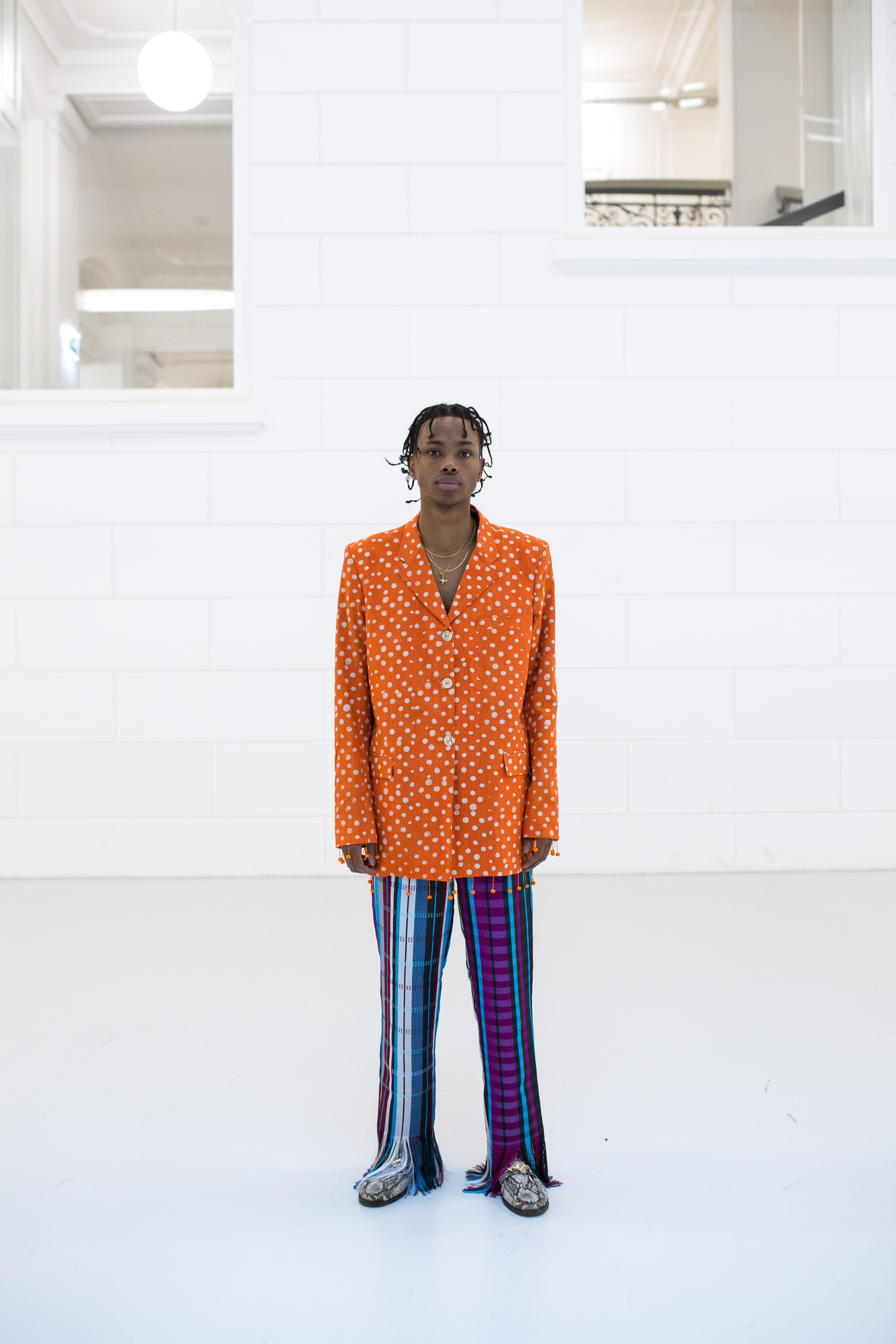 What type of research did you conduct for the women's collection?
The collection is about women's home lives and Nollywood movies. I drew a lot of inspiration from @Nolly.babes, which is one of my favourite Instagram pages. The collection explores everyday realities of post-colonial life, like how our living rooms look and how we changed our styles. Women would relate to their home. My mom's friends would come to the house and they would dress up to go to a party. I feel like that is amazing and this is the type of story I want to tell with my clothes.
What made you move back to Nigeria to start your brand?
Everything is transforming in Nigeria right now because we are more aware of the kind of people we are. We are pushing our own narrative and our own identity. People are more exposed to art in Nigeria. Music and fashion have given the country new growth. The music has really helped the fashion industry to grow faster. People are seeing what's going on within the continent now and they're more interested in changing its narrative and speaking their own stories. A lot of Nigerians have been hiding from telling their own personal stories. A lot of Nigerians get frustrated not being able to document things.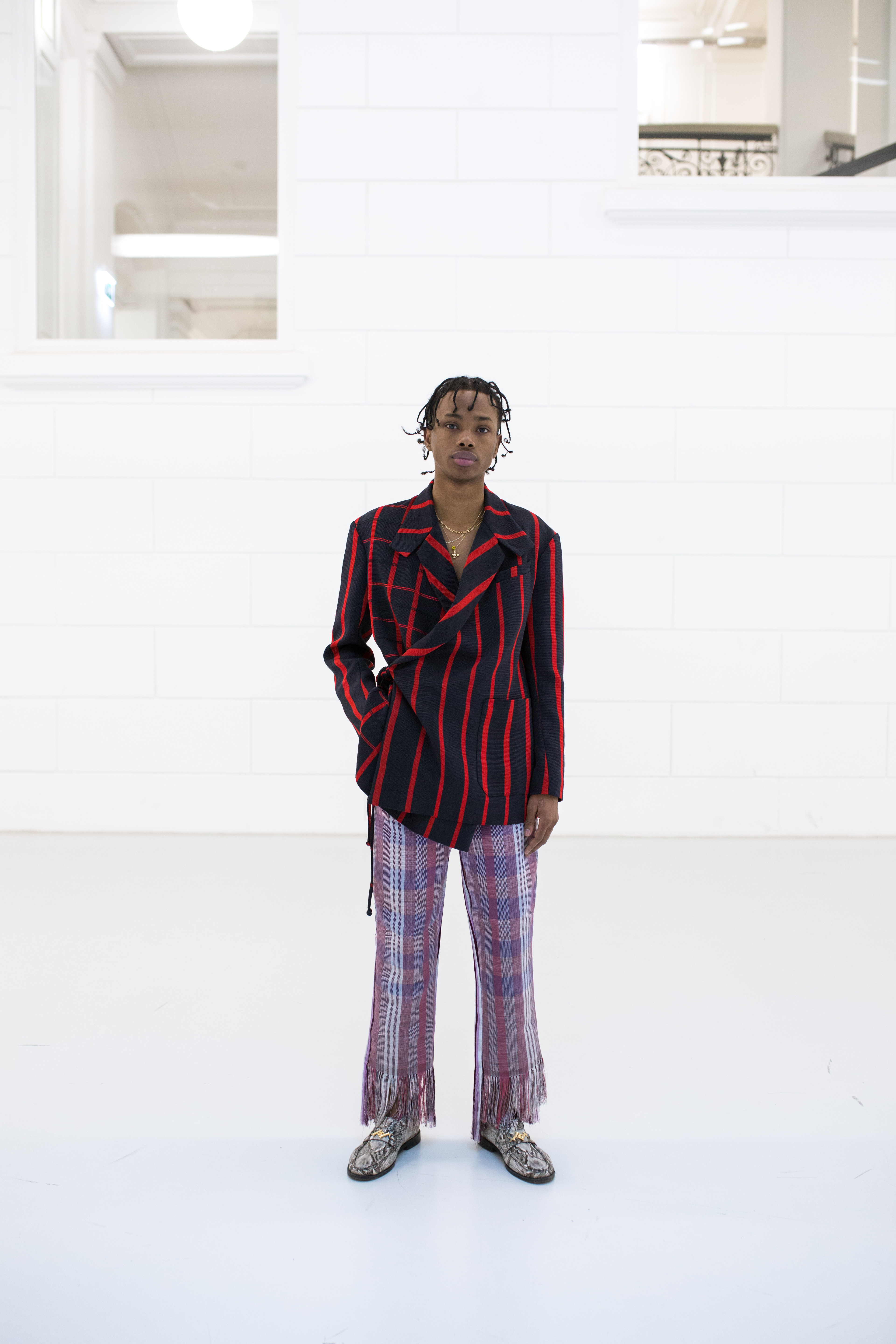 What do you think prompted this new artistic renaissance in Nigeria?
Most people are looking for growth. Thank god for how people are now open to diversity. Fashion and design wasn't something that people in Africa really studied. It wasn't something big for us to do because our parents would always want us to be lawyers and bankers. It's all changing now because even our parents are getting interested in the arts.
What other cities impact your design aesthetic?
I'm currently in Morocco making shoes. I've been obsessed with the babouche shoe. In Morocco, arts and crafts are really strong. Morocco, for me, is a country I've always come to because it's crazy what you can get done here. They really still embrace what they have. It's also very close to Europe and Nigeria.