From Left to Right: Alexander McQueen, Christopher Kane, Gucci autumn-winter 2019. Collage by Liam Hess
why the dominatrix has made a whip-cracking return to the runways
From Christopher Kane to Alexander McQueen, it seems that kink is on the mind.
From Left to Right: Alexander McQueen, Christopher Kane, Gucci autumn-winter 2019. Collage by Liam Hess
This article originally appeared on i-D UK.
"Sex should never be taboo," Christopher Kane told i-D in an interview following his autumn/winter 2018 Joy of Sex collection. "That would be going backwards: I make clothes to empower women, especially at times like this." In the wake of Time's Up and #MeToo, many designers have chosen to shy away from the subject of sex -- especially its seamier, shady corners -- but for Kane it's all the more reason to continue exploring it. "I was actually working with the subject before #TimesUp happened, but I think it's the best time to celebrate sex," he added.
While Kane's inventive forays into the realm of sexuality have long been his signature (see also his spring/summer 2014 Biology collection, where the sex organs of plants were laid out anatomically across tees and dresses), it seems that he's slowly being joined by other designers unafraid of venturing into BDSM territory.
At Alexander McQueen this season, Sarah Burton presented slick metallic chokers, patent leather coats and chunky knee-high boots; at Gucci, models walked in black lace and studded leather headpieces; and even at Burberry, the buttoned-up chic the label is known for gave way to silk slips under black peacoats -- perfect for those looking to unleash their inner flasher.
Dominatrix-inspired fashion is hardly new: you'll find shots of Charlotte Rampling from the controversial sexploitation flick The Night Porter (1974) on many a designer's moodboard. Madonna's infamous Sex book, produced in collaboration with Steven Meisel to promote her album Erotica, is an equally popular reference point. It seems that this time, however, there's arguably less of an edge to the dominatrix's return to the runways.
"It's a cliche, but I liked it when Vivienne Westwood did it in the 70s, because it actually reflected a nihilistic change in culture," says writer and dominatrix Reba Maybury, who also translates the political dimension of her relationships with her subs into art. "The energy was real and representational of social change, and that is why we remember these clothes as being 'iconic', but it's all been done before."
All the same, in the public consciousness, the role of the dominatrix continues to be misunderstood. Despite a 2005 study by Durex revealing that 36% of Americans regularly use masks, blindfolds and bondage tools during sex, BDSM is often presented in the media as illicit, seedy and shameful. More recently, the Netflix show Bonded received criticism for its unrealistic portrayal of sex workers, ranging from its lack of insight into the politics of consent around BDSM, to its use of carpets. "You'd be hard-pressed to find any dungeon with a shag carpet," professional dominatrix Mistress Couple told Rolling Stone. "It's not cleanly."
These popular misunderstandings make fashion's embrace of the dominatrix all the more intriguing: rather than poking fun at BDSM gear, or presenting it as simply a costume, this season's collections have made a case for dominatrix style as something that can be less literal. One of the most hotly anticipated debuts of autumn/winter came by way of Daniel Lee at Bottega Veneta, the Phoebe Philo protegée whose campaign had already got tongues wagging over his potential status as a go-to for bereft Philophiles. But rather than a tasteful redux of Phoebe's signatures, Daniel's first look out on the runway -- model Kaya Wilkins in a knee-length, fitted leather dress -- had a whisper of something more perverse.
Reba also makes the point that the fetish garment is as much about the person it might be turning on, as it about the person wearing it. "Fetish wear can be any kind of clothes essentially, not just chains and leather," she adds. "A woman who works as an accountant might wear PVC heels from Marks & Spencer to the office, and this will give someone an erection on the tube without the woman ever knowing or attempting to attract this kind of attraction. Everyone has a fetish and none of us will ever know how and when we are all turning one another on."
Whether it's appropriate for fashion to co-opt the dominatrix style is a thornier issue. "Women can do whatever they want, and that includes wearing whatever they want if it makes them feel good," Reba says. "I feel worse about women of colour's style being co-opted, because this is violent."
Fashion paraphrasing the wardrobe of the dominatrix still comes with problems: there might be a sense of synchronicity as this new wave of kink-inspired fashion coincides with a growing conversation around the rights of sex workers, notably the #MakeAllWomenSafe campaign in the UK, but it's clearly unlikely that fashion is responding to this with any particular insight or nuance. What we wear is political, yes, but fashion doesn't always grapple with politics sensitively.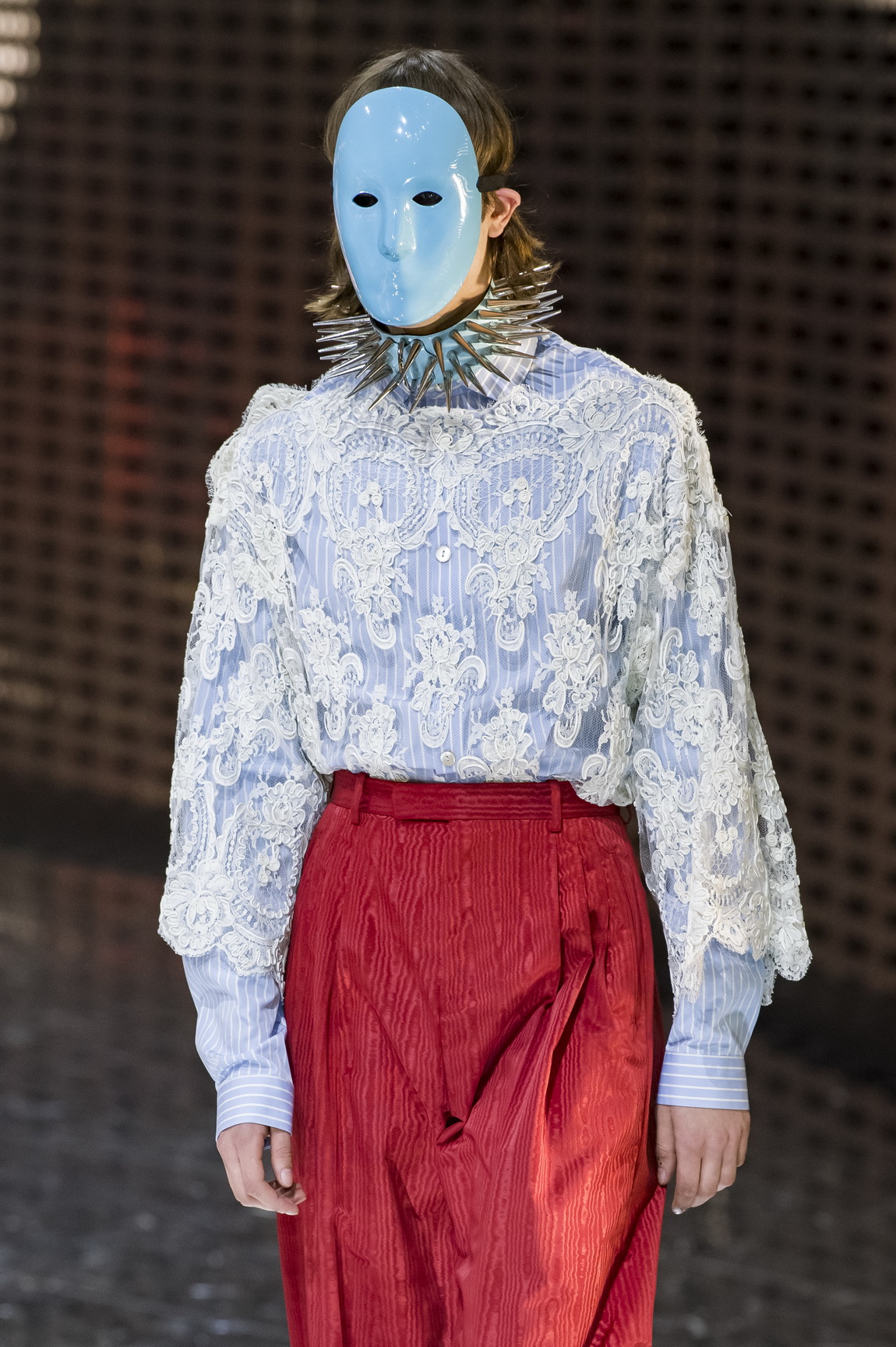 What we can take away from the trend, however, is its implicit celebration of the powerful woman: from Hillary Clinton's loss in the 2016 US elections to the Harvey Weinstein scandal, the fact that many people continue to find the prospect of a woman in a position of power threatening has been reiterated constantly over the past few years. The political dimension of the female dominatrix wielding complete power over her male subject is impossible to ignore, and there's something in the unabashedly sex-positive tone of collections like Christopher Kane's recent autumn/winter 19 offering that feels different to the fetishisation of decades past.
On whether the inherently political dynamics of BDSM hitting the runways could lead to any clearing up of popular misconceptions about dominatrixes, however, Reba disagrees. "It does nothing," she adds. "Once we abolish capitalism, the patriarchy and properly acknowledge and attempt to change how racist the world is, things will change. A Kardashian wearing PVC is a spectacle to distract us from our political and economic constraints." Whatever the outcome, don't be surprised if you find people more willing to embrace their kinkier side this year.
This article originally appeared on i-D UK.