Ten Pieces. Photography James Gourley/Getty Images
what you missed at mercedes-benz fashion week australia
The who, what and where of Australian fashion's biggest week.
Ten Pieces. Photography James Gourley/Getty Images
This year's Mercedes-Benz Fashion Week Australia was bookended by two icons. The first was the Sydney Opera House, which sat sun-drenched as a backdrop for the first show of the week. The second was local industry icon Carla Zampatti, who celebrated 54 years in Australian fashion and as a patron of the arts. In between there was five days of shows, shoots, presentations, parties and even a pool (albeit empty).
But the week isn't just about presenting fashion, it's also about reflecting on it. As Australia's most high-profile fashion event it provides an opportunity to step back and question what the Australian perspective on fashion is. Here, we take a look back at the week and reflect on the shows that captivated us with their ideas.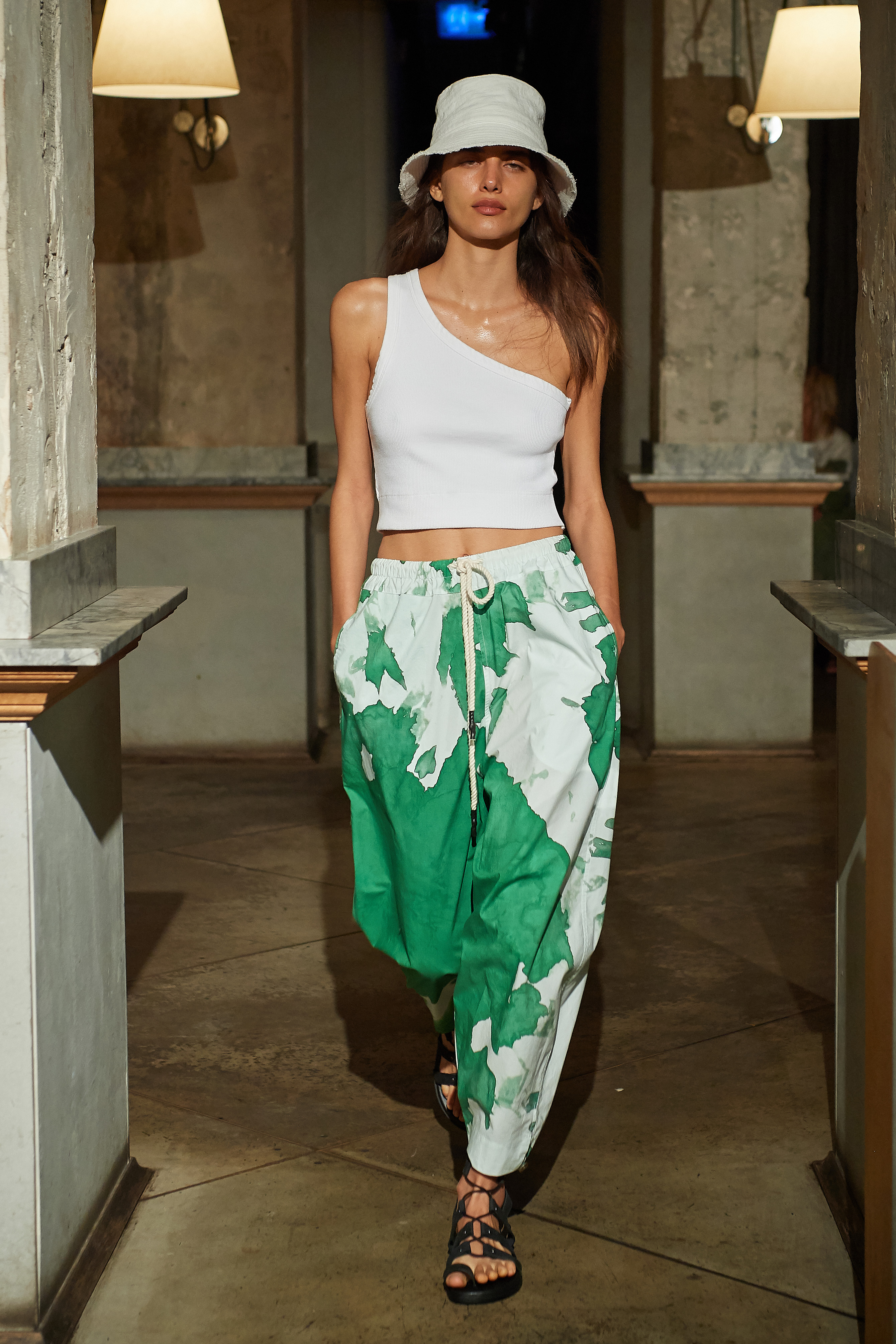 Bassike
For years now Bassike's perspective on fashion has been defined by the nuances of simplicity, focusing on basic pieces made from high-quality fabrics and worn with ease. Despite being such an established label this was their first year presenting at MBFWA. Held at The Apollo restaurant it as an intimate dinner and show, with the margaritas on arrival setting the tone for the collection — Bassike letting their hair down. There was colour! There was tie dye! There were bucket hats! And there were other welcome surprises, like a particularly captivating tan leather dress. For a label born from simple luxuries this felt like founders Deborah Sams and Mary Lou Ryan suggesting the simplest luxury of all is enjoying yourself.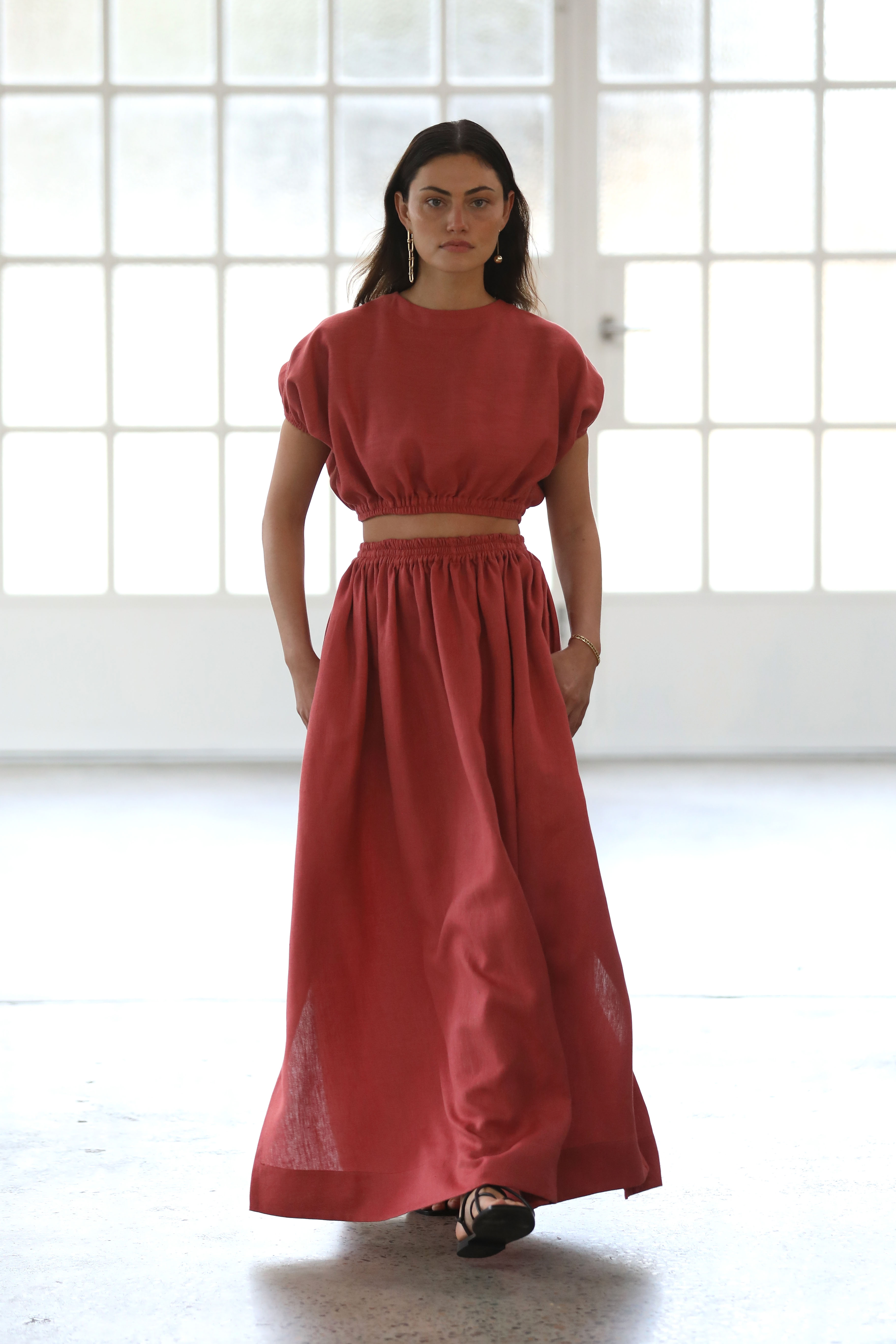 Matteau
As the world's only fashion week dedicated to resort collections, the tone of the week is well suited to Australia's sublime offering of swim and resort wear labels. For their show Matteau showcased the kind of simplicity and ease that really only comes from meticulous planning and execution. It was the kind of show where everything aligns perfectly: the casting, the venue, the soundtrack, the Tiffany & Co. jewellery, and even the scent of the room. However the focus remained on the collection, which showed swimwear in autumnal tones and patterns alongside ready-to-wear pieces like elegantly cut long dresses. There was more than one tunic moment that, coupled with the rich linens and the sandals on show, gave off the idea of a beachside utopia — one that's lead by Phoebe Tonkin and praises the water each day.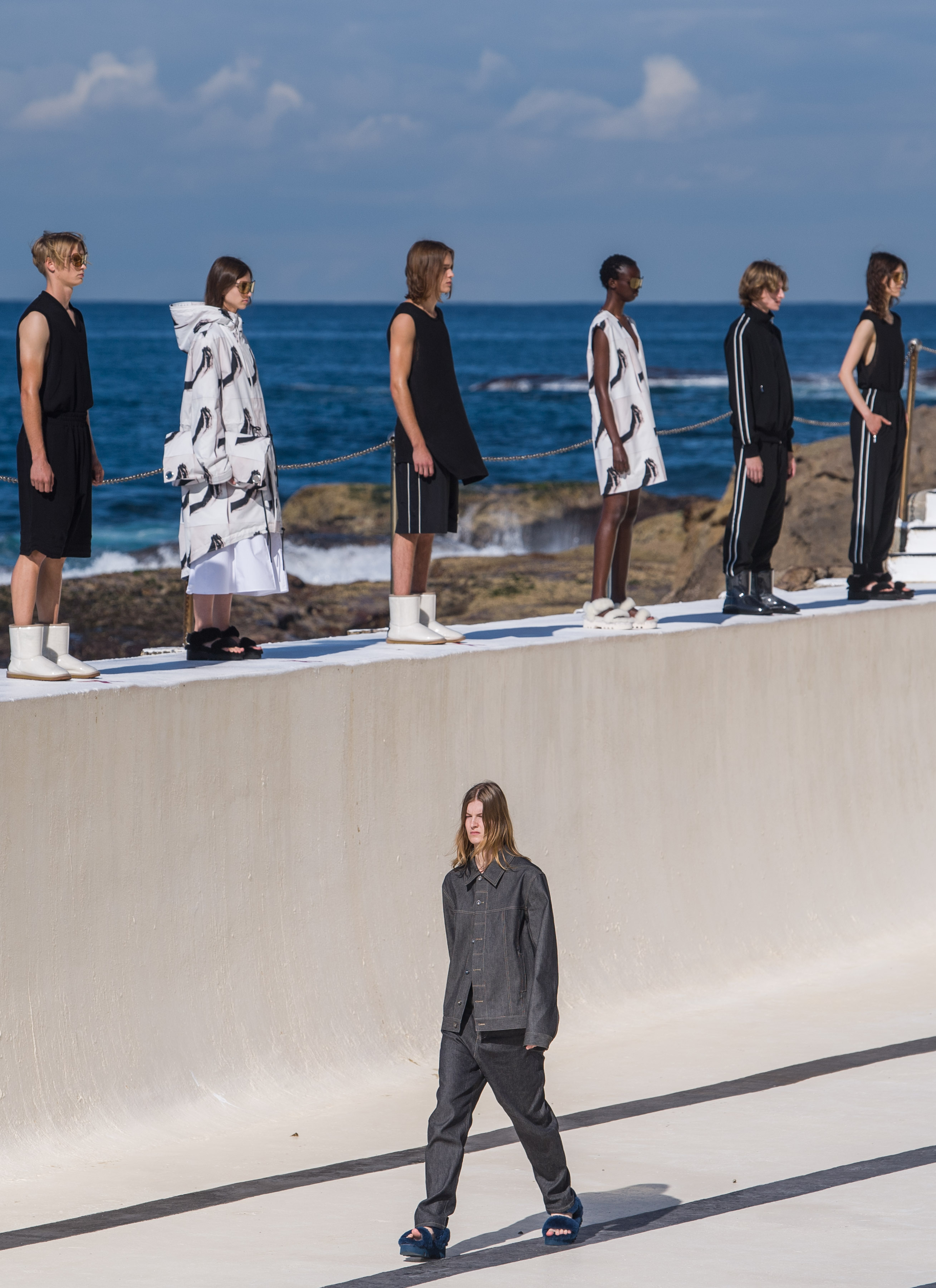 Ten Pieces
Australia has long been defined by its relationship with the ocean and water. It's kind of hard to avoid when you have some of the most beautiful beaches in the world at your doorstep. But what happens when you strip the sun, surf and sand away? What are you left with? This idea was explored quite literally at the Ten Pieces show, held at Bondi's Icebergs pool which had been emptied for the occasion. Without water the pool became hollowed out rock and cement, providing a raw and elemental backdrop. It suited the Ten Pieces collection which was tough and serious in tone, exploring itself through elements of sportswear, streetwear and a new foray into denim.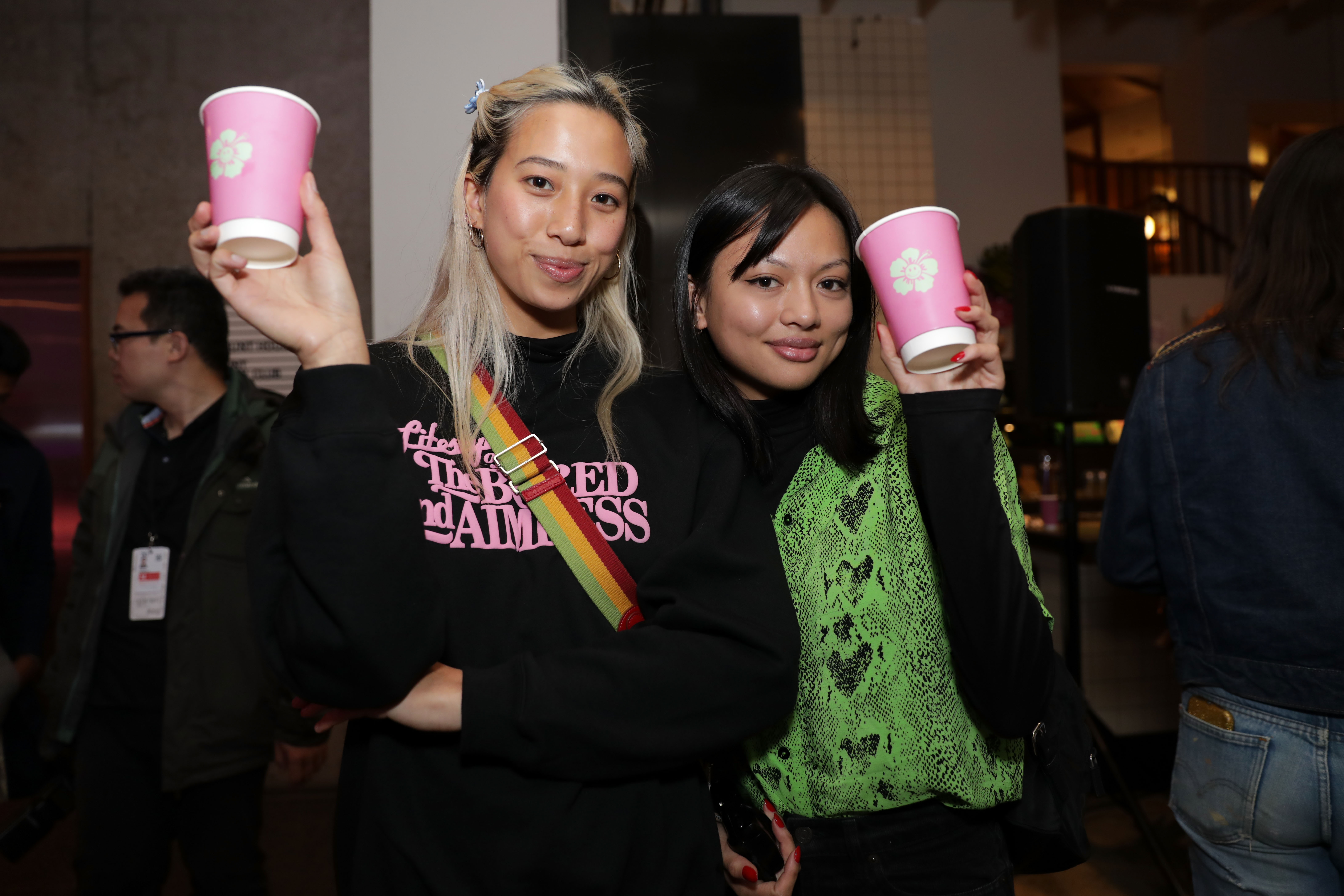 Holiday the Label
Some of Australia's youngest labels are channeling their idea of Australian fashion through nostalgia. Emma Mulholland's Holiday the Label captures the warm feeling that comes from memories of trips past, particularly when remembered though souvenirs at kitschy tourist shops (that snowglobe you bought for some reason). This year her Lousy Souvenir pop-up showcased a collaboration range made with Paramount House Hotel alongside nicknacks custom made for the event — stuffed dolphins made from leftover fabric were a favourite. The irony of showing Holiday during a week focusing on Resort 2020 collections is that Emma's label is always about vacations. Unlike others she's not offering a collection in which to escape from everyday life, because she believes that everyday can be a holiday with the right attitude and slogan tee.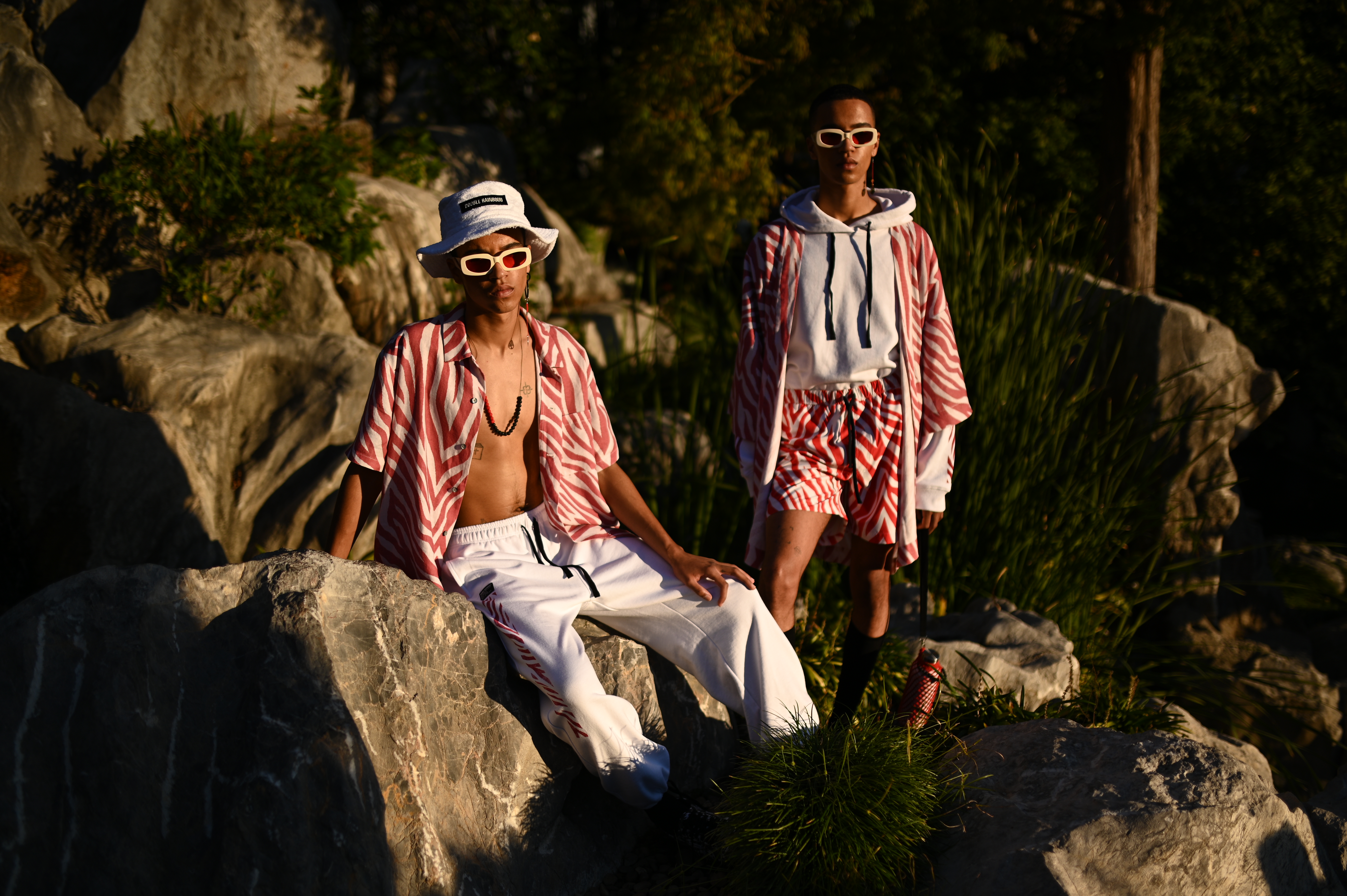 Double Rainbouu
Another label that shied away from the runway format this year was Double Rainbouu who instead took guests on a serene tour through Sydney's Chinese Garden of Friendship. Perfectly timed for golden hour, the presentation featured groups of models (what is the collective term for a group of models? a gaggle?) scattered throughout the scenic gardens. They mostly wore various combinations of loudly patterned shirting and shorts, signatures of the label, but also and an extended range of swimwear, some streetwear pieces and macrame accessories. Outside the high walls that make up the garden's boundaries is a large road with six lanes of traffic. While guests walked through scenic gardens the road began to come alive with frustrated commuters chugging through peak-hour. There's a metaphor about making time to find moments of bliss in this somewhere.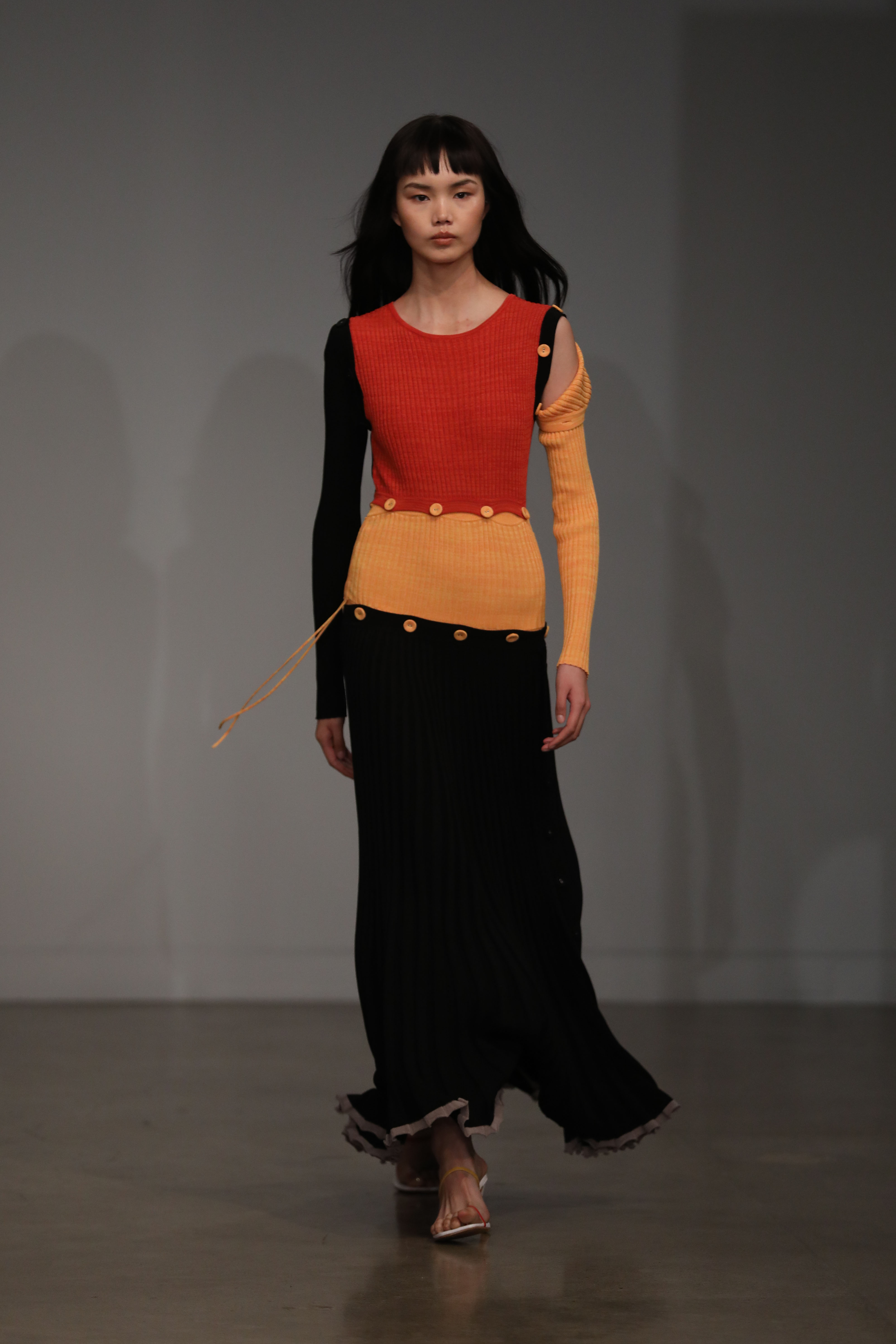 Christopher Esber
Next year will mark the tenth birthday of Christopher Esber's namesake label so it's nice to see that ahead of such a big milestone the designer is more assured of himself than ever. His Resort 2020 collection gave the idea of being someone different while you're on holiday. When you're miles from home and work and everyone who knows, you can be anyone if you want to be. Perhaps you dare to try a new commanding persona through tailoring, or one with carefree sex appeal by barring your midriff, or perhaps it's as simple as a button-fastened knitted dress that you leave a little more undone than you normally would. Christopher Esber's show might have been a last minute addition the week's schedule but it was certainly a welcome one.