Saint Laurent autumn/winter 18. Photography Mitchell Sams.
a new generation of creative directors are bringing the past back to life at paris' old maisons
With the fashion industry in a constant state of flux, it seems looking back might just be the best way to navigate the future.
Saint Laurent autumn/winter 18. Photography Mitchell Sams.
The coats came piled up and loaded on; accumulated layers of grey plaids, three ski jackets deep, volumes engorging the models in protective, warm cocoons. At Balenciaga, up until this moment, Demna Gvasalia had -- more or less -- been busy losing himself in the potential offered up by Cristobal's archive. He added his own flourishes for autumn/winter 18, tempered the Basque-designer's haute couture structuralism with his vision of 21st century realism. That Vetements attitude has always been there in his work at Balenciaga but it's been refined through the codes of the house.
This season though, Balenciaga felt more Demna than Cristobal. In shape and silhouette and fabric, it reflected his vision and aesthetic. Stemming from a newfound confidence in himself possibly? He's been at the house for more than two years now, maybe it's beginning to feel like home? As always, it feels like Demna is bucking the trend, one step ahead by bringing more of himself to the house he's designing for.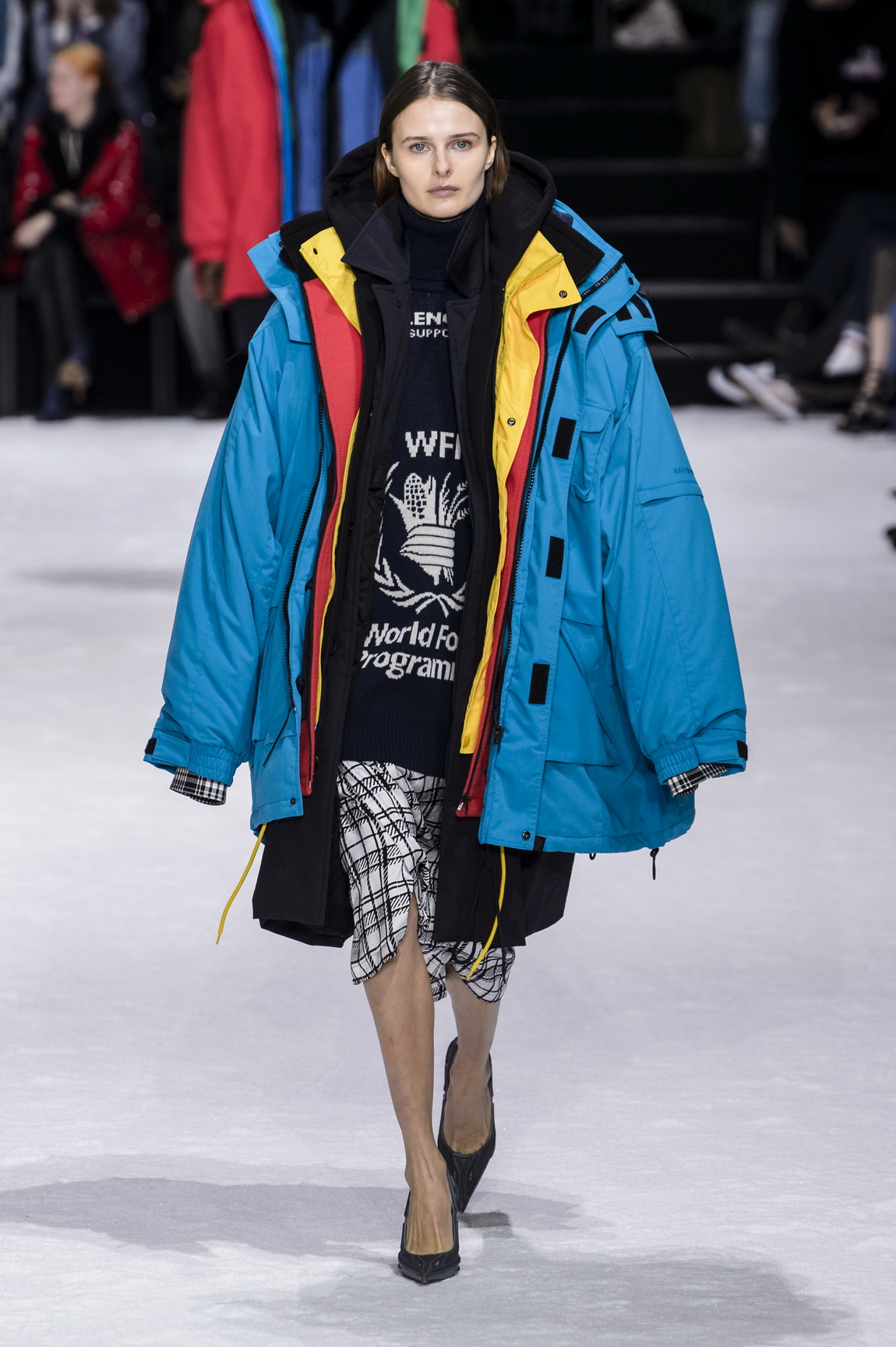 Paris Fashion Week, for autumn/winter 18, felt jolted between ideas of safety and comfort -- new designers at old houses, consolidating their artistic worlds -- and avant-garde experimentation -- in precarious times where there's a joy in losing yourself in an outlandish fashion dreamscape of distended proportions and chimerical garments.
Change is in the air at Paris' historic maisons. Lanvin, Chloé, Dior, Givenchy and Saint Laurent have appointed new Creative Directors in recent seasons. We also eagerly anticipate a new vision of Burberry under Riccardo Tisci, Hedi Slimane at Céline, as well waiting to see what Phoebe does next. Paris is in flux, putting into sharp relief how a new generation of designers approach creativity in economically and socially turbulent times. How do you meld your approach with the blueprints laid out by the greats of fashion history?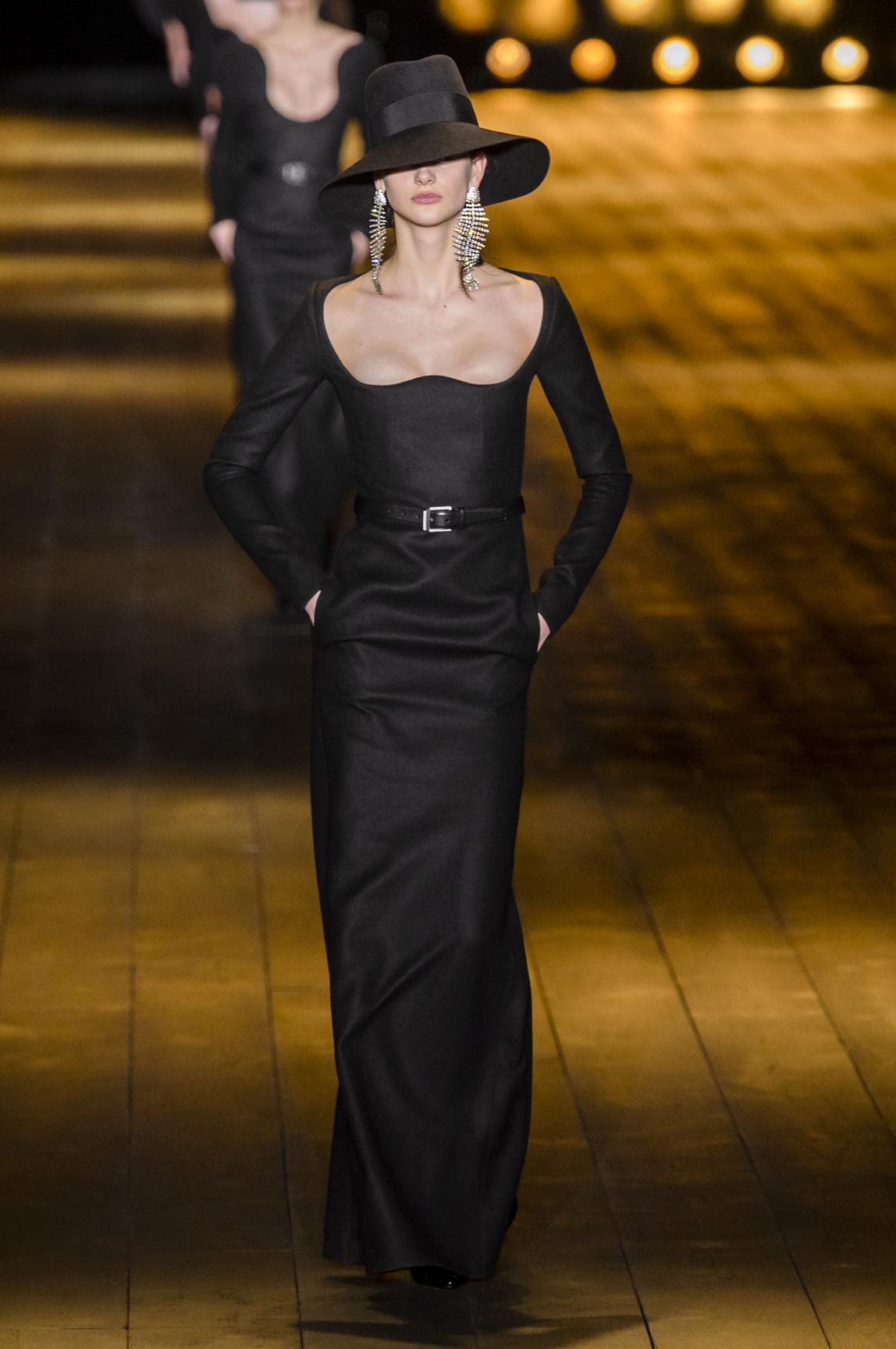 Obliterate the immediate past. Propose the new vision. Find new possibilities in what the house stands for. Draw it back to the house's archives. Reinforce the new aesthetic. That seems to be the cycle of the new creative director in charge of the legacy and history of these brands.
We have Anthony Vaccarello at Saint Laurent, finding fertile ground in Yves's legacy of glamour, sexiness tempered with darkness. Strong shouldered, nipped in at the waist, short skirted and long legged. The colour palette resolutely black, lightened only with twinkles of sequin. Anthony, as a designer, finds himself in a similar position to many others in Paris at the moment.
He's three seasons deep into his work at Saint Laurent, no longer shock-of-the-new, yet still in the process of honing and refining his aesthetic at the label. His work at YSL is also indicative of something else we've been noticing recently, which is a move away from the blunt revolutions of seasonality, instead favouring subtle changes across collections. Because of this, Anthony's Saint Laurent already feels deeply his own. He's nailed his colours to the mast.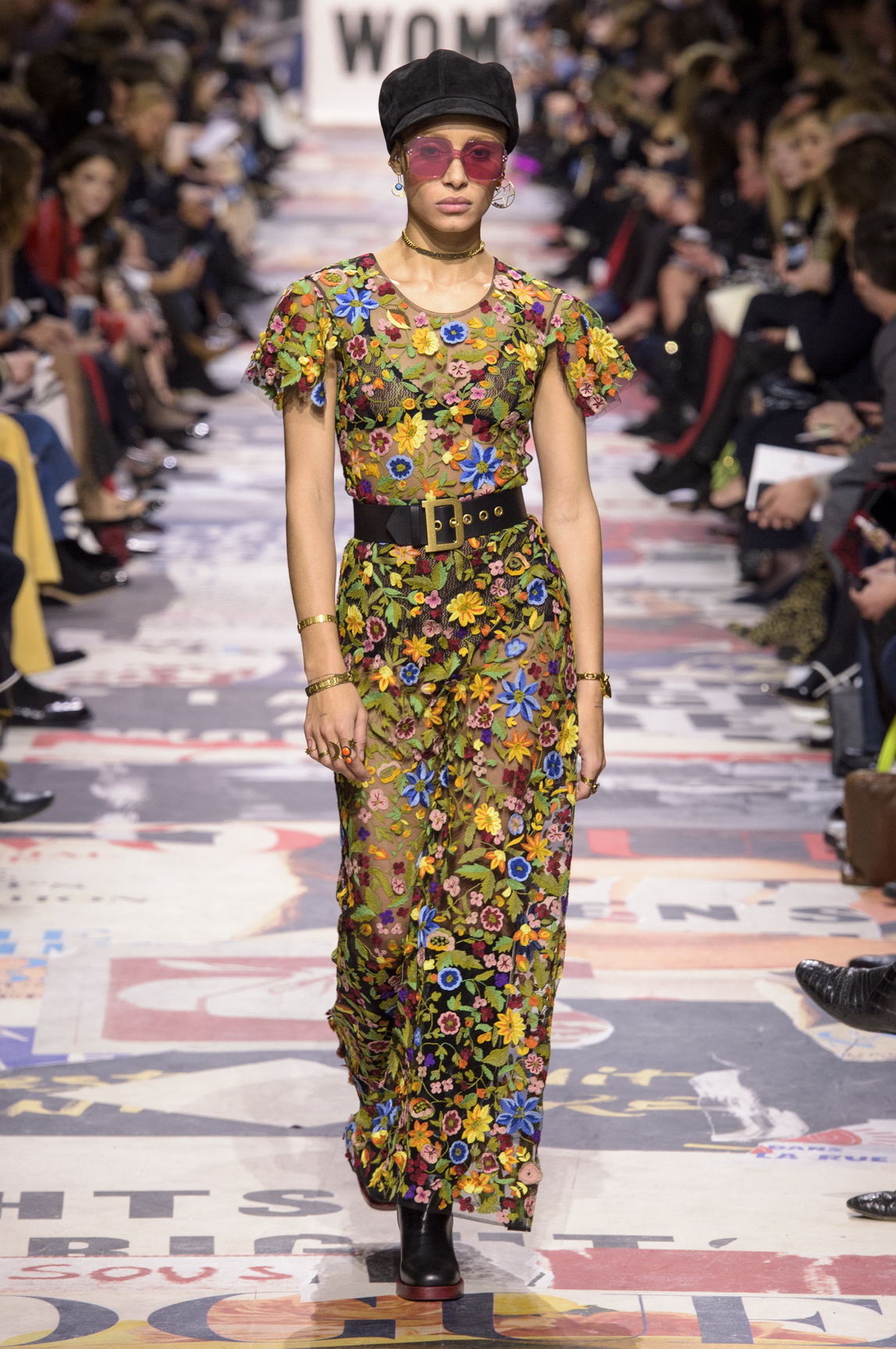 Maria Grazia Chiuri has been at Dior as long as Anthony's been at YSL, yet unlike Anthony, MGC has more amorphously shifted through eras, styles, silhouettes. There are no echoes, either, of Raf's refinement or Galliano's romanticism. Instead she's stuck the house's future on pivoting to politics; a sloganeering, feminist-facing, millennial-orientated cavalcade of hippies, cowgirls and female art pioneers.
If the prevailing mood of the moment leans more towards the untouchable glamour of the 70s and 80s, MGC is evoking a more homely vision of 60s counterculture. If the prevailing politics leans towards escapism through fantasy, or finding fashions that are suitable for end times, offering protection, insulating against apocalypse, MGC aims for the idealism and utopias offered by Haight-Ashbury. She's standing alone, creatively and commercially, neither leading or being followed.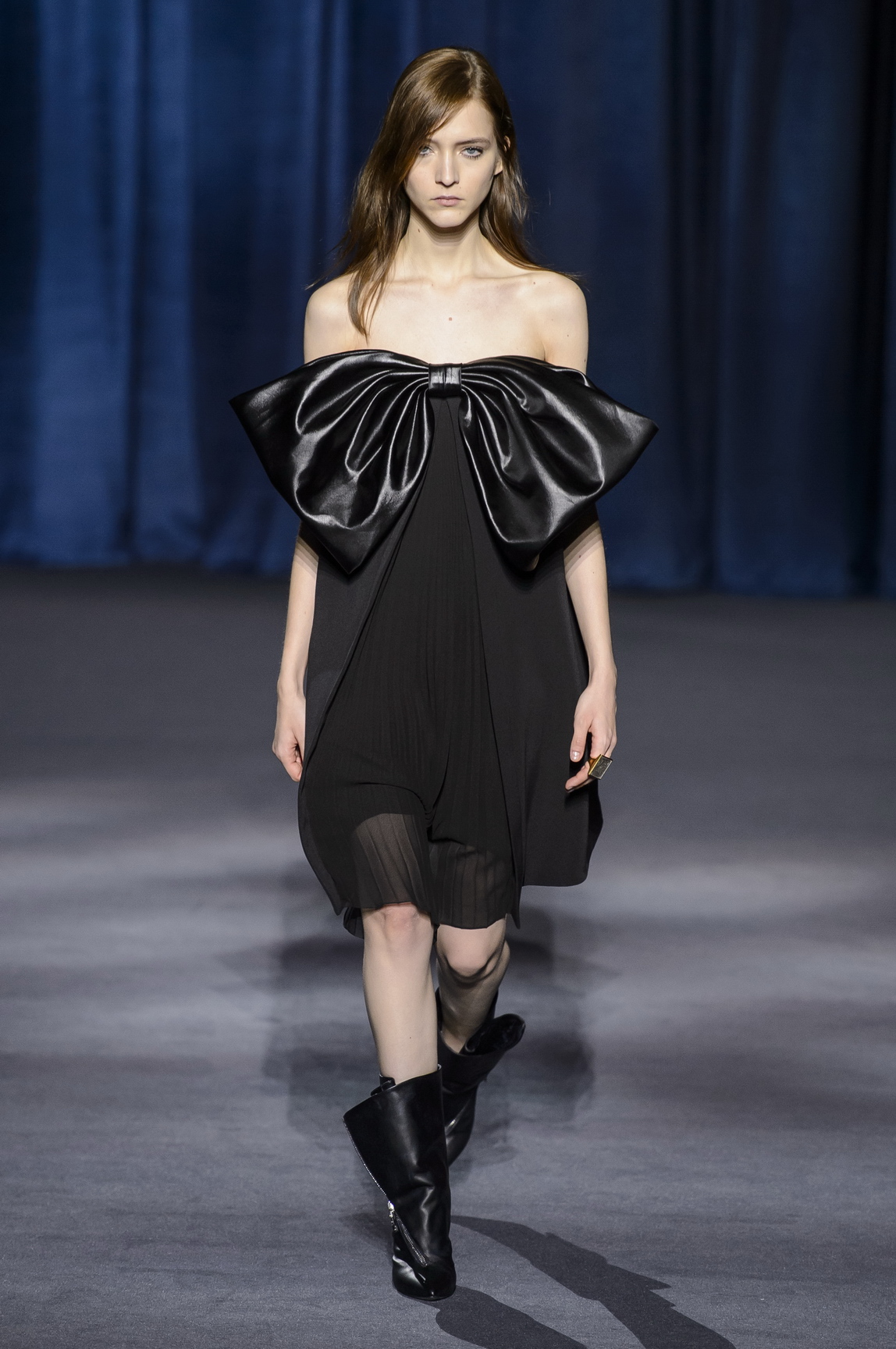 Clare Waight Keller's move, from Chloé to Givenchy, is more indicative of where we are. During 12 years at Givenchy, Riccardo Tisci's gothic-romantic vision of urban luxury played more on his ideas of fashion than Hubert's. There's room in the archives, then, for Clare to explore. Across two seasons of ready-to-wear and one knockout couture collection, she's been busy appropriating classic Givenchy prints and nodding to his silhouettes.
Her successor at Chloé, Natacha Ramsay-Levi, equally has moved away from Clare's aesthetic at Chloé, discarding the bobos and bohos, to find something slicker, a 70s inspired silhouette, and a more muted palette.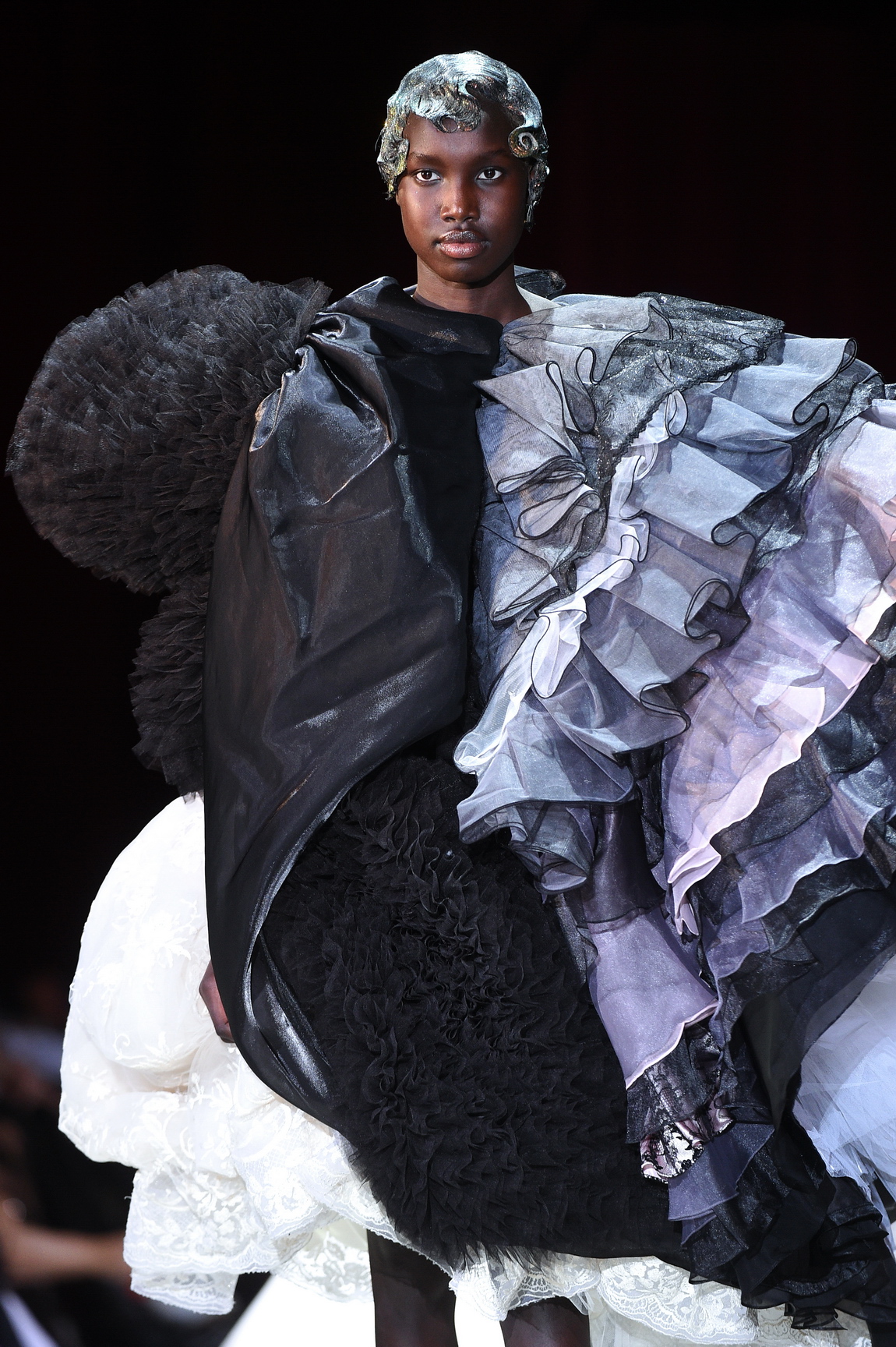 The problem -- and possibility -- of what to do when given creative control of a storied fashion house, is encapsulated in all those examples. Dive into the archives and pay homage to the house's founder? What to do with the problem of the just departed creative director you've replaced? All these new leaders -- with the exception of MGC at Dior -- have also had to adapt to the demands of being in such a bright spotlight for the first time. They've got to present new creative visions, but keep the economics working. Is it any surprise then, that this new generation of designers leading these old houses, have found comfort and creativity in the power and possibility of the past? Is it any surprise that, across their first shows, there's been wild flights of creative fancy; they're hammering home what they stand for and what their brands will look like.
It is not just these new leaders of old houses -- even with such iconoclastic intellectuals as Rick Owens to Rei Kawakubo there was a sense of the artistic security in what was presented on the catwalks this season. Maybe we're finally feeling the after-effects of the political ruptures of 2016? Protest, anger and rage have given way to this desire to lose yourself in the comfortable pleasures of the past, of what you know best. A feeling that looking back is the best way to navigate the future. A feeling that now is a time for creative consolidation rather than rushing onto new ground.
Credits
---
Photography Mitchell Sams