burberry have appointed riccardo tisci as chief creative officer
The designer replaces Christopher Bailey and is set to present his first collection for the brand in September.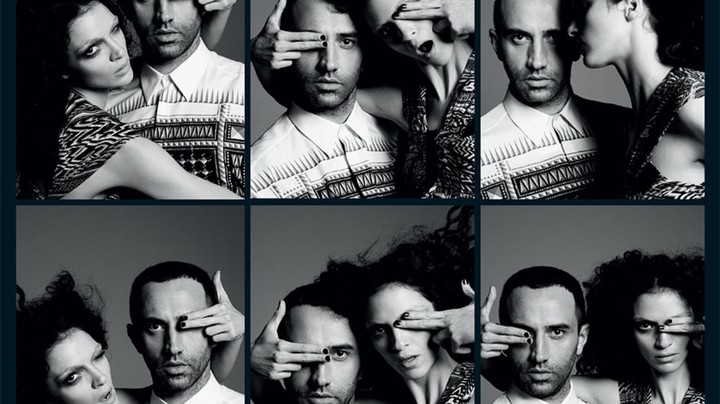 Over the last few weeks fashion insiders have occupied the time between shows or over dinner tables playing the Burberry-edition of Guess Who? We've heard everyone from
Phoebe Philo to Kim Jones and Stuart Vevers mentioned. This morning, we wonder no more and few can claim that they knew who it truly was as Burberry confirm that Riccardo Tisci is the man who will lead Burberry into its new dawn.
12 months after stepping away from his sensual and subversive renovation of Givenchy, Tisci has been appointed by Marco Gobbetti -- the two worked together at Givenchy -- for a fresh challenge. "I am honoured and delighted to be joining Burberry as its new Chief Creative Officer and reuniting with Marco Gobbetti," Tisci explained in a statement. "I have an enormous respect for Burberry's British heritage and global appeal and I am excited about the potential of this exceptional brand."
After joining Burberry in 2001, Christopher Bailey spent 17 years transforming the British luxury house into a creative fashion force; placing it in the broader cultural landscape and pushing digital innovation -- Bailey introduced the first live-stream show and has been at the forefront the see-now-buy-now revolution.
After his emotionally-charged February Collection, Bailey was optimistic about the future of the Burberry, and now we can see why. Tisci joins Burberry after 12 years at Givenchy that saw him similarly transform its fortunes and standing in the industry. A critically and commercially acclaimed designer with expertise across womenswear, menswear, leather goods and accessories.
"Riccardo is one of the most talented designers of our time," Marco Gobbetti explained. "His designs have an elegance that is contemporary and his skill in blending streetwear with high fashion is highly relevant to today's luxury consumer. Riccardo's creative vision will reinforce the ambitions we have for Burberry and position the brand firmly in luxury." He will surprise a few people too.
"Everybody says I'm the king of darkness, the king of goth, but at the end of the day I'm quite a sweet dreamer," Tisci explained in an interview for our 35th anniversary. As he begins to ponder his Burberry daydreams, we'll have to wait until September to explore the new reality. What do you hope to find?
This article originally appeared on i-D UK.