Photography Mitchell Sams
margiela's iridescent inverted wardrobe will protect us all
The who, what and wow of reverse dressing at Margiela autumn/winter 18.
Photography Mitchell Sams
Who?
Just before one of fashion's most controversial and most creative of talents joined Maison Margiela in 2014, its elusive founder left John Galliano a simple instruction: "Take what you will from the DNA of the house, protect yourself, and make it your own." From the moment he stepped into the maison that Martin built, Galliano has followed those words of encouragement. Over the course of three years, he has confidently cut, copied and manipulated existing codes and introduced a few of his own. The result is a captivating conversation between two masters with two distinct yet complementary voices.
Galliano's idea of haute, unconscious glamour, and décortiqué -- the reduction of a garment to its core -- were all first uttered in the Artisanal line this season, and have since evolved as each echoed across the maison's prêt-à-porter lines.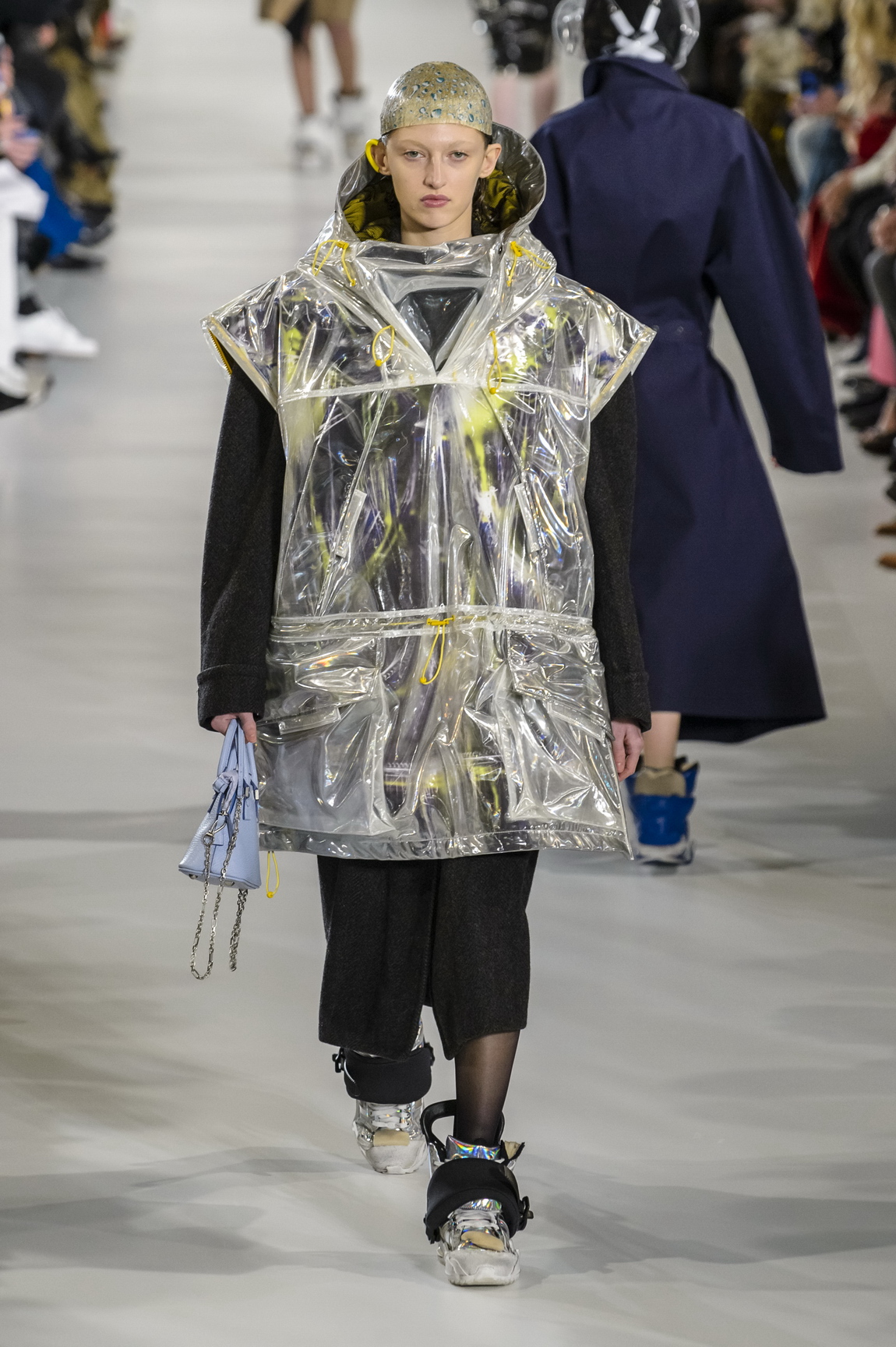 What?
Outerwear was the focus this season. Trench coats were worn casually under dresses, jumpers thrown over blazers, nylon coats worn under leather jackets, fisherman's knits peaked out under transparent skirts. It all made sense in this upside-down, inside-out, Galliano-Margiela world. Informed by the holographic nature of the Artisanal collection which found inspiration in the transformative power of an iPhone flash, the experimentation of couture was clarified in more familiar, everyday garments. However, in Galliano's hands, even the most familiar can become otherworldly. Iridescent foil, nylon, reflective flash-sensitive fabric reacted to light and movement, effectively shape-shifting the body and confusing the eyes of the viewer. At the same time, heritage materials sourced from the men's wardrobe -- herringbone, cavalry twill, gabardine, wool of Aran knits -- countered the collection's technical character and grounded it in reality.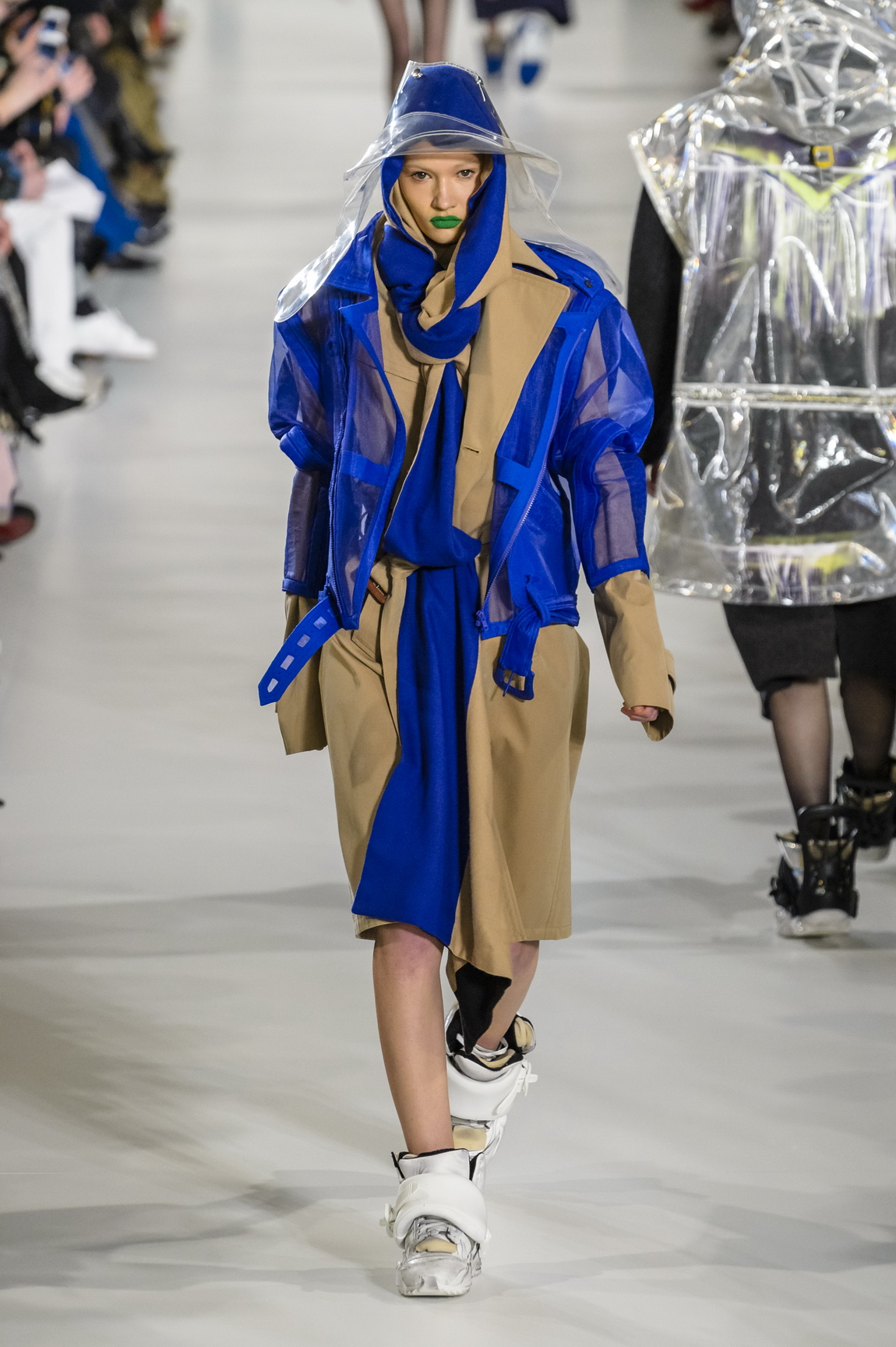 Wow!
Those moments when Galliano applied his conceptual code of décortiqué to protective outerwear threw up new possibilities. While Lea Julian opened the show with one giant padded sleeve attached to a traditional coat, Amber Witcomb's plasticised parka had the sleeves removed and various trenches were reduced to mere sartorial skeletons. Whether stripped or bonded, the outerwear was layered to protect.
Elsewhere a grey jacket was impressed with a rubber cast of an Aran knit, and a herringbone blazer was bonded with a fisherman's knit, illusions and impressions of materials confused memories of what we knew certain textiles to be. The play between layers, transparency and reflection, transformed garments and proposed new ways of dressing. These ideas extended into the accessories, most strikingly in the protective transparent hoods, printed hardened swimming caps and the body-enhancing jewellery.
Inspired by the way in which contemporary tech gadgets serve as extensions of the body, jewellery took on a prosthetic feel. Rubber ear cuffs, tube rings and cuffs followed the contours of the body and seemingly appeared to become part of the wearer. We are in a state of evolution and Galliano is the master creator.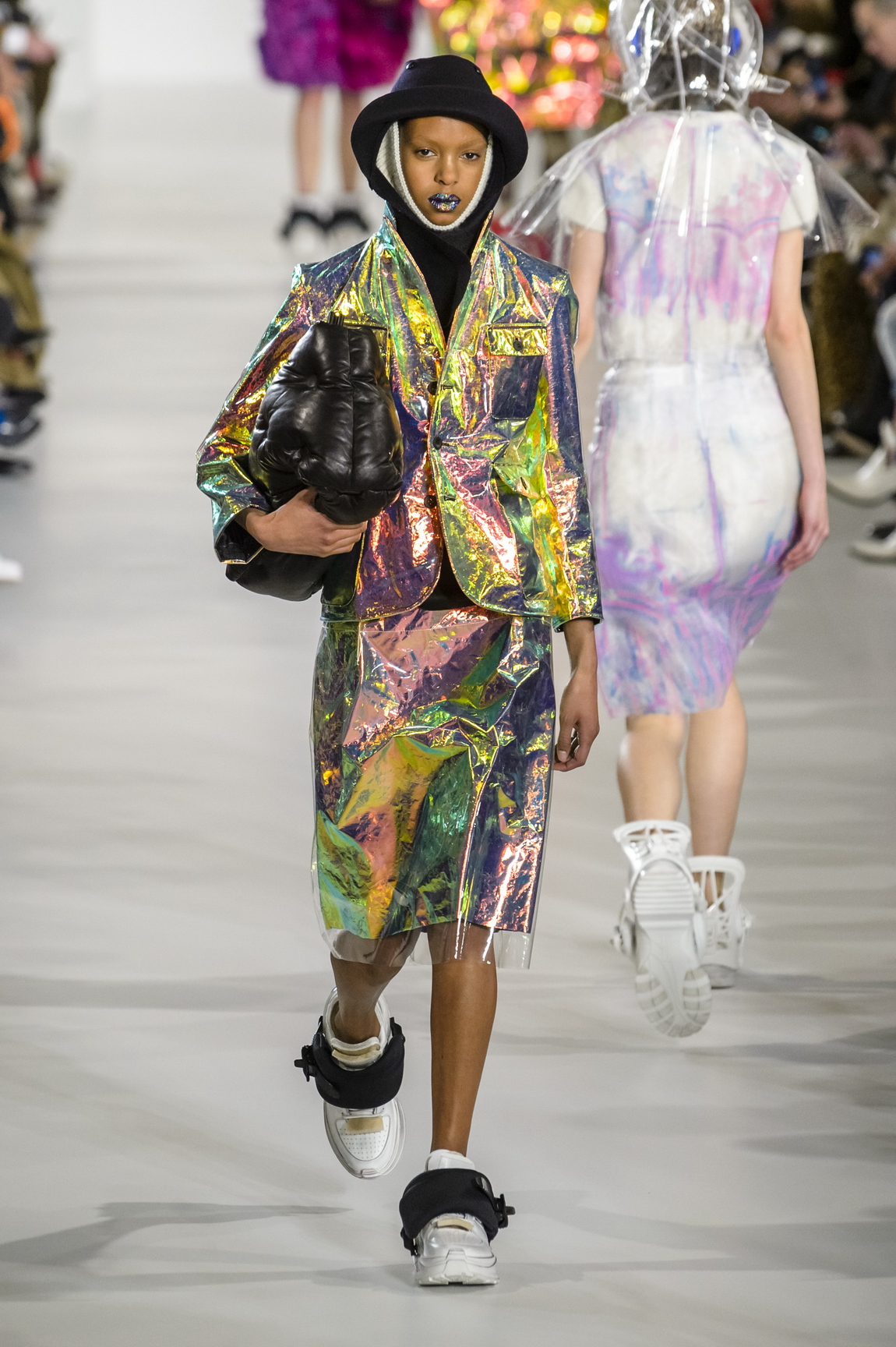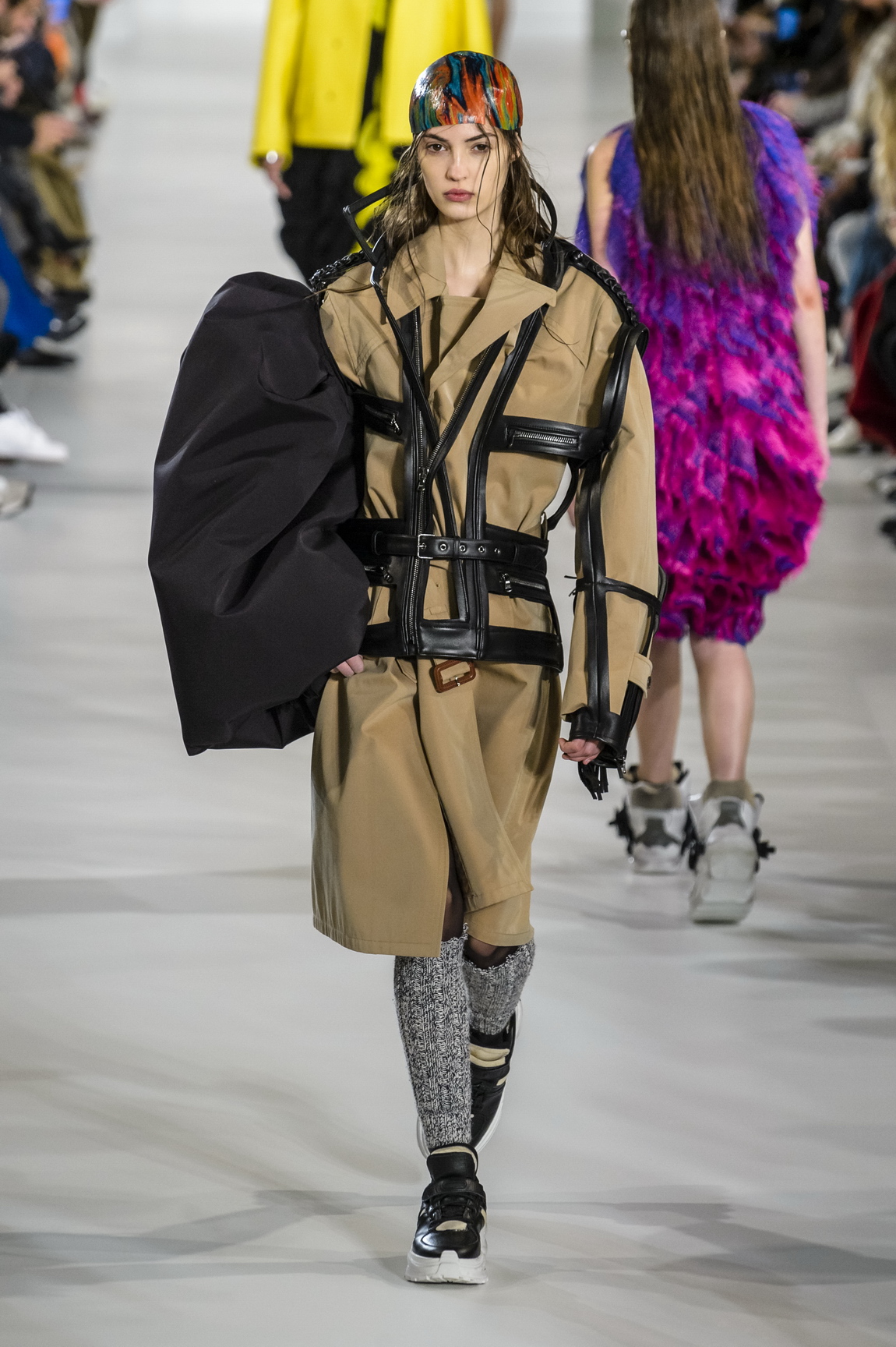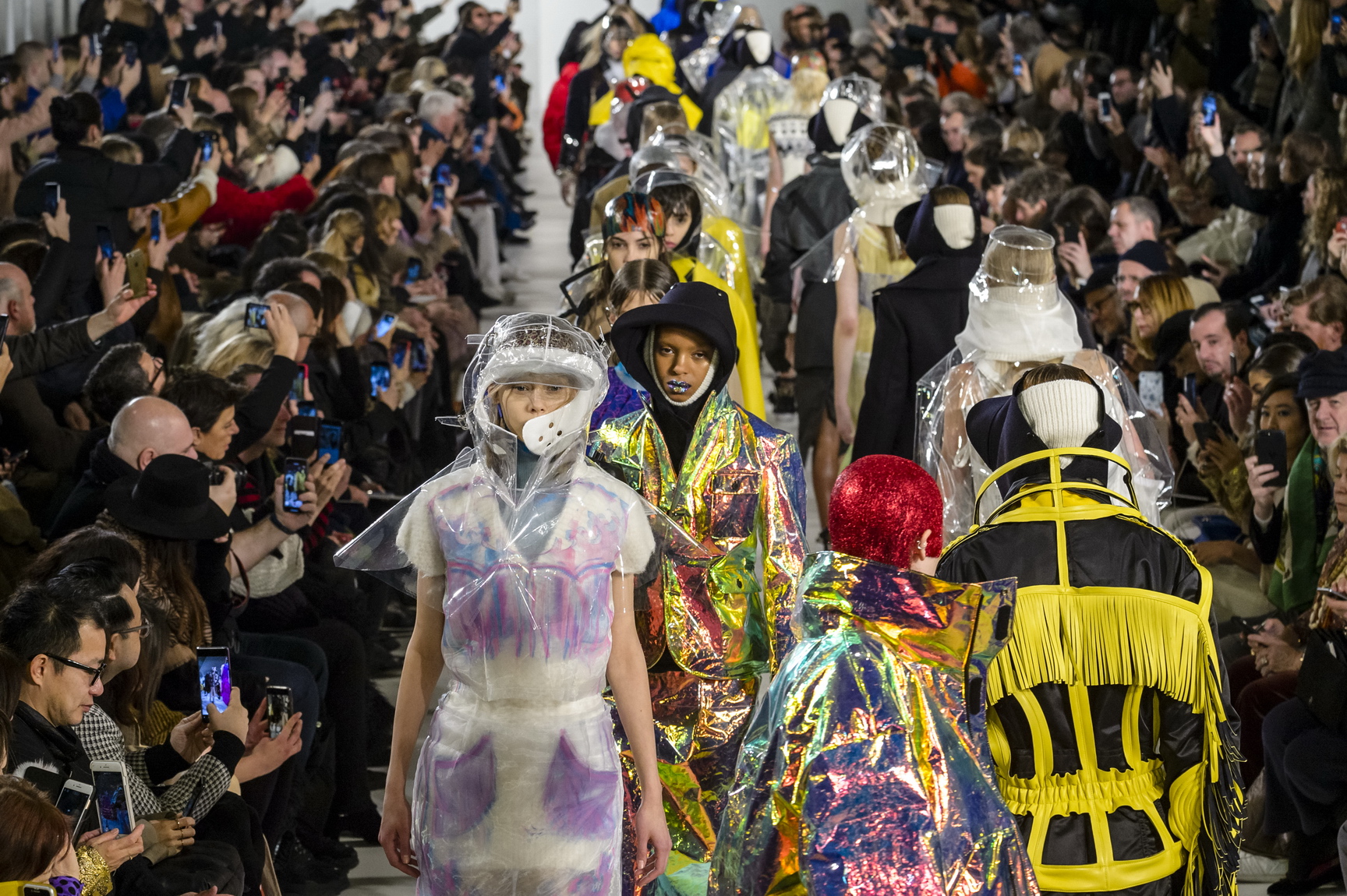 Credits
---
Photography Mitchell Sams