sasha velour is bringing a drag spectacular to nyfw
Opening Ceremony is collaborating with the 'RuPaul's Drag Race' superstar on another unconventional presentation.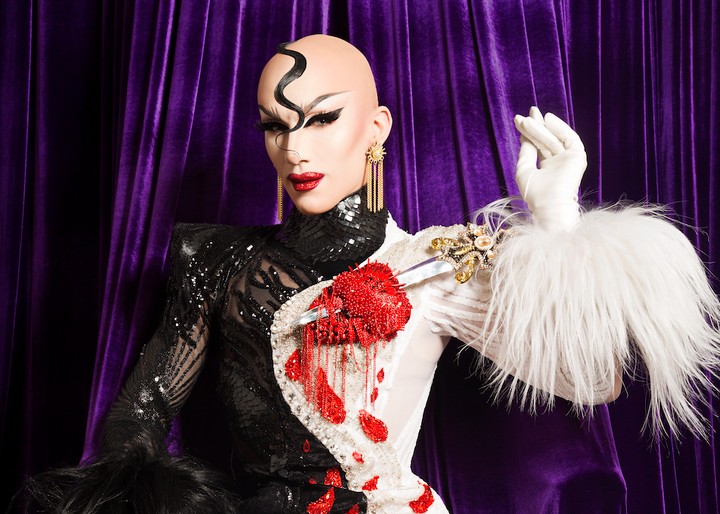 Photography Tanner Abel
Are draq queens the new fashion week front row? Rupaul's Drag Race has certainly replaced America's Next Top Model as the fashion world's new reality obsession. Marc Jacobs has guest hosted, Miu Miu has flown contestants to Paris, and Pat McGrath counts Violet Chachki and Kurtis Dam-Mikkelsen as collaborators. Last season, the crowd at Gypsy Sport fell in love with tiny Ru-approved drag prodigy Desmond Is Amazing, when the sassy tween appeared on the runway of Rio Uribe's Gypsy Sport. Now Opening Ceremony has tapped Sasha Velour for a full-blown New York Fashion Week drag spectacular. Velour, the avant-garde superstar of Drag Race's ninth season, is collaborating with Humberto Leon and Carol Lim on a live show called "The Gift of Showz." The event will include performances by special guests and serve as the debut of Opening Ceremony's spring/summer 19 collection.
Leon and Lim have been flipping the script on traditional fashion presentations for a while now. Earlier this year, Opening Ceremony staged the first-ever fashion show at Disneyland, tapping Minnie Mouse as a runway model. In the leadup to the 2016 election, the brand hosted a very democratic fashion week party with Teyana Taylor and members of the Human Rights Council. Last year, the designers channeled their frustration over that election into a gripping resistance ballet, choreographed by 29-year-old New York City Ballet protégé Justin Peck. There aren't many clues about what to expect at "The Gift of Showz," but if Sasha promises you're gonna flip, it'll be worth getting beat to the gods for.