will cgi models help diversity?
Balmain have used three computer-generated models for their new campaign. Why?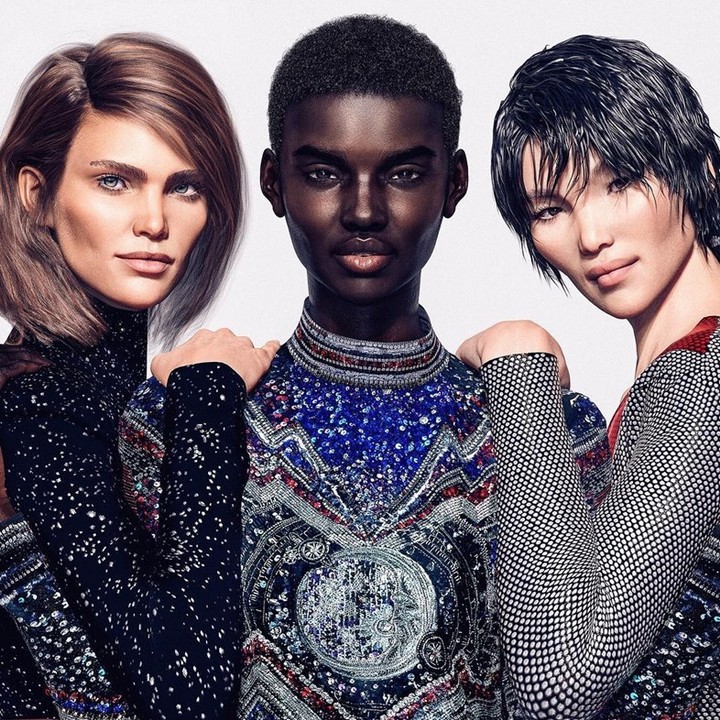 Image via Instagram
Balmain has cast three new faces -- Margot, Zhi and Shudu -- in the new campaign for their Bbox bag. Balmain usually make do with an assorted selection of Jenners, Hadids, Kardashians, and a couple of very expensive looking "regular" models. But these aren't any old regular new faces to join the #balmainarmy. Margot, Zhi and Shuddu are CGI avatars created by British photographer Cameron-James Wilson.
You might remember Shudu, and the controversy that surrounded her, when she launched. She caused a stir because there are limited opportunities for dark skinned black models in fashion anyway -- without competition from a CGI version who doesn't give a shit about getting paid. Cameron-James Wilson explained to Harper's Bazaar at the time that Shudu "Represents a lot of the real models of today. There's a big kind of movement with dark skin models, so she represents them and is inspired by them."
But the problem is that this kind of stunt doesn't really do anything to help that movement of dark-skinned models. Margot, as Balmain Creative Director Olivier Rousteing puts it, is his idealised French girl. Zhi, meanwhile, is a Chinese rock'n'roll David Bowie. "Being unique is really important," he told Refinery29, "because everyone has their own personality."
Robots are coming for our jobs. And they are predominantly coming for women's jobs. And they are predominantly being designed by white men. Shudu and Zhi are purely Cameron's fantasies; idealised visions of black women, Chinese women, programmed and created and run through with his biases and tastes.
The gap between luxury fashion and technology is shrinking -- Balenciaga put USBs in their new trainers -- but it still finds few expressions that manage to amplify both. It always ends up feeling a little gimmicky. Lil Miquela, for a lil moment, was kind of interesting, but only because of what her existence revealed about the banality of "real" influencers. But what about CGI models? Well despite Cameron and Olivier's argument that Zhi and Shudu will increase diversity it's hard to see how it actually will. At its roots all this does is take jobs, and money, away from real models of colour and gives those jobs and money to a white photographer.
This article originally appeared on i-D UK.