Images courtesy Akihide Nakachi
meet the japanese designer who makes clothes for twinning
Akihide Nakachi worked for Comme des Garcons before going solo.
Images courtesy Akihide Nakachi
Akihide Nakachi has always been drawn to "things that are invisible to the naked eye". That introspection is evident in the Tokyo-based designer's debut collection, you are (were) here, a line of conceptual dresses, coats, and suits that are made to be worn by two people at once: a pair of smocks connected at the neckline like conjoined twins; a tent-like trench coat; a cobalt blue suit jacket with pockets on the back that are unreachable for the wearer but perfectly placed for someone hugging them to slip their hands into.

"I wanted to make clothes that you can embrace," says Nakachi, who got a degree in psychology before studying fashion and working for Yohji Yamamoto and Comme de Garçons. "These clothes make you feel the warmth of loved ones, but also the loneliness of when they're not around."
There's a hint of sexuality in the intimate act of sharing clothes — think a rom-com hero placing their jacket around their date's shivering shoulders. But Nakachi's two-person clothing is more about the way that human closeness can be tied to what we wear; he makes manifest the bonds that hand-me-downs create, a kind of collapsing of The Sisterhood of the Traveling Pants. The collection's centerpiece, a pink wrap dress laden with ruffles and pleats, dwarfs a single wearer — but when two models snuggle together within its folds, it suggests the comfort of a child burrowing under her mother's skirt.
"There's this children's game in Sweden where you have to share the same shirt and move from one place to another as fast as possible," says Swedish model Nathalie Cantacuzino, who appears in the lookbook. She was reminded of playing that game growing up.
Of course, we can't hobble around connected at the hip, so the challenge for Nakachi was creating silhouettes that could in theory be worn by two, but wouldn't be gratuitous. "The thing I was most surprised by was that I couldn't have imagined the shapes the clothing would make when worn by just one person," he says. When a partner slips out of a piece, the extra fabric forms a drape with empty spaces for the missing person's arms and head. These details bring to light love's shadow side, loss, and the memories we attach to an ex-lover's threadbare t-shirt or a dead grandmother's cashmere scarf.
Nakachi took inspiration for this collection from slice-of-life photos of couples embracing, an uncommon sight in Japanese public spaces. "Japanese people may be hyper-conscious of our own bodies," the designer says. "I think that we feel sure of ourselves when we belong to a group, but at the same time, our bodies have a desire to express ourselves as individuals." Sharing clothing, a very public display of affection, becomes a challenge to the classic Japanese public/private dichotomy.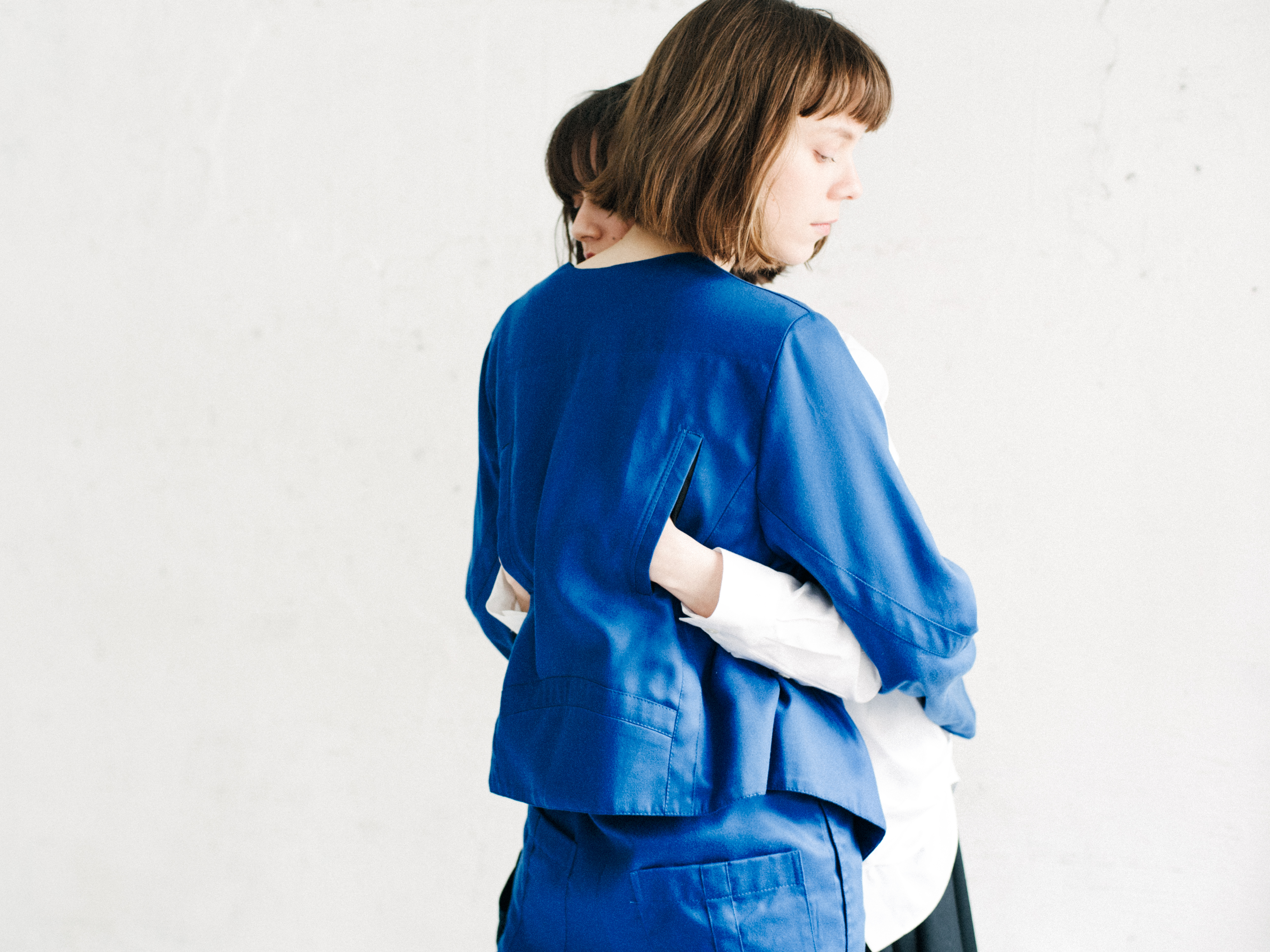 Cantacuzino agrees that when wearing the pieces, "one has to kind of throw away the usual 'individual space bubble' that you put up when with strangers." In particular, the two-person trench, a play on the Tokyo commuter wardrobe staple, reverses the idea of outerwear as a barrier between us and the world.
"Of course, you don't invite just anyone into this coat, only someone who you have opened up to," explains Nakachi. And in the way that his collection explores how clothing connects people, you are (were) here might be the ultimate extension of the twinning trend (known as "pair look" in Japan). Simply matching clothes with a friend or a lover, let alone wearing the same actual garments, makes our place in the world a little more visible. "My collection and pair look are both about sharing feelings," Nakachi says. "I think pair look is so popular because it shows that you're thinking about your partner —-or at least it makes it look that way."
We often think of fashion as being about expressing one's individuality, but you are (were) here speaks to the tension between wanting to be an individual and to wanting to belong to a group. When Nakachi stretches a white dress shirt over two bodies, business casual becomes a straight jacket; the wearer can only move freely when she's separated. Amid increasing numbers of Japanese women forgoing marriage and motherhood in favor of careers, Nakachi's collection could be seen as a hopeful, albeit fantastical, resolution. Can we be individuals without being isolated? "Yes," says Nakachi, "we must live by our own power. But sometimes we also need to depend on other people. The empty space in the clothing is to remind us that someone else is there; you are (were) here might be about never forgetting the presence of that special person." Before he began working on this collection, Nakachi says he was personally in a period of "spiritual weakness"; expressing the warmth and support he received at that time from those around him ultimately became one of his biggest inspirations for you are (were) here.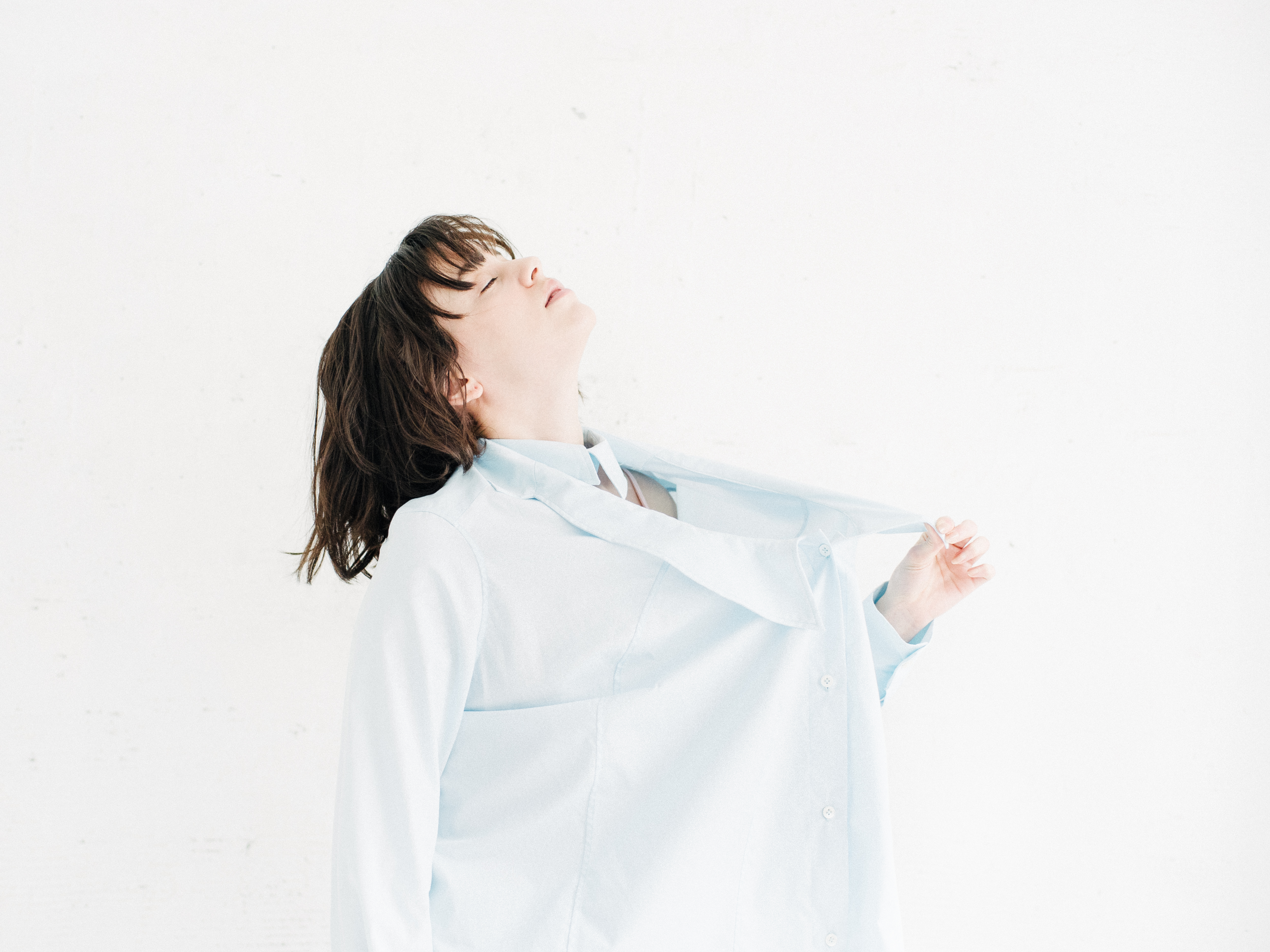 Some might shrug at the impracticality of two-person clothing, and we're probably not going to see Harajuku girls belted into each other's dresses any time soon. But conceptual fashion is less about being worn and more about making us see clothing anew. Stateside, the oversized clothing trend has been called "womanspreading," and Alyssa Coscarelli wrote on Refinery29 that "these trends are allowing women to reclaim their space physically, whether on the train, on the sidewalk, or in society as a whole." Nakachi's double-sized clothing does take up more space, but it also creates room to let others in.
"When people have intimate contact, the hormone oxytocin is released," he explains, "which increases trust." This feels especially significant through the lens of a modern Japanese society infamously grappling with an aging population, falling birth rate, and the phenomenon of kodokushi or "lonely deaths". But you are (were) here is also a response to a universal loneliness, one that asks us to put ourselves into one another's shoes (or pants, or dress), even if only metaphorically: "I wanted to show people that rather than suffering alone, we can depend upon one another."