5 young designers making embroidery cool again
It's time to stitch, bitch.
Image via James Merry.
Whisper it, but embroidery is cool again. And it's long overdue. Long denigrated as nothing more than 'women's craft', in recent years the craft has had a resurgence in feminist protest art and for a while now in fashion. From S.A.R.K to The Stitch Gawd, a whole host of young upstart designers are reinventing what we traditionally expect from embroidered fabric and giving it a decidedly modern twist. We found the ones to watch.
1. S.a.r.k
Started in January this year by stylist Lauren Grant, new label S.a.r.k pays homage to the classic white shirt while updating the wardrobe staple with subversive embroidery and irreverent detailing. Inspired by a collage of Lauren's own teen memories, S.a.r.k's shirts are emblazoned with embroidered bic lighters, prozac pills and cakes.
World's away from your granny's embroidery, S.a.r.k's shirts, made in London with metal buttons created bespoke in Birmingham, can take you right back to adolescence. To a world of bad habits, Guy Bourdain glamour and suburban Boots stores.
Her first collection was inspired by Valley of the Dolls and friends' mothers' bathroom cabinets; a celebration of ominous femininity in suburbia. "The formality, the heritage and the way the white shirt works as a blank canvas somehow encapsulates fine tailoring and effortlessness at the same time," Lauren explains.
2. James Merry
You might know James Merry for his incredible work on Björk's moth-goth masks and fantastical headpieces, but his personal embroidery work is similarly out of this world. Originally from Gloucestershire but now based out of a tiny cabin 15 minutes outside of Reykjavik, James is a self-taught embroiderer. His work is the perfect midpoint of hypebeast fashion and wellness chic, cross-stitching dandelions, ferns, mushrooms and hummingbirds onto vintage sportswear.
"I love the pace and focus and control of hand embroidery," James told i-D a few years ago. "It slows you down. It zooms you into a really precise point of focus, which can be very therapeutic if you have an otherwise quite large and busy life. And the portability of it — I can fit everything I need in my backpack and work on stuff while I'm on flights or watching TV. And then I love the wearability of the end product — they're not stuck in a picture frame on a wall, you can wear them and bend them and put them in the washing machine when they get dirty. I love that aspect of it."
3. Emma McKee (Stitch Gawd)
Better known as Stitch Gawd, Emma McKee isn't your average embroidery artist. Her almost pixelated work has been worn by Kweku Collins, DRAM and King Louie, and she's emerged as the Chicago rap community's preeminent -- and only -- cross-stitcher, earning her her nickname of Stitch Gawd.
After learning to embroider as a child, taught by her British opera singer mother, Emma managed to find a way to update the antiquated craft, and in 2014 she stitched her first piece, an adaptation of Will Prince's artwork for Chance the Rapper's song Hey Ma. Since then, her work has become a celebration of her favorite musicians and artists.
Emma never sells her work but instead employs a barter-only system and chooses to only create pieces for artists and creatives whose work she admires. In return, she's accepted song features, beats and visual artwork from her "customers", which she intends to turn into the Stitch Tape, a one of a kind musical project celebrating Chicago's rap talent.
4. Amelia Skarpellis
When you think of embroidery, 'punk' isn't exactly the first word that springs to mind to describe it. That's something LCF embroidery grad Amelia Skarpellis is changing. Her graduate collection is full of beautifully embroidered gun-wielding punk cherubs and intricate, colorful Virgin Mary motifs, complete with dripping black eyeliner and forehead tattoos. Teaming up with fellow LCF graduate, knitwear's Alexander Anderson, the collection throws back to the 1980's but is thoroughly modern, embodying "a new generation of punk".
"The collection celebrates and promotes positive social change by creating a new generation of genderless fashion for today's society," Amelia told Dezeen earlier this year. "The importance of texture, color and illustration is at the heart of the collection alongside the use of modern forms of embroidery such as CAD in combination with traditional forms of time honoured hand-beading to create imagined and vibrant denim creations."
5. Tala Barbotin Khalidy
For Parsons grad Tala Barbotin Khalidy, embroidery is more than craft and decoration; it's a form of therapy. She first began experimenting with cross-stitching after losing her grandmother to cancer in 2016, and found it therapeutic and almost meditative. This healing connection to embroidery is something the designer channels in her collection, Sira, which she describes as a biography of what she's doing with embroidery as therapy.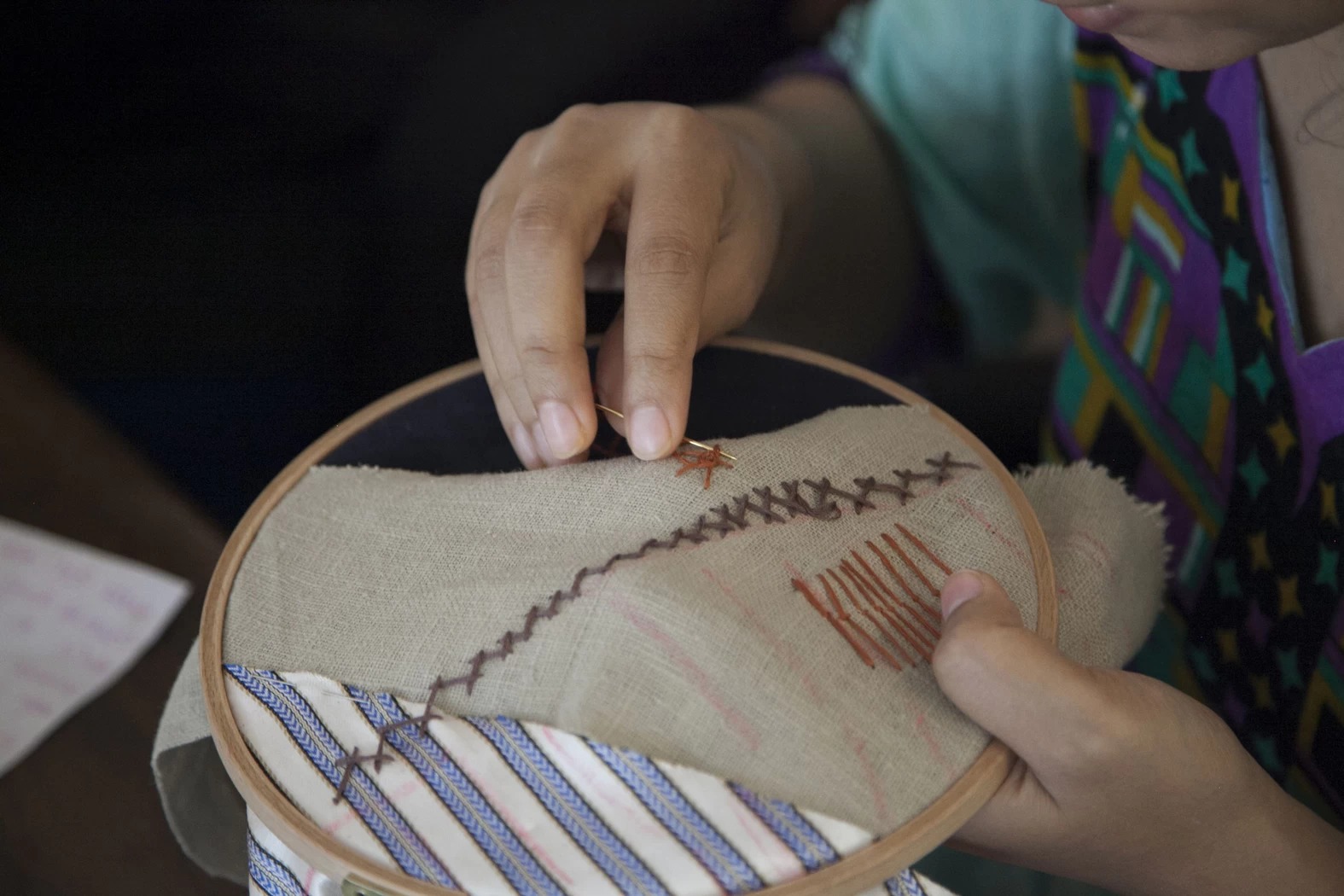 Her unisex, upcycled designs are transformed with her intricate take on embroidery, inspired by her Lebanese ancestry. Her work is deeply tied to that ancestry, and to her Middle Eastern identity. "There's a lot of embroidery in these cultures," she told i-D in January. "So I got into it from an early age. Different villages have their own motifs that they embroider on their clothes, so you can tell who comes from where according to what they're wearing. It's like a tag, like 'I'm from here'. There's a lot of pride around that."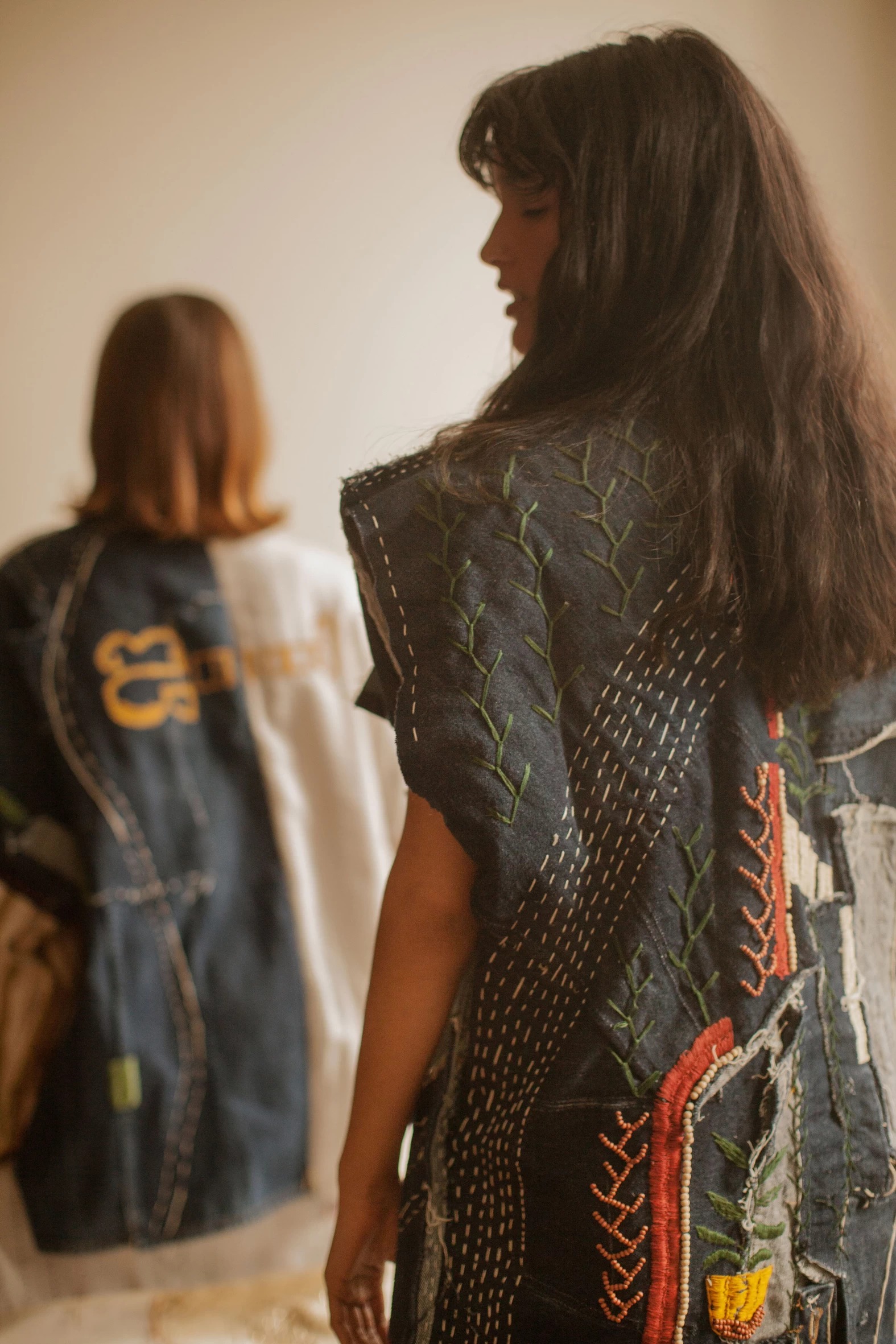 But more than just a designer, Tala pays it forward, and she's set up embroidery workshops in New York in collaboration with Womankind, a residential shelter for victims of human trafficking, sexual violence and domestic abuse. "Giving the women that space helped them to express themselves in a way that maybe traditional therapy wouldn't allow," says Tala. "We talked a lot about the future, actually. It was so hard at the beginning for them to think in terms of the future, even thinking about tomorrow was kind of tough. But thinking about a stitch you're going to make for next week helped them to think about what they might go on to do in life. One of them said she wants to go into textiles."
read this next
This article originally appeared on i-D UK.