street artist dan witz discusses his dior homme collaboration
Dan Witz went from graffitiing the streets to making photo realistic paintings of mosh pits, now he's working with Parisian couture houses.
|
09 November 2017, 2:36pm
Dan Witz came of the hardcore punk scene, and found his artistic feet when street art was still called graffiti, was still illegal, and the idea of taking a guided tour around the murals painted on empty buildings in gentrifying neighbourhoods felt pretty ridiculous. Chicago born, and a graduate of Cooper Union in NYC, Dan started out with a simple desire to take art out of the gallery and onto the cold, ugly streets. His street art is often witty and funny, surreal or visually arresting; a beautiful little delicate hummingbird on a rundown Brooklyn building, or a trompe l'oeil you might not even, at first glance, notice. He has, throughout his career, managed to maintain the respect of both the street and fine art worlds -- a rare occurrence. From the streets to the galleries, and now, as of earlier this year, the catwalks. Dan's photorealistic series of paintings of mosh pits were used as prints by Kris Van Assche's Dior Homme for autumn/winter 17.
"I was a little wary at first," Dan explains. Kris initially reached out to buy one of the works, and then ended up convincing Dan to work with him on the collection. "I usually avoid branding requests, and I'd had little exposure to high fashion, but I visited them in Paris, and they were genuinely cool. I opened up to it, understood the artistry behind it."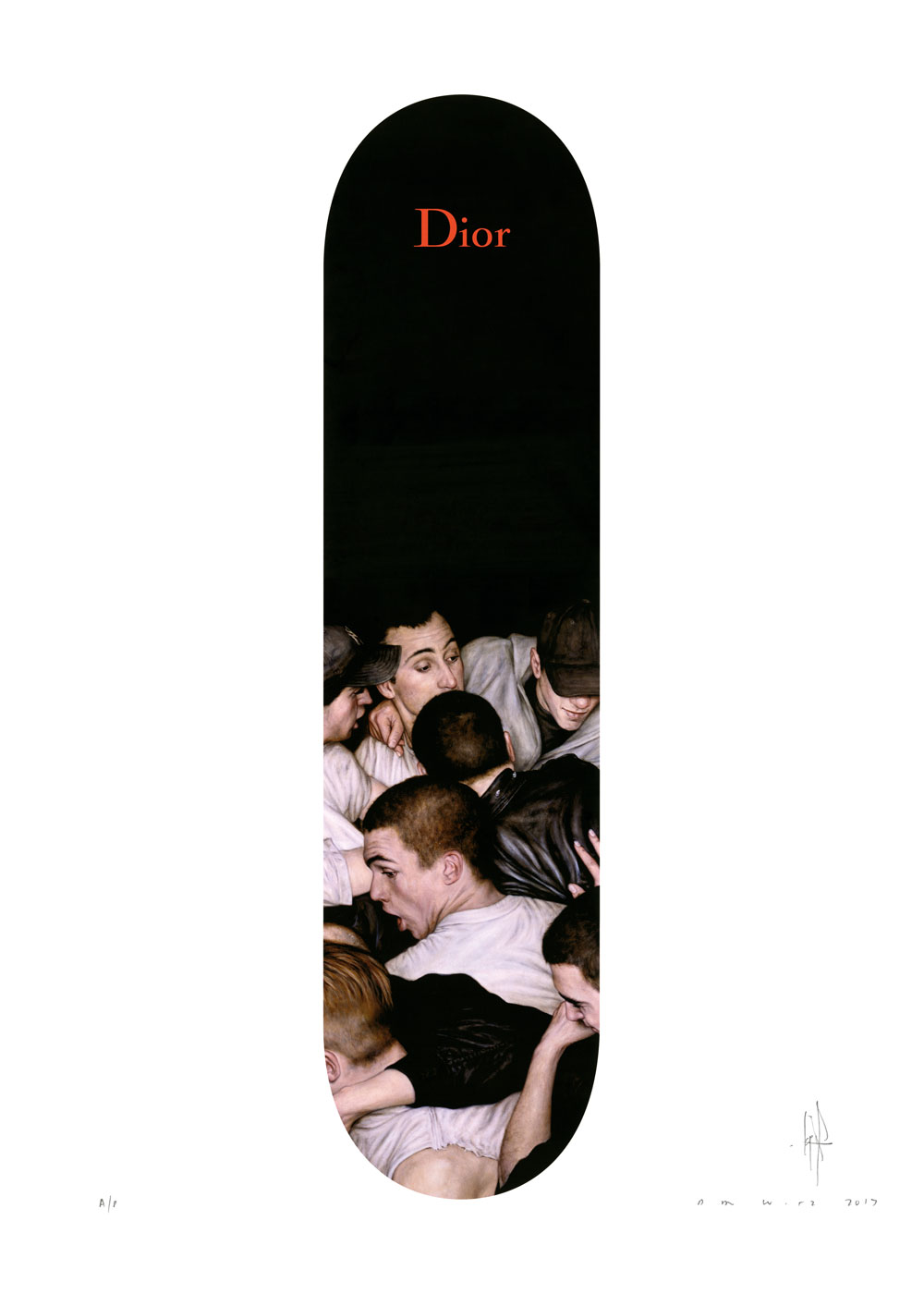 Artistry (as well as his "punk rock past") is really at the heart of everything Dan's done, from the simplest street-based works to the most time consuming large paintings. "The main stylistic through-line of my work would have to be the use of representational painting for transgressive ends," he explains of what joins all his works together. "Since the very beginning with the hummingbirds, I've been frustrated at how realism has been marginalised in the elite art world."
But it found a happy home in the hands of fashion, with Kris. Not that the lives of the two men had been too different. Both had found themselves in subcultures, they had a "common bond" in their pasts, something Kris was exploring in the collection. A journey through teen tribes, party kids, punk rockers. "Punk and hardcore are subcultures that you never really recover from. For a lot of people who came of age in that world, whatever they're like now, it's a strong and lasting bond."
And the centre of the collection was those prints, made from Dan's paintings. They are photo realistic depictions of crowds, feeling the power of music. They're a hypnotic mess of faces and bodies, contorted and squirming and pushed together, a thousand faces lost in the seething collective anonymity of the crowd. "The whole fashion show in Paris was ridiculously surreal," Dan begins. "When the models appeared dressed in my paintings and everyone started applauding, it felt like a total out of body experience. Actually, I'm pretty sure I was laughing out loud. It was the weekend that Trump was inaugurated, and like a lot of people around the world, I was pretty shell-shocked. The Dior/hardcore-resistance energy from the show felt like the first bit of hope I'd had."
Not that he really understands why people find the paintings so captivating. "The artist's curse is self-blindness -- a near complete lack of objectivity about their own work. But I suspect that the popularity has got to involve a lot more than a shared past in mosh pits…" The collection is now in stores, and has resulted too in a limited edition skate deck, and a new limited edition print. It's been quite a journey, then, from illegally painting his art on the streets to collaborating with Dior. "It's just kind of happened," he suggests. "I mean, there's no master plan."
For now, it's back to the gallery and the streets and back to work. Not that he's too bothered by the way street art's changed, the sanctioned murals, graffiti safe spaces and guided tours. "As far as street art's edge, there's always going to be illegal work going on -- that pandora's box has been opened for good -- and as always its edginess will depend on its merits and its intention. In fact, there's a possibility that all the legal works will actually end up making the stealth stuff seem even more renegade than before."
The skate deck print is available from Tuesday November 7 here.