curtis harding makes otherworldly, synth-heavy soul
Atlanta's soul powerhouse returns with a bold new psychedelic sound.
|
02 November 2017, 1:09pm
The afternoon I meet Curtis Harding in New York, he's fresh off a flight from Atlanta. Before the day is up, he'll be on another plane, heading back down south. Harding hails from neither here nor there, but from Saginaw, Michigan
The small city is about two hours north of Detroit, the epicenter of 60s soul music. Yet Harding's earliest musical memories aren't of the Motown marvels he now finds influential (The Supremes, The Temptations). His mother was a gospel singer and his sister an amatuer rapper in the style of the iconic M.C. Lyte.
Harding decamped to Atlanta over a decade ago. Georgia's largest city has long been considered the incubator of America's most forward-thinking musicians, and Harding added his own flavor to everything on its menu. He worked as a songwriter and back-up vocalist for hometown hero CeeLo Green, and spent some time in rap group Proseed. Harding bonded with Cole Alexander — of ATL garage punk mainstays Black Lips — when he heard Alexander spinning the same gospel standards his mom raised him on during a DJ set. The pair later formed a lo-fi surf-rock-cum-soul side project, Night Sun.
All of these divergent genres color the progressive tunes Harding crafts under his own name. He says he's compelled by a sense of melody, but even more so by "spirit and community." "I have friends from all over who are into some weird shit," Harding laughs. "We might not do the same thing, but we appreciate and respect what each other does. To me, that's what opens the doors to experimentation. Before you know it, you're not even thinking about it. It's all coming in."
Harding self-produced his debut LP, Soul Power, and released it with Burger Records in 2014. Infused with guitar riffs and bluesy horn blasts, the record is a deeply felt slice of retro soul with a fresh edge. Last Friday, Harding returned with its anticipated follow-up, Face Your Fear. The Danger Mouse-produced effort pushes Harding's ever-expansive sound in a new direction, lacing psychedelic synths and strings throughout a tight clutch of 11 tracks.
I read that you wrote much of Face Your Fear in the studio during recording sessions. What lead you to that approach? That seems like a lot of pressure!
Yeah, most of the songs were written in the studio. There is some pressure, but that kind of melts away once you get into the booth. It's like right before a show. You might be a little nervous but once you get on stage, it's muscle memory — it comes right back.
I wanted to do it this way because I enjoy collaboration. Face Your Fear came about because I was looking to record and collaborate with a producer. I rekindled a relationship that I had with Brian [Burton, aka Danger Mouse] because I'd lost contact with him for years. We were talking about taking what I did on Soul Power to another level sonically. He brought in Sam Cohen, who could facilitate the ideas and sentiments that I was trying to bring. I didn't know Sam; Brian introduced me to him [the first day we got in the booth]. And that's the genius of Brian. He knew we'd connect.
When you're collaborating with producers like that, I think [writing in the studio] is the best way to do it. We all have similar taste in music, and before we started recording, we'd send each other stuff. We talked about how we felt it should sound, what we should use. But I very much wanted to walk in with fresh ears and an open mind.
What makes a good collaborator for you?
I have to respect the person I'm working with. I have to dig what they do. That's why it was so important for me — when I first met Sam, I almost attacked him [Laughs]. Like, "Yo, what's going on, let's listen to some music, let's play around." We were into some of the same shit, and I really dug [Sam's] vibe. Once him and Danger started working on the first track, "Wednesday Morning Atonement," I was sold. It felt good. There has to be a level of respect when you're collaborating with somebody, because you've got to get your ego out the way and do what's best for the song.
Let's talk about what we're hearing on this record. A lot of synths, psychedelic vibes. What brought you to that place?
I've always been trying to go there. I'm gonna go further, too, especially on the next record. I played with it a little bit as best as I could on Soul Power — songs like "The Drive." But that's always been an element of what I've wanted to add to my music; what progressive soul sounds like to me. Curtis Mayfield did it a lot, The Supremes did it on Reflections. I just love that shit, man.
Hedi Slimane photographed this album's cover, and Soul Power 's too. How did you meet, and how has your relationship developed over the years?
I was on tour with The Growlers, so we met at Beach Goth. He was snapping photos of my set and lots of other bands. He dug the show, and asked to take photos of me after. I didn't know who the fuck he was. Sean from Burger was like, "That's Hedi Slimane from YSL!" I didn't know what the fuck YSL was either! I was outside drinking and hanging with some buddies, and [Hedi] came over and asked to take some pictures with me and my guitar. I said I didn't take pictures with my guitar, and he goes: "That's the same thing Chuck Berry said." I was like, "Oh shit! You know Chuck Berry?" So he gave me a little bit of his history, and we tried it out. He came out to The Growlers' compound where I was staying at the time.
Did they really have a compound?
They used to, yeah. Someone would be sleeping in a bus, a trailer. I was sleeping in a garage. It's not there anymore; they're all adults now [ laughs]. But yeah, Hedi came over and took some photographs. It was cool, easygoing. I looked at the shots when he sent them to me, and they were great. He hit me up a couple months after to be involved in the musical campaign, and the relationship has just grown since then. We've become friends.
Do you listen to music together, or swap stuff? He's got such amazing taste.
When we do get together, we'll put music on. Go back-to-back, "You heard this?'" Turn each other on to whatever we're listening to. I do that with all my friends!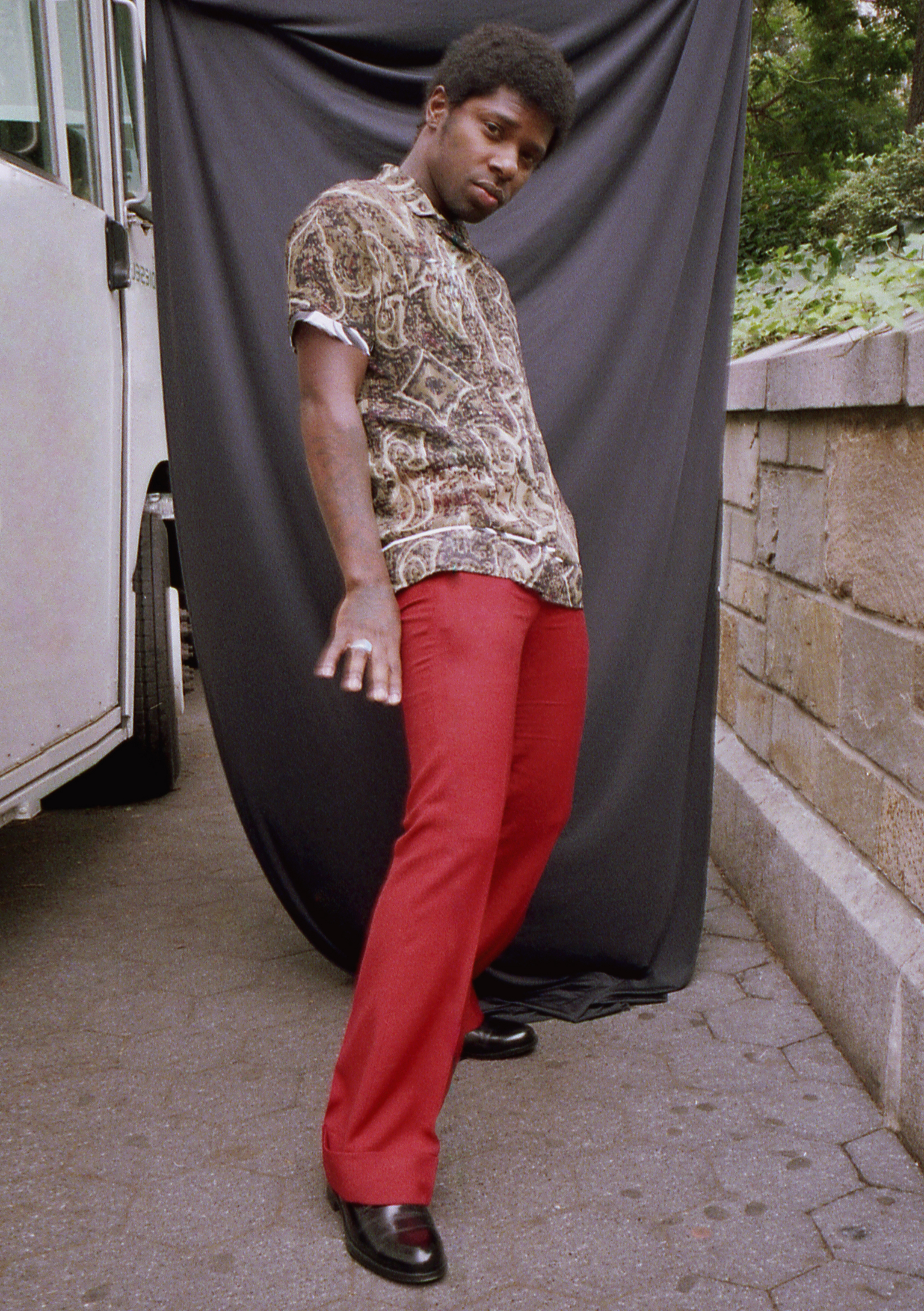 Going back to the record's title, let's talk about facing fears.
I decided to name the album Face Your Fear because I feel like it's a statement that speaks to us as a country, a world. I think a lot of what's going on right now is fear-based. When people are afraid, they're easily manipulated. Once you sit down and realize what it is you're afraid of, and you face it, you're able to think rationally and move on. Or maybe you don't want to fuck with it at all! But at some point, in order to be a whole person, you've gotta face certain things. And that's not to say you're not going to be afraid. It's about facing it. That's what courage is. Fear is necessary, too, because it's a survival instinct. If you weren't afraid of fire, you'd get burned. You need to respect it, you know? But face that shit!
What do you hope people take from this record?
To keep moving. Don't be afraid of new people, new experiences, new ideas. Keep pushing forward, be progressive, don't stay stagnant. A lot of songs on the album talk about that, "On and On," "Dream Girl." You've gotta dream, you've gotta imagine. I'm a big fucking kid, man. I still spend a lot of my time using my imagination and being caught up in the music, caught up in the things I love.
"Face Your Fear" is available now via Anti Records.