Shogun wears all clothing Brioni.
i-d's music class of 2018: shogun
"I've got squinty eyes and a massive head with a big double crown. I'm a white kid that raps, and I'm a bit chubby. But no one ever says anything about that. It's always fried Mars bars!" — meet Scotland's Shogun, next up in i-D's Class of 2018.
|
08 November 2017, 12:34pm
Shogun wears all clothing Brioni.
You're Scottish. You should have bagpipes and fried Mars bars." Shogun, from Paisley in Glasgow, is bemoaning just some of the insults typically hurled his way. "Mate, get a bit creative. I've got yellow teeth and squinty eyes and a massive head with a big double crown. I'm a white kid that raps, and I'm a bit chubby. But no one ever says anything about that. It's always fried Mars bars!"
As a rare Scottish rap talent, Shogun is concerned people will see him as a gimmick, but that's impossible after one watch of his viral freestyle "Vulcan," three minutes and nine seconds of uninterrupted lyrical virtuosity. It's phenomenal.
Some of his Scottish counterparts don't really know what to do with it though, which can be a bit of a drain. "People up there don't really care about the music. They're just like, 'Oh you've three million views, that means that you're famous. Do you know this person?'" Paradoxically, music also provides Shogun with the necessary cathartic coping tools. "Before, I didn't have an outlet for it. I just punched walls, and went fucking mad. I'd go missing for four days, just do stupid shit," he says. "But don't let one cloud ruin your sky."
The 20-year-old is refreshingly candid about his struggles with mental health, both in person and in his music. "Dialogue is where you dilute the stigma of anything." It also explains why he gets genuinely emotional talking about people who've reached out to thank him and his music for getting them through really tough times. "It means more to me than any money or any accolades." Hopes and dreams for 2018? "No more fucking gun songs for the kids. Because there's mad shit going on down here. Acid attacks. Madness. A lot of artists from here seem to not give a fuck," he laments. "Actually make music. Stop selling violence."
Why do you make music?
I'm shit at everything else.
Why do you think you've taken off recently?
Fuck knows. I don't think I'm the most marketable, I don't act, I'm not super musical. It's just people relating to the passion that I had. They've seen that I really meant what I was saying in that one video, and the knock on effect is that people are checking out more of my videos. And now I have a core fan base, and opportunities to make money off it and change my life.
This issue of i-D is all about sounding off -- what's an issue that's important to you?
Definitely mental health. I struggle with it. That's a big part of my life. Socio-economic issues as well, the way the government just paints over things and don't actually fix anything. That's pretty much the basis of my material, me moaning about my life.
Do you find it quite therapeutic?
Definitely, I get a lot of catharsis from this. It helps to have an outlet for it. I try to be as positive as possible, and keep myself as grounded as possible, and music is a good way of doing it. If I didn't have music I'd just run away. I'd just fuck off.
What's next on the music front?
I'm still kind of in my shell with music. Before I was like -- I'm trying to be the coldest rapper. But now I want to be respected as a lyricist, I want to learn more things melodically, harmonically, I just want to be better sonically. I want to try and do things with people like King Krule and Brockhampton, all different kinds of people.
Who'd you like to work with most?
'It changes everyday.' That's the media trained response isn't it -- 'It depends what mood I'm in.' But really, I don't know. Oh wait --- Mick Jenkins. Mick Jenkins. Show this to him.
Will do. What's the worst job you've ever had?
I've only had one job, working in a call centre selling solar panels.
Any fun?
Absolutely shit. They had a wee clicker, and they'd click you on the way in. And then they timed you if you went to the toilet, to the second, and then take that off your break. I lasted a week.
Did anyone ever need solar panels?
No one ever needed solar panels. If you needed solar panels you wouldn't wait. You wouldn't be like, 'Oh, my electricity's too expensive, I really need solar panels. I'm gonna sit and wait until someone phones me to get solar panels!'
What's the most important thing in your life?
Nothing man, I'm a heathen. Nah -- my little sister, my little sister.
Any words you live by?
I don't know, I don't have a motto, I don't have a nice wee thing I can put on a t-shirt and sell to people. I don't know. Actually -- that's probably my mantra. I don't know, so let's try it, let's see if it works. If it doesn't, we'll try something else. Because I don't know. Put that on a t shirt.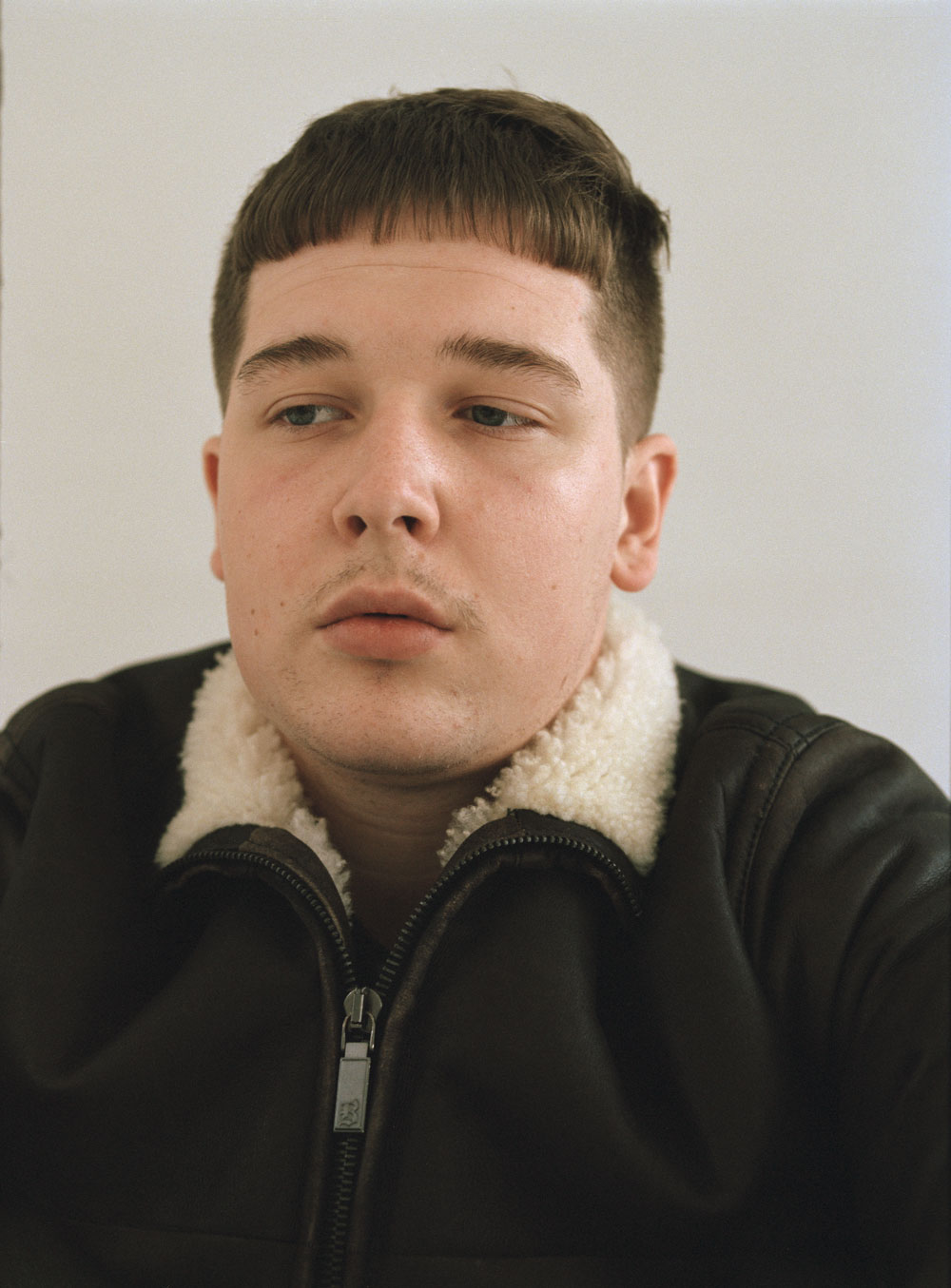 Credits
---
Photography Ronan McKenzie
Styling Julian Ganio
Hair Naoki Komiya at Julian Watson Agency
Make-up Ammy Drammeh using M.A.C Cosmetics
Styling assistance
John Handford and Nathan Henry
Hair assistance Kazuhiro Naka
Make-up assistance Grace Ellington
Shogun wears all clothing Brioni.