Hunter Schafer and Kendall Jenner just walked Prada's standout AW22 show
By celebrating Prada's past and present, and channeling an extravagantly feminist spirit, Miuccia Prada and Raf Simons put out their best collection yet.
|
25 February 2022, 9:45am
Images courtesy of Prada
One of the questions that Miuccia Prada and Raf Simons have been asking themselves, and indeed us through various advertisements is: What feels like Prada? It's a difficult question, least so because Prada has never been one thing. Not like Chanel and its jackets, or Dior and its hourglass silhouettes. Prada is something of an attitude, a delicate harmony of spare silhouettes and decorative surfaces, or the high-low mix of nylon and cashmere; and that whole ugly-chic thing way before anyone else was doing it. Since they coupled up back in 2019, the two designers, a generation and gender apart, have been experimenting with each other's codes — or ideologies, as they called it this time. Though they may not have quite found the answer yet — and who knows, perhaps they never will — we should nonetheless count our blessings. AW22 marked their best — and certainly most extravagant — collection to date, a meditation on Prada's past, reframed with the urgency of today. Every look counted, urging you to discover what Prada feels like — by wearing it!
Skirts — which have always been an object of fascination and exploration for Mrs Prada, so much so that she even staged an exhibition of them in 2004 — were an omnipresent element of the collection. There was not one pair of trousers in sight. Instead, there were tricolore pencil skirts in combinations of crushed satin, metallic mesh, crystal-laden silks and even high-shine leather — as well as a handful of heavyweight wool-cashmere pleated skirts that were pleated from yards and yards of fabric. "The skirt is a feminine symbol, and it's also something you wear every day," she once told The New York Times. "It's my T-shirt." Beyond that being the one of the most incredible sentences ever uttered by a fashion designer, (the goes on to say she likes the sound that skirts make. Of course.), it also makes this particular collection ripe for reflection.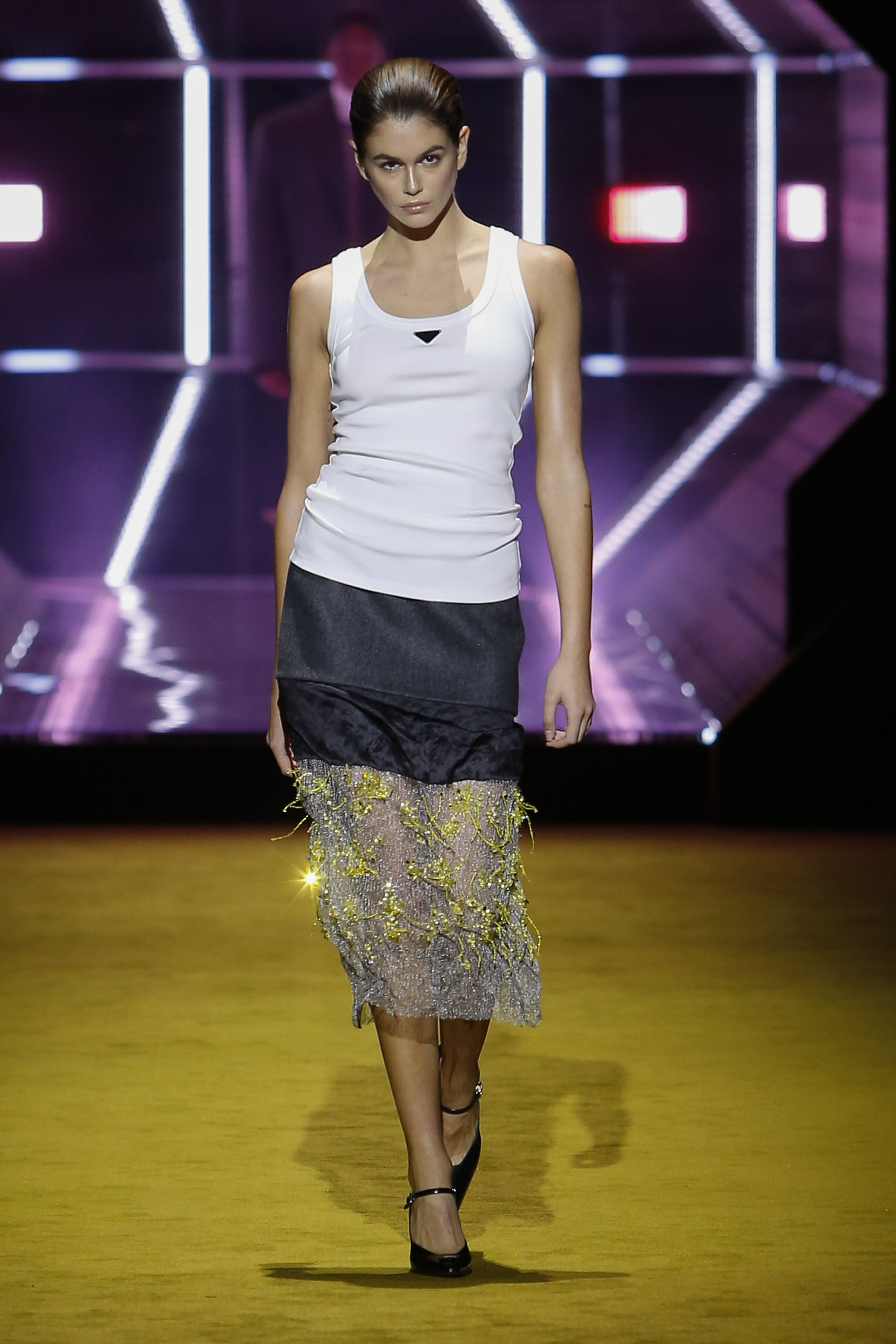 After all, femininity (or female bodies, at least) have been weaponised on the catwalk in recent seasons, with so many voyeuristic, narrow-minded ideas of what exactly femininity is. Here was a different way of examining female power and rituals. Miuccia and Raf seemed to be declaring that it needn't be aggressively sexual or bookishly demure, as fashion so often categorises women in line with lazy binaries. Sometimes, it can be as loud and bombastic as the fast cars, bejewelled timepieces and graphic pop art that men buy to assert their power. Make no mistake: here was a woman unafraid of appearing fabulous, displaying her wealth, and even offering a glimpse of her cashmere underwear through the translucent scrims of these skirts. Sure, last season Mrs P ignited a frenzy for abbreviated miniskirts with her Prada and Miu Miu shows — but this time the skirts were hardly there at all, just whispered in gossamer fabrics.
Mrs Prada's other favourite item, according to that interview? You guessed it: coats. If the skirts were light, the coats they were worn with were monsterish. Outerwear came as extroverted as coats should be, the kind of coats that distract from the banality of wearing a plain grey sweater or white tank top — as they did in this show. Broad-shouldered tweed coats came with flutters of feathers around the arms, or bouncing shags of faux fur. Bomber jackets and puffers were given the chandelier treatment, decked out in clusters of petal-like sequins. Double-breasted leather blazers and trench coats (which came in olive green, terracotta and … flaming-hot pink!) had an armour-like quality. Zip-up parkas came with exaggerated hoods lined in fluffy, high-pile shearling and trimmed in even more plumes, as displayed by a newly ginger Kendall Jenner. They were the kind of coats that, if you owned one — you would need to store in its own storage unit or simply hang by your bedside, so deserving of space and attention it would be.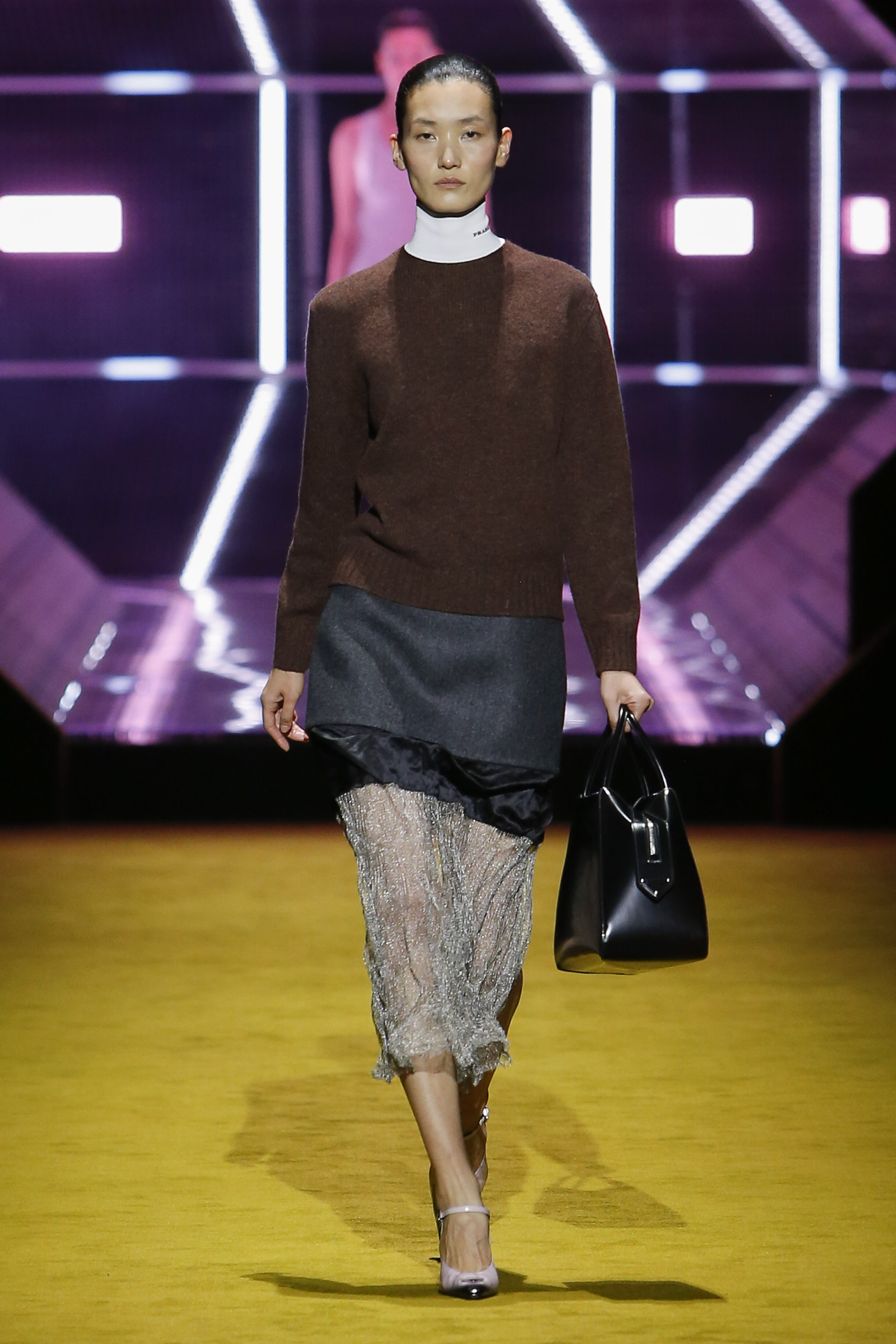 If the skirt is Mrs P's T-shirt, then the boyish briefs and ribbed tank tops seen on Kaia Gerber, Hunter Schafer and Amanda Murphy are, quite literally, Raf's T-shirts. He often showed tank tops under his boyish tailoring in the early days of his namesake label. You can see how Raf would be fascinated by Mrs P and her womanly way of dressing, especially given that he's staring down the barrel of her impressive legacy and archive. The tanks helped assert a sense of confidence and ease, a bit like a younger version to the cashmere sweaters that Mrs P often wears with her skirts. In fact, they almost conveyed a butch sex appeal, despite the fragility and girliness that the lingerie-like skirts suggested. Think of that photo of Anjelica Huston smoking a cigarette in a grey tank top, one hand in her jodhpurs. Or, pretty much most of Collier Schorr's early pictures. It's sexy, for sure, but feels self-assured and confidently louche — sort of like the trend we saw for exposed underwear during the last wave of menswear shows — all the while tapping into the zeitgeist for that early-Y2K spirit of women in well-heeled offices and cheesy rom-coms pairing a nice skirt with a fitted white tee. Clever, right?
Perhaps what made this collection such a success though is that it shifted course so dramatically from last season, which was all about tough-luxe leathers, simple sweaters and hyper-femme detailing. Miuccia Prada has always been about the singular thematic collection, travelling from idea to idea without any of the sentimental guilt of abandoning a concept forever. Considering this was a collection that aimed to convey "the ideology of Prada" — ultimately, it succeeded by revisiting its past. Who could forgive Raf for wanting to delve into that archive? "Valuing history includes us valuing Prada's history – I think of revolutionary moments in Prada's history, and we echo them here," he explained. "There are never direct recreations, but there is a reflection of something you know, a language of Prada."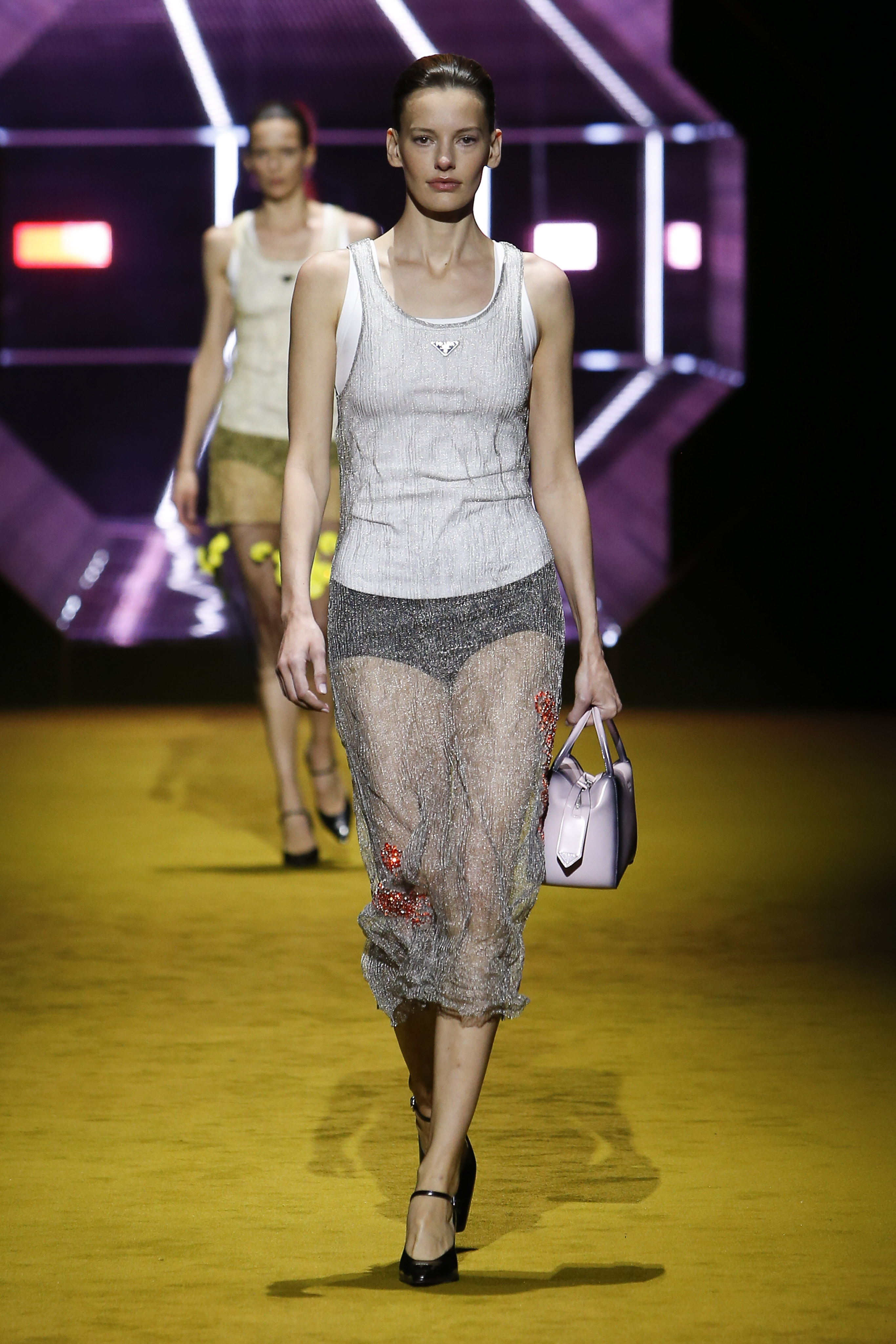 "Those moments have helped define our idea of beauty today, which we are now redefining." This show served as a reminder that, historically, when Prada is great, it is because Miuccia follows her instinct and designs clothes fearlessly, sometimes so ahead of the curve that it takes a bit of time to fully digest, and then desire, her ideas. This time, with a hint of those Formica prints, crinkled Prada skirts and sombre-luxe tailoring – the collection was a step forward while acknowledging the past.
The cast of models who walked Prada runways decades ago – like Erin O'Connor, Liya Kebede, Elise Crombez, Kinga Rajzak, and Hannelore Knuts – served as a pertinent reminder that the past can be made unexpectedly fresh. Sometimes you just need to be shown something in a new context. As the show notes put it: "An ideology of Prada becomes an etymology of beauty – and that is, centrally, the work of fashion – the process of defining the meaning of beauty, for today." Or tomorrow, for that matter – even if you don't know it yet.