Photography Diego Villarreal Vagujhelyi
These photographs capture the homoeroticism of dumbbells
Diego Villarreal Vagujhelyi's sculpted hand weights and accompanying photo series show the intimacy the object has with our bodies and desires.
Photography Diego Villarreal Vagujhelyi
The dumbbell is an object we often have a love-hate relationship with. So many of us have a set sitting on display, perhaps in our bedroom, both a tool and a symbol of health or self care. But then we don't use it for a while and it sits there, staring at us, judging. Sometimes even making us feel worse about ourselves as a reminder of our insecurities.
At the same time, it has a strangely sexual energy. Think: Olivia Newton John's "Physical" (and its Dua Lipa remix) or queer physique photography of the 80s with men clad in crop tops, jock straps and short shorts, a dumbbell flexed by their hot and sweaty arms. The impact this weighted metal bar has on our own and others' self-image is both powerful and complicated.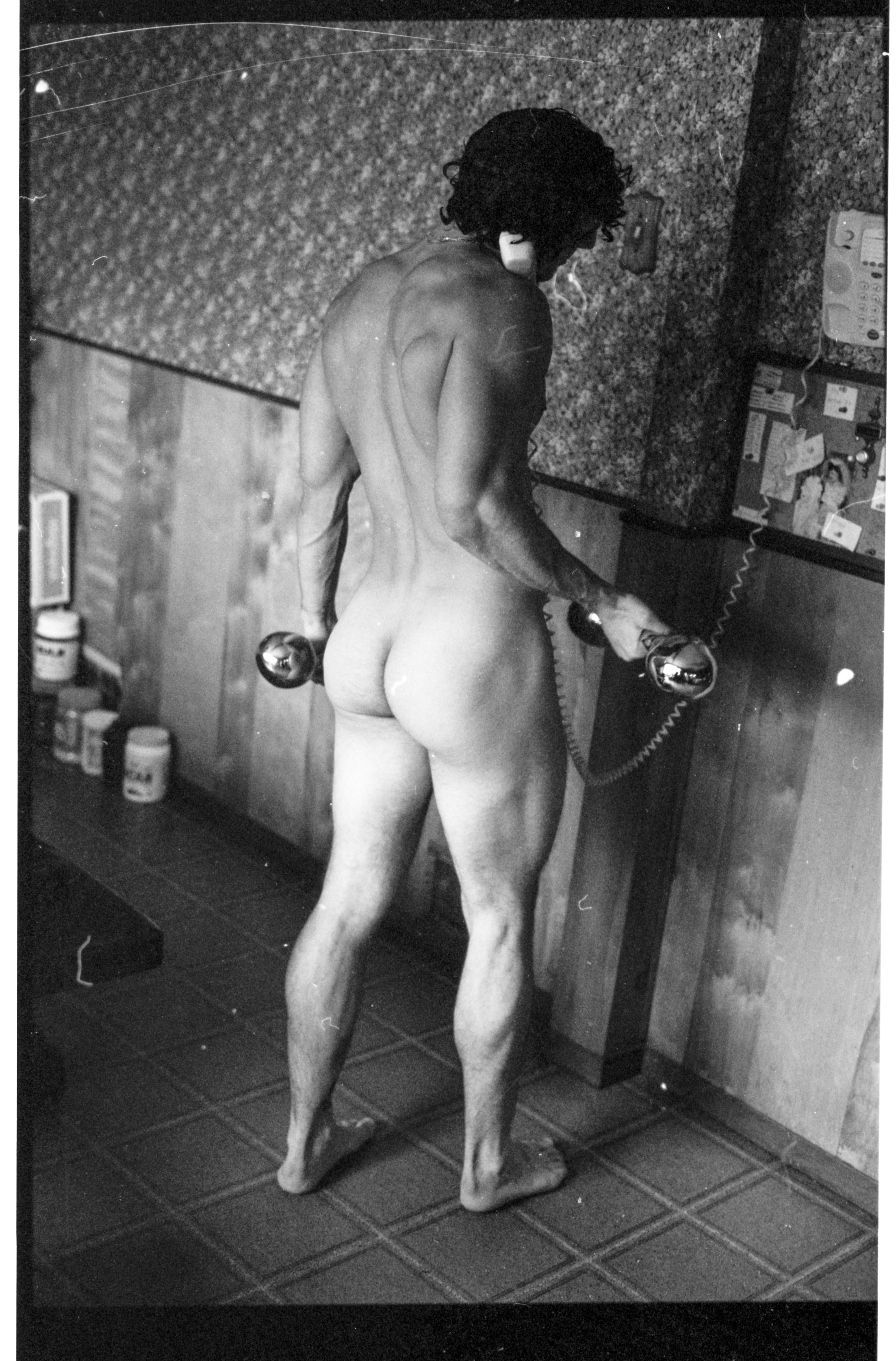 "To me, dumbbells and other weights represent commitment and subliminal discipline," says artist, photographer and model Diego Villarreal Vagujhelyi, who began all three practices at the encouragement of his mother as a child. "An unspoken agreement is formed from the day you begin utilising [the weights] and that's why I find them fascinating."
Currently debuting at SIZED:INDUSTRIALISM in New York's West Village is Diego's first venture into 3D art pieces, a set of solid 304 grade stainless steel dumbbells, each weighing 20lbs each. But, uniquely, the weights have been sculpted to fit perfectly across the human hand, almost like a glove. The project is entitled "Vagujhelyi", his mother's surname and an ode to her support over the years.
"I wanted to create something that was comfortable for the hand and stimulating to hold. The set is designed ergonomically to fit the natural grip of the left and right hand accordingly. I also wanted to create a beautiful object that could be incorporated into your personal space whilst evoking a sense of authenticity at the same time," Diego says. There's something rather sensual about Diego's dumbbells. Unlike a regular dumbbell, where your palm instantly moulds around the handle whilst it in turn slowly moulds your body, Diego's has been shaped around you. It feels less like an aggressive fitness instructor, pushing you to the limit, and instead nurtures a more caring and intimate relationship between the object and its holder.
To go alongside the sculptures, Diego created a series of black-and-white photographs that play on the physique aesthetics of the 80s. Shot using film to give it a timely distortion, empty flats in his dated apartment complex in New York's financial district provide the perfect backdrop for the "nostalgic, lived-in feel" he wanted the images to have. Like those underwear ads and fitness videos of the period, the dumbbells are in the hands of naked jocks clenching their ass cheeks whilst on the phone or climbing a ladder. In some they perfectly cover genitals, others less so, whilst in a few shots they lounge on the bed, sunk into the mattress like two lovers.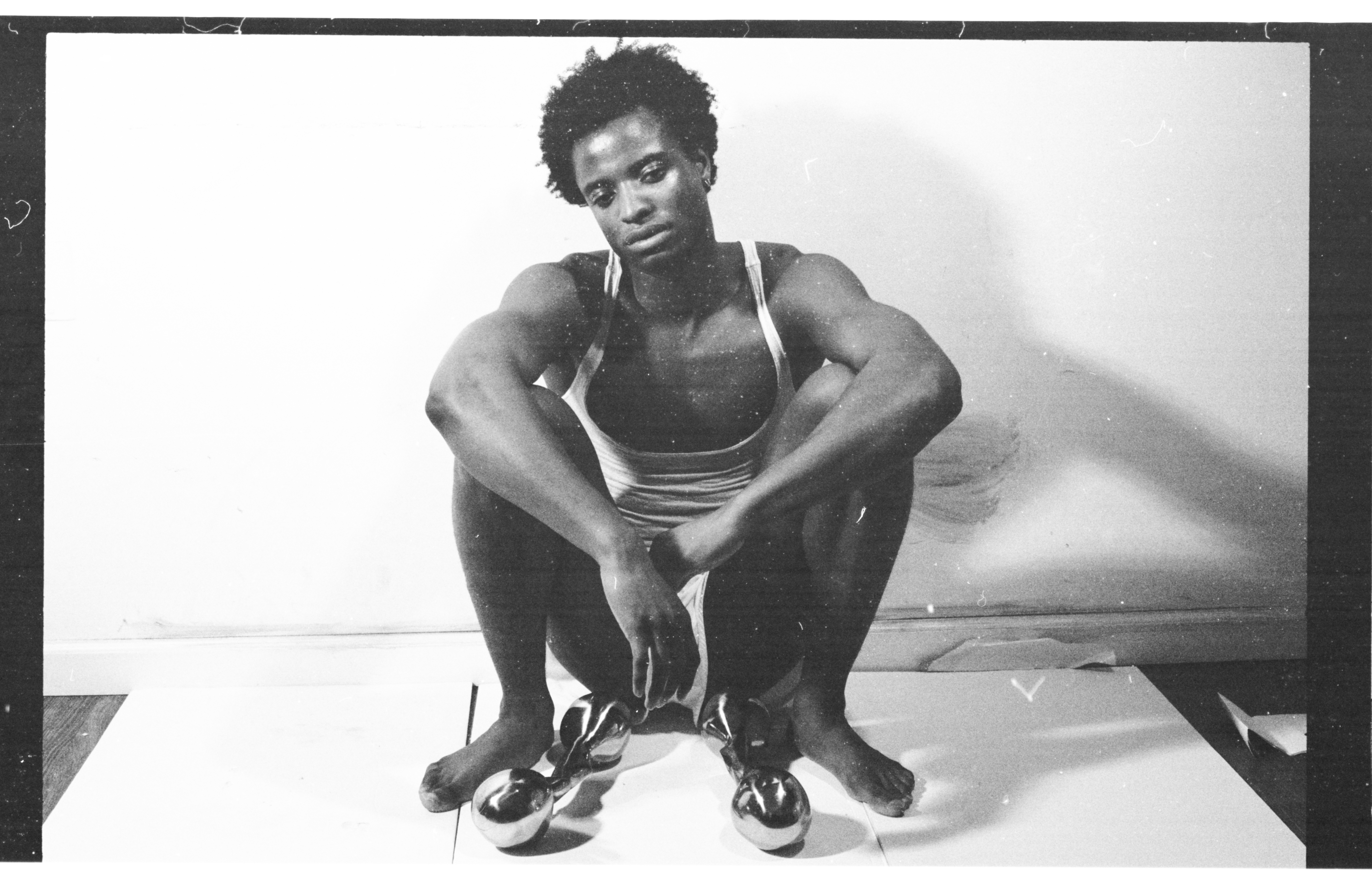 In all the photographs the dumbbells are the focus, not just the focus of the lens but also within the lives of its subjects, and it feels like each dumbbell has a past, its handle moulded by the ambitions and desires of those who wield it. "I wanted the weights to look as if they have already had a life, as if they are something familiar that has always been there," Diego says.
The overt sexuality of the photography matches the sensuality of the dumbbells themselves and is something Alexander May, SIZED's creative director, enjoyed most about Diego's work. "I was initially attracted to the Vagujhelyi dumbbells because of their striking medium," he tells us. "[The dumbbell] is a staple, for most, especially during, and after, the pandemic. The way he has fetishised the object with his choice of materials and finish, I find them irresistible. More objects in our life should be fetishised this way."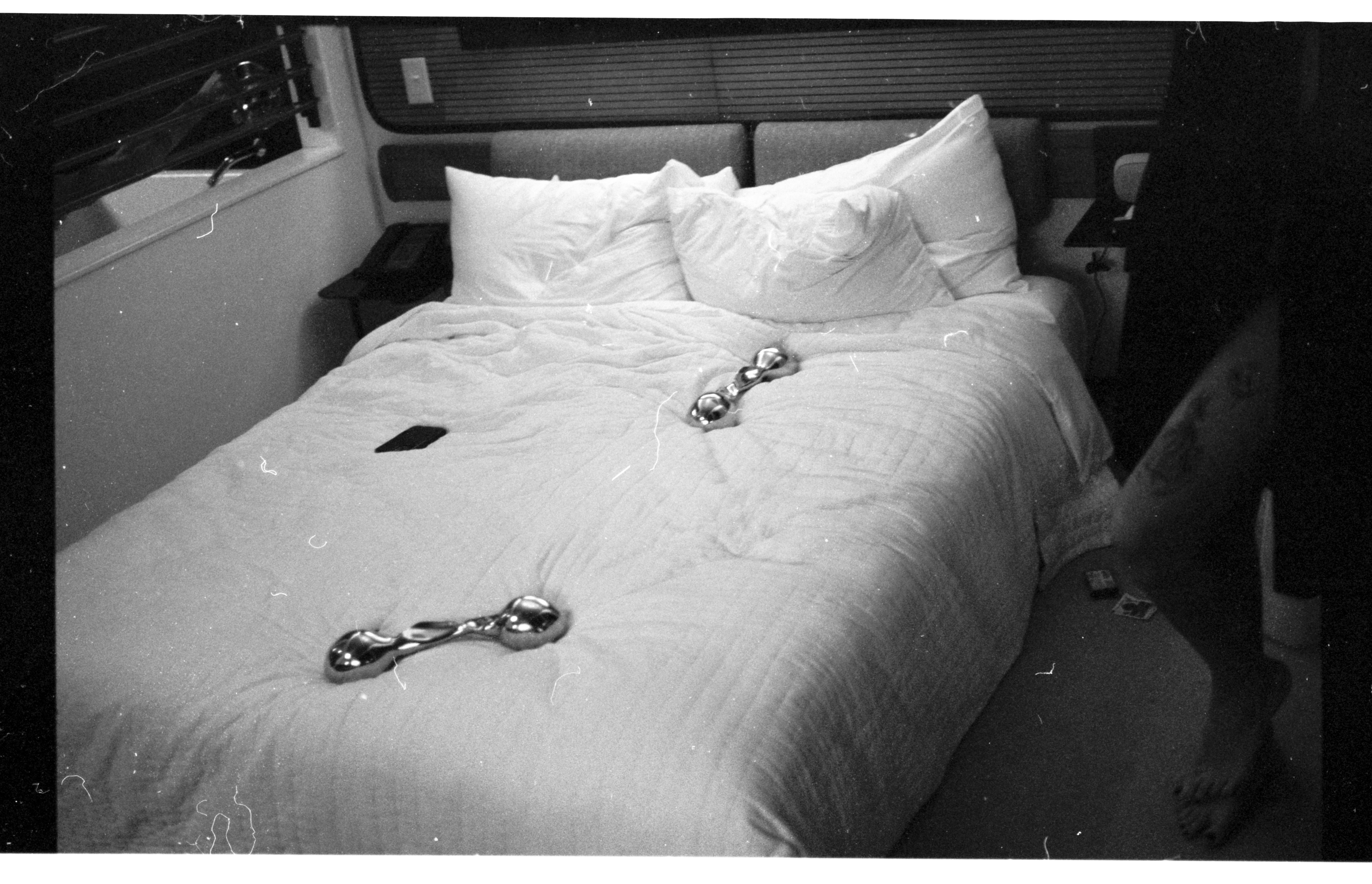 "It's more about self-improvement and achieving one's private goals," the photographer explains. "Regardless of what your desired body looks like to you, I believe everyone has room for improvement. At the same time, it's a very exciting sensation to physically and mentally transform." Diego says he is already working on creating more objects that "promote purposeful practices in others, either through fitness or other aspects of well-being, but always in relation to myself and my personal path."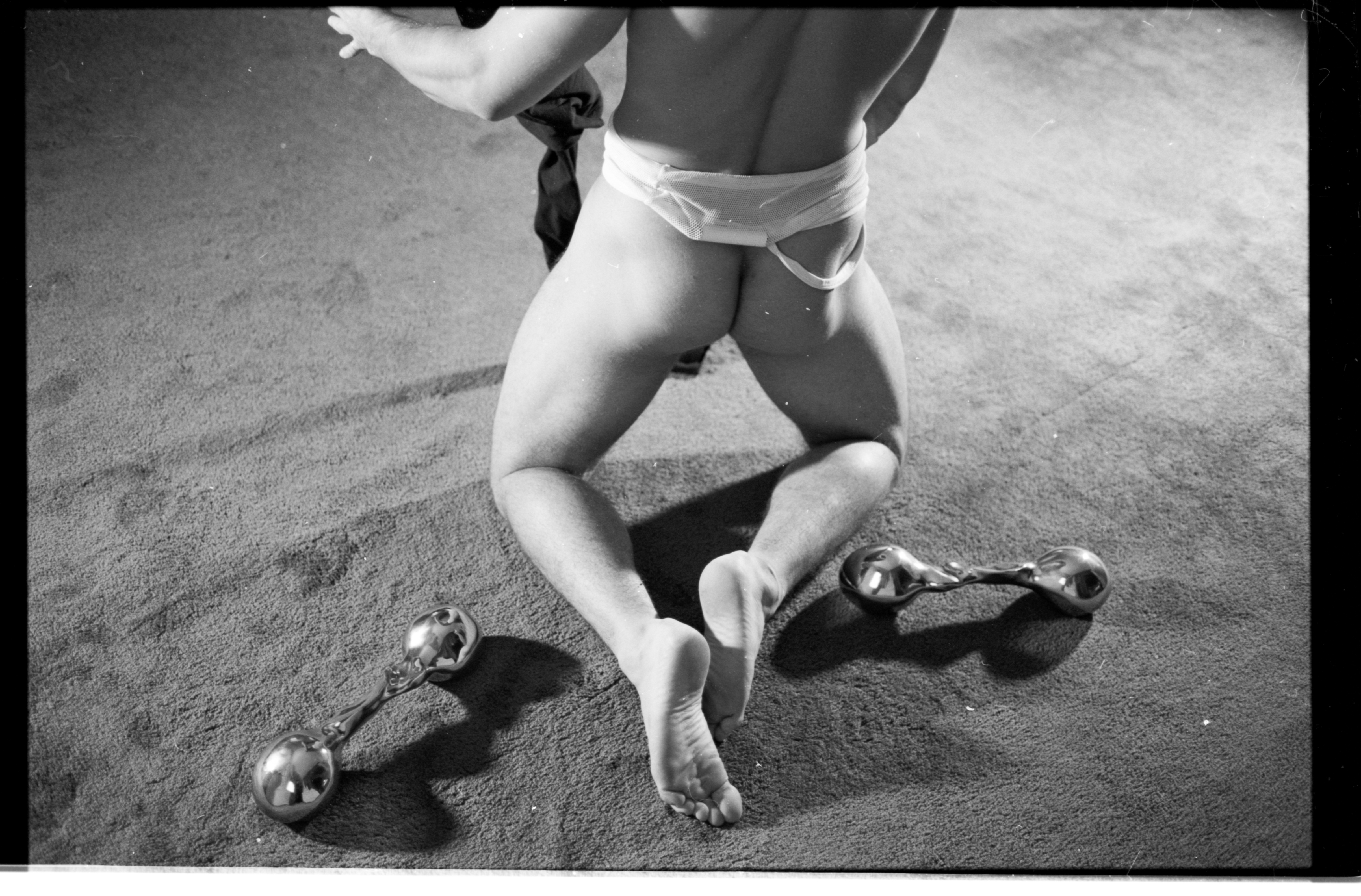 Whether it's to do with achieving our desired fitness levels or as a source of our sexual fantasies, the dumbbell has an intimate and personal relationship with the body which both Diego's steel pieces and photo series showcase. If Diego's intent, though, was more about the self-improvement former and less the horny latter, why are the photographs so sexy? "I imagine the weights being used in a more intimate setting and, from my own experience, I think it's best to workout with the least clothing possible." Fair enough.
The Vagujhelyi dumbbells can be seen at SIZED:INDUSTRIALISM at 711 Greenwich Street, New York until 28 May 2022. Book appointments to visit the exhibition at www.sized.ltd.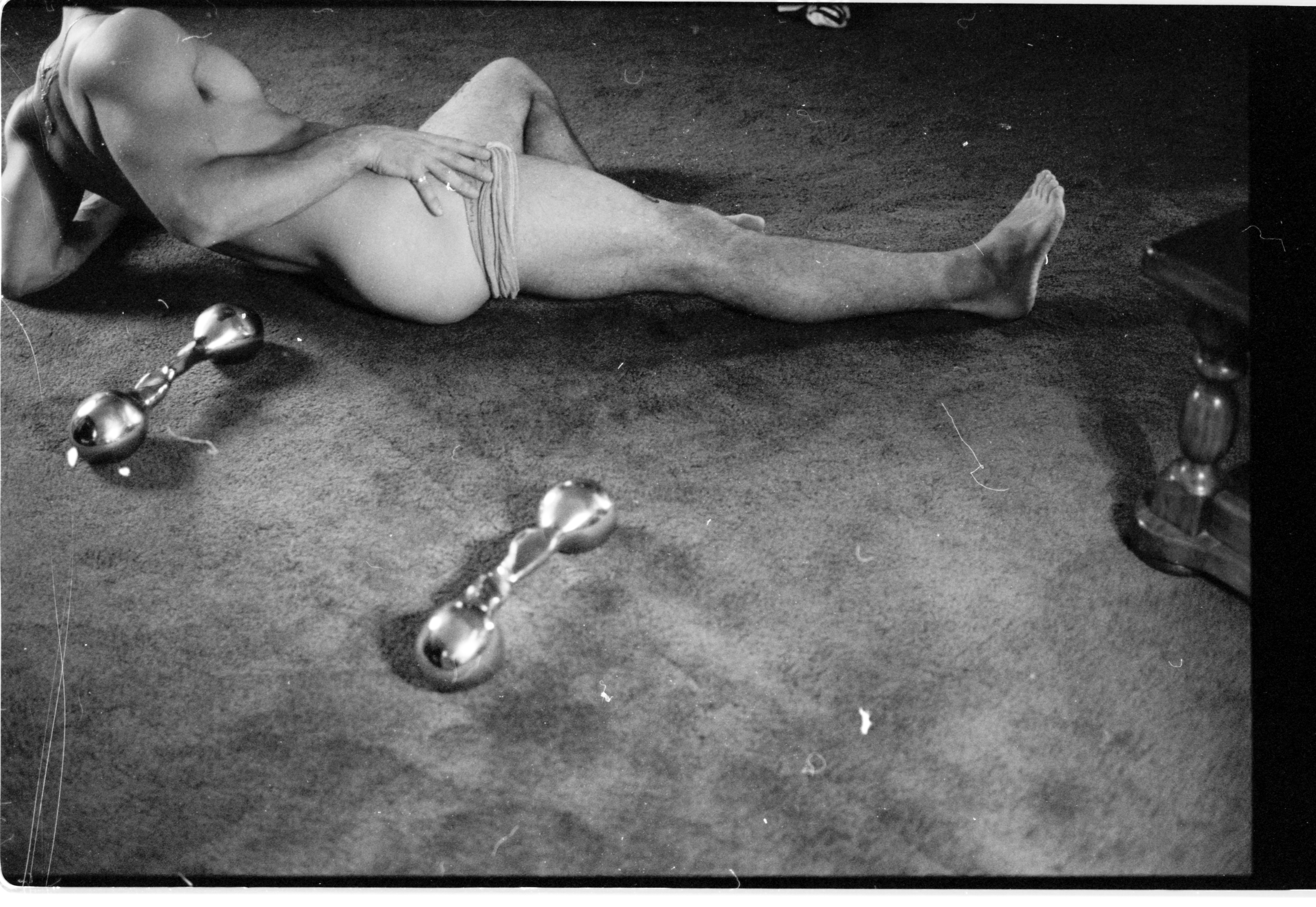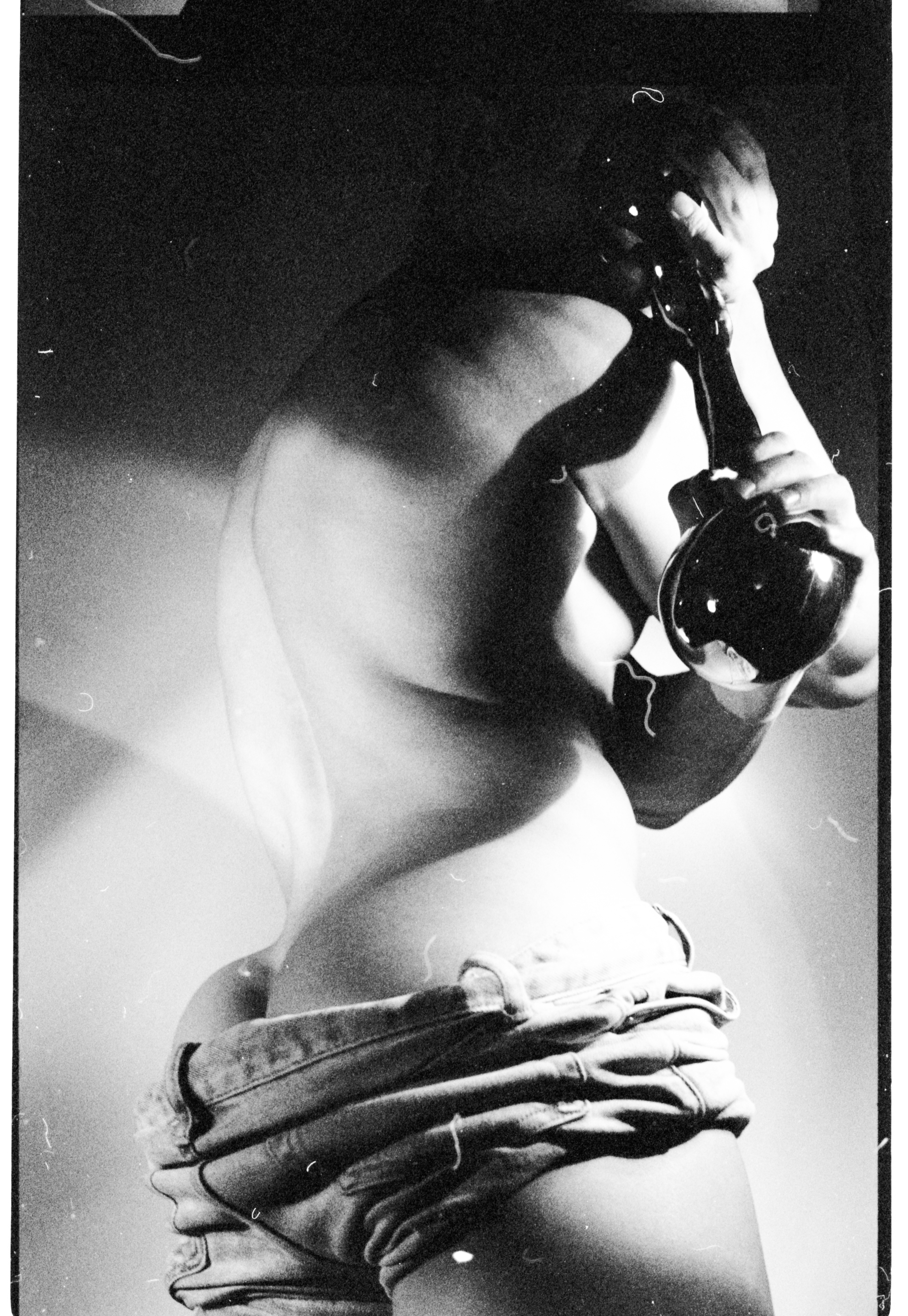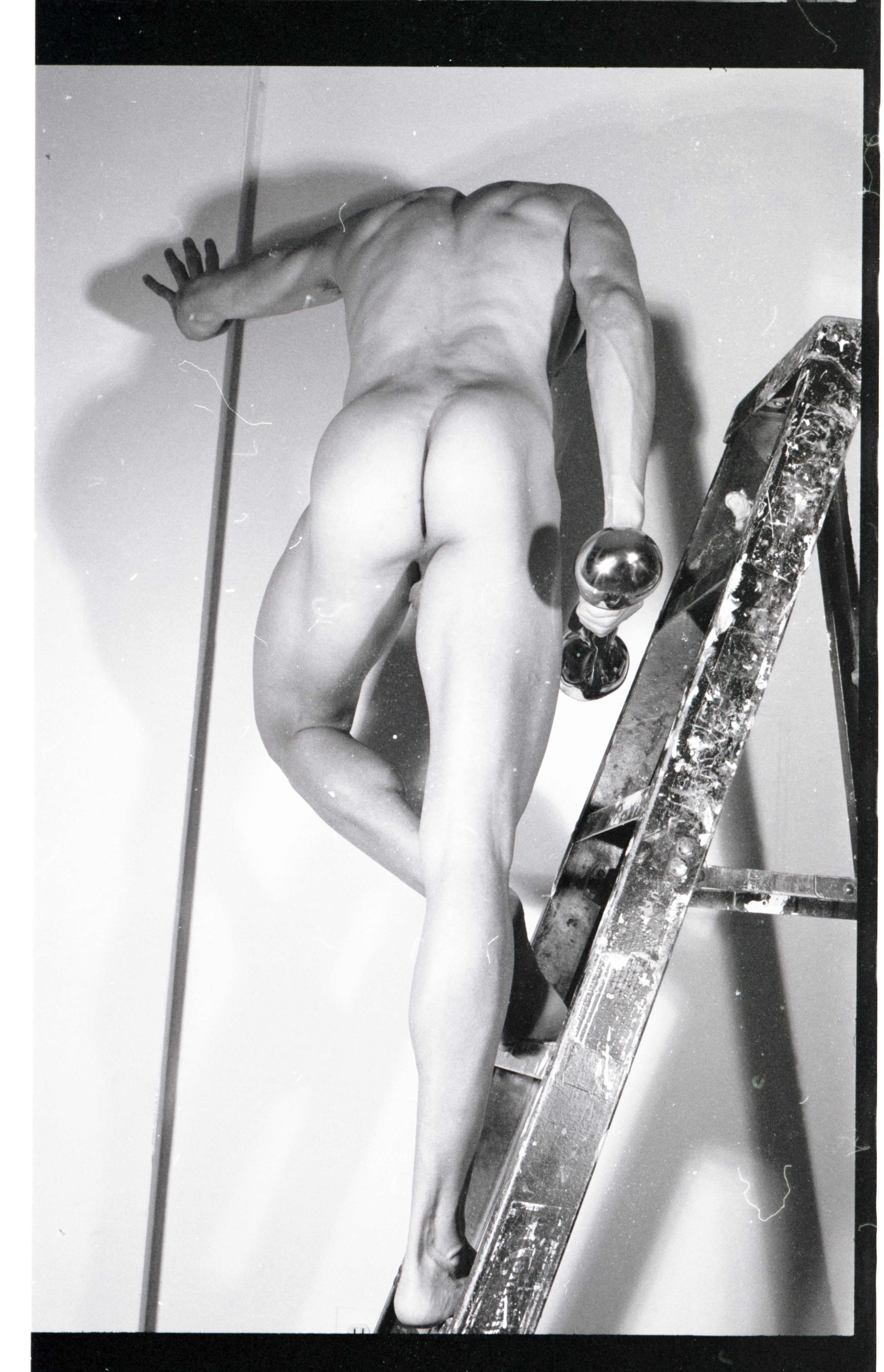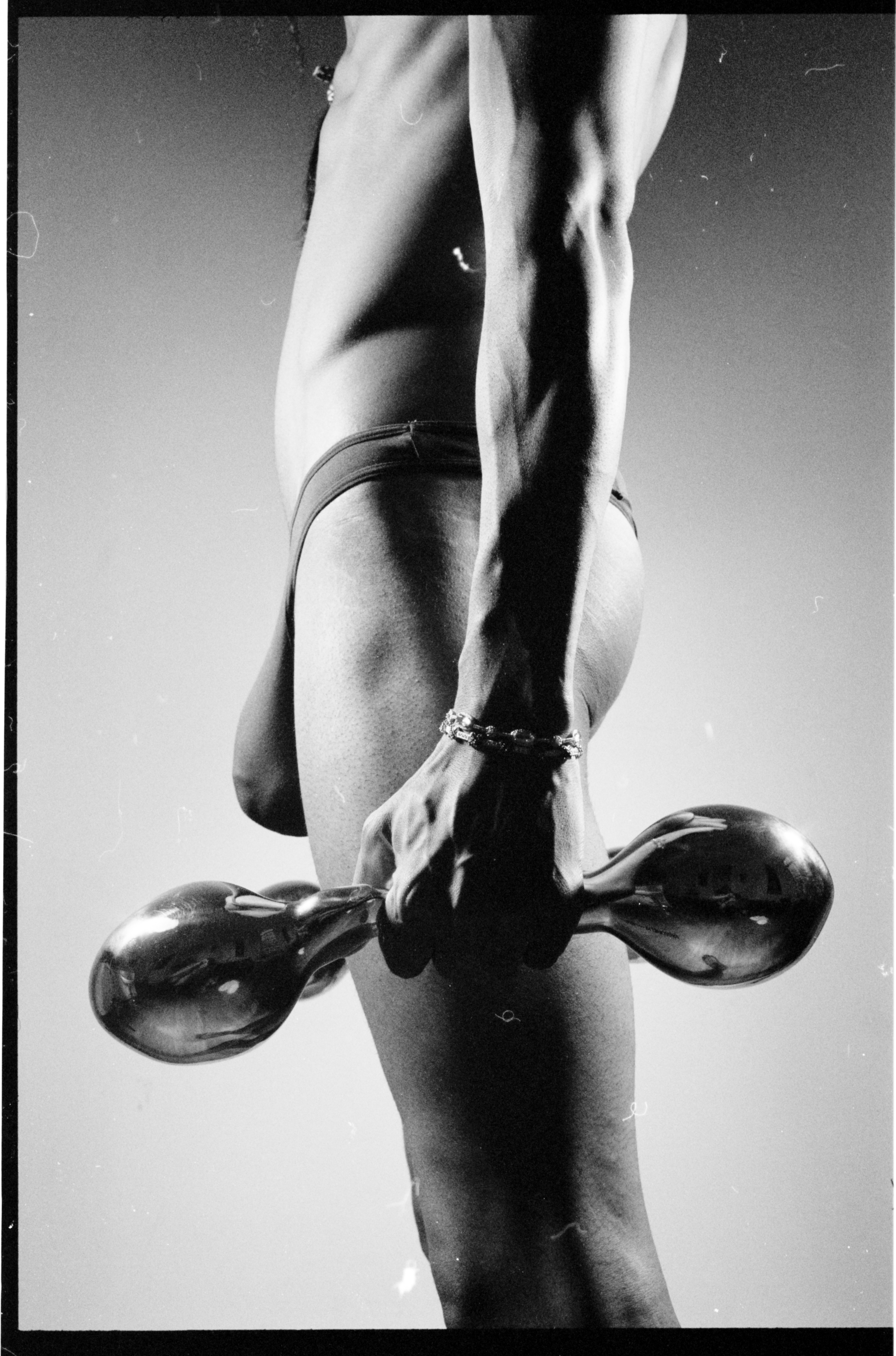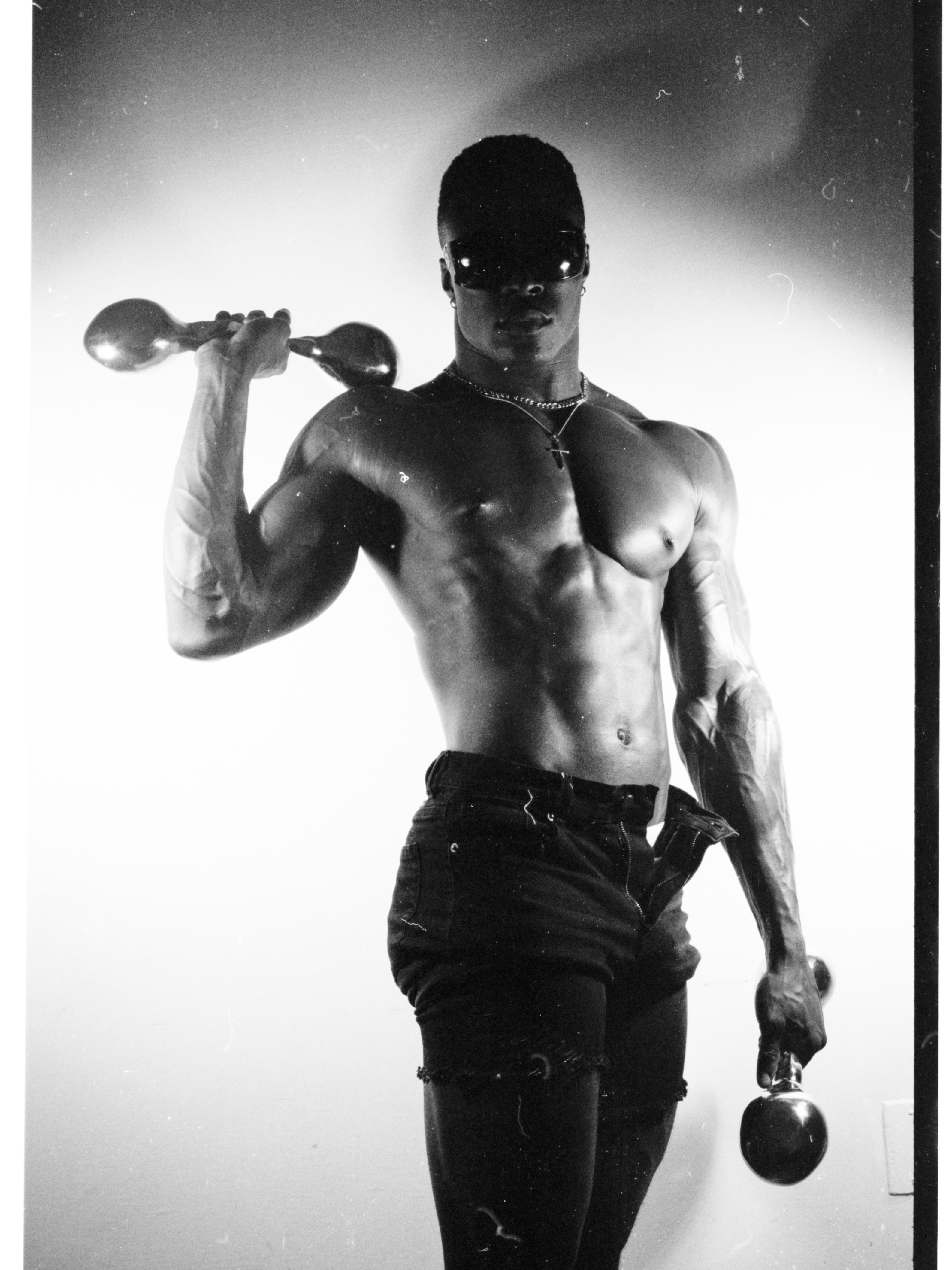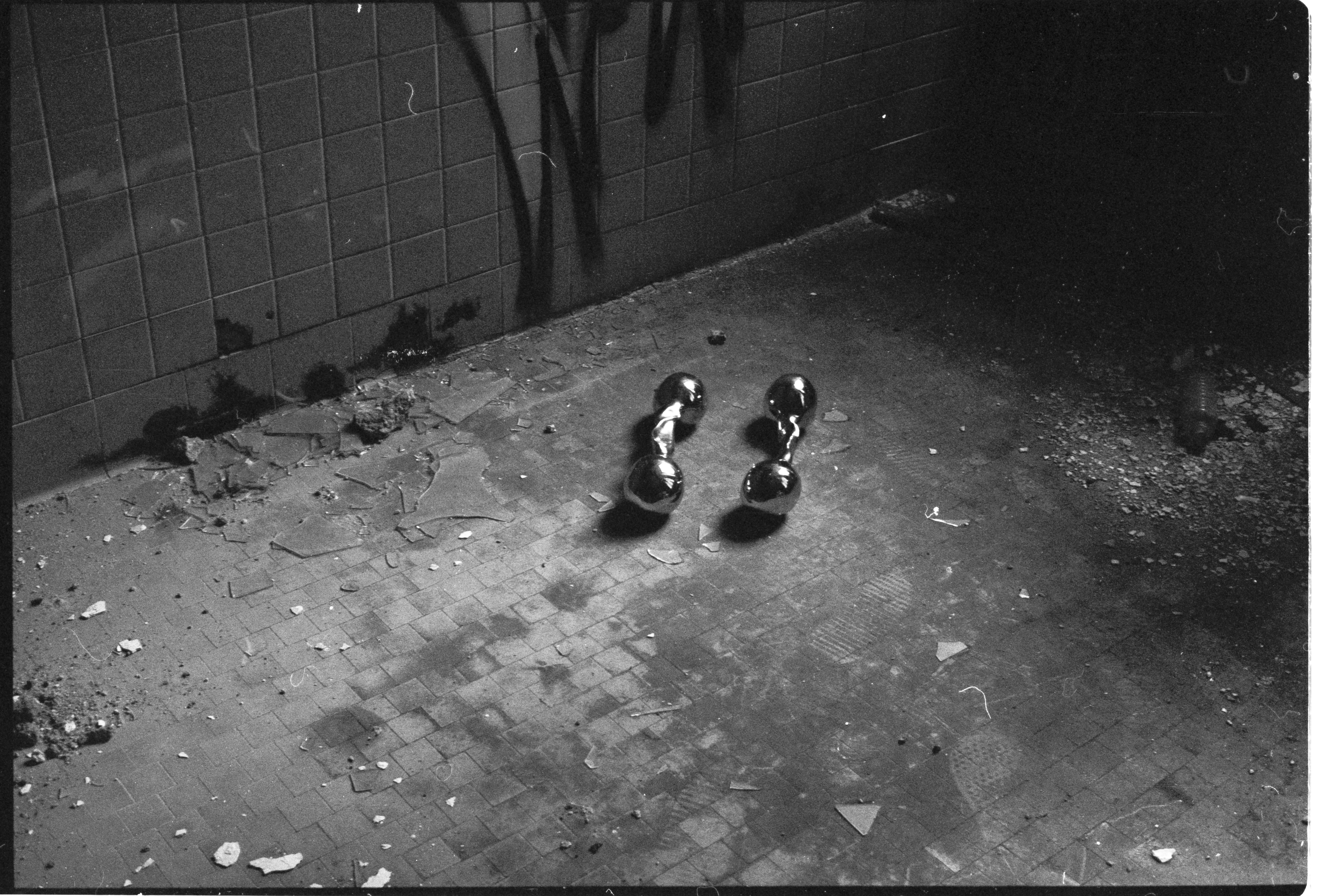 Follow i-D on Instagram and TikTok for more photography.
Credits
---
Photography Diego Villarreal Vagujhelyi.