Photo by Michel Dufour/WireImage, Bertrand Rindoff Petroff/Getty Images
7 of Sky Ferreira's most iconic outfits
The singer-songwriter epitomized Tumblr's "soft grunge" in Givenchy and American Apparel tennis skirts.
Photo by Michel Dufour/WireImage, Bertrand Rindoff Petroff/Getty Images
Sky Ferreira is the 2014 Tumblr girl. Before Tumblr, however, the LA-based singer-songwriter came up on Myspace, using the platform to upload self-written songs throughout her teenage years. In 2009 — at the age of 17 — Sky signed with Parlophone Records, releasing her debut EP As If! two years later. By the turn-of-the-10s, there was nary a Tumblr blog or dashboard Sky's blonde-haired, red-lipped likeness wasn't gracing. Since, the singer has become one of the 2010s most defining indie icons, releasing eternal tracks like "Everything's Embarrassing" and epitomizing the "indie sleaze" era with her instantly-recognizable look. "A mix of sexy, innocent and tough," stylist Ian Bradley told Vogue in 2014. Think American Apparel tennis skirts, grown-out bedhead, chunky black boots, grungey babydoll dresses and smudged make-up. With the impending revival of everything "indie sleaze" — and rumours swirling of Skye's new album Masochism's impending release — we take a look back at some of her most iconic outfits.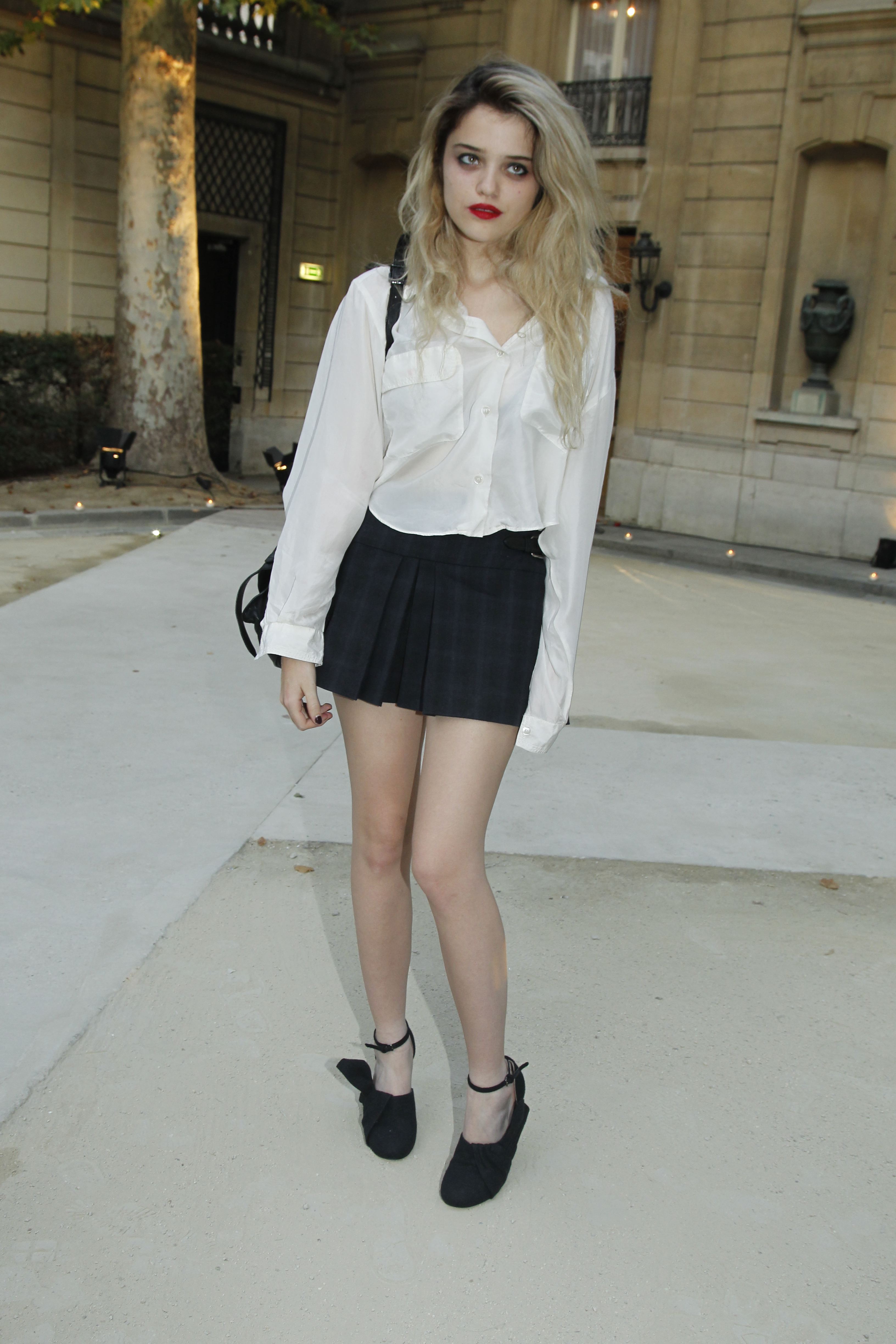 At a party for Karl Lagerfeld, 2011
In the early 2010s, Sky Ferreira was the Tumblr 'it' girl. In fact, the singer's simple-yet-singular look — a mix of schoolgirl staples and grunge signifiers— was the definitive blueprint for the platform's ubiquitous "soft grunge" look. Here, to a party at Paris Fashion Week, the singer wears one of her go-to combos: sheer silk shirt and pleated miniskirt.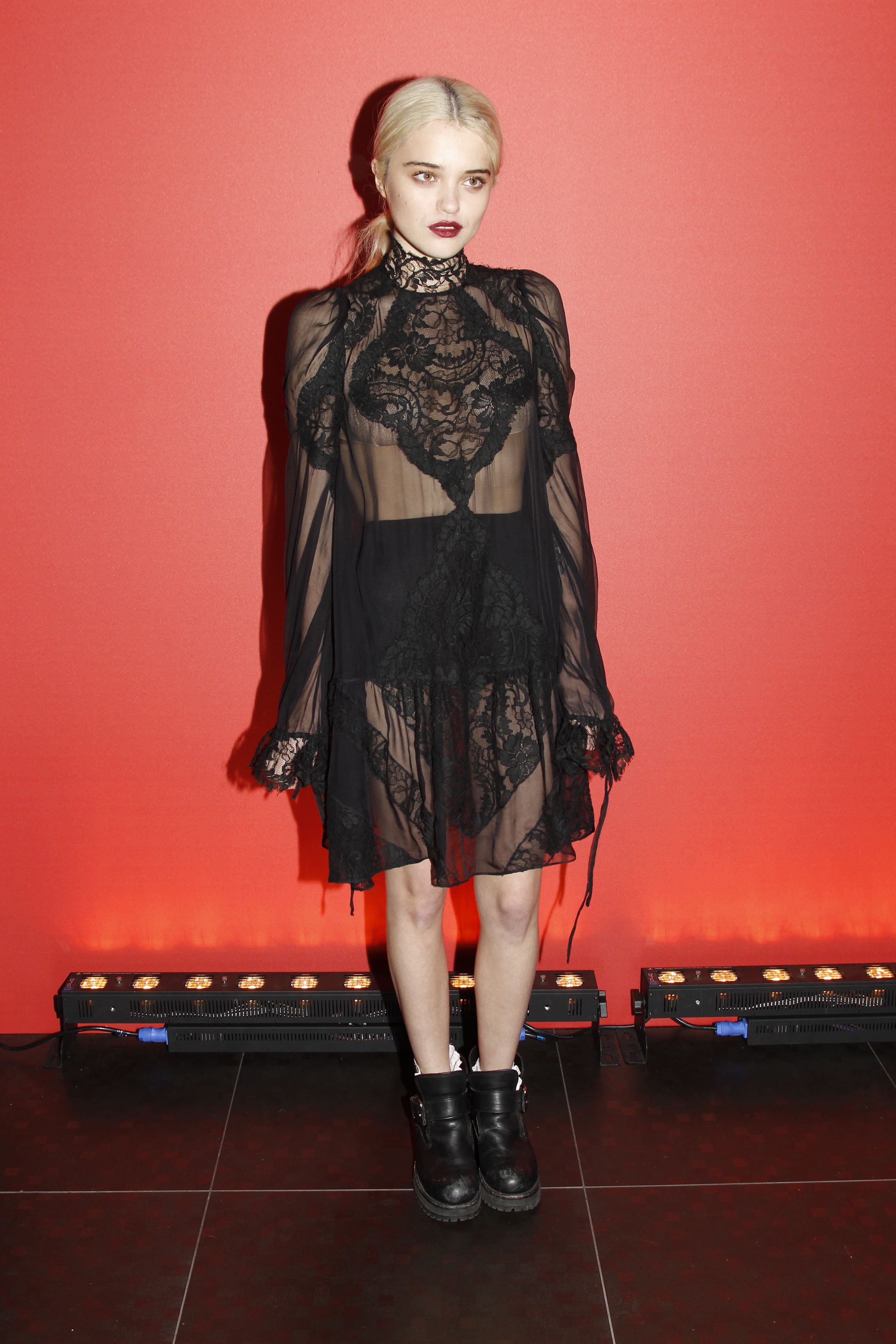 At a party for Givenchy, 2012
The naked dress has always been an 'it girl' staple. In 2012, Sky stepped out in her own take on the look at Givenchy's PFW afterparty. "This Victorian-inspired sheer lace dress […] felt very dramatic for Sky, but she made it all her own by wearing it with her favourite boots and white socks," Sky's stylist, Ian Bradley, told Vogue in 2014. "It looked chic, vampy and fresh all at the same time and very much like the song 'Heavy Metal Heart.'"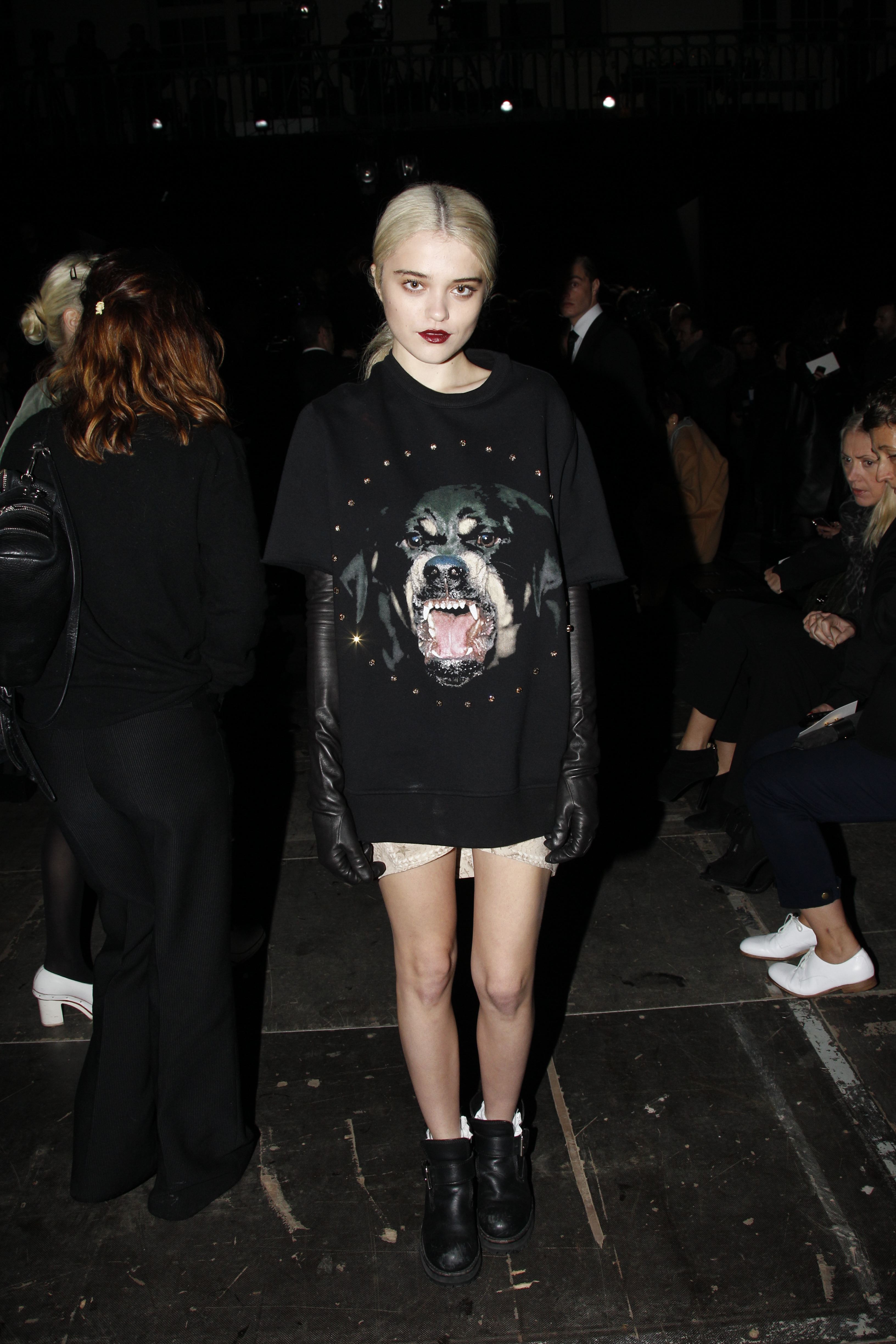 At a Givenchy runway show, 2012
Even before the launch of her star-making Ghost EP, Sky caught the attention of the fashion industry. Specifically, of Givenchy creative Riccardo Tisci. In 2012, Sky became a muse to and unofficial ambassador of the brand, pulling up to coveted front row spots at the house's shows alongside icons Kanye West and Carine Roitfeld. Here, Sky attends the Givenchy's AW12 show wearinga high-fashion interpretation of her favourite T-shirt dress look, complete with leather opera gloves and chunky leather boots.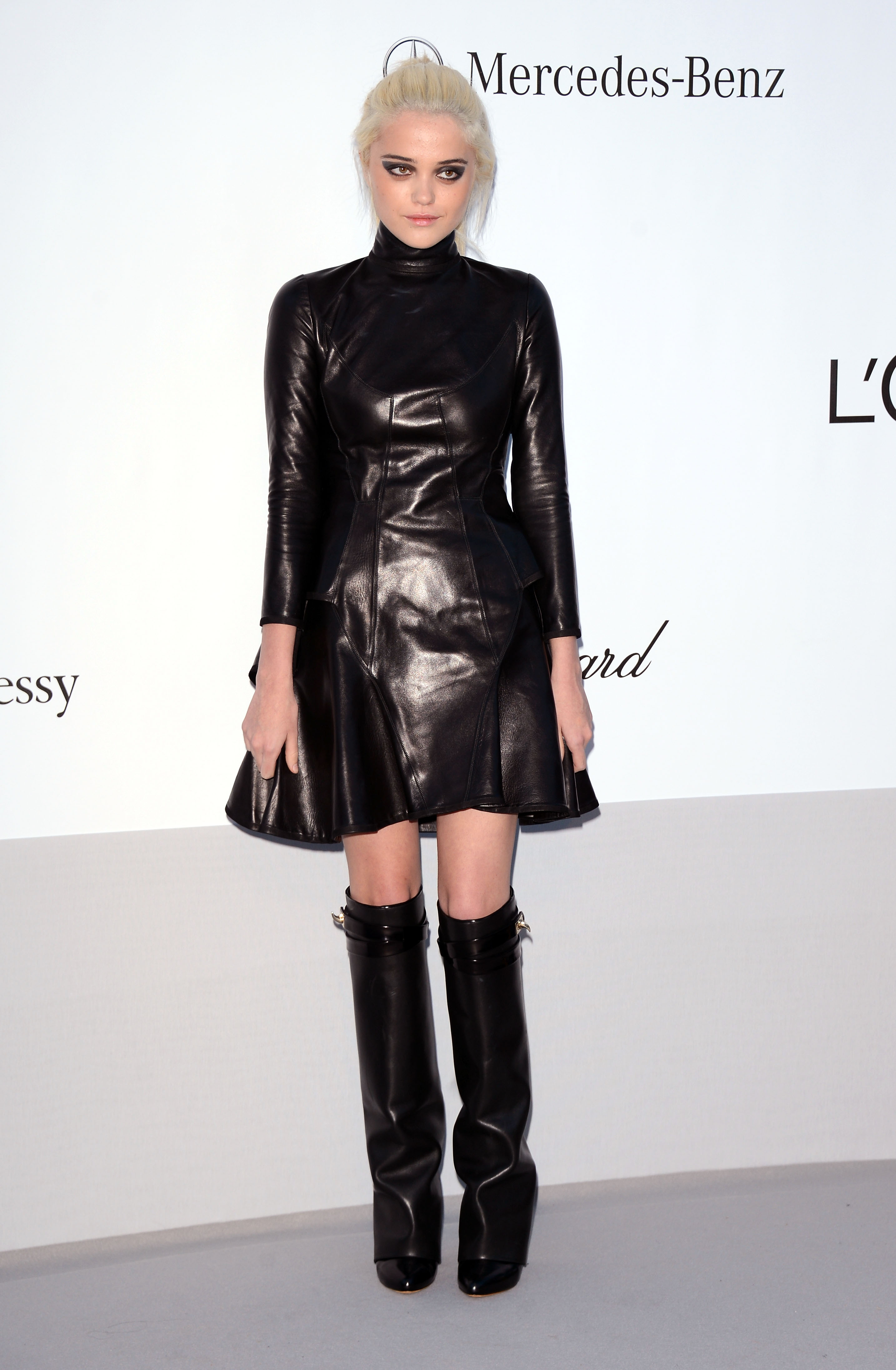 At amfAR's Cinema Against AIDS, 2012
By the end of 2012, Sky was a fully-fledged Givenchy girl. Following her icon-making turn in the front row, she attended the brand's AW12 menswear show wearing one of Tisci's ethereal SS12 dresses. Here, to amfAR's Cinema Against AIDS event, she wearsa head-to-toe leather look from Givenchy's goth-y AW12 collection. Later that year, Sky revisited the collection inan era-defining cover spread for V Magazine alongside fellow Tumblr icons Grimes and Charli XCX.
"Everything's Embarrassing" music video, 2012
Without a doubt, Sky's most iconic and enduring song is 2012's twinkling synth-bop "Everything's Embarrassing." Atop its minimalist 80s-inflected beat, the singer laments a failing relationship and contemplates the mortifying ordeal of being known. The track's music video — and its wardrobe — is comparably low-fi. In the black-and-white clip, Sky wears an American Apparel T-shirt and tennis skirt. In addition to being one of Sky's most iconic outfits (Ian cited the look as one of his all-time favourites), it reflects the era's simple, head-to-toe-basics styling, pioneered, of course, by AA, itself.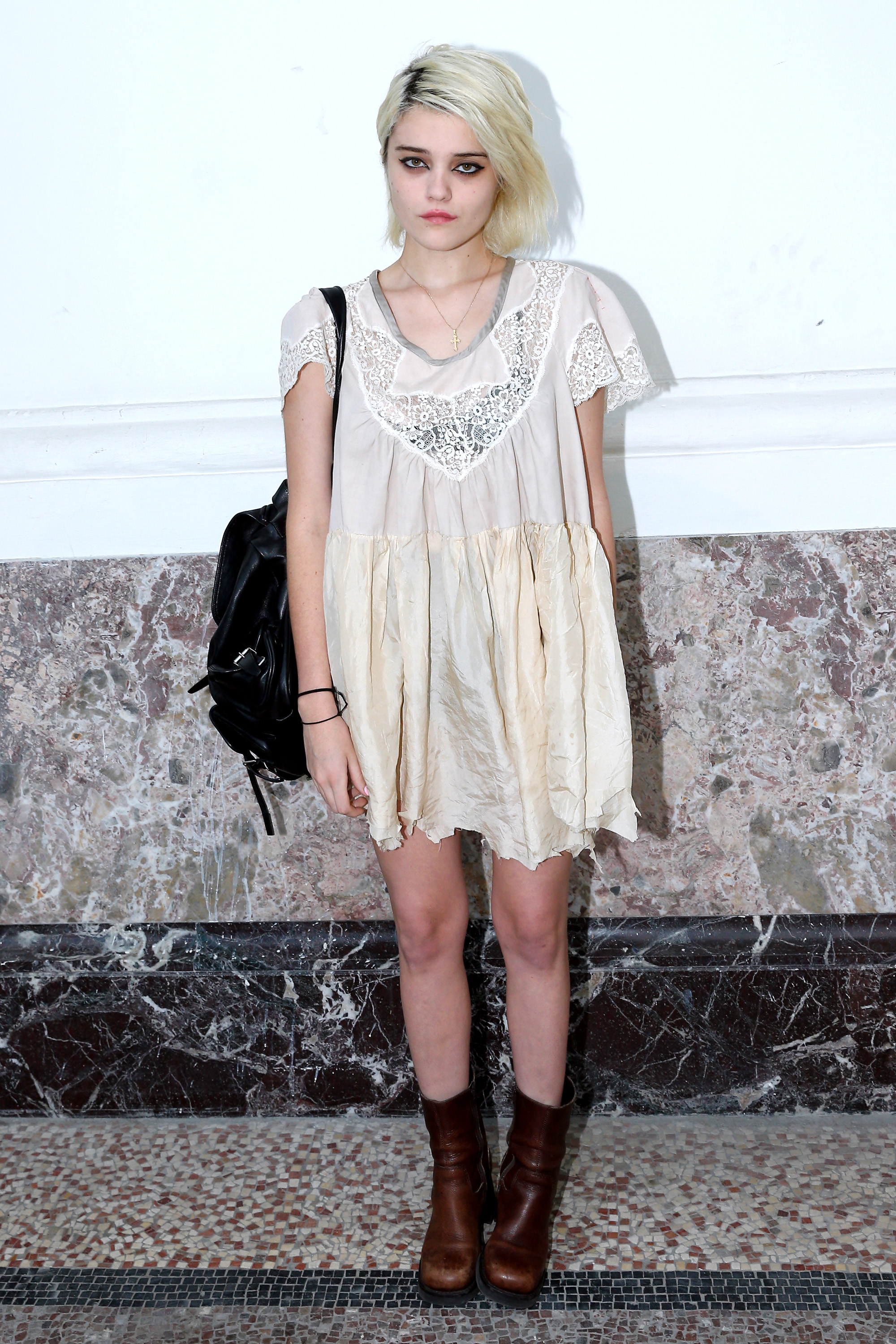 At a Saint Laurent runway show, 2013
In 2013, Sky was the poster girl for the era's "soft grunge" aesthetic. Of course, it wasn't long until Hedi Slimane — the look's high-fashion arbiter — appointed the singer as a Saint Laurent muse. Sky fronted the house's Pre-Fall 2013 lookbook in leather and lace; the brand dressed her in leather and leopard for the 2013 NME Awards. For the launch of her debut album, the highly-anticipated (and much-delayed) Night Time, My Time, the singer wore a plaid babydoll dress from the label's infamous AW13 collection. "It felt like it was made for her — actually the whole collection was so her style," Ian said. The same could be said for Hedi's Saint Laurent, as a whole. Here, to the label's SS14 menswear show, the singer wears another one of the label's babydolls, this time evoking the likeness of Courtney Love and the original grunge look.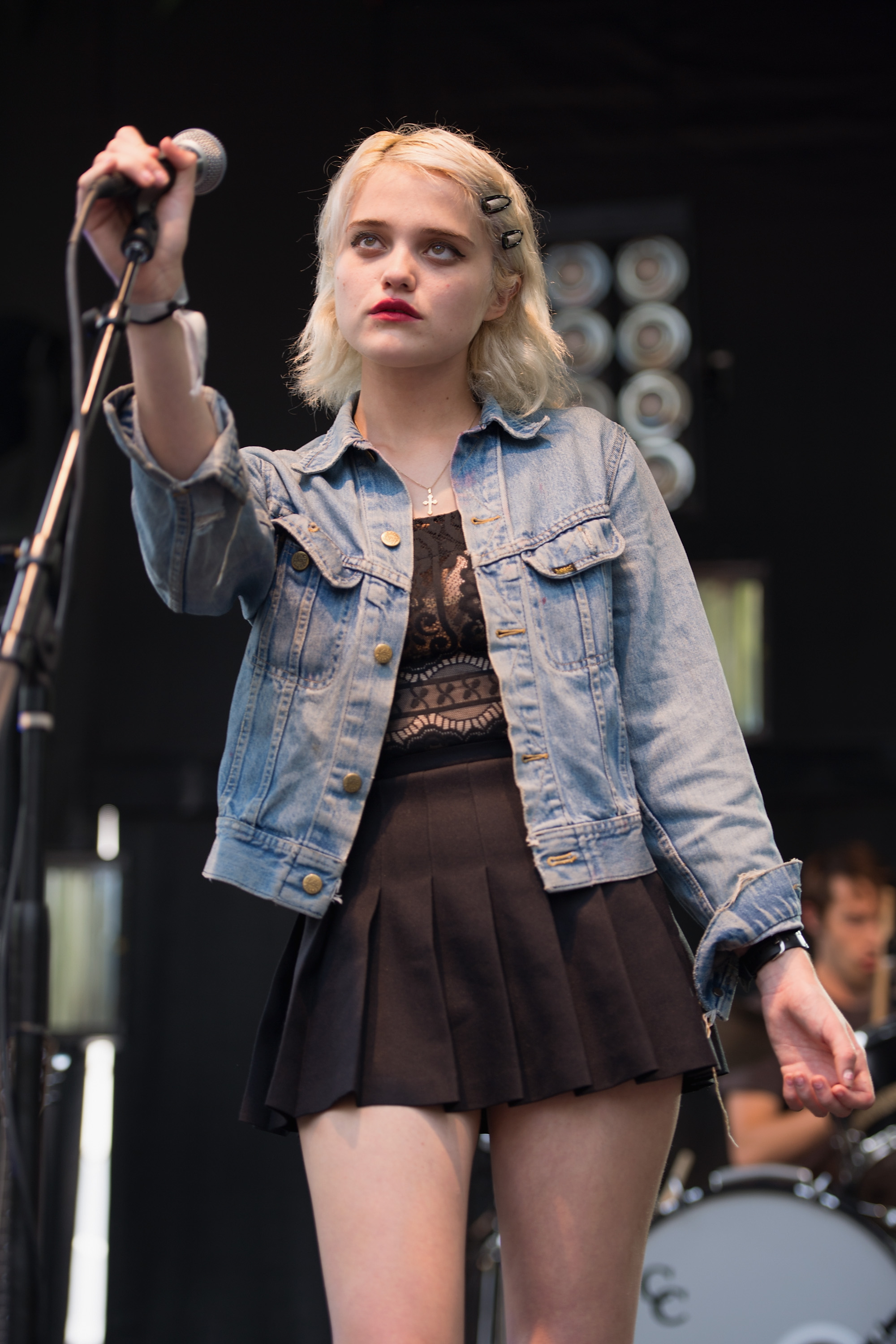 At Pitchfork Music Festival, 2013
Where would the American Apparel tennis skirt be without Sky Ferreira? In 2013, the singer made the AA basic a staple for Tumblr girls and street style bloggers, alike, when she wore it throughout the year's summer festival circuit. At SXSW, Sky paired it with a simple scoopneck top (à la "Everything's Embarrassing") while here, at Pitchfork Music Festival, she styled it with a denim jacket and one of the era's ubiquitous lace bodysuits. Nearly a decade later, Sky's devotion to the AA tennis skirt maintains its influence: it's hard to imagine the style's recent 2021 revival without Sky setting the Tumblr-era precedent. Just another example of how Sky is — and remains — one of the foremost fashion icons of the digital era.