© TriStar/courtesy Everett Collection, photo by Ron Galella/Ron Galella Collection via Getty Images and Barry King/WireImage
7 of Rose McGowan's most iconic outfits
The scream queen is a master of both the naked dress and the tiny 90s sweater.
© TriStar/courtesy Everett Collection, photo by Ron Galella/Ron Galella Collection via Getty Images and Barry King/WireImage
Rose McGowan brought both the beauty and the bite to 90s teen cinema. After starring as the witty and mysterious Amy Blue in Greg Arraki's The Doom Generation, Rose became young Hollywood's de facto dark comedienne, taking roles in cult horror flicks, erotic thrillers and comedies throughout the 90s. Whether starring as the ultimate mean girl-slash-murderer in Jawbreaker, a spunky scream queen in Scream or a modern-day witch in Charmed, Rose brought both an acerbic wit and ineffable cool to all her movie roles. A reflection of her singular on-screen aura, Rose's personal style is just as darkly-chic. Think tiny sweaters, naked dresses, perspex heels, diamante chokers and leather pants — all with a perennially blood-red lip. Here, we take a look back at some of Rose's most iconic outfits — and most iconic roles — from the 90s through to Y2K.
The Doom Generation, 1995
After moving to Los Angeles at age 15, Rose McGowan made her Hollywood film debut with a bit role in 1992 Pauly Shore comedy Encino Man. Three years later, the actress booked her first leading role, starring as Amy Blue in Greg Arraki's The Doom Generation. Since its 1995 premiere, the movie has become a cult classic with Rose's Amy the face of the film, fronting Tumblr and Instagram moodboards, alike. Of Rose's many Doom Generation looks — and one-liners — her most iconic belongs to a single accessory. In one of the film's most screencapped sequences, Amy wears a pair of white horn-rimmed sunglasses, framed perfectly by her signature bob.
Scream, 1996
A year after her acclaimed turn in The Doom Generation, Rose made her Hollywood breakthrough playing Tatum Riley — spunky BFF to Neve Campbell — in Wes Craven's iconic scary movie, Scream. Among Rose's quintessentially 90s Scream looks (plaid miniskirts, denim blazers and even a cropped sports jersey), her most memorable is the lime green sweater and patterned mini she wears in her final scene.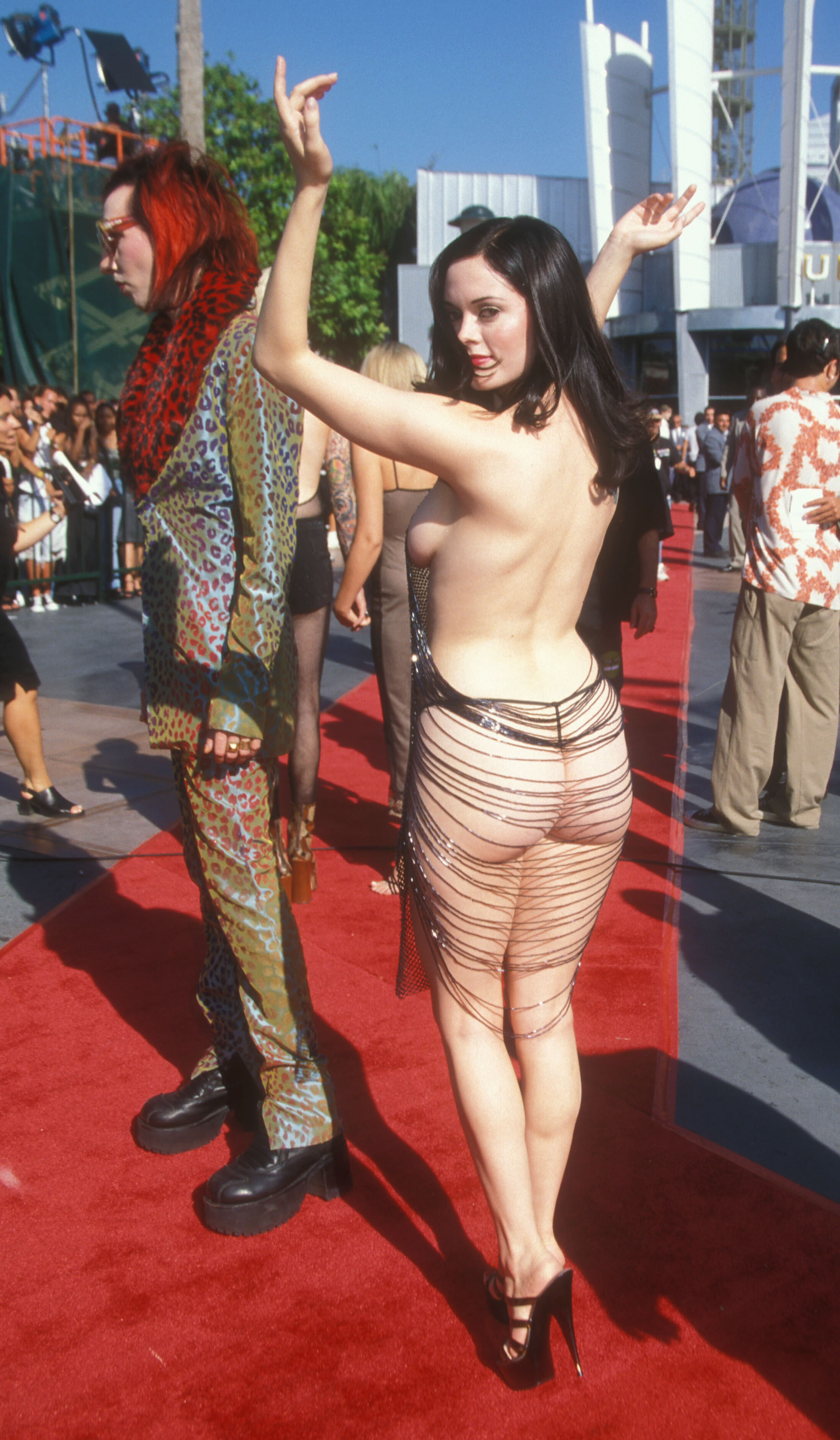 At the MTV VMAs, 1998
In 1998, Rose wore what is arguably one of the most iconic looks to grace the MTV VMAs red carpet, ever. Quite a feat! However, the naked dress in question — a completely sheer beaded number — wasn't a mere fashion statement; for Rose, it was also a political one. Of the VMAs moment, which took place two decades before she became one of the #MeToo movement's Silence Breakers, Rose told actress Jameela Jamil: "It was my first public appearance after being raped. And I thought, it was kind of like Russell Crowe and Gladiator when it comes out in the ring and he's like, 'Are you not entertained?'" In her memoir, Brave, Rose stated that the dress was "a reclamation of my own body after my assault".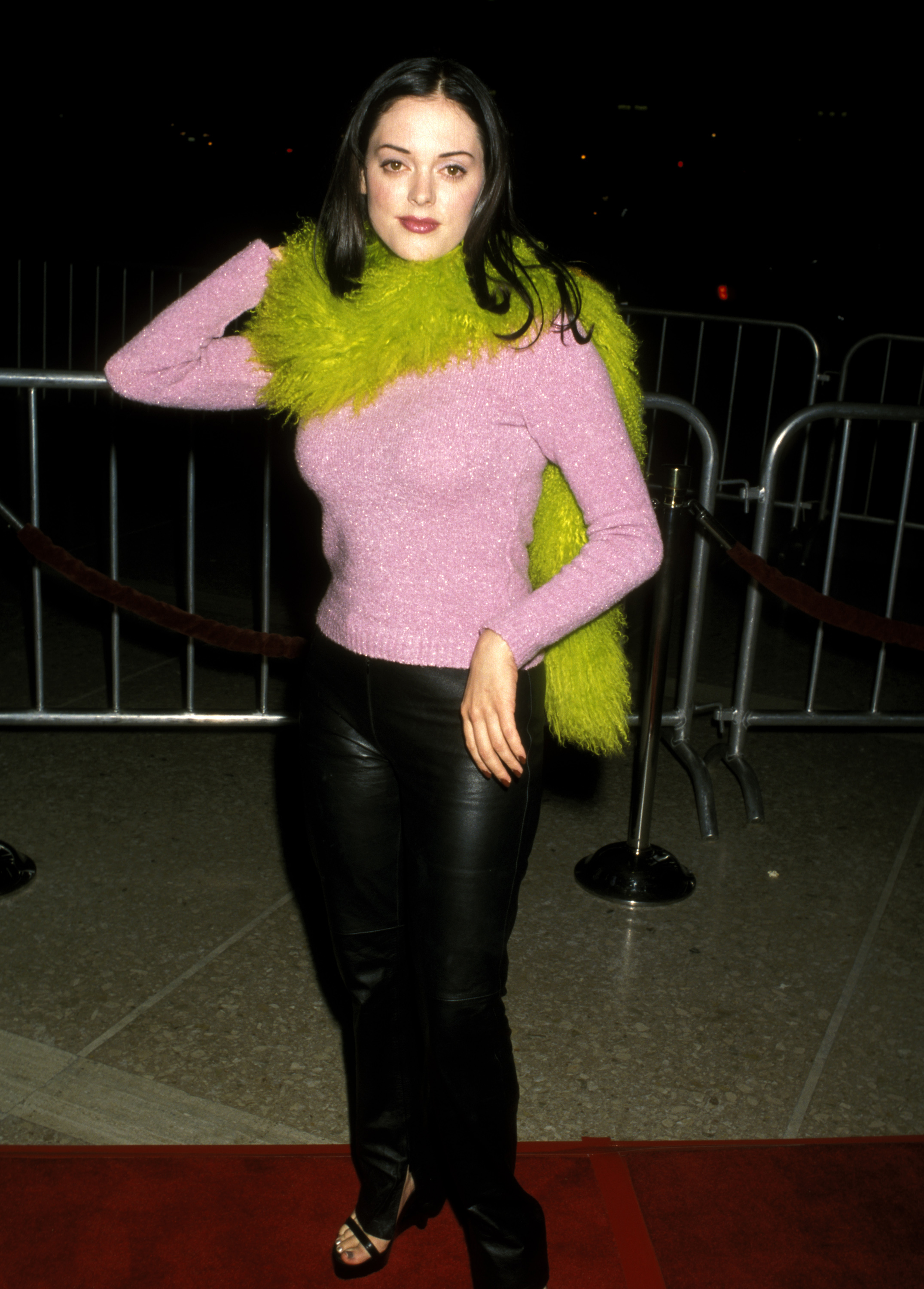 At the Living Out Loud premiere, 1998
In the 90s — the era of Cher Horowitz and Anna Sui — the feather boa was the go-to, cool-girl accessory. Just ask Rose, who wore a lime green iteration to fete the premiere of 1998 comedy-drama Living Out Loud. Naturally, she paired the flamboyant, feathered accessory with two more of the era's staples: the Lurex sweater and a pair of leather trousers.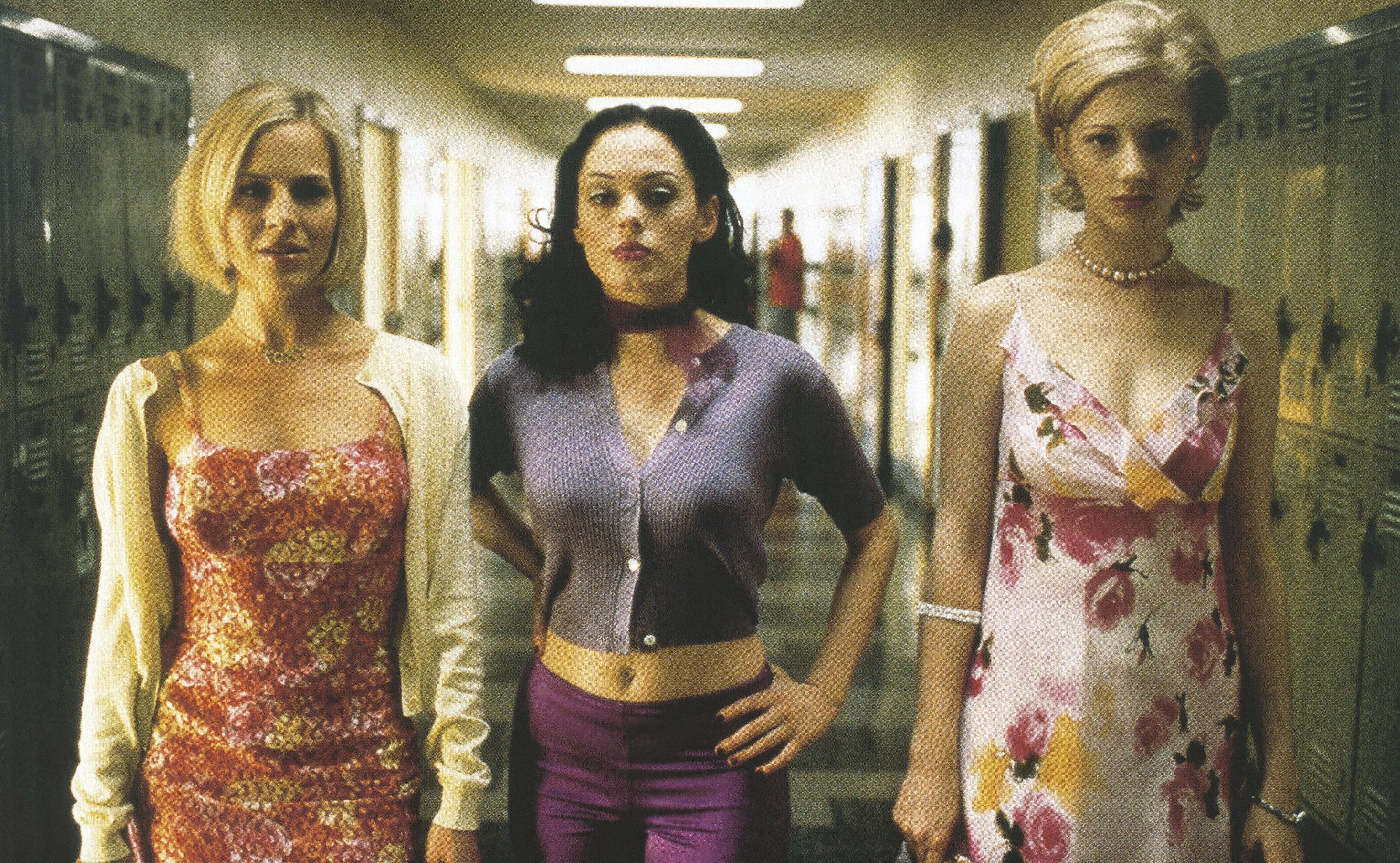 Jawbreaker, 1999
After seeing her in The Doom Generation, director Darren Stein cast Rose in 1999 dark teen drama Jawbreaker. "She had a beauty and a bite I hadn't seen in a modern-day film," Darren told i-D about the casting. "I almost thought it would be too obvious or easy to cast her as Courtney, but it turned out she was exactly what the film needed, and the film wouldn't exist without her." Since its release, Jawbreaker has gone on to become a cult favourite, thanks in part to Rose's singular turn as ultimate mean girl-turned-murderer Courtney and to the film's instantly-recognizable aesthetics. To create the singular look of the film's mean girl troupe, "The Flawless Four", Stein turned to Clueless costumier Vikki Barrett, who created a wardrobe that captured the "innocence of the 50s juxtaposed with femme fatales of the 20s, and punk and fetish looks from the late 70s and early 80s." For Rose's Courtney, this sugar-and-spice aesthetic meant corsets, rubber pencil skirts, classic pumps, argyle sweater vests and — seen here — monochromatic looks pairing 50s twinsets with 90s miniskirts.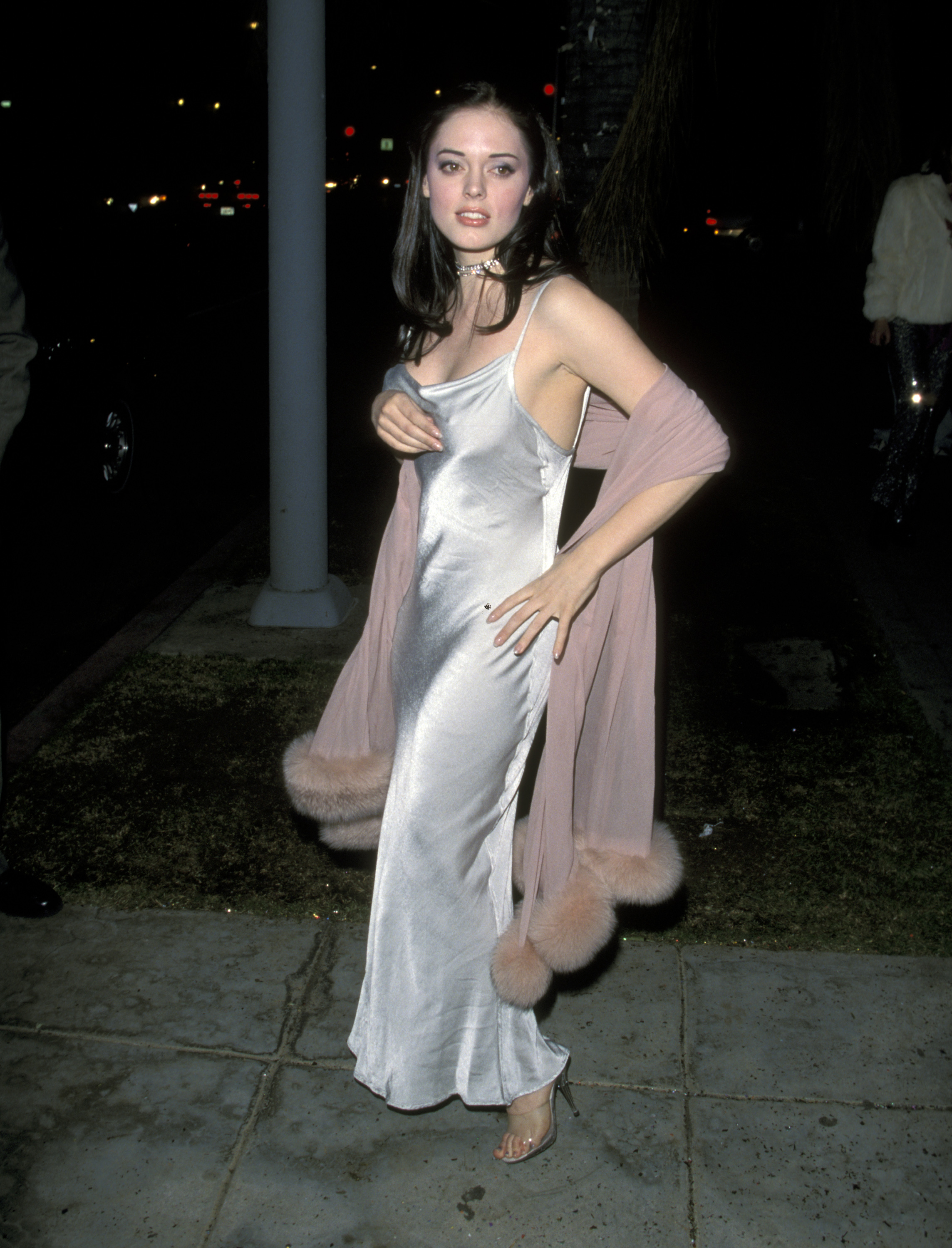 At the Jawbreaker premiere, 1999
Less "Flawless Four" and more Clueless, Rose McGowan's Jawbreaker premiere outfit was, perhaps, inspired by the film's costume designer Vikki Barrett, who also had a hand in creating some of Cher Horowitz's iconic outfits. The look — a silver slip, fur-trimmed shawl and perspex sandals — calls to mind the Clueless lead's girlish minimalism, Calvin Klein minis, organza button-ups, marabou-tipped pens, et al.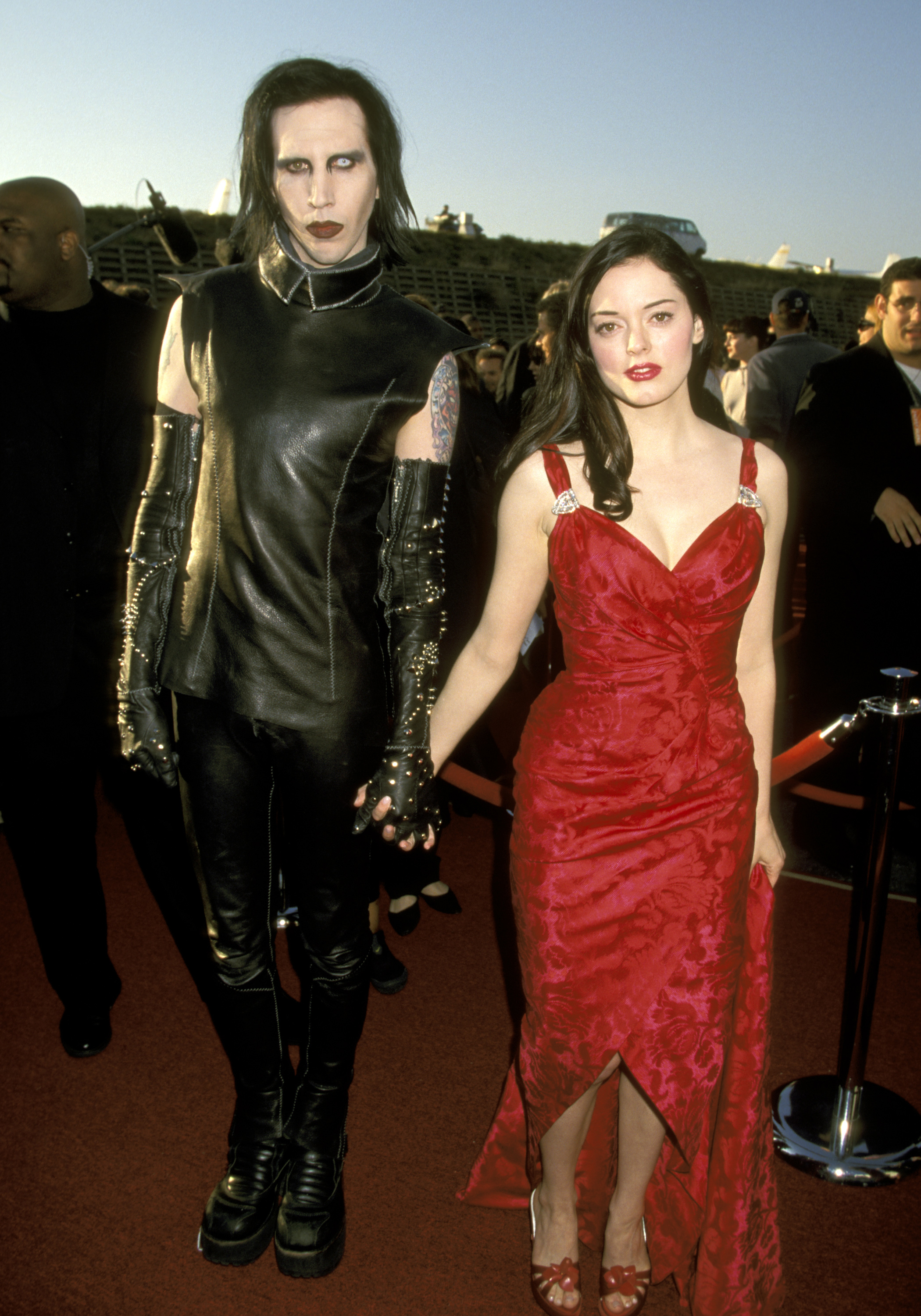 At the MTV Movie Awards, 1999
This look is quintessential Rose. Nearly a year after donning her iconic naked dress to the VMAs, the actress pulled up to the 1999 MTV Movie Awards wearing an ultra glamorous blood-red dress (to match her perennially blood-red lip). A look befitting only of a young Hollywood scream queen and Charmed witch-to-be.