Photos courtesy of Kathryn Bowen.
Kathryn Bowen is making slow, slow fashion
The Canadian designer and Yang Li alum talks sustainability, power dressing and how her grandparents have inspired her designs.
Photos courtesy of Kathryn Bowen.
Kathryn Bowen's designs paint a portrait of the ultramodern woman. Knife-sharp jackets. Sleek mesh dresses and corsets, lingerie-as-outerwear. And cool deconstructed tailoring: transformable pieces that cling to or hang, undone, from the body. Garments to suit women's oscillating moods, their dynamic lives, their singularities. These aren't your grandmother's clothes. But they were likely inspired by them. Despite the incredibly forward-looking appeal of Bowen's womenswear, her designs are firmly moored to the past: "when everything was slower, everything was more thoughtful," she says.
Bowen's family was surprised when she applied to London College of Fashion's BA program. Growing up in the suburbs of Ontario, Canada, Bowen's interest in fashion developed behind closed doors, reading Vogue with her sister and watching runway shows on FashionTelevision with Jeanne Beker. Upon announcing her interest in becoming a designer, Bowen recalls that her mother was ecstatic: "She wanted to teach me how to sew. Just like her mother taught her and her mother's mother taught her. I'm a fifth-generation sewer in my family."
While at LCF, Bowen interned for Jonathan Saunders and Marc Jacobs, where she was exposed to the demands of fashion's frenetic seasonal calendar, and developed the work ethic to match it. But it wasn't until working for designer Yang Li that she began to develop the razor-precise perspective that would characterize her future work. "Yang Li was its own unique experience. I learned a lot about quality. It was the first time I was analyzing details and tailoring in garments that were being produced in Italian factories. [I absorbed] that level of attention to details and quality. Specifically, the importance of well-fitting sleeves," she laughs.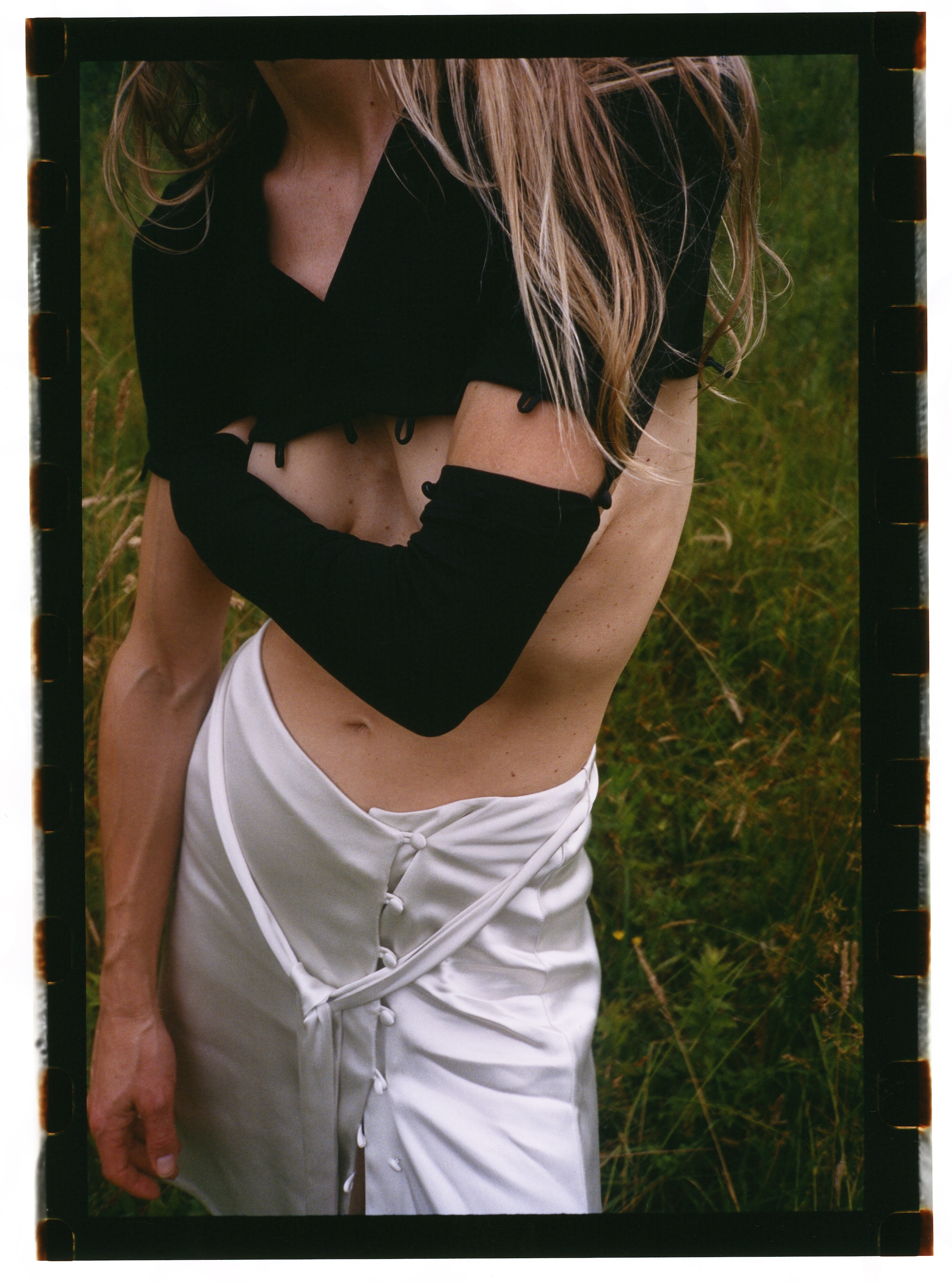 Founding her namesake label was almost happenstance. Bowen's English visa expired around the time of the 2016 Brexit referendum. More-or-less forced to leave London, she returned home to Toronto. "I realized if I wasn't going to start my own label, there wasn't much else I could do to challenge myself in the industry," she says of finding her place in Canada's fashion community. "After the Yang experience, I knew I could do it. But I knew it wasn't going to be easy."
Bowen's design process always begins with an incredible amount of visual research. The walls of her studio are plastered in images of historical garments. When I call her, she says she'd just been flipping through a textbook about the history of Western European fashion -- she was specifically interested in a chapter on the 13th century. "Looking to the past to find meaning in what we do now finds its way into my conceptual designs," she says. "Whether it's clothes or uniforms, these things were designed for a reason. I like to think about how our values have shifted, for better or for worse."
Bowen's spring/summer 19 collection was based on pieces from her grandparents' closet: garments she'd seen them wearing during her many visits to their home in picturesque Niagara-on-the-Lake, or nicked from their closets. She reaches to her grandfather's undershirt, his overcoat ("massive with a very strong shoulder, maybe from the 70s") and her grandmother's housecoat ("pretty elaborate, velvet with lace") as references.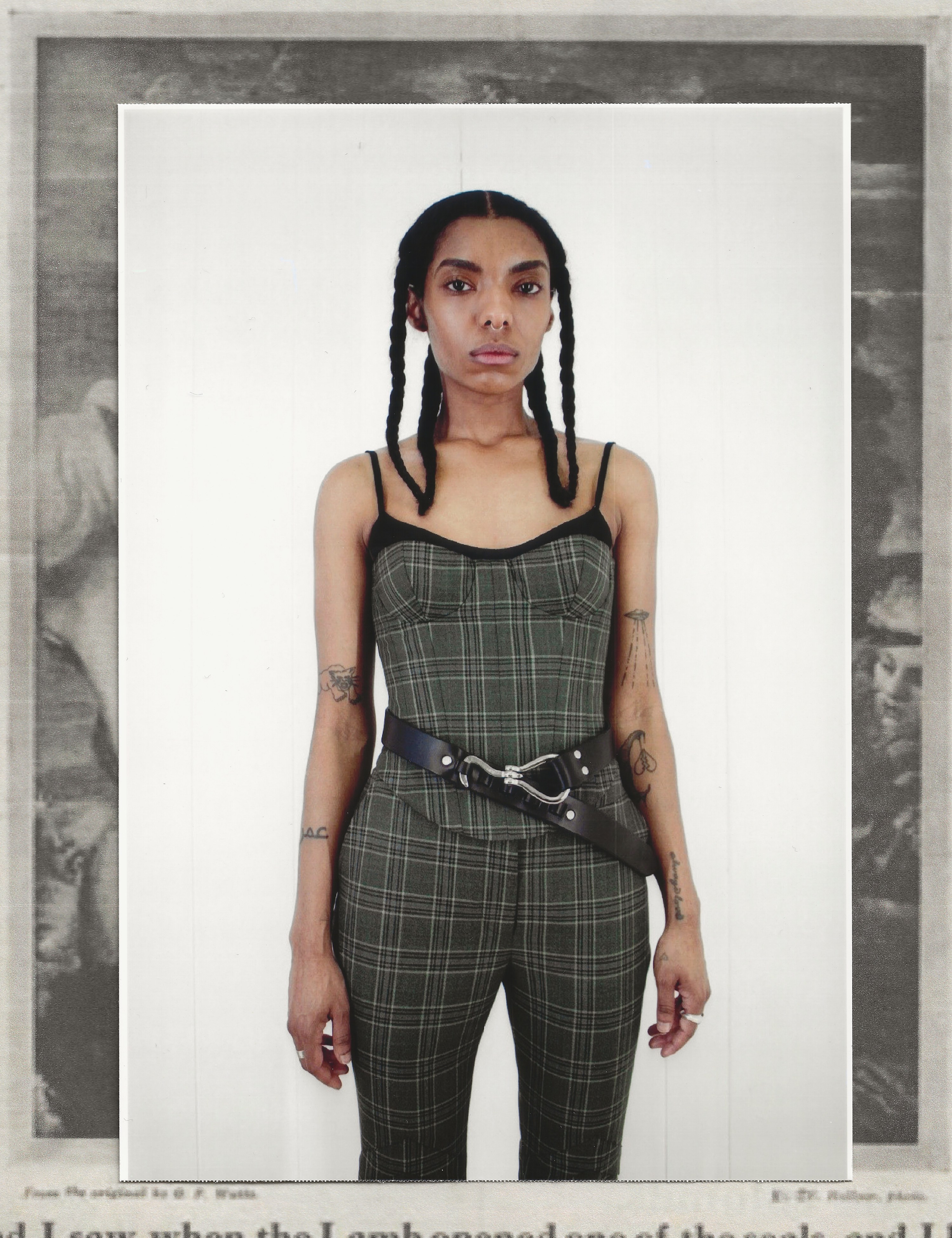 But it's never just the look of these pieces that intrigues Bowen. When she speaks wistfully about her grandparent's wardrobe, she's speaking to the functionality of the piece and decades of care that have gone into maintaining them: "My grandpa still wears an undershirt -- these things that people don't do anymore. The undershirt protects your shirt so it doesn't get as dirty." She's speaking of the lifelong commitment to one's clothing: "My grandmother would literally tailor underwear. She would make sure everything was going to stay in her wardrobe for a long time. Like fixing bra straps, fixing holes in jeans. That was something she did due to rationing in her younger years."
In a broader sense, she's speaking to an older way of living, the ideologies behind the clothing and the lifestyles that engendered them. "I'm drawn to this older way of dressing and caring for clothes. The amount of time and effort in making garments to protect other garments is unique to older generations. We don't wear them anymore, at all; we don't protect our garments the same way," she says. "We throw out our coats if they're ripping. No one really goes to get something fixed to wear for another 20 years."
This yearning for the past's slower way of life, for the 'Make Do and Mend' sensibility of wartime Britain or the novelty of an undershirt isn't sentimental, it's a very real reaction to the 21st century's consumerism-on-overdrive, to the frenzied fashion cycle Bowen witnessed at Marc Jacobs or Jonathan Saunders. "Fast fashion has never been more of a problem than it is right now," she states. "I think sustainability is the only way that fashion brands can continue to be relevant at all."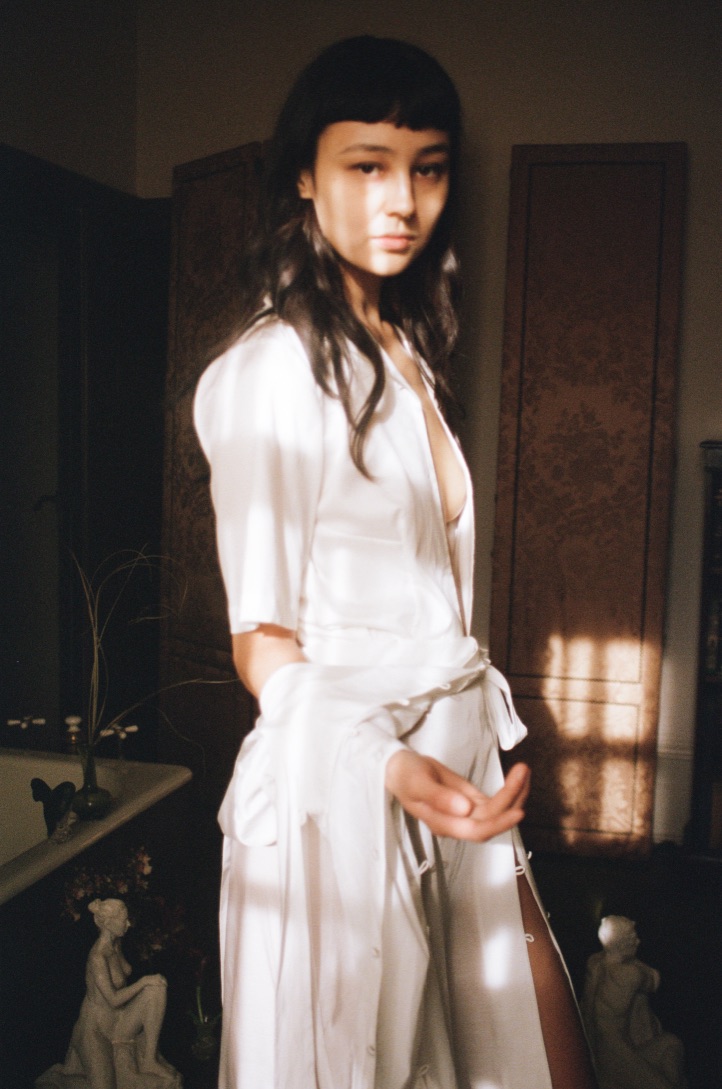 Bowen's clothes are what one would describe as 'slow fashion.' In her own words, they're "clothes to last." Crafted from exquisite Italian fabrics -- most of them luxe deadstock, sourced locally to reduce carbon emissions -- sometimes in exclusive, limited runs because "there's always an end to deadstock fabric." Convertible cardigans or dresses can be worn forever, in endless iterations. Blazers and jackets are tailored with the utmost attention to detail; patterns are tweaked sometimes within a sixteenth of an inch to ensure the perfect fit. Bowen is meticulous because she is creating pieces to be cherished for years -- or generations -- to come, clothes that will be as precious to her customers as her grandparents' clothes were to them. "Ultimately, I want to achieve longevity with the pieces I make. The clothes that I hope a customer will want to wear for ten to twenty years. And to help decrease future excess production in the industry," she elaborates. "I'm not interested in contributing to trends."
In addition to this Old World sustainability, sometimes Bowen's forays into history books yield more pointed messages. She cites her favorite era of reference: "This period of wartime when women got involved in the workforce and wearing uniforms." Her AW 20 collection, titled "Mud", draws its name from the Mud March of 1907, a peaceful demonstration in which more than three thousand women -- of all classes -- marched across London in support of women's suffrage. "The collection was inspired by these women who took a stance and tried to gain the right for all the things we're able to do now," she says. It reads as a chronicle of women's workwear from the Mud March to post-World War II. Specific examples include a pinstriped suit -- inspired by the female 'milkmen' of the 40s. A suit with abundant pockets, reminiscent of women's factory uniforms. Or more corporate-style suiting and beautifully-collared shirts, which draw from the attire of switchboard operators. "[Autumn/winter 20] is a collection of female power dressing," she says. "Clothes for strong women, period."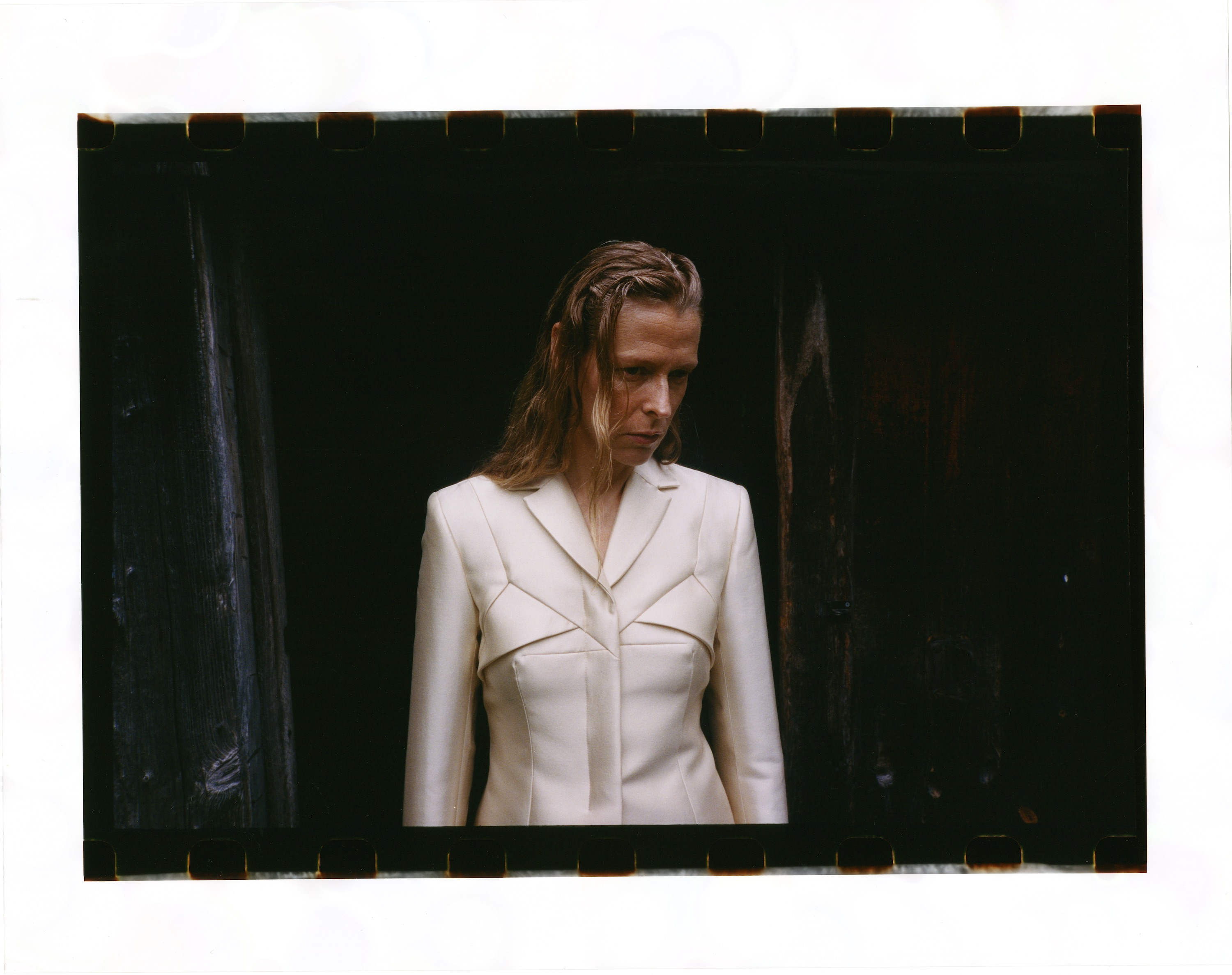 Although Bowen's tailoring is immaculate, her clothing isn't all women in suits. It revels, also, in the power of a woman's multiplicity, of not being relegated to just one thing. The same convertible pieces that embody Bowen's favored 'make do' mentality, also serve to capture a woman's many moods, her various selves. Spring/summer 20's 'Kilt' coat is both sharp and soft. When unbuttoned, its placket is able to wrap into a neat bow at the chest, like a cashmere sweater thrown over the shoulders. An angular blazer whispers to the outline of a bustier. The fluid sensuality of a sheer mesh dress is abrupted by meticulously tailored seams. "I like my clothes to have a certain sense of androgyny," she remarks.
Bowen and I speak, about collections past and present, in the thick of the COVID-19 pandemic, in the midst of worldwide stay-at-home orders, a sinking global economy, and a fashion industry that faces an uncertain future. But Bowen maintains an optimistic outlook: "I think that slowing down and letting designers work at their own pace would be a really wonderful solution to keep fashion going when this is all over." Now more than ever, perhaps, it's time to slow down.