Courtesy of Jawara Alleyne
Designer Jawara Alleyne questions modern manliness
The CSM graduate tells elaborate stories about forest fires and pirates, rethinking masculinity in the process.
Courtesy of Jawara Alleyne
"I don't really work based on a concept. Instead, I develop the idea based on what I have in front of me," explains Jawara Alleyne. "I allow the fabric to tell the story it wants to tell, to become what it tells me it wants to be." If you're a fan of neat show notes and bullet point facts to accompany your collections, the Central Saint Martins MA graduate's response is just the sort that will have you chomping at the bit for a more 'concrete' explanation. Presenting things in their expected packaging is exactly what the young designer is not about.
Titled Self Made Man, Jawara describes his graduate collection as a meditation on men who forgo socially sanctioned templates of masculine identity to fashion their own. A diverse and deeply autobiographical body of work, it's an illustration of a journey of self-discovery that spans both Jawara's childhood between Jamaica and the Cayman Islands and his young adulthood in London. "I was always searching for myself and my identity, as growing up as a gay person in the Caribbean was quite a challenge," he says. "My work has always been a case of searching for who I am, and what other possibilities are out there for me." It was in the process of making Self Made Man, however, that he hit upon a eureka moment. "I realised that identity isn't something that you find, or arrive at. It's something that's constantly in the works, something you create yourself."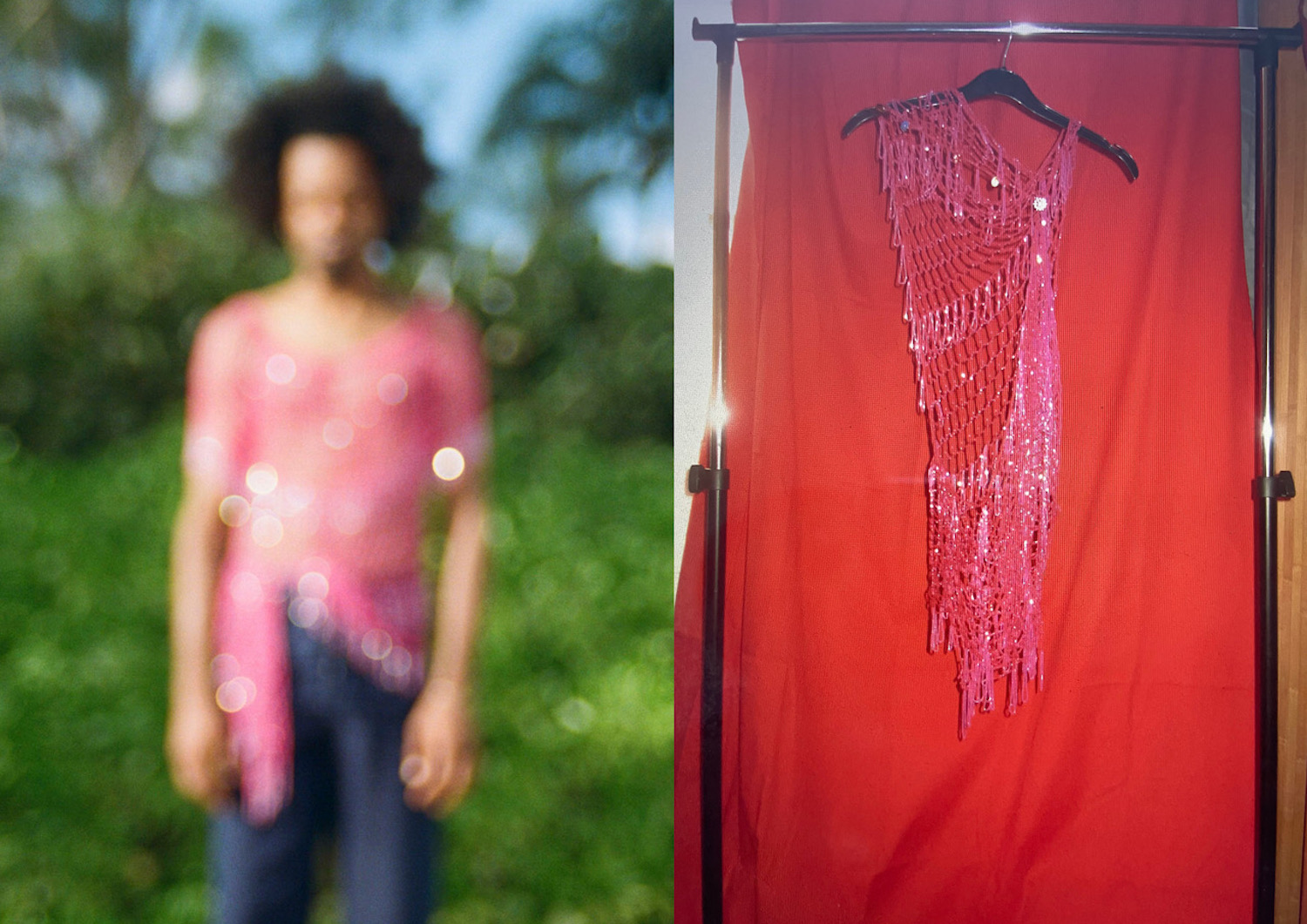 So how does that identity translate to actual garments on show? By way of an intuitive process, with each look coming to life as it of its own accord. Trousers, for example, are the result of experimenting with different pairs he had lying about. Spliced and draped, the resulting ragtag pieces combine suiting wool with denim or corduroy, undermining and reconfiguring the masculine stereotypes you might otherwise associate with the chosen fabrics -- clone-like businessmen filing out of a pre-Covid London rail terminal, or your average bro in blue jeans.
This formal subversion carries over into the young designer's 'handwriting', too -- it's seen in gentle, asymmetrical ruches on trousers in grey denim and sporty black nylon; a form-hugging repurposed brown knit top; or the slashed sleeves of a marigold satin blouse. They're techniques you don't usually expect to see in menswear, a sartorial genre more often predisposed to mathematical pattern cutting than to stream-of-consciousness style draping. "I studied womenswear before," Jawara says, "so my work also involves a lot of draping and other ways of working you might more readily associate with it."
But the hand-guided fall and drape of the fabric is far from the only mark of womenswear on his work. A self-avowed couture obsessive, particularly of John Galliano's Dior, Jawara has long envied the freedom in womenswear to communicate complex narratives. "I love fantasy, being able to create visual worlds through clothing, but that's something I feel is missing in menswear," he explains. "But there is a desire for it, men like stories, too."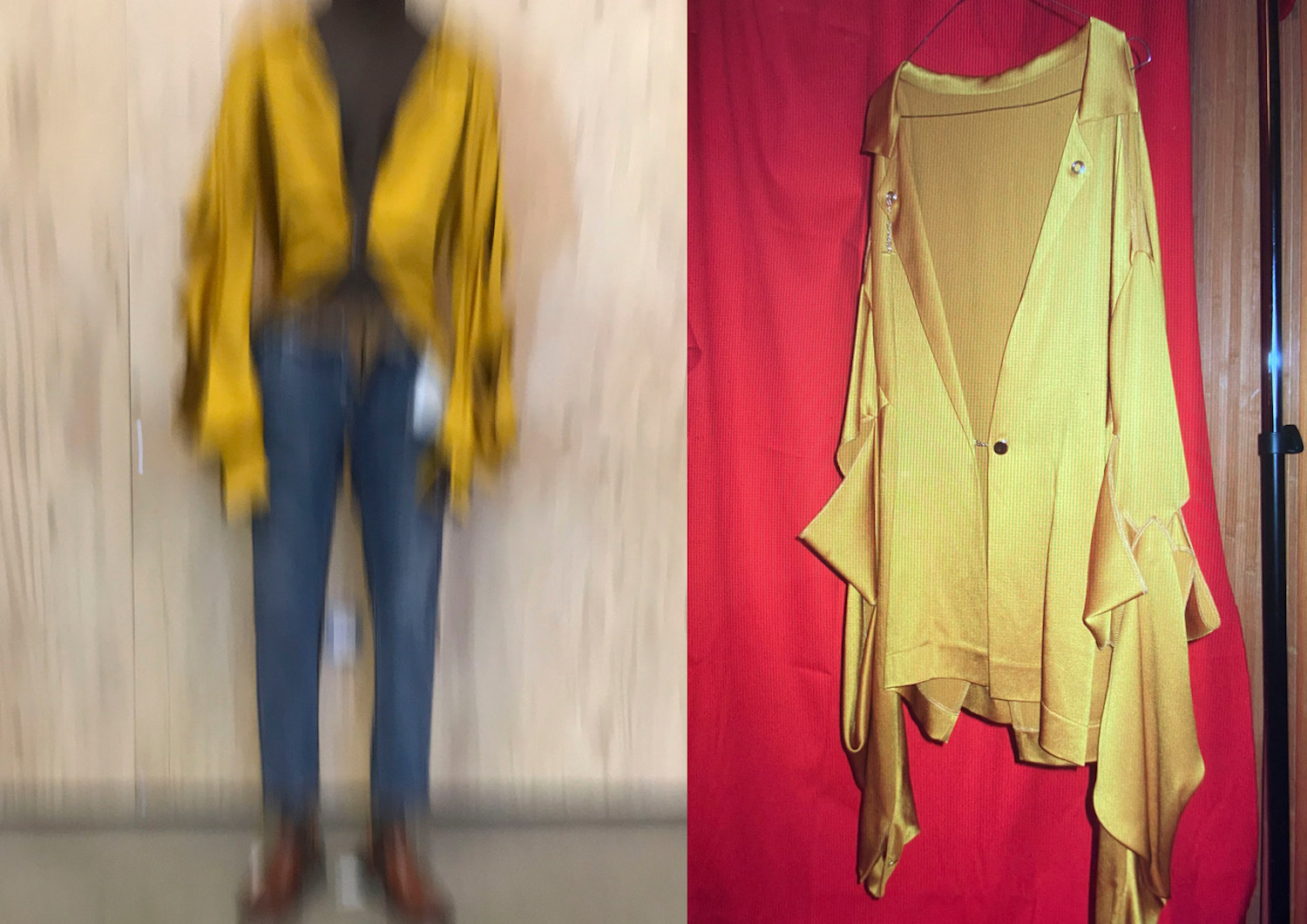 And the men populating the young designer's runway certainly have stories to tell. Two looks suggest buccaneering tales of the high seas -- one featuring a crumpled velvet bicorne and an open black shirt, the other, a stainless steel eyepatch and a headpiece with towering flares of feathers -- a homage to the queer punkish heritage of pirates. "It was about looking at characters in storytelling that don't play up to the rules of masculinity. Pirates are one of them, and I wanted to communicate this idea of a man who rebels and does what he wants. That's who I feel I'm designing for is."
It isn't all fleeting fancy though. Elsewhere, Jawara explores the collateral damage wreaked by unchecked masculinity on the face of the earth. A piece from his closing look, a full-hooded stretch mesh top patchily feathered to werewolf-ish effect, with puffs of flame hued feathers bursting through the furry black, is a case in point. It was intended as a commentary on both the fiery recklessness of certain testosterone-driven male politicians as well as on the natural catastrophes they've done little to help to curb. "A large part of my research included looking at the forest fires that were happening all over the world, and the blatant denial of politicians like Trump and Bolsonaro," he says. "I wanted to make a burning tree, but the look then merged with the werewolf look, creating a combined metaphor -- the wolfman symbolising the aggression of male politicians, and the tree as the result of that."
Beyond political and historical referencing, the designer draws upon observations from his Caribbean youth -- the many bats that populate Jamaica and his Rastafari father's crocheted cap, for example -- interrupting the cliche-laden visual vocabularies that fashion typically relies on to speak about life on the islands. "Very often, when you see Caribbean references on the catwalk, it's in a way that's so contrived. So I wanted to bring Caribbean elements into my work in a way that didn't feel too tokenistic," he says.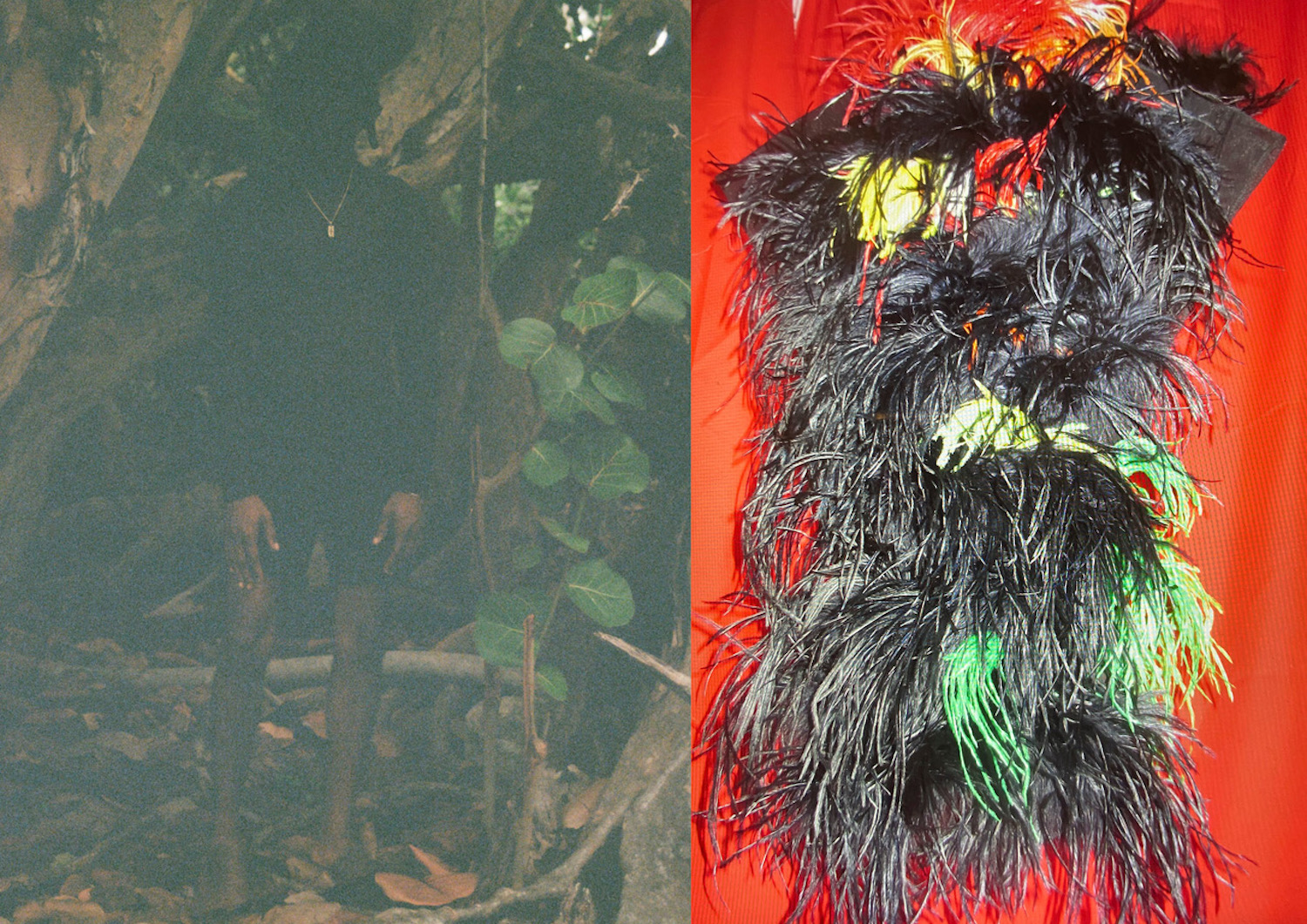 One way he did that was by integrating the aesthetic of so-called 'mad-men', seen in the abnormal styling objects that pepper the collection -- rainbow coloured umbrella hats, or a single shoulder-length lurex glove. "They just walk the streets and collect stuff. When you see them, sometimes they're wearing nothing, sometimes they're just wearing a bunch of random stuff. In my research, there was a really beautiful image of these people that society considers to be crazy, but there was almost this parallel of like 'are they crazy? Or have they actually figured it out?' I wanted to look at them alongside characters like the Griot storytellers in West Africa, as well as the oracles and prophets in Rastafarianism. The latter two have always been heralded for their clairvoyance, but there's a similarity in their outer appearance -- they all seem crazy, but they actually know what they're talking about."
The link between the ostensibly insane 'mad-men' and the 'self-made man' at the collection's heart may at first seem tenuous. Looking closer though, you quickly realise that they share common ground. Rather than conform to an 'approved' understanding of who they are and how they should express themselves, both are defiant in their acts of self-determination. In the case of Jawara's work, the off-kilter beauty that comes from that act confronts us with questions about why we find it so appealing -- or, if we don't, then why not. "I want people to ask questions when they look at my work," he finishes with. "I want them to question how they feel about masculinity, how they perceive manliness and how they act it out. How they view and judge people, all the way down to what they consider sexy or attractive."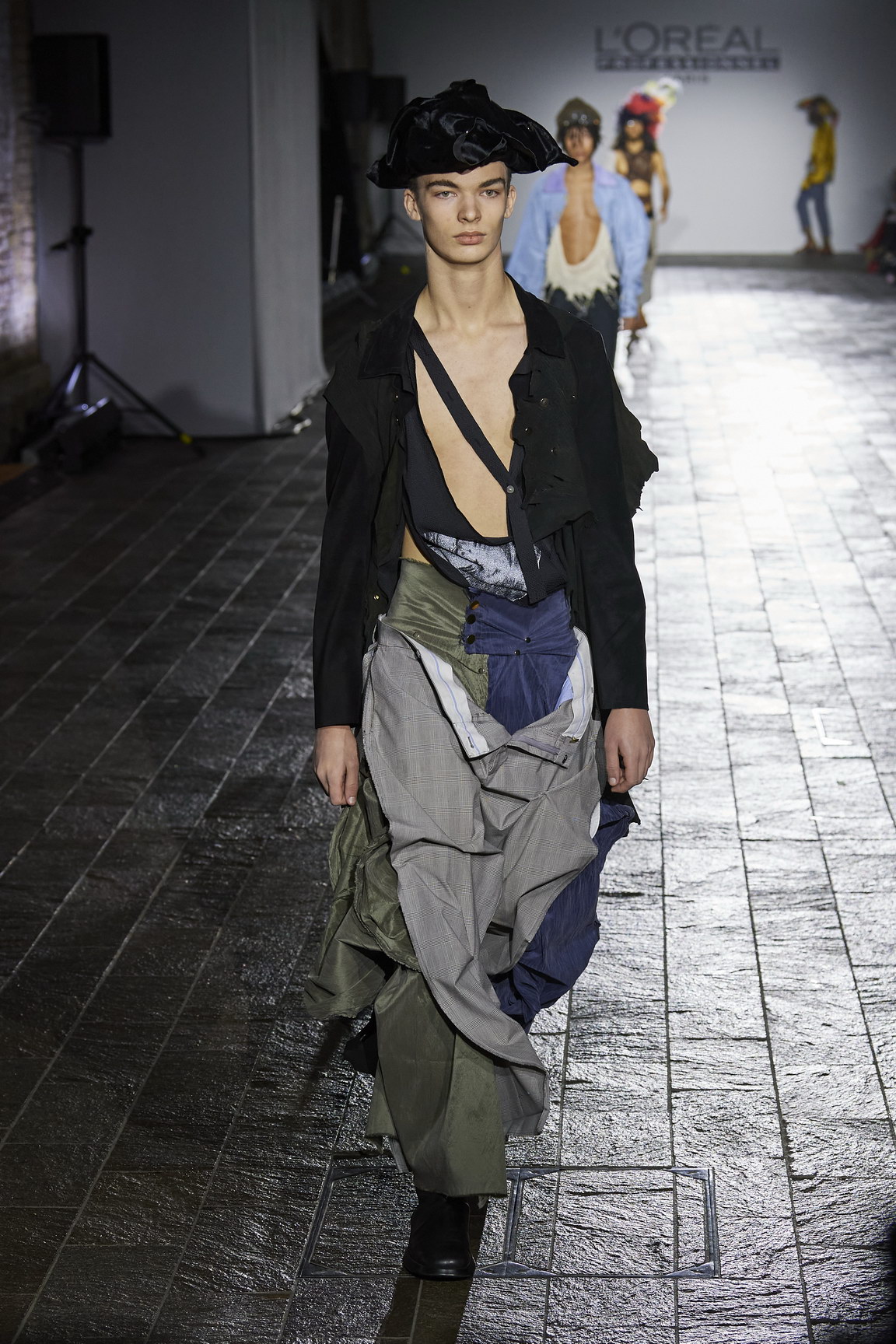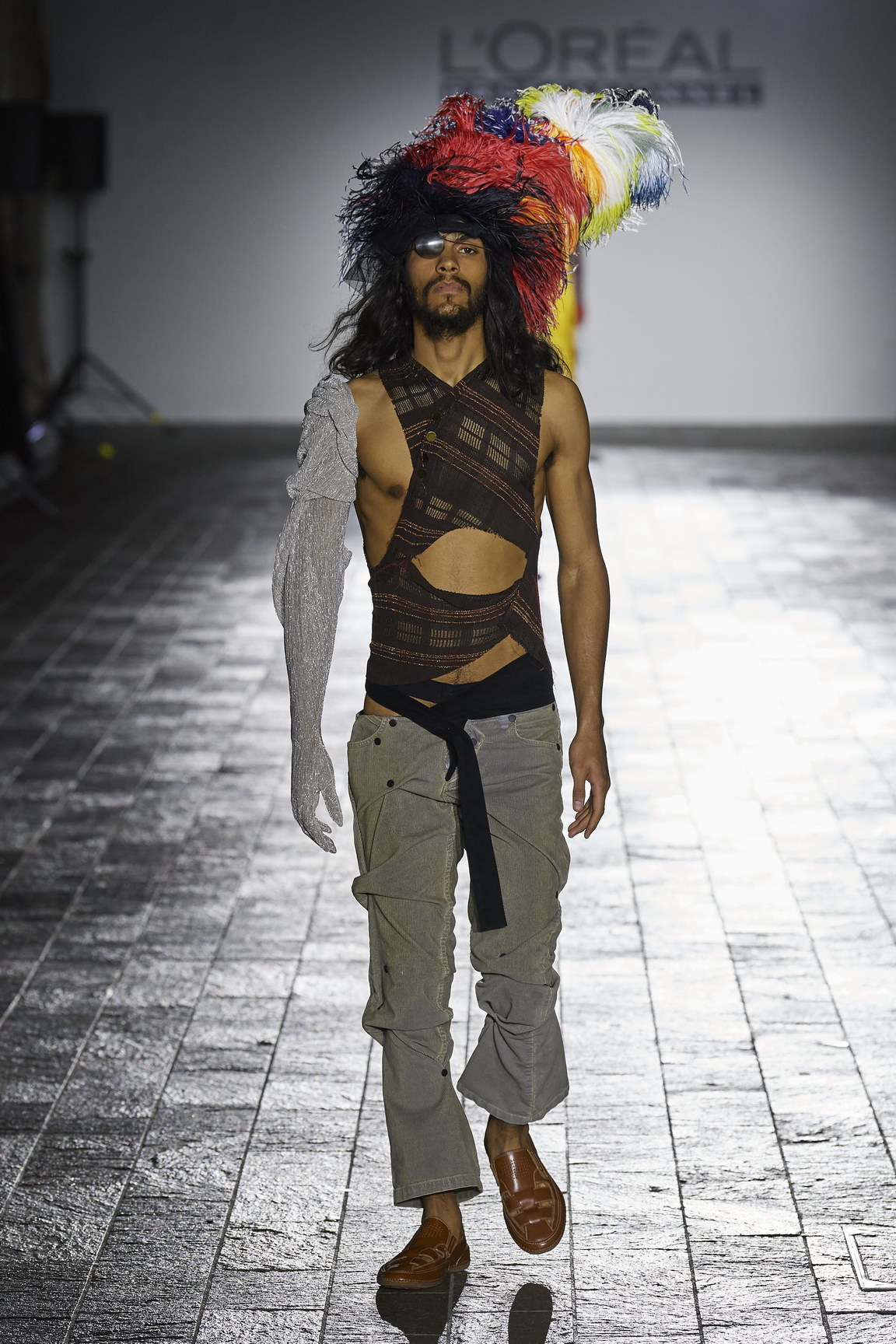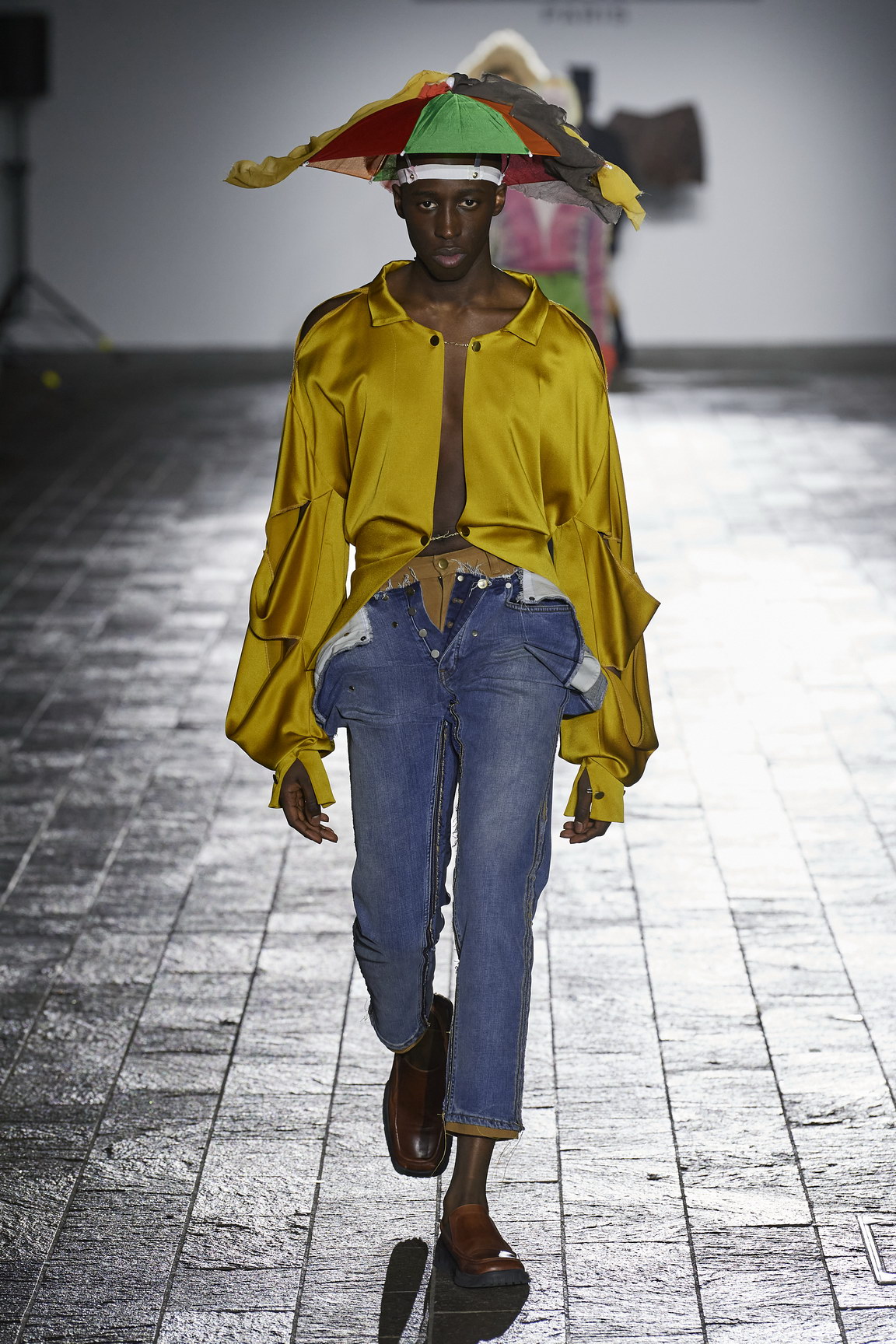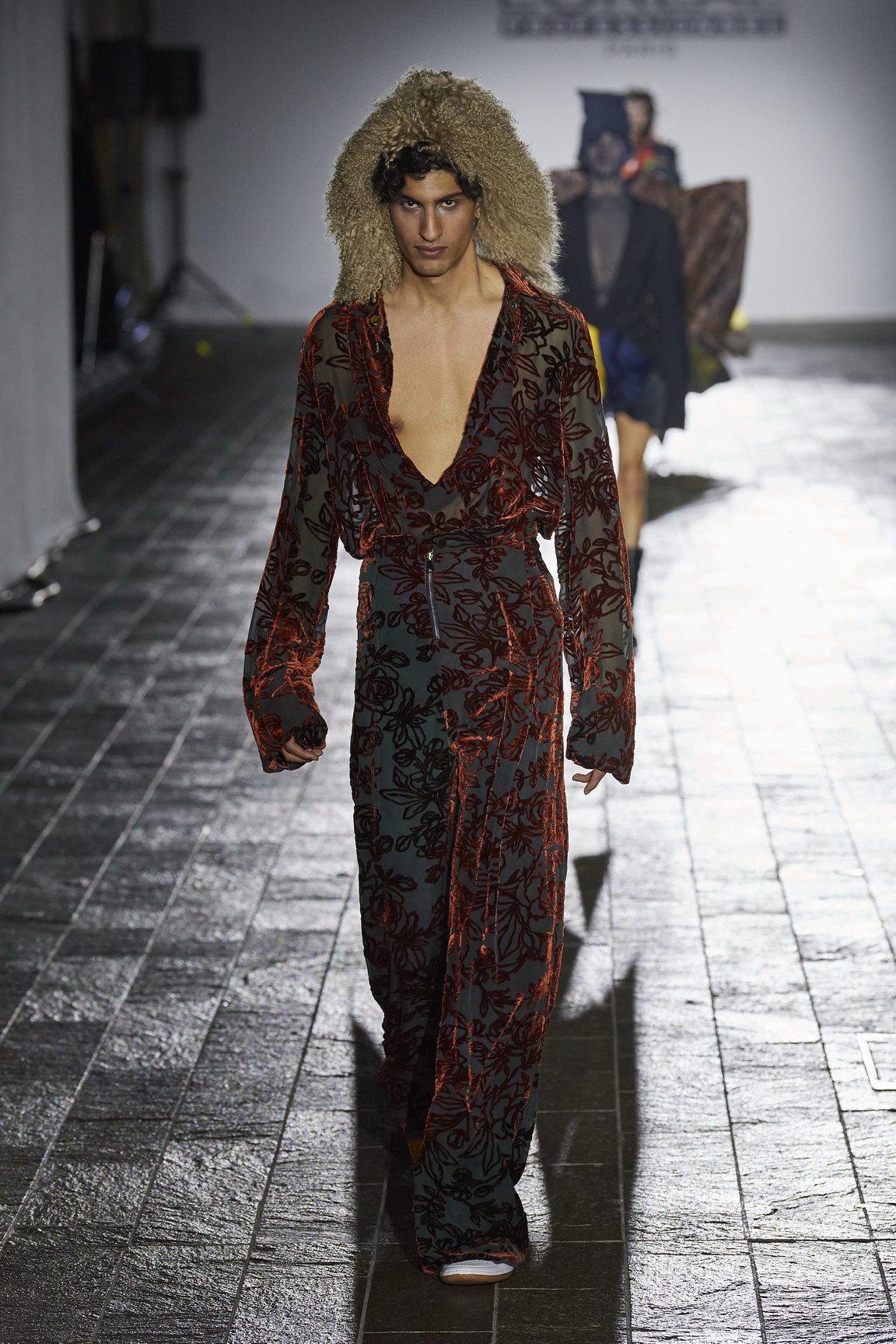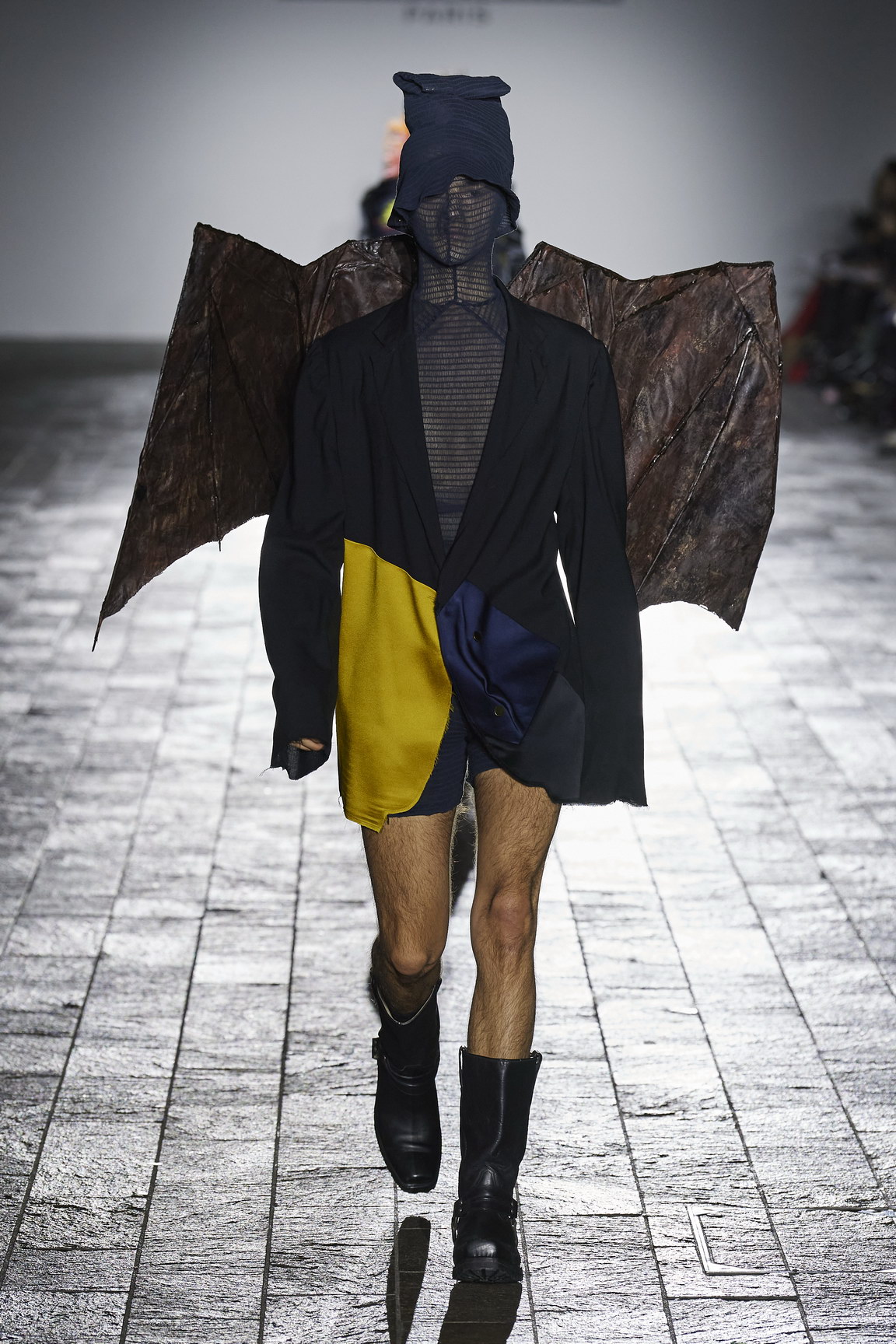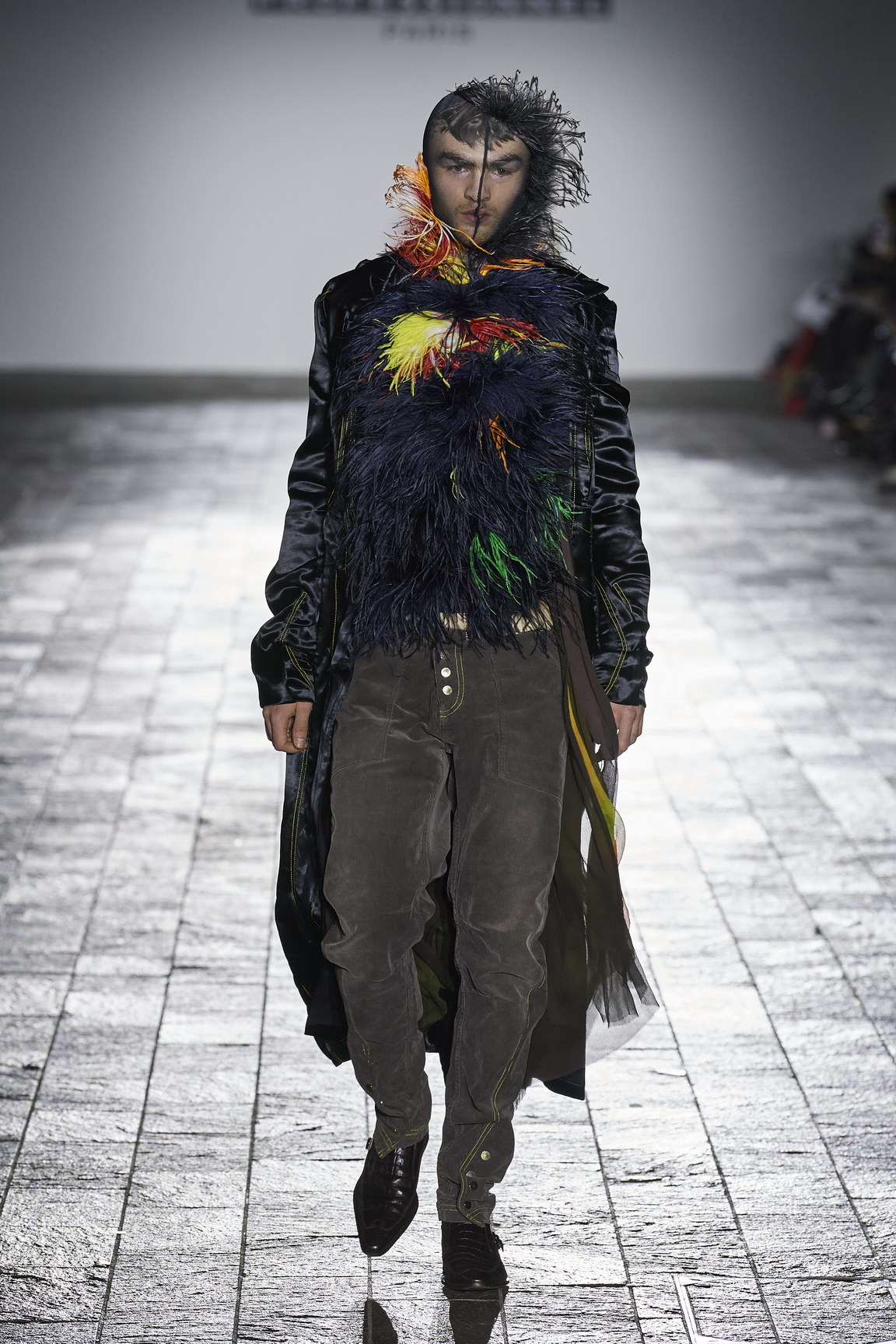 Credits
---
Lookbook imagery courtesy of Jawara Alleyne
Runway photography Mitchell Sams