070 Shake talks us through her debut album Modus Vivendi, track by track
"ENJOY THE TRIP LADIES AND GENTS TELL ME HOW IT GOES"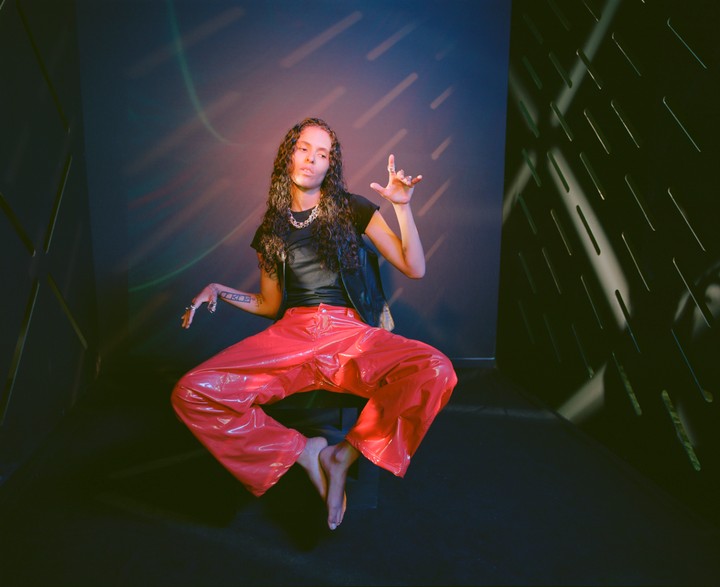 Modus Vivendi. It's a Latin phrase referring to an arrangement that allows conflicting parties to coexist peacefully. It's also the title of New Jersey artist 070 Shake's long-awaited debut album, out today on G.O.O.D Music/Def Jam. The cinematic record -- a follow up to Danielle Balbuena's 2018 EP, Glitter -- is an emotional synth-heavy opus partly produced and mastered by Mike Dean, who has previously worked with Frank Ocean, Travis Scott, Kanye West and The Carters. Phew. It was Kanye, of course, who rapidly elevated Dani's accent via a feature on 2018's "Ghost Town" alongside one of her heroes and yours, Kid Cudi.
Much like Cudi, Dani is a master of writing brutally honest lyrics about difficult topics. Across Modus Vivendi she shares her experiences of craving something desperately, learning to put her ambition first, finding herself in a twisted love story, and the inevitable fallout that ensues. Listening to it feels therapeutic, with Dani right there holding your hand through it. "I just really go with how I feel in the moment, and then that's where the writing comes from," she says. "It's like an ongoing disperse of words when I feel something. I want it to make a change in the world. The agenda is bigger than just music."
Press play and let Dani break it down, track by track...
1. Don't Break the Silence
"I started with "Don't Break The Silence" because the album is something that is best received with complete focus. Listen and visualize instead of speaking."
2. Come Around
"It's about desperately wanting something to the point that you need it to survive."
3. Morrow
"Morrow is about appreciating someone while they are physically there with you."
4. It's Forever (Interlude)
"This is the intro to Rocketship."
5. Rocketship
"Rocketship is about not allowing anyone to stop your momentum and longevity."
6. Divorce
"My perception of marriage is not surface love. Our spirits are not one but our money is. People that don't love each other like they used to but stay together because that is what they are used to."
7. The Pines
"The Pines is a twisted love story and also is the beginning thought that leads into "Guilty Conscience". This is the part of the story where you start asking questions, 'Where did you sleep last night?'."
8. Guilty Conscience
"This song continues the story from "The Pines" and is about the moment when your intuition is reassured by your conscience."
9. Microdosing
"We know too much of anything isn't good. This song is about not giving your all to another person so you have some for yourself."
10. Nice To Have
"I don't think people realise the importance of human companionship. When we are with others it reminds us of who we are. We use people as a reflection of ourselves, so it's always nice to have somebody."
11. Under The Moon
"It reminds me that we are all in this together because we are all under the same moon. Nobody is ever too far away because wherever you are when the night falls we are looking at the same moon."
12. Daydreamin'
"This song is about me never really being where I am. There is another world inside my head."
13. Terminal B
"This one is about having a connection with a specific soul. One that you can't seem to find anywhere else and you hope to have that connection forever. "
14. Flight319
"This last one is one of the more lyrical songs on the album. I wanted to end with consciousness about the trinity, mind, soul and body -- hence the three and the nine."
Tagged: