Photography Darian DiCianno/BFA.com
Talking to Eckhaus Latta about their SS21 show
Mike Eckhaus and Zoe Latta on community, dressing with ease, showing under the Manhattan Bridge, and New York City in the midst of the pandemic's first fashion week.
|
23 September 2020, 10:47am
Photography Darian DiCianno/BFA.com
Despite the way 2020 has thrown the fashion industry on its head, upside down or even up in the air, designers Mike Eckhaus and Zoe Latta, the duo behind Eckhaus Latta, are more grounded than ever. "For us, it was really important that the show spoke to our current reality and not this sense of escapism that I feel often — [that] even our shows play into," says Mike, via Zoom, of the label's recent spring/summer 21 outing. So what does our current reality look like, through the eyes of Eckhaus Latta? In some ways, the same as it's always been for the label: communing with friends, dressing with ease.
Established in 2011 by the duo, two graduates of the Rhode Island School of Design — Mike in sculpture and Zoe in textile design — Eckhaus Latta has fully embodied the notion of a creative community since its inception. Collaborating with their circle of creative friends — from scoring a short film with Dev Hynes to casting friends and acquaintances in their runway shows — is integral to the brand's DNA. "It is core to what we do," Mike told i-D in 2017. "We have been collaborating with friends and people within our community since day one."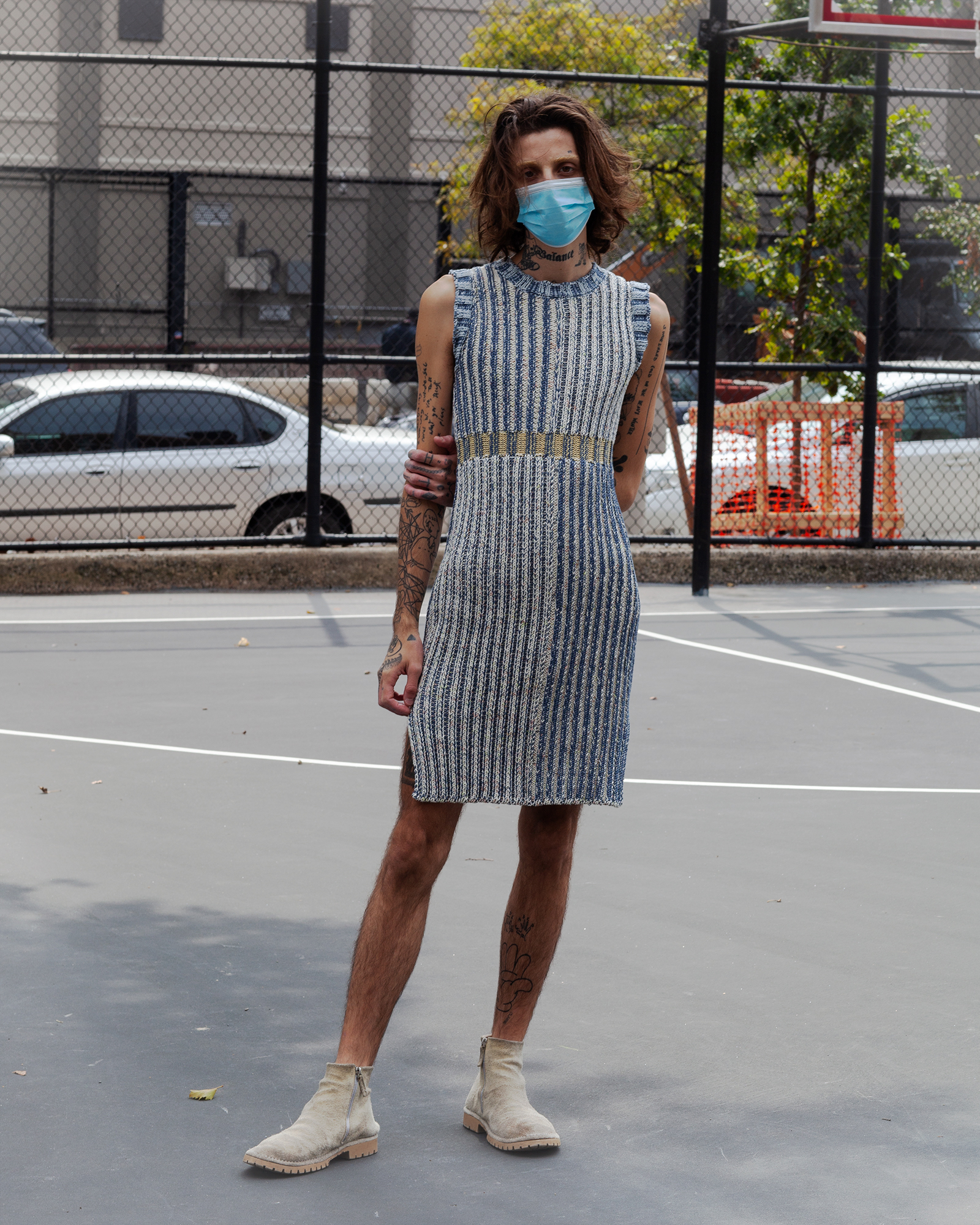 For their SS21 showing, the duo extrapolated this sense of community to its most elemental of forms. Simply, the act of communing. And what better way to commune with one's friends, in New York City — where one-half of the bi-coastal label is based — during a pandemic, than a stroll by the East River? Broadcast via livestream on Instagram, the label's NYFW runway show was held on a well-trodden walkway beneath the Manhattan Bridge. "Right now, leisure life is limited," Mike says. "In New York, you go on walks with friends or you go to a park. Within the show, we wanted to portray that pedestrian sense of just going for a walk. Holding the show on a bike path along the water felt apt for the moment."
Within this context, the duo's proclivity to cast friends — model Paloma Elsesser, actresses Hari Nef and May Hong, photographer Cruz Valdez, artist Torey Thornton — seemed to hold more weight than seasons past. "This season we wanted to cast a lot of friends and people within our circle," Mike says. "To have this continual beating of the drum that this is a community." As the label's cast of familiar faces took to the paved catwalk — or a socially-distanced stroll, depending on how you look at it — they were joined by other New Yorkers, communing as well: a father pushing a stroller, a woman on FaceTime.
More so than the show, perhaps, the clothes themselves spoke to our current reality. In Mike's words, quite literally. "Given the shift of global circumstances over the past six or seven months in developing this collection, we didn't want the collection to be a proposition for what our lives might be in six months because none of us have a grasp on what that will be." While presented under the umbrella of the SS21 season, the collection was full of clothes very much for the 'now.' In Mike's words, "Clothes with a relaxed quality, an ease to them." In other words, garments for spending more time at home, curled into states of repose; easy layers for walks or picnics with friends; clothes for comfort and being a little more gentle with ourselves. The season's tailored knitwear — a particularly handsome knit blazer and drawstring pant comes to mind — illustrates the concept. "They have a more relaxed, casual quality," adds Mike, comparing these pieces to the more architectural tailoring the brand has explored in recent seasons. Speaking most directly to our immediate reality, however, were the label's face masks, some crafted from the season's floral-printed knit, some from its signature space-dyed fabric.
Upholding their dedication to textile experimentation, the duo explored the art of crochet with this collection. Intricate tops and skirts — like the multi-coloured opening number worn by Paloma — looked to be patchworks of doilies, the ends of table runners, no doubt inspired by the home textiles of stay-at-home orders. Elsewhere, gingham dresses featured handkerchief-cum-picnic-blanket hemlines, recalling Mike's reference to park meet-ups.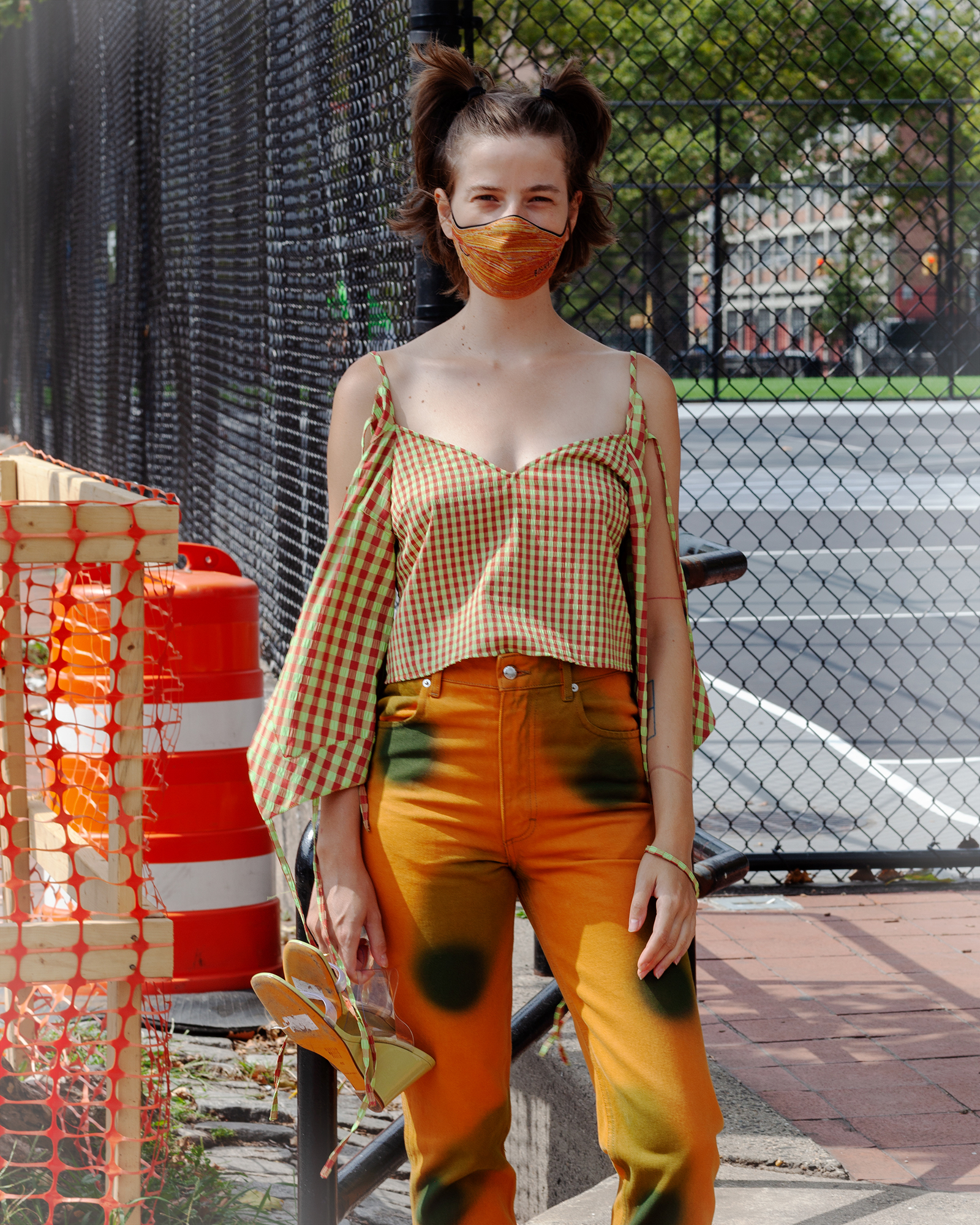 While many labels have had to adapt to creating and collaborating from a distance amidst the pandemic, Mike and Zoe were already well prepared. Since 2014, the label has been operating across coasts and at a distance. "Working in this manner is rather common for us," Mike says, when asked whether social distancing measures affected the way the label's most recent collection took shape. "I think it was a bit more challenging for our two coastal teams, at times. But as a whole, it wasn't something that put us upside down."
The future of fashion is nebulous, but like their spring/summer 2021 outing, Mike and Zoe are firmly rooted in the present. "Right now, it's about being perceptive — maybe more perceptive than we've been in the past," Mike says. "You really have to have your ear to the ground at the moment. We're trying not to bite off more than we can chew. Trying to shed old habits and forming new ways of working to suit the times."