10 important things you probably missed in Beyoncé's Black Is King
How many of these cultural references did you notice?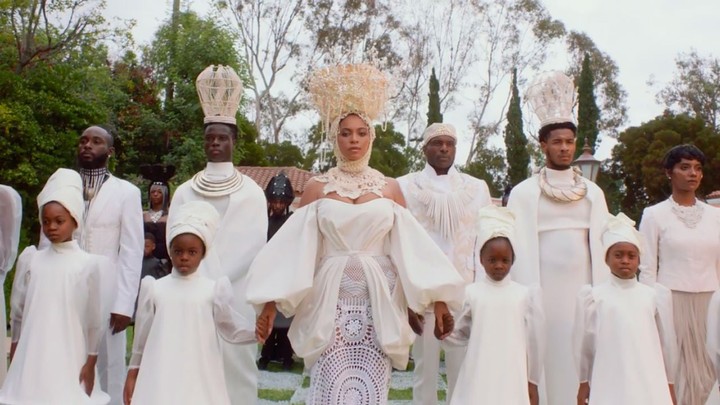 On 31 July, Beyoncé released her highly-anticipated visual album Black Is King. The 85-minute film showcased Black excellence in all its glory: highlighting African culture and spotlighting Black royalty. Created by and starring a host of majority Black creatives -- directed by Bey alongside Jenn Nkiru, Kwasi Fordjour, Emmanuel Adjei, Blitz Bazawule, Ibra Ake, Jake Navam, Pierre Debusschere and Dikayl Rimmasch -- the iconic artist achieved exactly what she set out to do, showing that "the people left most broken have an extraordinary gift and a purposeful future".
From bringing Nala to life in the 2019 reboot of The Lion King, to writing the accompanying album The Gift, and now bestowing a whole record's worth of stunning music videos upon us via Disney+, Beyoncé has truly gone above and beyond. But honestly, would you expect any less from her?
Clouding the release of something so pivotal was a lot of uproar and confusion as to why exactly Beyoncé was delving into African cultures — with some even going as far to suggest that she was capitalising off Africans while failing to accurately represent the continent. Regardless of your takeaway, Black Is King is undeniably visually rich and full of celestial themes, religious imagery and African symbolism. Here are 10 key details you probably missed during your first-watch.
Celestial themes, religious connotations, African symbols, significant background easter eggs, cultural moments -- Black Is King has some real hidden gems. Here are 10 key details you probably missed during your hysterical first-watch of the already iconic visual album.
1. The bodybuilder Ernestine Shepherd flexing
Talk about fitness motivation. The world's oldest female body builder, Ernestine Shepherd is depicted in the film, and at 84 years young, she is still as fit as ever. Beyoncé is someone who has a reputation for not discriminating stars in her videos because of their age, choosing to represent all walks of life. Ernestine appears in the "My Power" video.
2. A replica of Madam CJ Walker's house
Did you spot the replica of Madame CJ Walker's house? In "Mood 4 Eva" we're introduced to a gathering of people standing around the compound of Villa Lewaro, the house owned by America's first self-made female millionaire, Madame CJ Walker, back in 1918. As Black Is King is based around beauty being in the eye of the beholder and the Black community -- Madame CJ Walker embodies this.
3. Recurring celestial and spiritual themes
The bright opening to "Bigger" is pure Afrofuturism. With everyone dressed in white (hello Solange's wedding!) it resembles the traditional clothing of some African churches. In this segment, Bey cradles the baby and goes to wet his head alongside other mothers -- again echoing the tradition of naming ceremonies. The celestial theme comes up again in "Find Your Way Back" and "Spirit" as a whole galaxy opens up at Beyoncé's feet and through the heavy use of stars and moons in the visuals.
4. Donald Glover art
Admit it: who missed the huge portrait of Donald Glover in the "Mood 4 Eva" video? Although not physically in the film, the actor and musician more commonly known as Childish Gambino -- who features on the track and voices Simba alongside Bey's Nala -- is represented here. Skip to 30:45 to see him looking effortlessly stunning in the portrait. Musicians that do appear in the video IRL include African artists Shatta Wale, Yemi Alade, Wizkid, Mr Eazi and Tiwa Savage.
5. African masquerade representation
Burna Boy, who is from southern Nigeria and has previously referenced Igbo culture in his music videos, features on Black Is King album track "Ja Ara e". In the accompanying visual -- showcasing Mmanwu, a traditional Igbo masquerade -- Beyoncé represents all types of African culture. While the Mmanwu masquerades were traditionally performed by men in exclusive secret societies to invoke ancestral spirits, in this performance the women are also covering their faces, opening up the masquerade.
6. Jamaican synchronised swimmers
There aren't a whole lot of Black people involved in the world of competitive synchronised swimming, so when Beyoncé chose to spotlight a group of Jamaicans in the sport, she celebrated the underrepresented as well as the extraordinary.
7. Black Flag -- no, not the 70s punk band
At 42:13, you'll see an American flag stylised in Pan-African colours of black, red and green being carried by a Black community. It represents African culture and nods to Marcus Garvey, a political activist and Jamaican native who designed the Pan-African flag back in 1920 and was committed to ensuring African-Americans secured financial independence from the white-dominant society.
8. Albinism is represented and colourism is tackled
In some instances within African culture, albinism has led to persecution or even death due to the belief that the body parts of people with albinism have magical powers. This horrific superstition still exists in some places today. By representing a broad range of African people, Beyoncé shows that those with albinism are loved too, regardless of their condition; that they are just as Black as the darker skinned people depicted. Bey has also cast dark skinned South Asian women in the visuals -- her way of subtly ushering a "fuck you" to colourism in different communities.
9. The blue man that follows Bey
22-year-old Stephen (Papi) Ojo, a Nigerian-born artist, actor, model and choreographer -- who has previously performed with Rihanna and Janet Jackson -- follows Beyoncé through the entirety of the visual album. Appearing as 'The Blue Man' he represents conscience as they dance alongside one another.
10. All about the hair!
Following in the footsteps of her sister Solange -- who laid down the ultimate reclaiming of Black autonomy with 2016's "Don't Touch My Hair" -- Bey celebrates Black hair throughout the project. In fact, her braids in the video are basically longer than her already incredibly lengthy career! "Systematically, we have had so much taken from us," says a voice in the airy scenes after "Brown Skin Girl", highlighting how Black culture -- our lips, our style, our hair -- is so frequently replicated but rarely credited by the caucasian community. In doing so, Beyoncé reminds us that our culture is still our own.