Photograph courtesy of Lotta Volkova
Lotta Volkova's Adidas Originals collaboration is the ultimate summer fit
The Russian stylist tells i-D about finding inspiration in the sporting activities of her youth.
Photograph courtesy of Lotta Volkova
Lotta Volkova's last appearance in i-D was styling festival-chic for 2019's Summer Issue. With festivals decidedly off the table this year, alongside most mass gatherings, the stylist is currently holidaying in Italy and hopefully enjoying the hysteria around her new Adidas Originals collab. Mint green wide-legged tracksuits, bold thigh-high leg warmers, and platform slides all feature -- this is definitely not your average delve into the archives. "I feel sport has been a big part of everyone who grew up in Russia and I have always been attracted and fascinated by that world," Lotta says. A perfect match!
Read on to discover how Lotta was inspired by the brand's very first tracksuit from the late 60s, classic sportswear colours, and the various sports clubs she was a part of growing up… including figure skating, naturally.
Adidas x Lotta Volkova is available online from today.
How are you, and where in the world are you right now?
I am great and finally on holidays in Puglia, Italy
Did Adidas feature in your wardrobe before this project? Everything in the collection feels very personal.
Yes indeed — Adidas Beckenbauer jersey track pants in their different interpretations have always been a favourite of mine.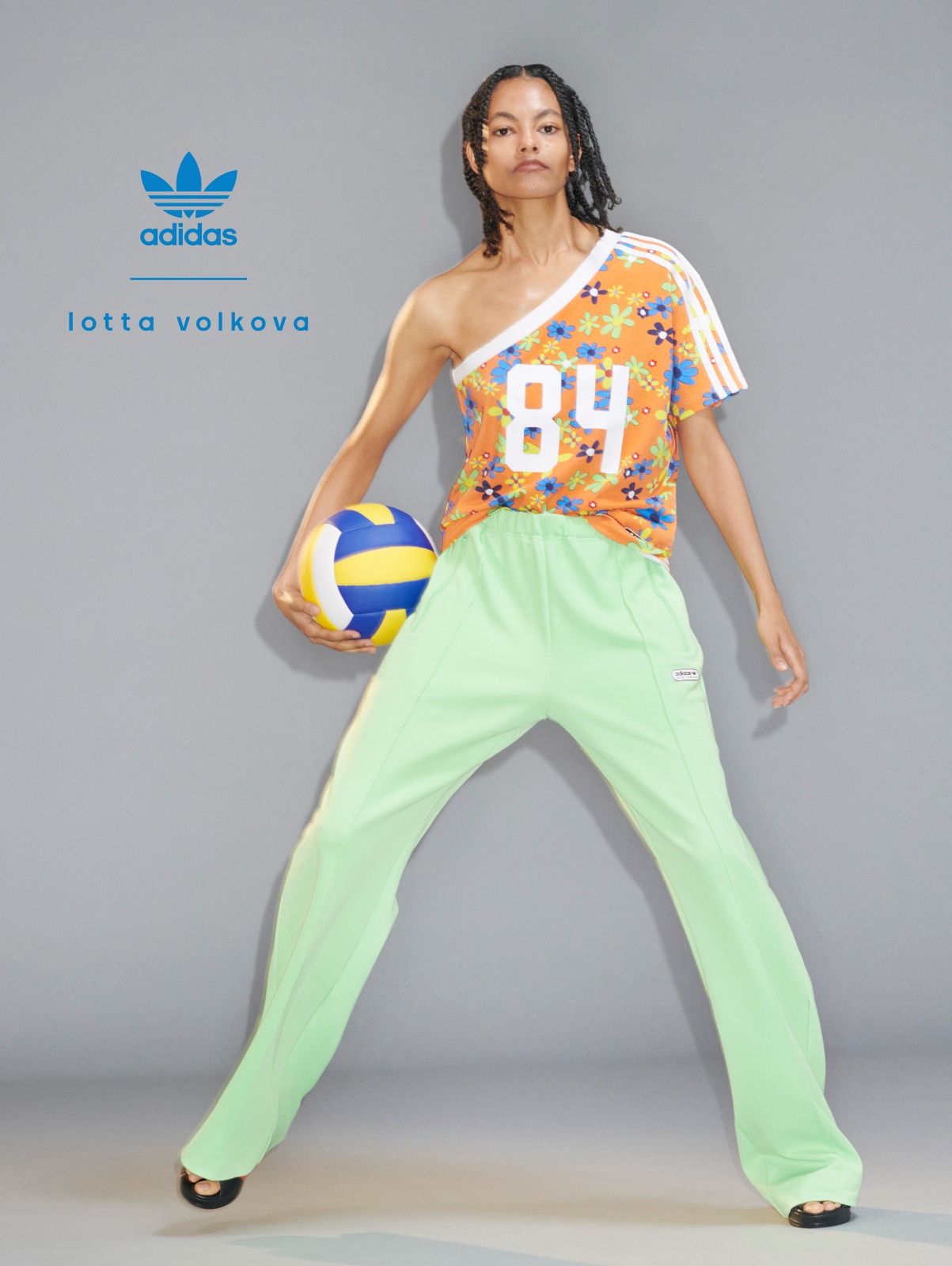 What was the world you were imagining for the collaboration? You get a sense of different characters from Johnny Dufort's photos of the collection.
Johnny and I always like to explore different characters in our work. In this case, it was playing with different sportswear activities and bringing these items back to their original inspiration. Regarding the collection itself, I like that it is very versatile and can be worn within a sports context as well as a more casual and chic look. My favourite pieces are the zipped windbreaker jumpsuit, jacket and shorts — I have been wearing these non-stop on different occasions over the last few months. I like the DIY aspect of the applied hardware zips because I feel they could've been customised by one of the members of [London punks and Sex Pistol stans] Bromley Contingent in the 70s. But this is just my fantasy of course.
What informed the distinctive colour scheme?
I felt it was important to stay true to classic sportswear colours — red, white, different shades of blue and navy. The mint green came from the first tracksuit ever made by Adidas in late 60s.
Did you get to delve into the Adidas archive? What inspired you from it?
I was inspired by Adidas's heritage and digging out the earliest pieces of clothing Adidas has ever produced, like the green tracksuit. Regarding footwear, I was interested to see if Adidas has ever made a heeled shoe, and we discovered the trefoil mules that provided inspiration for the Adilette.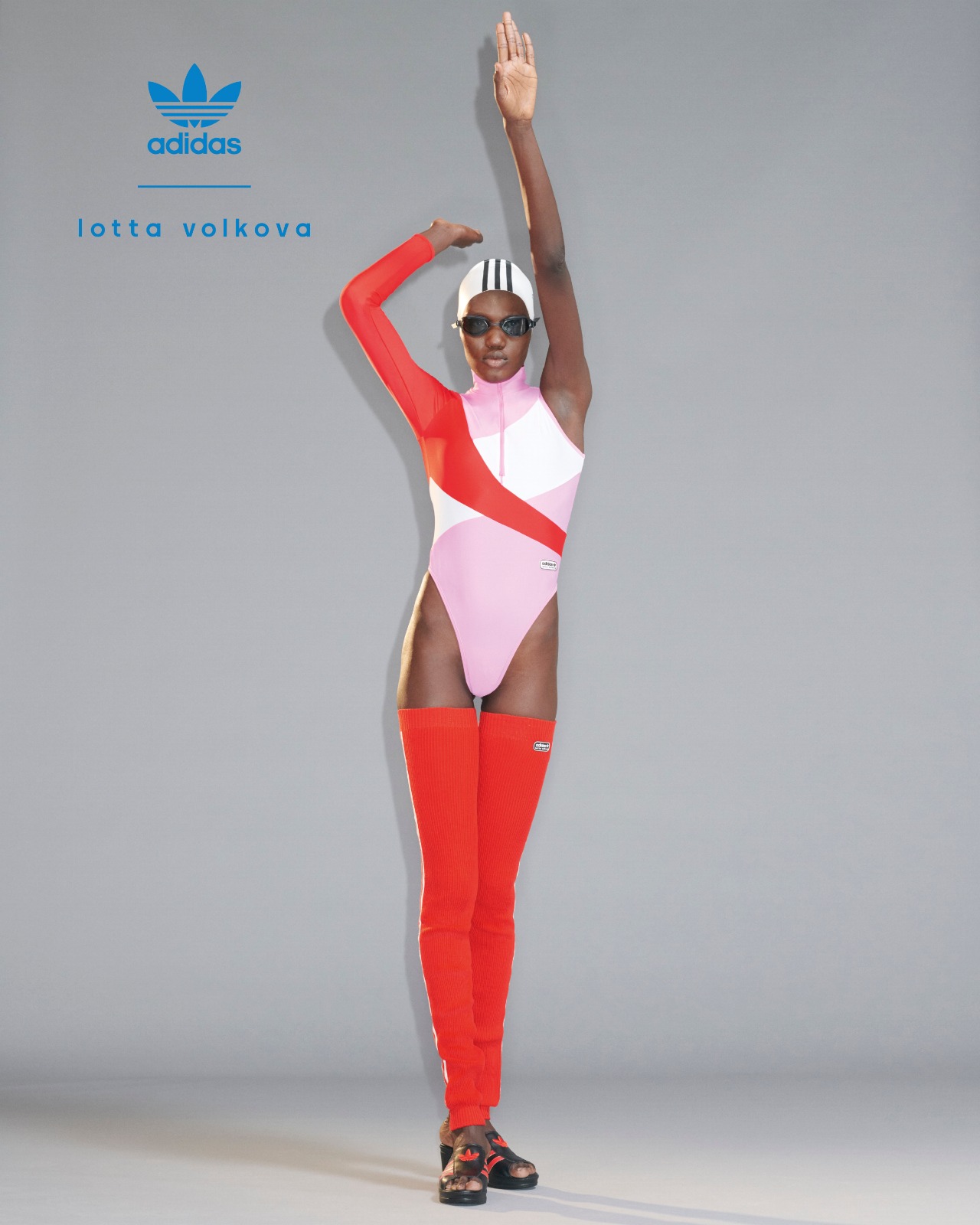 Who is your sporting idol, if you have one?
As a child I was dragged to various sports activities including karate (which lasted about two classes for me), gymnastics (which I favoured quite a lot), figure skating (a favourite of my grandmother who was very determined) and running. So we always looked up to sport idols. My personal favourites have been gymnast Svetlana Khorkina, boxer Natalia Ragozina and tennis player Anna Kournikova.
What sporty activities would you recommend we do while wearing the collection?
You can do pretty much anything as well as wear it off court ;)
Where is a good place to wear the swimsuit to? It also looks like it would make a good evening ensemble!
You can wear it to the beach as well as out as a top with your personal choice of a pairing bottom.
And most importantly: what would you recommend we listen to while wearing your collection?
"Accelerator" by The Future Sound of London or The Fifth Element original soundtrack by Eric Serra.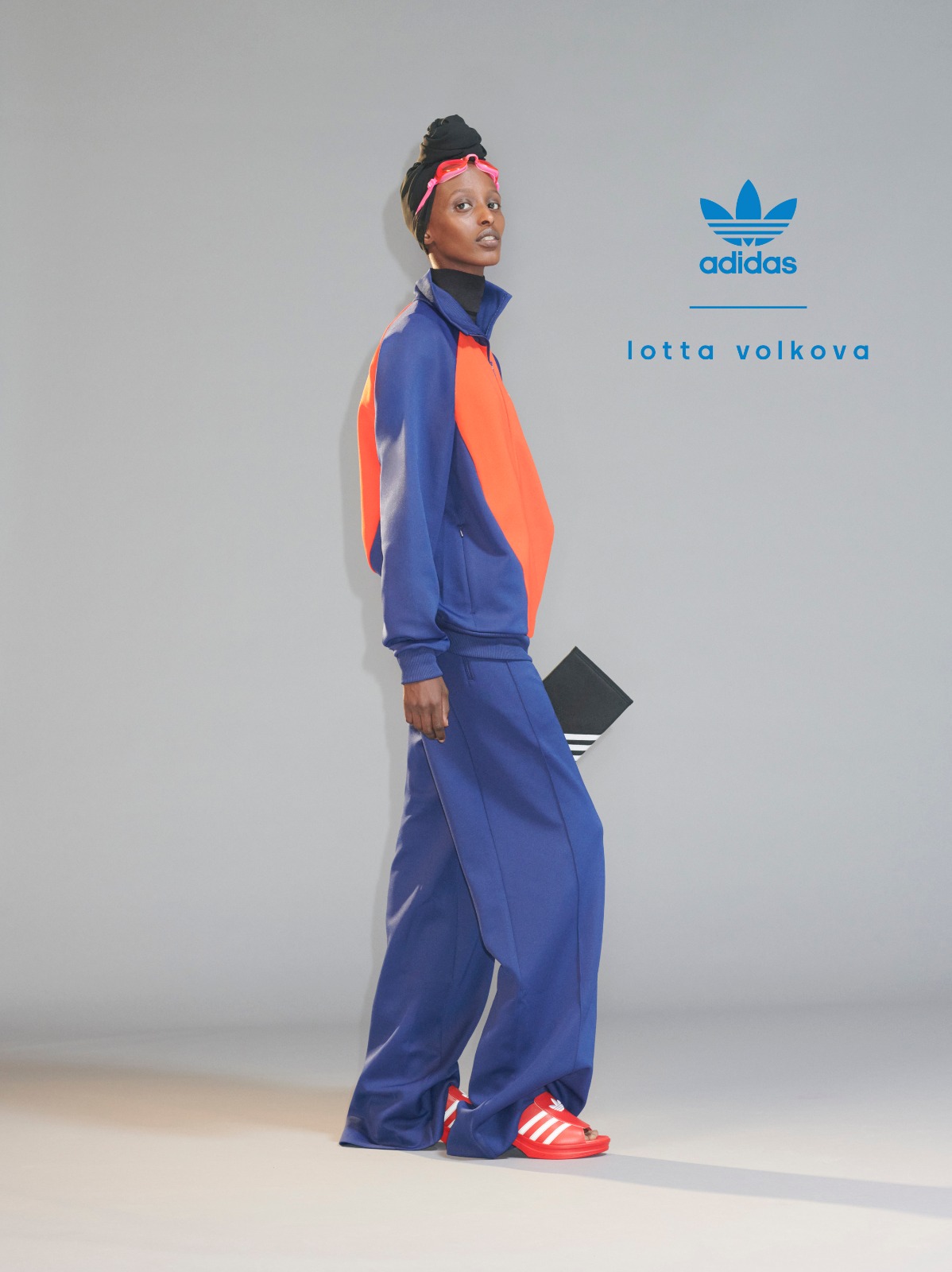 Tagged: