Meet the designer behind Instagram's favourite accessory
T Label founder and 'glove lady' Taylor-Bea Gordon speaks about her viral gloves, sustainability and the power of social media.
Every garment that Taylor-Bea Gordon creates is steeped in sentimentality, the way that a love letter might be perfumed with eau de toilette, or the way an antique blouse is covered in years. And this sentimentality is exactly what lies at the heart of Gordon's womenswear mark, T Label, and its 'romantic wear'. Clothing with past lives: intricate leather ballgowns conjured from leather samples, skeleton corsets from reanimated antique frocks, and, of course, those ethereal gloves, crafted with care from deadstock silk organzas or a shock of fluorescent pink tulle, which seem to float like a dream across the wearer's hands. They don't call Gordon 'the glove lady' for nothing.
Gordon was born with the enormous urge to create. Growing up an only child, she entertained herself through acts of imagination: drawing, playing dress up and conjuring sculptures from cardboard boxes. When she grew up, this nascent creativity led her to Central Saint Martins, where she developed the concept for T Label -- front to back -- as part of the Fashion Design and Development curriculum. What began as a mere school project has become Gordon's own passion project. "I put a lot of research into T Label during my years of college and I didn't want to just leave it behind," Gordon says. After a stint at Alexander McQueen, she moved back to her native Birmingham, where she now runs T Label, single-handedly, from her home studio.
Under T Label, Gordon designs what she calls "romantic wear", a category of clothing that, much like any other '-wear' (casualwear, sportswear), inhabits its own well-defined bubble. Unlike, say, eveningwear, however, which is defined by aesthetic conventions (dresses and heels, formal fabrics like satin, statement jewelry), romantic wear is characterized by a mood. Gordon explains: "It's about an emotional, sentimental connection to your garments and the stories behind them."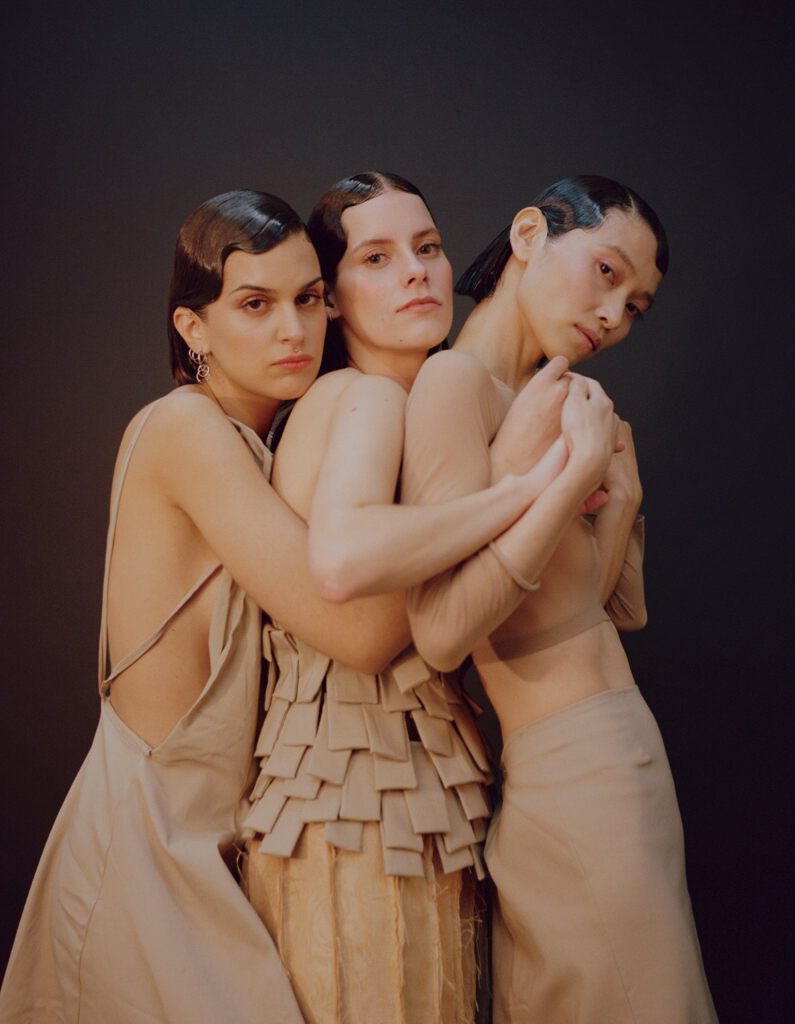 The character of T Label's romantic wear can be likened to the preciousness of a well-worn vintage piece. The sentimentality that a garment accumulates -- like tears or stains -- over decades, that lingers from a past life. Gordon is well-versed in the pathos of antiques. In addition to sketching and sculpting, the designer spent her teenage years hunting for treasures in vintage boutiques and charity shops. "I like vintage because it's from an era we don't know and we haven't been," she says, "It's quite magical to put yourself in that environment, in a way." She then waxes on the ritual of adopting a new vintage piece, how we handle it with reverence and gentleness: "Unravelling the garment once you get home. You try it on and once you have it, you learn so much more about it. Quirky finishings, unusual details, pocket linings that are considered. That's the connection I want to make with romantic wear."
The fact that T Label's garments carry this sort of arcane, antique appeal, is no coincidence. Many of Gordon's creations are upcycled from vintage, themselves. While interning at Acne Studios in Sweden, Gordon frequented a charity shop rife with embroidered dresses that could be taken apart and then meticulously reassembled, bead-by-bead, into a corset or a bra. These gossamer beaded pieces, which float around the body, as if by magic, seem to retain the mystique of their previous incarnations.
Beyond vintage, Gordon's romantic approach to design flows into the everyday, through bouts of happenstance or acts of imagination. A balloon sleeve jacket and skirt from the label's spring/summer 20 collection was made from a roll of upholstery fabric Gordon stumbled across in her grand-dad's attic, left there by a former tenant. Other garments are pieced together from found objects and quotidien items that have piqued Gordon's imagination. She's kind of a magpie, or as she puts it, with a laugh: "I am a bit of a hoarder." She continues, "Most of my design is led by what I have around me. When you upcycle you are quite limited, so you look at what you've got the most of, what would be interesting to work with."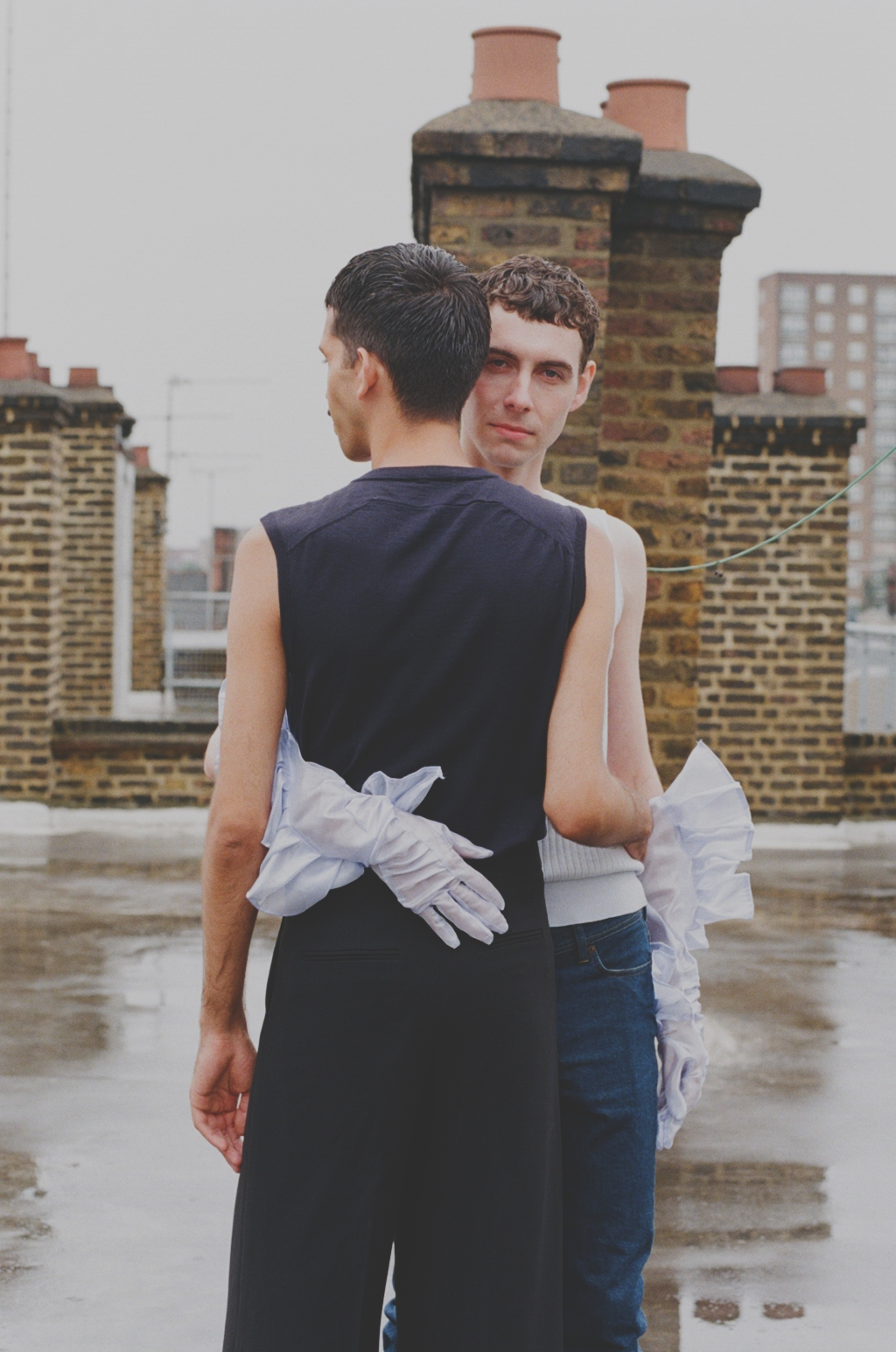 One of the things Gordon is collecting at the moment is car seat covers -- "they're good for accessories." For SS20, she transformed leather swatches -- the kind you might receive when you're buying new furniture -- into intricate fringed skirts and dresses. Also in Gordon's collection: nitrous oxide cartridges. "You know those little silver canisters? When I was doing my SS20 collection, I was living in East London and they were literally everywhere, so I started collecting them. I was going to use them for embroidery, but they get quite heavy," she explains. "I still have them, maybe I'll do it in the future."
This ability to conjure a new corset from an old dress (or beads from whippits) is a small act of magic. It's also an act of sustainability. "Every brand now has to own some sort of niche in terms of being sustainable," Gordon says. "At the moment, what I want to perfect is upcycling." The sense of preciousness that Gordon brings to her romantic wear is also a way towards sustainability: it's the way we cherish and live with our clothes, forever, instead of disposing them. Gordon speaks to this phenomenon with quite a timely anecdote: "Since we've been in quarantine, I've been watching so many YouTube closet tour videos. These people know the story behind every piece, where it's from, which designer it's by. Maybe they bought it from a random boutique or thrift shop 20 years ago, but they still remember these things. I think that's what we need to think about when we're consuming things."
Like vintage clothes with their past lives, Gordon's designs always carry a story behind them -- a method inspired by McQueen's famously narrative-driven collections. It's not surprising, then, that Gordon draws most of her design inspiration from film. "I can watch any film and it makes me want to create a collection. Even if it has nothing to do with fashion," she says, recalling a particularly inspirational viewing of Denis Villeneuve's Arrival -- a film very much about aliens and very little about clothing -- at Birmingham's Art Deco Electric Cinema. "You know how you feel when you leave the cinema? I try to interpret that -- the music, the atmosphere, the emotion you walk away with -- into my clothing." And she did that, almost literally, for her CSM graduate collection, an ode to the theatres of the 20s.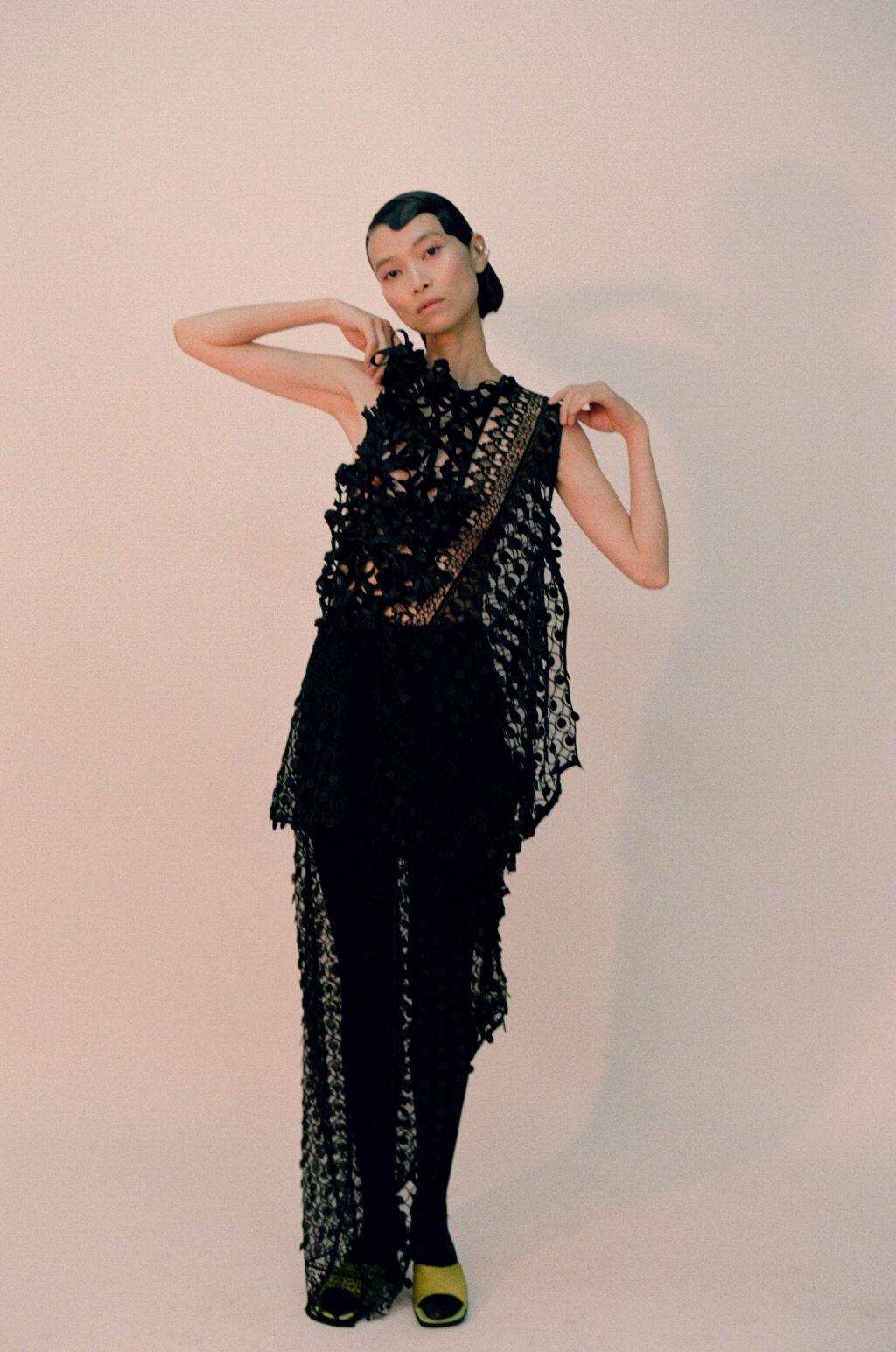 What draws Gordon to the 20s as a decade is what she calls a "rebellion and ruthlessness." She elaborates: "Especially after the war, people wanted to live in the moment, more so, then, than people might want to now. To me, subculture doesn't exist anymore and I feel quite saddened by that. But when I look back at older times, the 20s, there's so much in terms of music, art, dance and so on. I feel like that's really missing in today's world."
It was Gordon's love for the 20s -- and the subsequent graduate collection -- that spawned T Label's famous gloves. You've undoubtedly seen them, large and diaphanous, floating through your Instagram feed or, perhaps, in the pages of a favourite periodical. In keeping with most of the magic behind T Label, the viral accessory came about accidentally. "In university, I never wanted to make gloves," recalls Gordon. However, they soon became a necessity for her 20's-themed graduate collection. "My teacher told me not to make the gloves, as they would be too hard and a waste of time. And I was like 'Now that you've said that, I've got to have the gloves.' I guess it was about me being stubborn and showing that I could do them," she laughs.
Her stubbornness paid off. "Until six months ago [T Label] was just a side project," says Gordon, who is astounded that the label has blown-up -- both on and off Instagram -- so massively and in such a short amount of time. "Eventually I just started posting them on social media and they became quite a thing that people kept requesting: different magazines, stylists and photographers. All of a sudden people were writing about the gloves," she says, a little stunned, still. For context, Gordon's gloves have, so far, been featured in three editions of Vogue; last November, Lizzo wore the label's 'Rays' gloves in British Vogue. Gordon's response, via Instagram caption: "Somebody pinch me."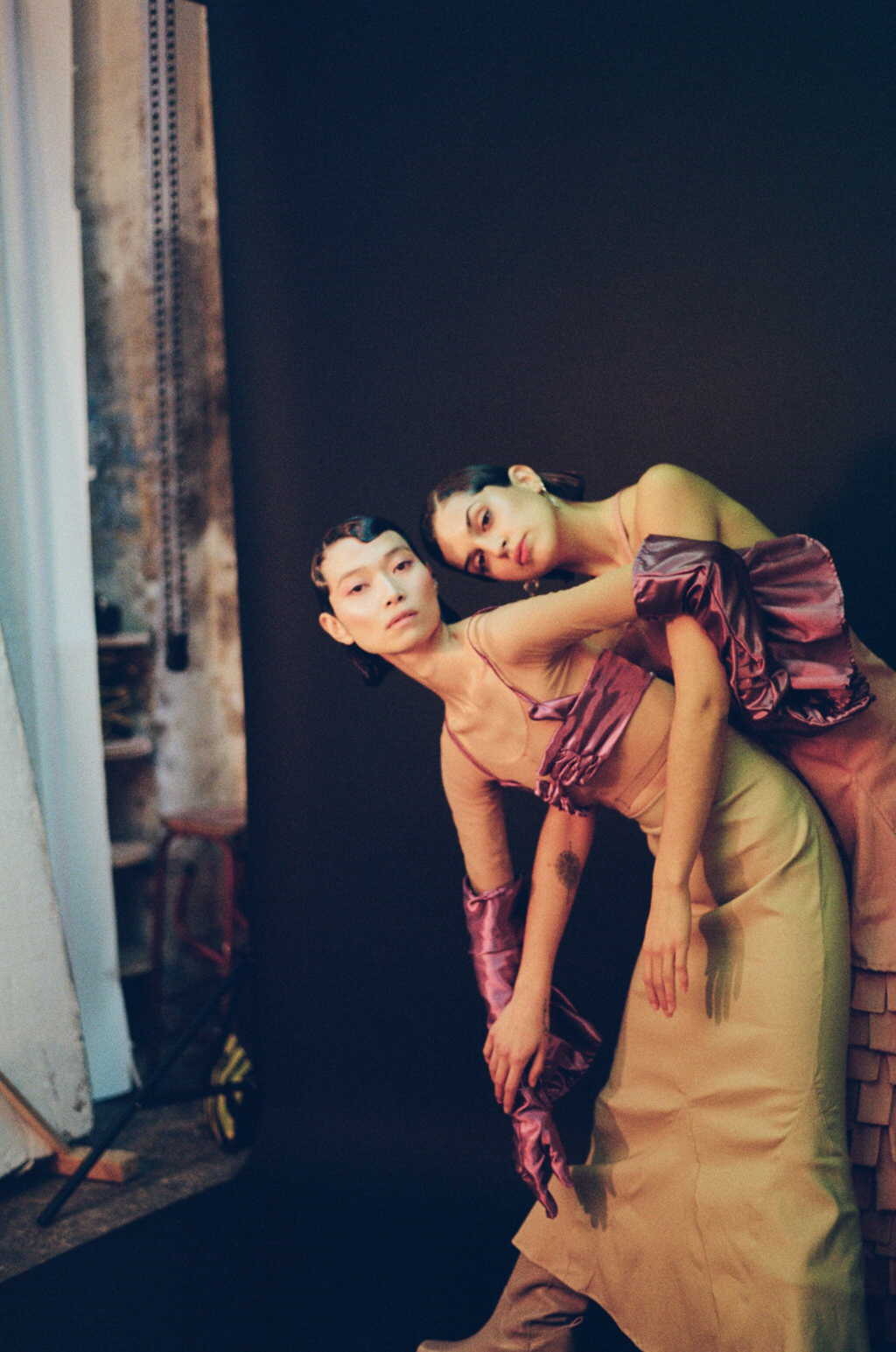 The wild popularity of her organza gloves -- available in all sorts of ruffled shapes, dramatic lengths, and dreamy colors -- has driven Gordon to explore the category further. "I didn't want the gloves to exist just in magazines; I wanted them to be something people would wear. I asked myself, where would it be quite funny to place on the body. And that's when it turned into a bra, as it were." Playful in a Dadaist kind of way, T Label's glove bra, which cups the breasts in two satin handfuls, have also enjoyed huge Instagram success.
"The brand is 20s-driven, but also 2020," Gordon notes, describing the modern-day vintage niche that T Label has cultivated. While she dreams of decades past and laments today's lack of robust subcultures -- due, mostly, to global social media -- T Label is firmly planted in the now, in the digital era that birthed it. "T Label has really grown out of nowhere," she says, "I think it's interesting how, now, things can be born from nothing. It's amazing what you can create through the power of the internet." It's true: the serendipitous nature of social media -- trends that come in fits and starts, the off-the-cuff nature it brings to marketing -- only embellishes the whimsical nature of Gordon's label, itself.
Looking to the future, Gordon plans to expand further into ready-to-wear, designing and creating readily-produced pieces. The gloves, however, will always remain. After all, they're the accessory that embodies T Label's ethos most fully: "I think that fashion should bring stories and emotions to people. I think you get that from the gloves, because you don't see them worn everyday. They're a sentimental piece," she says, then, with a laugh, "And hopefully after [coronavirus], they become a practical piece as well."