15 thousand New Yorkers marched for Black trans lives
Spurred by the murders of Dominique "Rem'Mie" Fells and Riah Milton.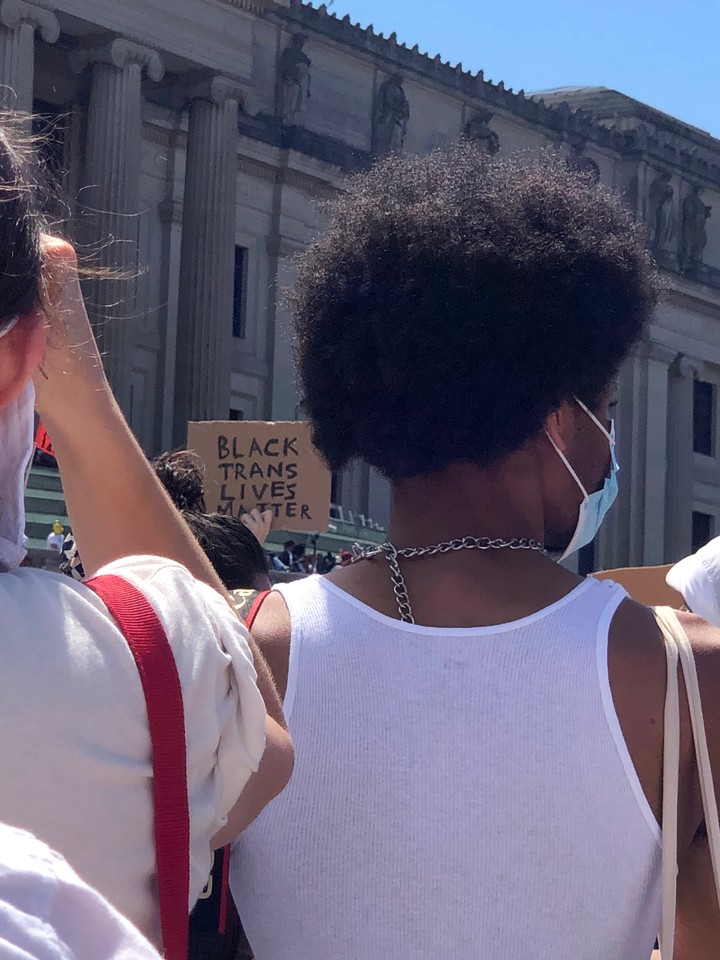 Photograph Sabrina Santiago
Brooklyn Liberation: A March for Black Trans Lives took place on Sunday June 14 in Brooklyn, spurred by the deaths of two trans women, Dominique "Rem'Mie" Fells and Riah Milton, within 24 hours of each other last week. Amongst worldwide protests following George Floyd's death and ongoing demands for racial justice in the US, the march called attention to the deaths of at least 14 trans people this year, who have been fatally shot or killed violently.

Organizers said that 15,000 people gathered for the rally and silent march, dressed in white to reference the NAACP's Silent Protest Parade in 1917, one of the first demonstrations by Black Americans. From the deck of the Brooklyn Museum, activists including Raquel Willis and Ianne Fields Stewart lead the crowd in chants of "Black Trans Lives Matter", and demanded an end to brutality against Black trans people in the USA.
Particularly moving were the words of Melania Brown, the sister of Layleen Polanco. Polanco died in solitary at Rikers in 2019 after having a seizure, and just days ago, new video footage of her last moments came to light, of prison guards laughing at her as she begged for help. One hopes that this weekend was the start of a new chapter in trans history in this country -- Ceyenne Doroshow, the founder of Gays and Lesbians Living in a Transgender Society (G.L.I.T.S), announced that the organisation that helps transgender sex workers get housing and healthcare, had raised over one million dollars.
Key to the magic of the (unpermitted) march was the centering of Black trans women, who spoke and then lead protesters through the neighborhood. They very generously gave a vision of what allyship should look like, and a future for all LGBTQIA people -- one of pride rooted not in corporate sponsorship and assimilation, but protest and fierce self advocacy.