TS Candii: "Decriminalisation is the best path to giving sex workers the stability and protection they need and deserve"
The organiser's work was critical to repealing Walking While Trans law in New York.
|
21 September 2020, 12:26pm
"My parents kicked me out and threw me into the streets at the age of 13. Sex work saved my life.
On the street, harassment and profiling by the police is a constant reality. I'm regularly stopped and frisked for 'walking while trans' and have been coerced into state-sanctioned sexual violence. I provided sexual favours in exchange for a "get out of jail free card." I believe that the decriminalisation of sex work is the best path to giving sex workers the stability and protection they need and deserve to live free and be safe.
My phone rings. It's a potential client. My voice is soft. 'OK. What do you want? How much time are you looking to spend? Safe sex only.' Now even softer, 'I'm good. You can look at me. Call me on FaceTime, you'll see. I'm not pretty, I'm beautiful. Hun, I'm good and I'm fast. Tell me what you want and I'll give it to you. $150 a half-hour. You'll see, I'm worth it. You'll see.'
I'm a dynamic salesperson. Excellent customer service skills. Funny, seductive and assertive. I closed the deal as Lucas and Cookie ran around the apartment. The client can't come here. At times, I also work the street to find potential dates. On the street, tension is high, as the cops cruise by, threatening the women with orders and insults. 'Hey honey, you better get some clothes on or I'm gonna run you in.'
Like many sex workers, I live with a high level of stress. As we walk down the street, a vehicle passes. The man yells, 'Aye ma,' I panic. He does a u-turn, I beat myself up. I ask myself if he know I'm a transgender woman? If it's only oral, should I tell him? As he pulls up, 'What's up, ma? Where are you going?' My voice softens, 'I'm only walking to the store.' He responded, 'Do you need a ride?' I respond, 'No, thank you.' He says, 'Can I get your number?' As we exchange numbers, he asked, 'What are you doing later tonight?' As I smile and giggle, I respond, 'I'm going to text you in a few.'
I invest a lot of time in my appearance, my clothing, and my body, and embrace my looks. I don't make enough to feed myself, put clothes on my back, and keeping a roof over my head is difficult, as well as trying to stay in medical care. Law enforcement makes it worse. I have been arrested for loitering and spent a miserable night in jail. I was in solitary confinement without clothes. The warden thought I was suicidal because I was a Black transgender woman. I am determined not to repeat that experience." TS Candii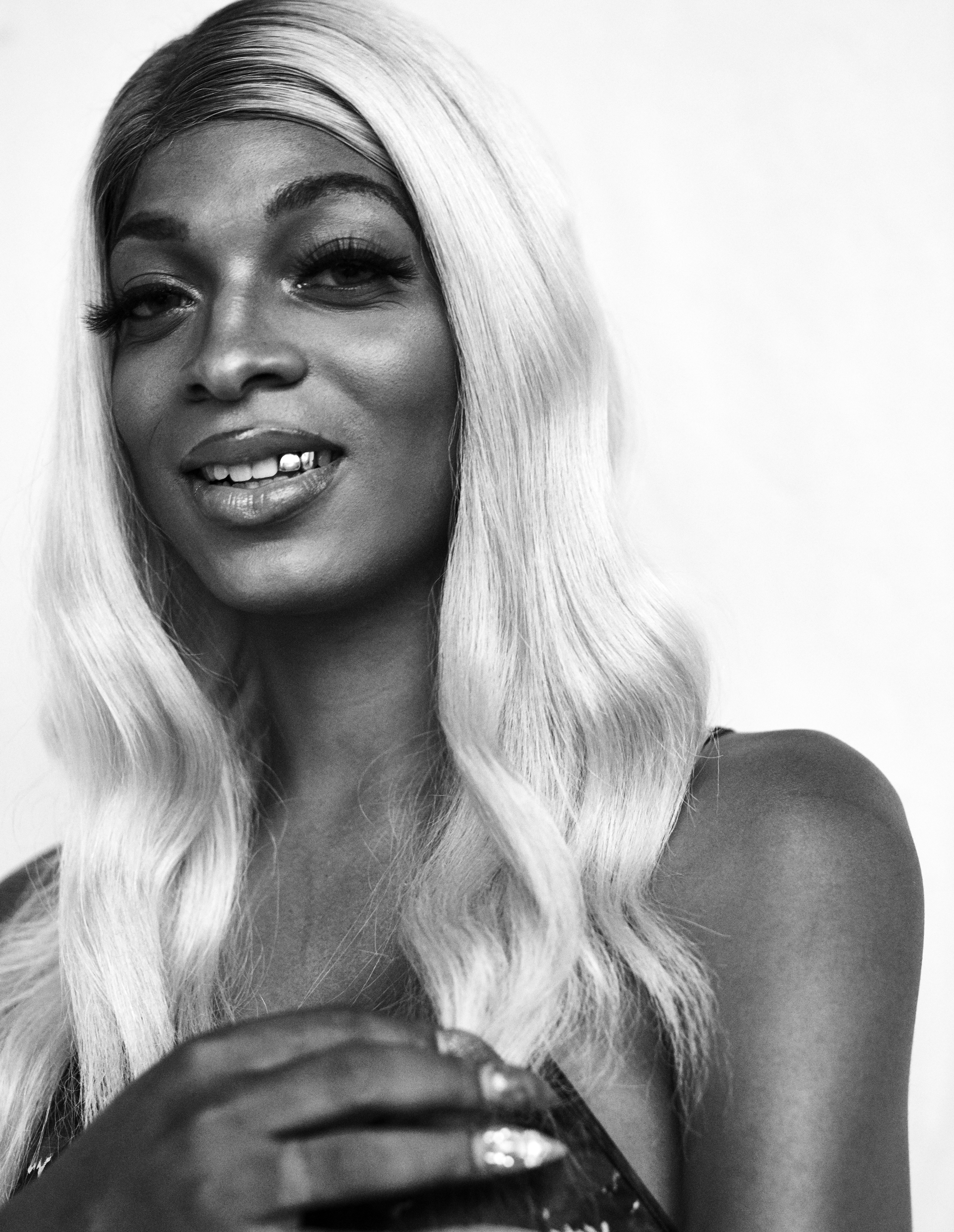 Credits
---
Photography Deirdre Lewis
Styling Sydney Rose Thomas
Hair Latisha Chong using Bumble and bumble and Mideyah Parker MA World Group using Oribe.
Make-up Raisa Flowers using Pat McGrath Labs.
Digital technician Paolo Santana.
Photography assistance Tatum Mangus.
Styling assistance Milton Dixon.
Hair assistance Safiya Wiltshire.
Make-up assistance Iona Moura and Ashley Brignolle.
Production Jess Mendes.
Casting director Samuel Ellis Scheinman for DMCASTING.
Casting assistance Alexandra Antonova.
Tagged: