Prada was full of sexual tension for SS22
'Less is more' are words to live by at Prada. For SS22, Raf Simons and Miuccia Prada applied that to their "expression of sexuality through clothing".
|
25 September 2021, 1:49pm
Images courtesy of Prada
Fashion, as you probably already know, has gotten incredibly horny this year. Arguably, the entire world has. In pop culture, sex became all that anyone could talk about, rap about, even watch on television (or on their laptops, if studies are to be believed). Horny, WAP, sexual, sensual, whatever you want to call it - the world's emergence from a year and a half of pent-up isolation and Zoom calls is giving way to a new era of salacious sexuality. The SS22 season has been close to verging on swimwear, with skin being brazenly displayed on catwalks and clothes getting skimpier. We saw it in London, with designers such as Supriya Lele, Nensi Dojaka and Maximilian. In Milan, even Miuccia Prada and Raf Simons — both paragons of a certain Northern European froideur — have felt the siren call of sexuality and bare skin. Their latest collection was a "seduction through reduction" and "an expression of sexuality through clothing".
Here were short satin skirts that came in classic Prada colours (zingy tangerine, chartreuse, dusky pink) with slim origami-folded trains, and dresses were backless, barely fastened by lo-fi lacing that was left undone (late-night undressing or hastily dressed the morning-after). Beaten-up leather jackets were worn with nothing underneath. Sweaters came with the outline of brassieres, corsetry boning splayed from the waist of sleeveless tops. But this wasn't the underwear-as-outerwear we've seen from fashion's young guns. It was the idea of underwear and sexuality built into the construction of fairly ordinary clothing, like grey sweaters (the kind that Mrs P took her bow in), linen tank tops, boxy black blazers and straight-up satin miniskirts. "Each negate their traditional connotations of restriction — they are reconsidered, rethought, confronted," explained the show notes. "The body is freed."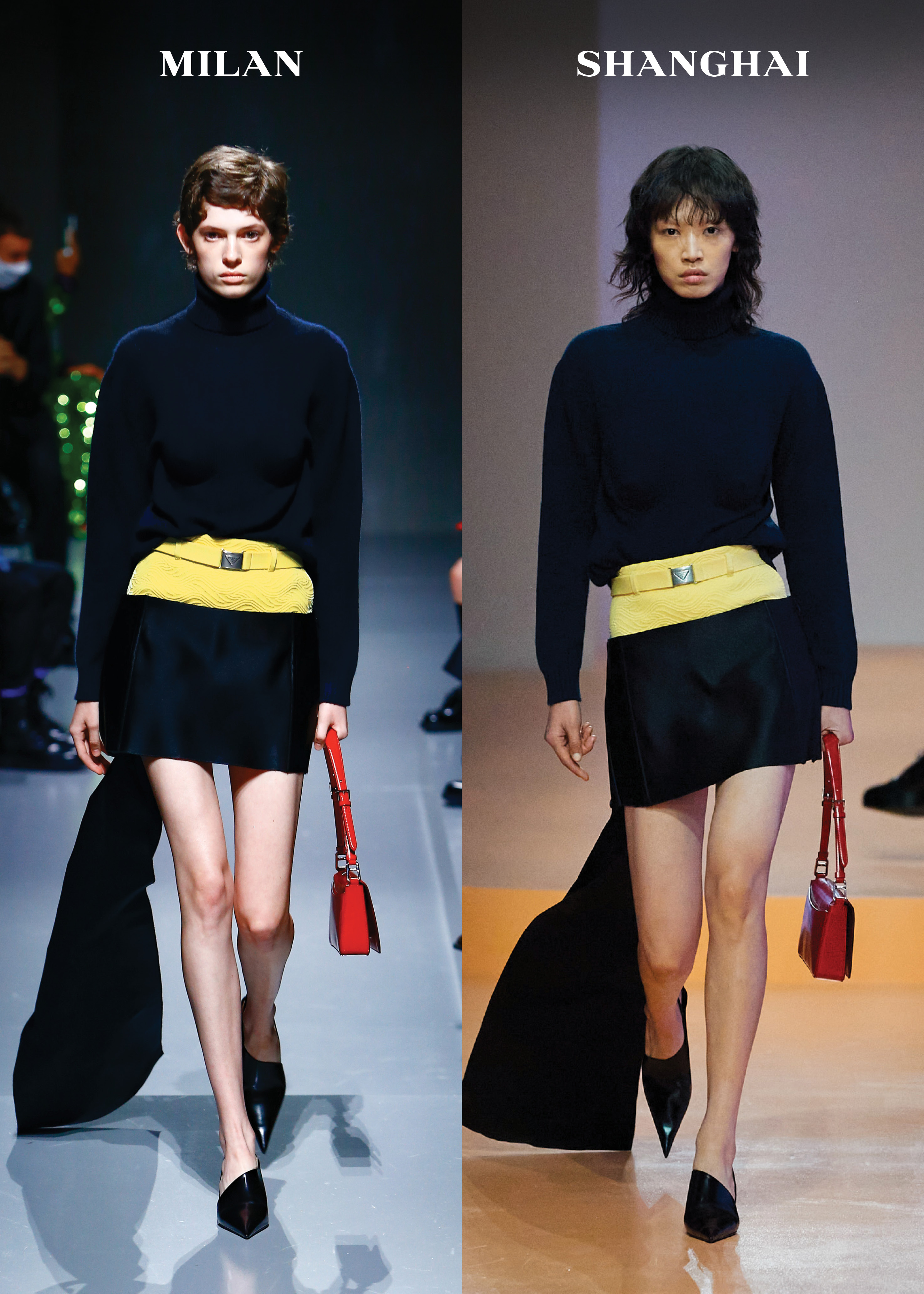 It's a notable shift from the covered-up knitwear of Prada's previous seasons. Those collections insinuated protection and tactility, a kind of Danish hygge cosiness as a salve for the darkest depths of lockdown. Now that the world is opening up, however, and there's a sense of rebirth in the air. Not so much the sparkling celebration of the Roaring Twenties, but something more stripped-back, or even stripped-down. Miuccia and Raf peeled away the layers to reveal something quite straightforward beneath all their puffed-up nylons and shaggy faux-furs of the last year. Sure, less is more when it comes to dressing to seduce — but it's also a sentiment that is apt for our new rhythm of in-real-life life. Less stuff — embellishments, prints and novelty — more clarity; uncomplicated clothes for actually going out again, whether it's to the office or the club.
This was the first Miuccia-Raf show with an audience, held in the vast Desposito of the Fondazione Prada, the seats formed from a Tetris block of grey cubes with screens dotted around. On them were scenes from Shanghai, where a duplicate show with an all-Asian cast was held at exactly the same time. As the models emerged, their images displayed on the great big shards of tech throughout the set, it felt strangely eerie. Isn't this supposed to be an IRL show? Haven't we spent enough time looking at screens? But then, that's the global digital reality we're living in, forever plugged-in to the worldwide web. It spoke to the enormous gulf between two continents - at least physically - yet a strange sense of symmetry. Perhaps there's a metaphor in there about duality and dialogues, something that Miuccia and Raf have spoken about before when asked what it's like to work together. It's a balancing act, and it's also a reminder of just how isolated we've been in our own bubbles. There's a whole world out there — and a lot of people who want Prada.
Besides, most people will see these shows through images and videos, which just goes to show that no longer is a fashion show reserved for a small cluster of industry professionals — it's a global experience that brands need to be savvy about. The last year gave everyone, insiders and outsiders alike, a front-row seat. But take it from someone who was there and saw it on screens and in-person simultaneously — these are clothes you'll want to wear next summer because they'll always look better IRL.