Photos courtesy of Maisie Wilen
Maisie Wilen is making 'going out' dresses for the digital era
Kanye West prodigy Maisie Schloss tells us about designing Instagram's favourite party wear.
|
16 September 2021, 8:34am
Photos courtesy of Maisie Wilen
Maisie Schloss loves going out. And so do her clothes. In the two years since the launch of her namesake label Maisie Wilen, the LA-based designer has made a name for herself as the purveyor of some of Instagram's most coveted party wear. The kind of slinky, clingy and colorful fare made to be lit up by strobe lights or a paparazzo's flash, to be worn against the backdrop of night. Dresses and catsuits for 'stepping out,' 'climbing into cabs' and 'leaving the nightclub,' as the tabloids would put it. "[Going out] is when people have the most fun. There are no rules; you can wear what excites you the most," says the designer. "I love that energy."
"Fashion has always been the thing for me," says Maisie. Around the age of 12, the Chicago native began enrolling in art and sewing lessons to fulfill her nascent love for clothing. In her late teens, she took it a step further, enrolling in Parsons' prestigious design program. Post-graduation, Maisie moved to LA, where she began working as an assistant at Kanye West's Yeezy. "[Yeezy] is such an unconventional environment. I was able to really embrace it. I was lucky enough to figure it out fast and see where I could contribute," she says. She eventually worked her way up to womenswear designer, a post she maintained for nearly four years before Kanye offered to support her with her own venture — "a pure surprise," the designer notes. In 2019, she became the first recipient of Kanye's incubator grant and struck out on her own with the eponymous Maisie Wilen.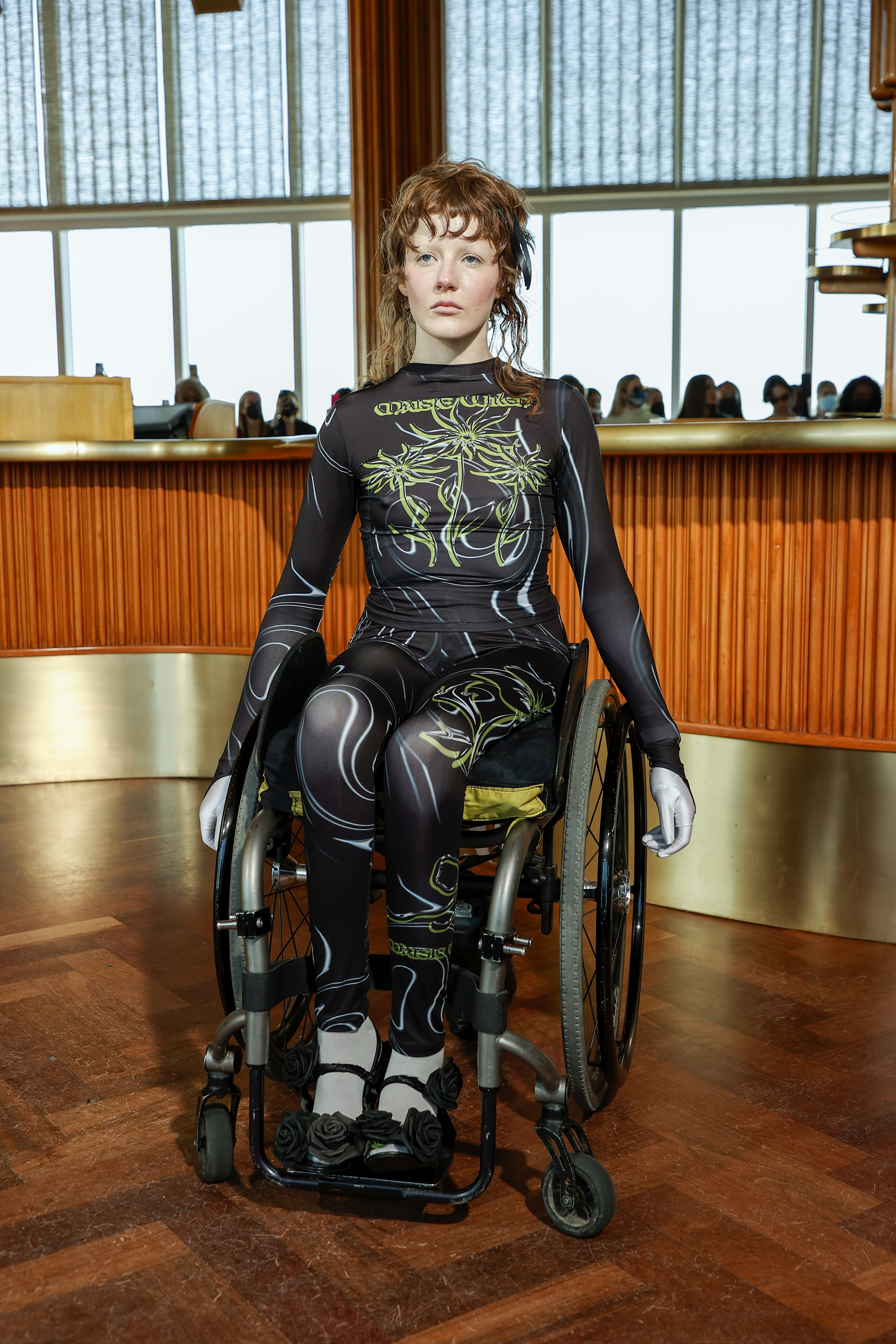 The Maisie Wilen look — you know the one — fuses the sexy euphorics of going out with the sleek aesthetics of tech, both digital and otherwise. The result is something entirely Maisie's own: "I'm always striving to make clothes that, whoever buys it, it's going to be their favorite item in their wardrobe," Maisie explains. "They're rooted in silhouettes that are very wearable and flattering, but aren't, by any means, basics." For one, Maisie's party wear draws its unique look from the highly technical, streamlined world of performance sportswear. "I love looking at the more dressed up sports like ice skating, gymnastics or synchronized swimming. Those types of garments, where it's a functional costume, I love. Those are huge for me," she adds. Slinky nightlife staples, like the body con dress, the cowl neck slip or the miniskirt, are cut and fitted with these tech-y trappings: sleeves that come to a streamlined, finger-looped point, silhouettes rendered in smooth, spandex jerseys. From these athletic inspirations, Maisie's not only created some of her most singular pieces, but innovated a new generation of 'going out' look, altogether. The label's perforated knit separates, ubiquitously worn as head-to-toe sets by Maisie's many admirers, merge the leotards of professional gymnastics with an exaggerated iteration of performance mesh. They've gone on to become the label's most instantly-recognizable, best selling styles. And they can also be credited with putting the sexy catsuit-ed look back on the party girl radar long before the garment's 2021 renaissance.
In addition to slick silhouettes and fabrications, the defining feature of the Maisie Wilen aesthetic are the label's prints. And while both of the former are firmly rooted in the real world (the 'out' in 'going out', the physical tech of sportswear), the latter is grounded in the realm of the digital. The label's signature patterns come together over hours of tweaking and layering in Photoshop and Illustrator until the end result is completely abstracted from its starting point. "I can work on a print kind of endlessly," Maisie laughs, speaking to her meticulous digital process. "I'm also a huge fan of just watching YouTube Photoshop tutorials. I'll learn a new skill and I'll be like 'Oh, that can be applied here' and I'll go back and layer it in." Patterns with names like 'Wifi' and 'Chromatic' resemble the undulation of a 5G wavelength or the metallic grid of a SIM Card (both integral to Maisie's plugged-in, Instagram-based fans.) Last season, the designer even embedded functional QR codes within the patterns.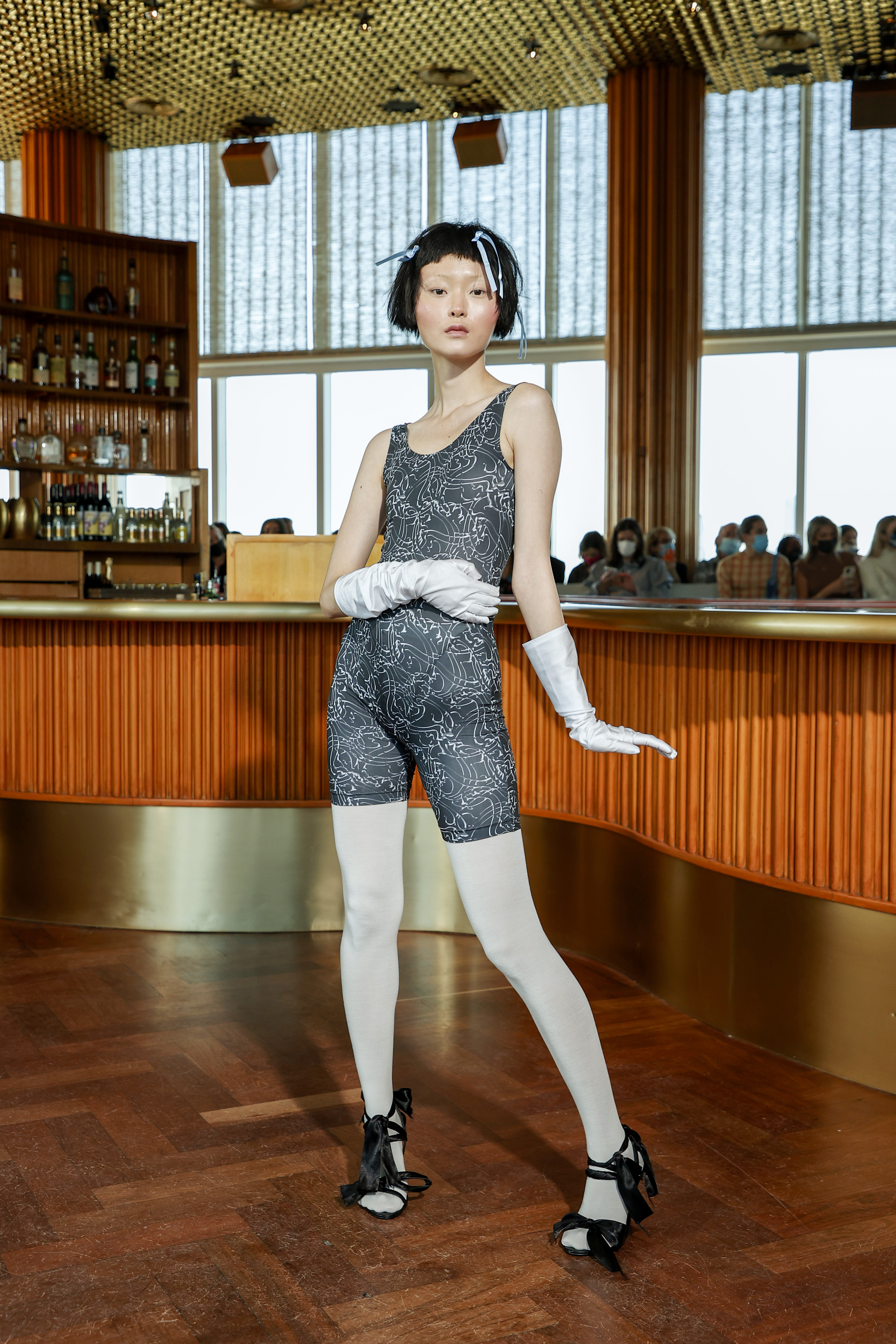 Last season, too, the pandemic saw the temporary shuttering of clubs, bars and all the nightlife venues Maisie's designs call home. Her solution: to bring the energy of being 'out,' in. "A huge touchpoint for my last collection was thinking of clothes that adapt to this lifestyle of being inside or being comfy at home, but still having the aura and excitement of a going out look," she says. Rather than standard sweats, this meant velvet wrap tops, tie-dye leggings, quilted miniskirts, lace-trimmed slips and robe-like coats. The kind of loungewear that makes an occasion of a night in.
But after two seasons of quarantine-friendly fare, Maisie — and her clothes — are ready to go out once again. "I think just in general people are excited to get dressed up and are going to be pulling out their best looks, so I've really embraced that and just leaned further back into making the going out dresses," the designer says, speaking to her SS22 collection. And what better way to usher in the post-pandemic era of amped up evening looks than to show your collection in one of New York's most iconic nightclubs? Or to close your show with a surprise performance by one of pop music's buzziest stars, Kim Petras? This season, Maisie made her NYFW runway debut ⁠— her "first true catwalk show," she elates ⁠— at The Boom Boom Room, at the top of the Standard Hotel.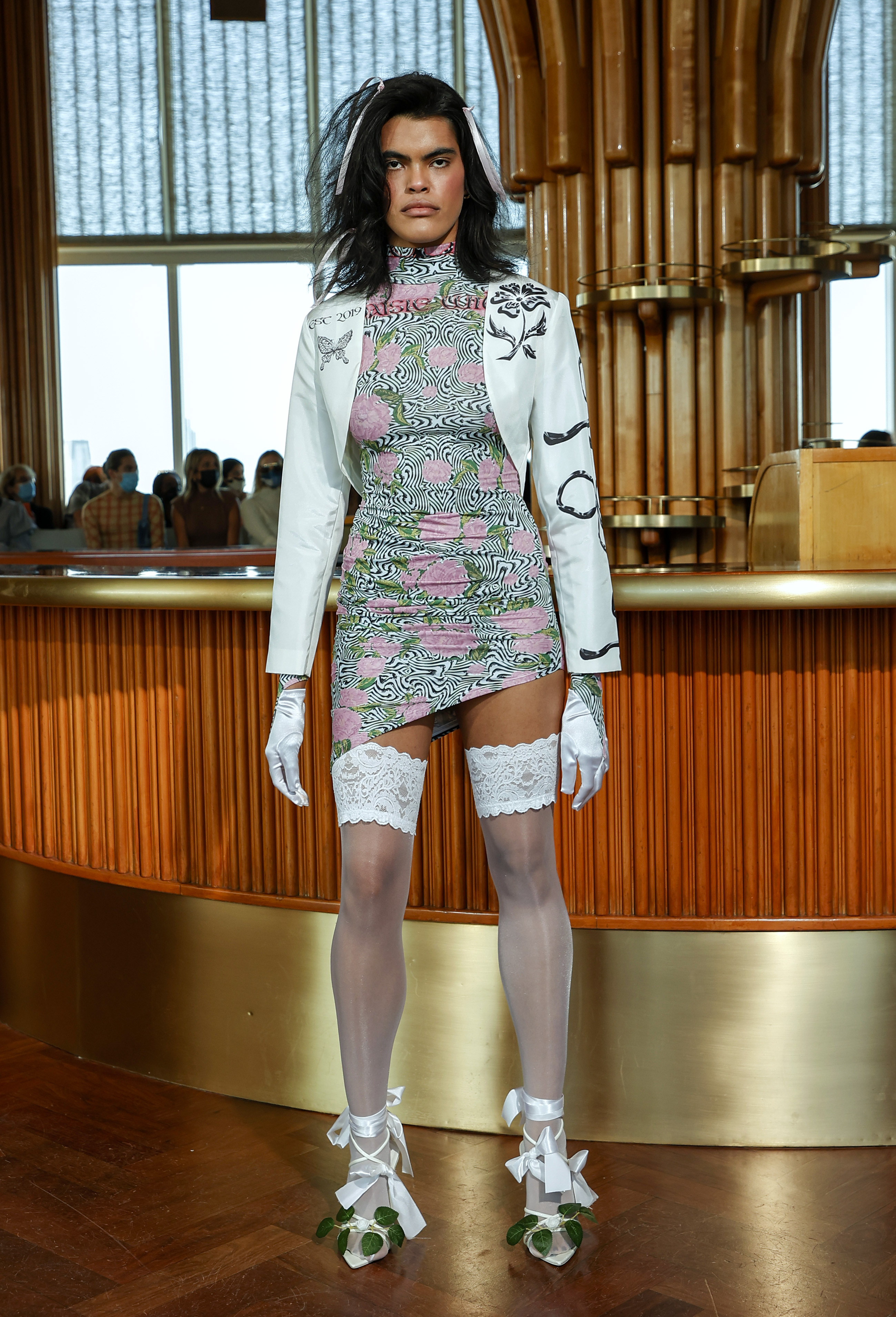 The label's SS22 offering represents a new direction for Maisie, aesthetically, as well. "With this collection I started exploring how romantic or even saccharine motifs could play into the Maisie Wilen world that's usually a bit more sleek and tech-y," she says. "It's an aesthetic I've always loved. It aligns with what I've always gravitated towards but, oddly enough, I hadn't really explored it for the brand. And I think it's an interesting juxtaposition compared to what we've shown previously." This season, Maisie's signature perforated knits are punctuated with heart-shaped cut-outs rather than circles. Mini dresses and skirts are rendered in floral lace and arrive in flouncy silhouettes. The print offering includes florals and a new flowery logo, alongside the designer's hallmark abstract patterns. "I have a few blouses that I call 'waltz' blouses, but I think I made up that term," Maisie laughs. "Almost a ballroom look, off-the-shoulder with rosettes."
With the party back in full swing and with a new look for her brand, Maisie's looking to the post-pandemic future — both at the clubs and on the catwalk — with positivity. "I think the moment we're entering into is naturally aligned with what I tend to make and what works for the brand, so I feel very optimistic in that sense."