ASHLYN is the New York label broadening the lexicon of American fashion
Designer Ashlynn Park worked for Yohji Yamamoto before launching her own brand of rigorous, transgressive clothing.
|
21 September 2021, 10:28am
A fresh cohort of New York designers have replaced the city's go-to chic conservatism with a blast of rigorous transgression. They straddle opposing sides of the same shiny dime opting for minimalist rhapsody or intersectional clout, serving both with precision. Clothes that get to the point.
Ashlynn Park (her almost mononymously named brand only uses one "n") is the latest addition broadening the lexicon of American fashion. She left her native South Korea in 2006 after winning first prize in a competition in which 200 pattern makers had to interpret the same sketch. She won a scholarship to study in Japan and went on to complete an MA at the eminent Bunka Fashion College. Upon winning Japan's prestigious SO-EN Award in 2008 she went to work at Yohji Yamamoto where she remained for three years. "I honestly thought that my role there was as a designer, but there were no designers. Everyone was a pattern maker," she says.
More than a decade later and Park is sat in her own daylight-flooded studio facing the Empire State Building. She is flanked by a well-proportioned rail of crisp clothes in fresh whites, blues and black. A tailor's dummy over her right shoulder sports a cropped black crepe jacket with a white, wide-collared shirt underneath. "I always had this vision of living in New York, having a long career, maybe get married and have kids, you know, laying down in Bryant Park and doing a sketch for my own label," she says, musically describing her own life. "People say that the American dream has disappeared, but I experienced it."
After Yohji, Park arrived in New York with no job but a handful of interview offers. She was hired promptly as a menswear pattern maker for Alexander Wang but soon moved to work on the label's women's runway collection. Stints at various brands followed, most recently working alongside Raf Simons during his whistle-stop tenure at Calvin Klein. Happily ensconced in the business of making, she has protected herself from the distractions of highfalutin marketing chatter and studio buzz. Even her own label – ASHLYN – is consciously under the radar.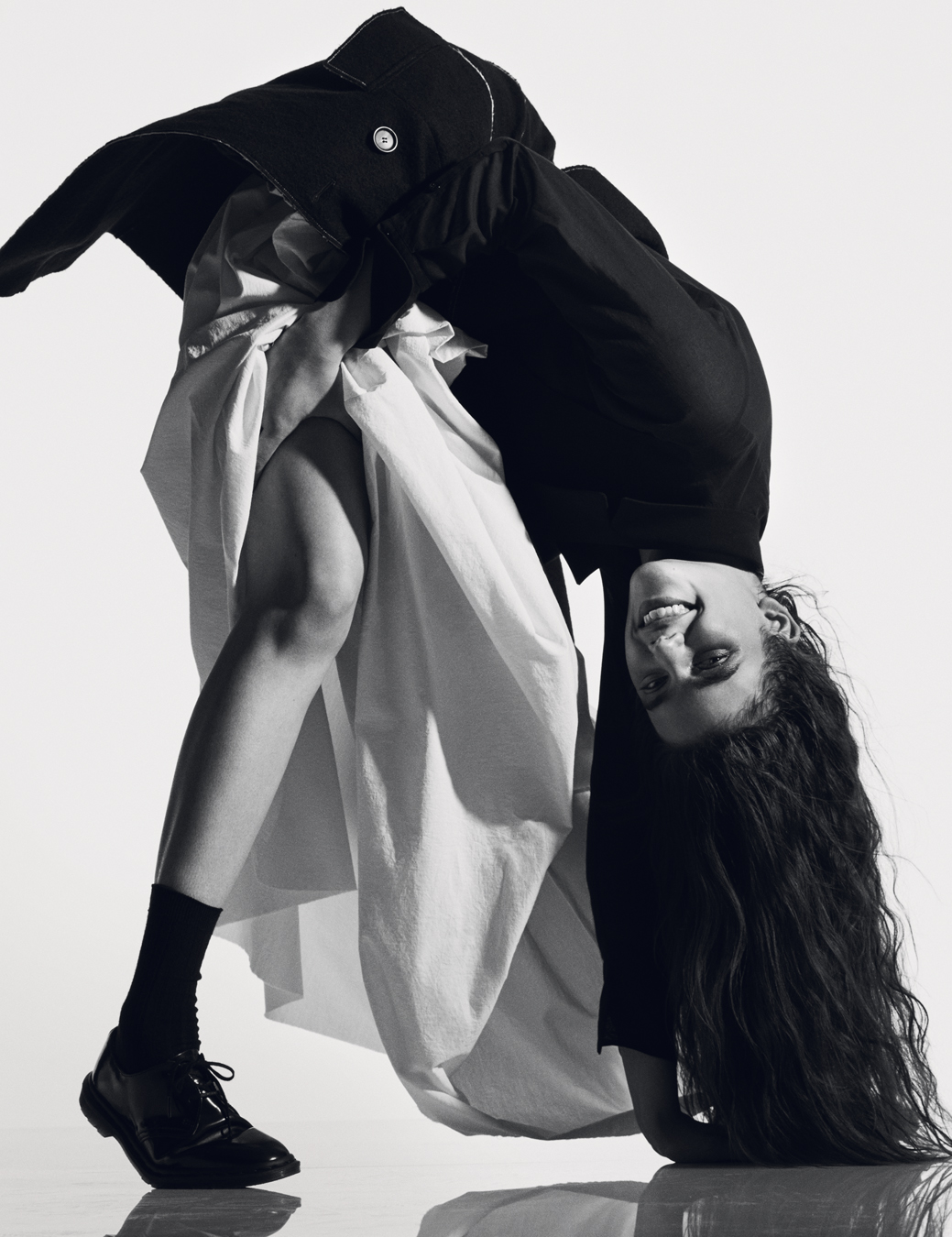 Tired of making "things that weren't wearable, museum pieces and gowns for the celebrities," she poured her savings into a direct-to-consumer capsule of smart, sharp basics: "I wanted to work on things you could wear so I made a lot of simple pieces that have become part of a core collection. Now, after the pandemic, I'm ready to push it."
Ashlynn rebuilds traditional silhouettes, deconstructing tailored archetypes and cuts them with plush volumes and slim knitted dresses. Bonded crepe suit jackets fasten with elongated ties and straps; silk-cotton poplin shirts can be playfully worn in multiple ways. Hips softly balloon. Her clothes are confident and fun and coquettish.
One of the first to see the line was Joh Siff, a brand advisor who has spent some 25 years working with companies like Comme des Garçons and Prada. Park pulled together 18 styles knitted from past seasons with some of her bespoke work and walked Siff through it. "When you review a collection you want each piece to sort of jump off the rail and hug you – that's what I look for anyway – and every single style Ashlynn showed me was just breathtaking," Joh remembers. She'd had the same feeling upon seeing Martin Margiela's first collection in the early 90s. "I knew Martin and Jenny [Meirens, Margiela's creative and business partner] very well. We saw Margiela in its inception and from his first season he was creating his brand world. That's what I saw in Ashlynn. Her language was clear and the codes are there. And you know, we're a tough industry, people have seen everything. So those who've seen ASHLYN are excited for a good reason!"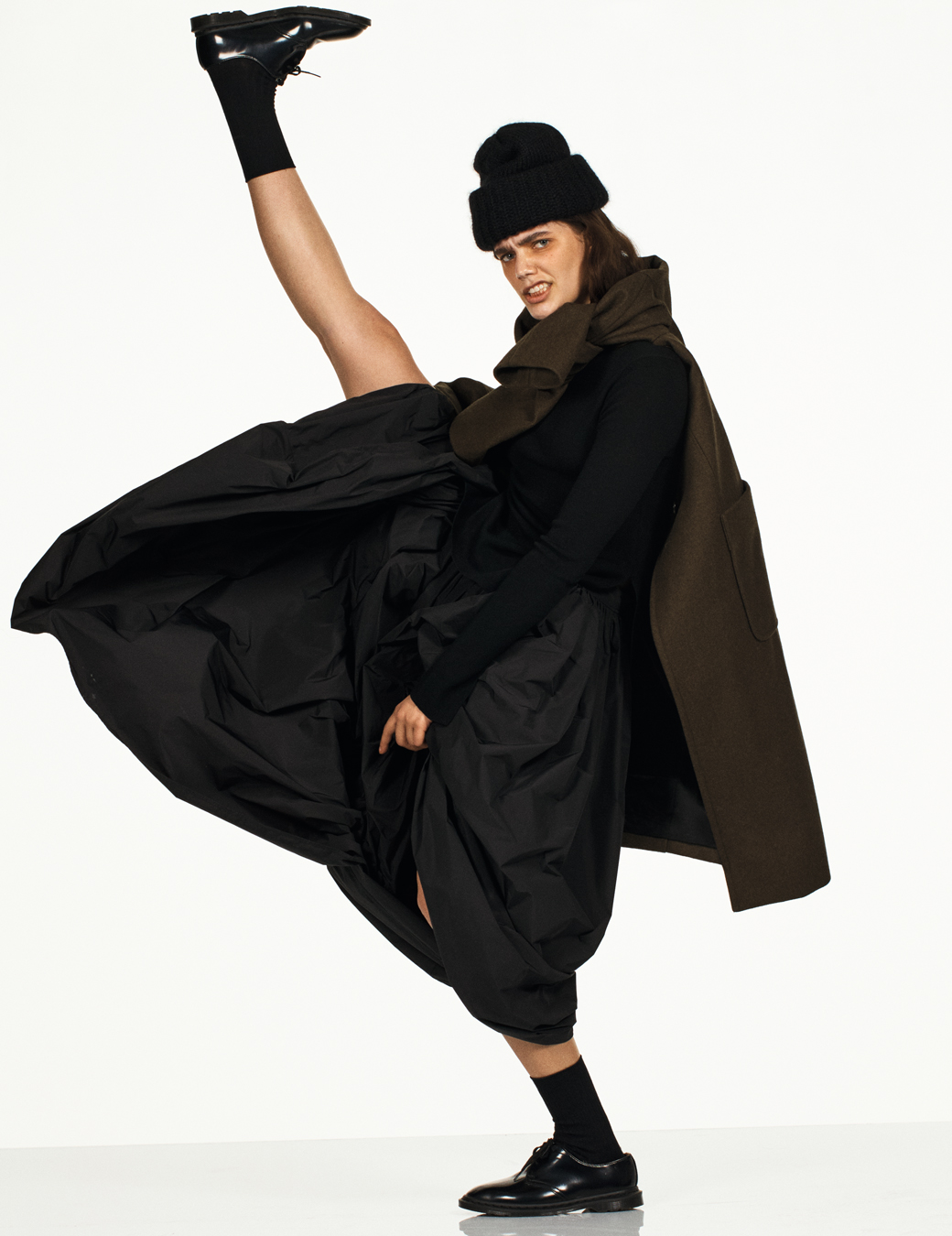 What makes Ashlynn's work so right is her ability to cypher provocative ideas into wearable clothes. A shirt dress made from a single piece of fabric or a dress with a curved cut-out back and pleated panniers are delivered with acuity. She is devoutly a pattern maker first: "I think Joh was interested in my skills that go from design to stitch – Margiela also develops ideas during the pattern-making process, where things are deconstructed and rebuilt. I think Joh could see the singularity of approach." Joh agrees: "That kind of curated way of working showed someone of great discipline and experience. She's seen the best of the best in working for Yohji – creatively, operationally, balancing conceptual and commercial."
Working at Yohji was like boot camp. Park spent her first year solely stitching her co-worker's samples. The studio was set up like a regiment, with all of the staff wearing an exalted, purified uniform of all black so as not to distract the eye. Flat shoes were worn to keep noise to a minimum. "It is very serious," Ashlynn says, "everyone standing up straight like planks of wood during the design reviews and if Yohji even moved a finger, you would run to him and fix whatever it was. It was very good training." It taught her to question every single thing she does. The team had access to all of the past season's patterns and could play with them, chopping bits up and adding details that Yohji would eventually pluck away. "We were always questioning the garments: do you need this shape? Why did you pick this fabric? Do you need this pocket? Yohji would ask and you had to have an answer."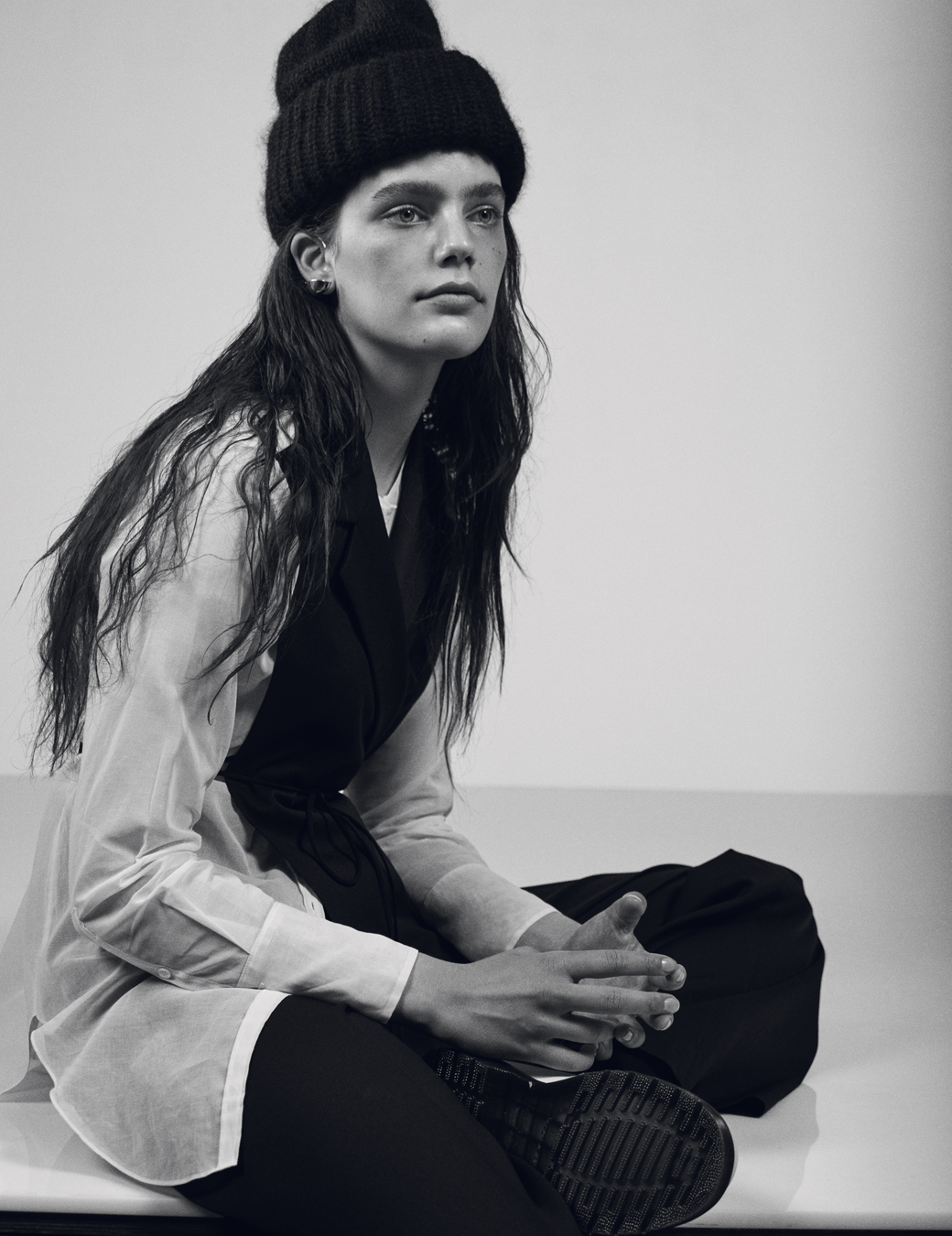 Ashlynn works in the same way today, albeit interrogating herself. "We have to eliminate because if I put more details, that becomes a cost to the wearer or changes how the garment is worn," she says. Joh's time at Comme des Garçons provided similar tutelage: "You're in an environment that is so extraordinary. That sort of rigour and discipline runs from the top to the shop floor – it's not hierarchical. There's a sense of community around that discipline and there was no sense that someone was 'above it all'. You all joined hands around whatever needed to be done. Nothing slipped through the net. I've benefited from it my entire career and, foundationally speaking, Ashlynn and I share that."
The deviations of the last year have only substantiated Ashlynn's penetrating philosophy. Alongside the AW21 collection she launched Zero Waste – a capsule with a promise to reduce fashion waste through careful design.
"I couldn't think about sustainability before the pandemic – I was just working at my job. It has been my dream to have my own label, yet the last 18 months made me feel a lot of responsibility. I am a mum to two small children and I was thinking about the future of the planet. There are already a lot of designers, a lot of clothes, 85% of which is going to landfill. Should I stop?" Park decided to do it differently, offering her precise, handmade clothes as made-to-order, pledging never to make more than she needs, and working with stock fabrics from the best mills.
"People just don't talk about pattern making – it's always about the final, flat look," she says. The archetypal ASHLYN garment is a "boyfriend" shirt cut to sit neatly on the shoulder before dropping gently around the arms. "It took me so long to get it right because I'm mostly thinking about how it feels to the wearer," Park says. "So many high-end designers often miss that point. I adjust the pattern again and again because I want to solve problems, to make sure it's right. We tend to project theories onto clothes that result in beautiful costumes that you cannot move in. But, we're not working for ourselves, we are working for the people who wear these clothes."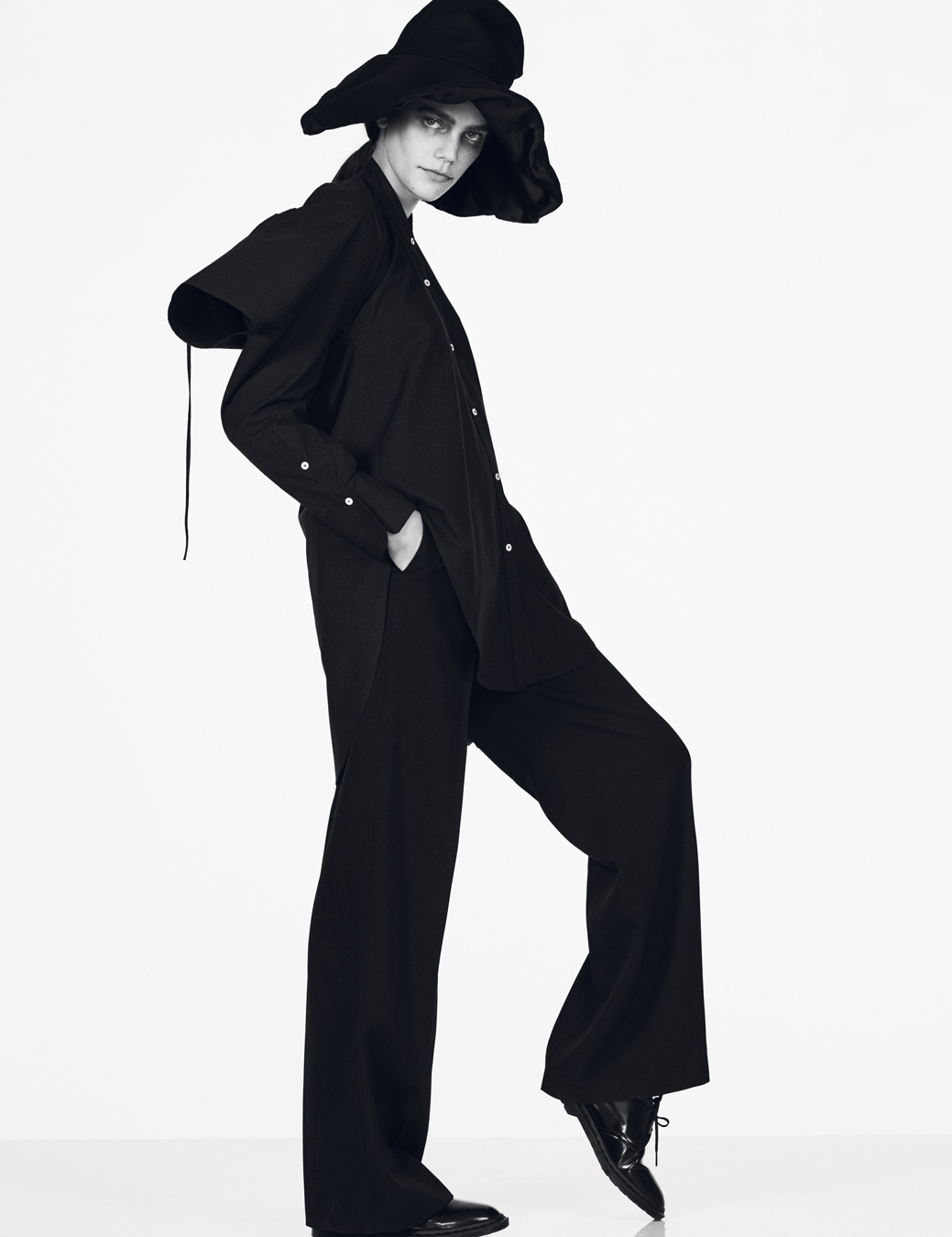 Credits
---
Photography Josh Olins
Fashion Katelyn Gray
Hair Tomo Jidai at Streeters using ORIBE.
Make-up Susie Sobol at Julian Watson Agency.
Nail technician Eri Handa at Home Agency using CND Shellac.
Photography assistance Evgeny Popov, Stefano Ortega and Stephen Wordie. Styling assistance Lindsey Eskind and Katarina Silva.
Hair assistance Miwako Urasugi.
Make-up assistance Mical Klip.
Casting director Samuel Ellis Scheinman for DMCASTING.
Model Betsy Gaghan at DNA.
All clothing ASHLYN NEW YORK.